The festive season is here and I just love holi so much! I love how it is all so colorful and bright. I am super excited to create my version of gujia which is in fact, baked! And it is as yummy as the deep fried one, trust me! These baked gulkand gujia are obviously a healthier alternative to the traditional one and packed with flavor.
Traditionally, gujia is a crescent shaped Indian dessert which has a khoya (milk solids) and mix nuts filling inside it but I have created mine with a twist! Firstly, they are baked of course and the filling has gulkand in it which goes super well with the flaky crust. These baked gulkand gujia doesn't take much ingredients or much time and the process is quite simple too and I think if I can make them, anyone can make them!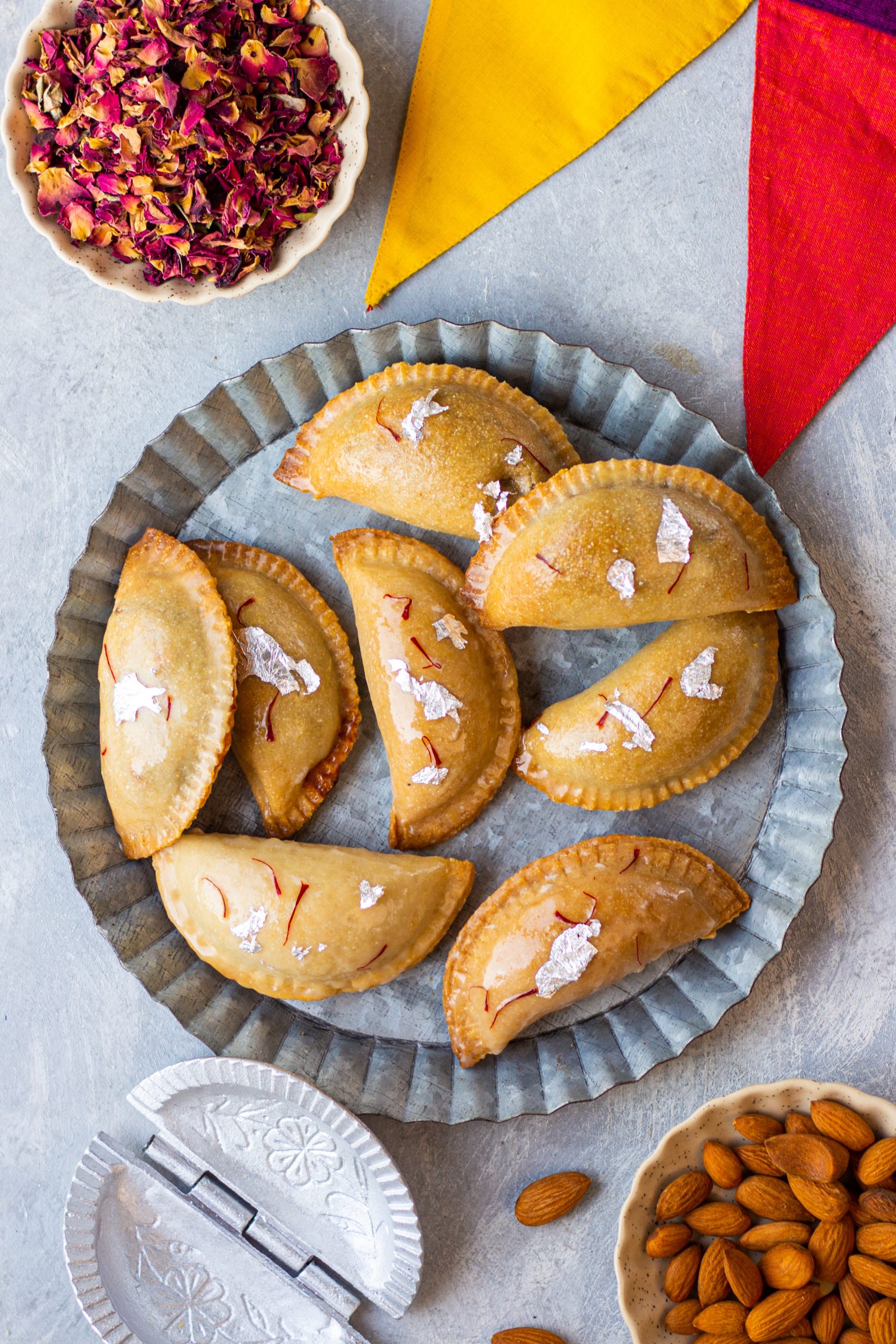 INGREDIENTS REQUIRED FOR THESE BAKED GULKAND GUJIA
ALL-PURPOSE FLOUR
The dough is made with a combination of all-purpose flour and semolina. All-purpose flour gives these baked gulkand gujia the structure they need. A combination of whole wheat flour and all-purpose can also be done if you wish it to be on the healthier side.
SEMOLINA (SUJI)
 With all-purpose flour, semolina is mixed in for the crispness the baked gulkand gujia needs; as we don't want them to be soft. They are supposed to be flaky and crispy from the outside with a juicy filling inside.
GHEE (CLARIFIED BUTTER)
 Like most Indian desserts, this baked gulkand gujia also had to have ghee in it! This is what adds that crispness and flavor to them and make them more flaky and healthy. Ghee is considered to be a good fat and enhances the flavor of these baked gulkand gujia.
WATER
 To bind the dough, little amount of water is added like most other Indian sweet dough, just to add moisture so that the dough doesn't get dry.
KHOYA (MILK SOLIDS)
 Khoya is also known as mawa or dried evaporated milk solids. The milk is slowly simmered till all the moisture is evaporated and it reduces to solids. You can make it at home or get it from any sweet shop near you, like I got mine. This is the most important part for the filling and is cooked and dried out before other ingredients are added to it.
GULKAND
 Gulkand is a sweet preserve of rose petals. Unlike the traditional recipe for gujia, I wanted to have gulkand incorporated in khoya and nuts to have as a filling in my baked gulkand gujia.
ICING SUGAR
Gulkand is already sweet but since I am not adding any sweetener or sugar syrup for my outer covering, I am adding some icing sugar in the filling to balance out. You can also use caster sugar if you want.
MIX NUTS
 A mixture of roasted cashews and almonds are also added in the filling for that extra crunch. I am adding chopped nuts in these baked gulkand gujia for that Indian vibe, if you want you can also add raisins and other nuts.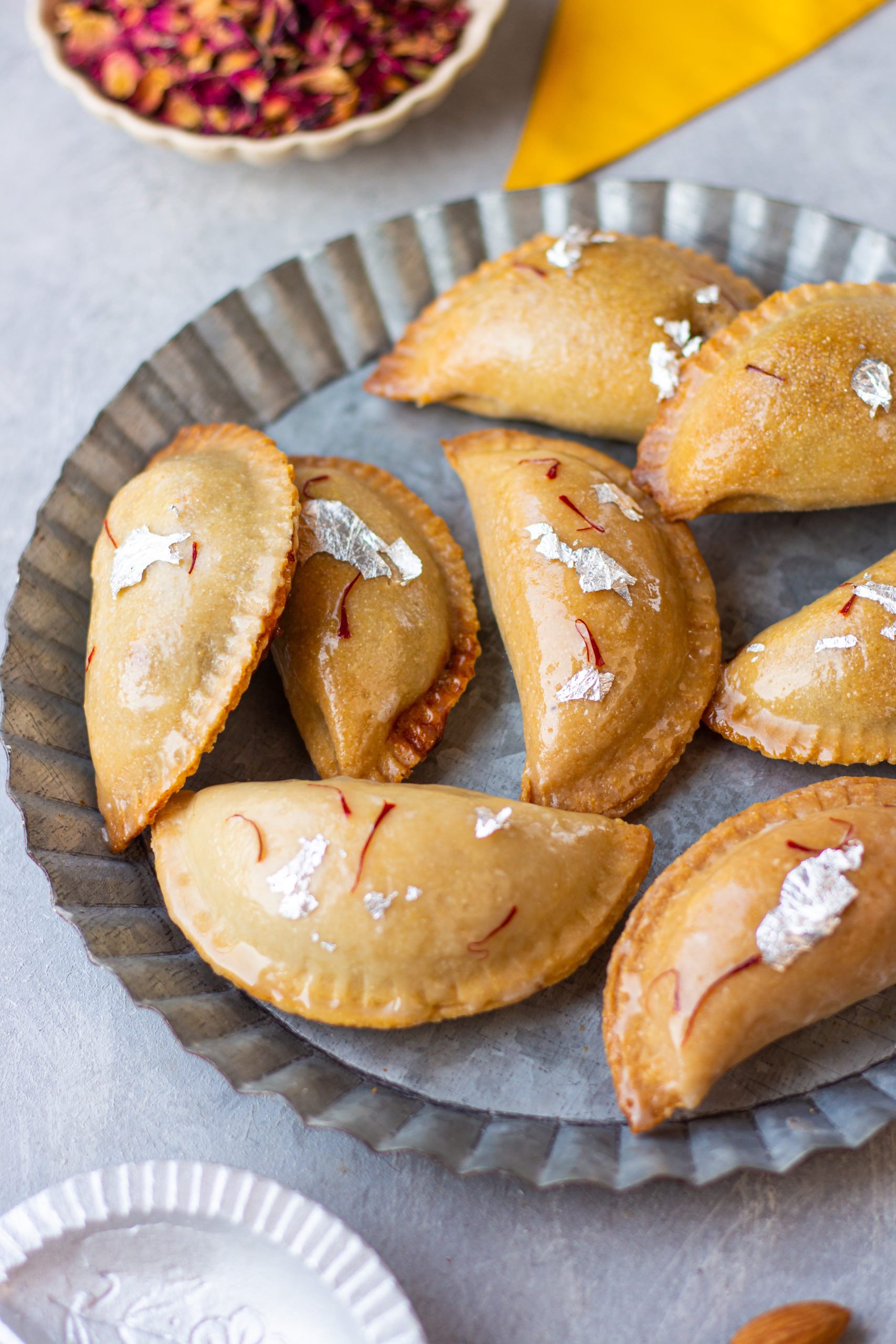 TIPS AND TRICKS WHILE MAKING THESE BAKED GULKAND GUJIA
The dough will not be soft and will be on the stiffer side, so try to roll the full dough in one go or very short intervals as the dough can dry out otherwise.
The dough needs to be rolled out into a thin sheet and not a thick one. Make sure you are rolling it out very thin because a thick outer covering will not taste very good.
If you are making these baked gulkand gujia for the first time, make sure you have the gujia mould with you, it is easily available online or any grocery shop near you. The mould makes the shaping very easy and quick.
Have a bowl of water near you while shaping as when the circular sheet will be put in the gujia mould and the filling will be placed inside, to wrap it up you will need to spread water on the sides with the help of your index finger, as to stick both the sides of the gujia into a pocket itself.
For the filling, when the khoya is cooked and dried and turn light brown in color, make sure you let it cool properly before adding the gulkand, icing sugar and nuts into it. As we don't want the khoya to retain water.
Do not stuff the gujia with a lot of filling as while baking, it can break and the filling can come out. 1 tablespoon of filling would be sufficient.
When the baked gulkand gujia will be out from the oven, do not forget to brush them up with ghee for that extra flakiness. As we are not deep frying them so brushing them up with ghee is a very important step.
Make sure to bake them at the given temperature and rotate the tray once in between baking.
You will know that the baked gulkand gujia is baked once the color is light brown and the outer shell hardens, do not over bake.
OTHER FESTIVE BAKING RECIPES ON THE BLOG: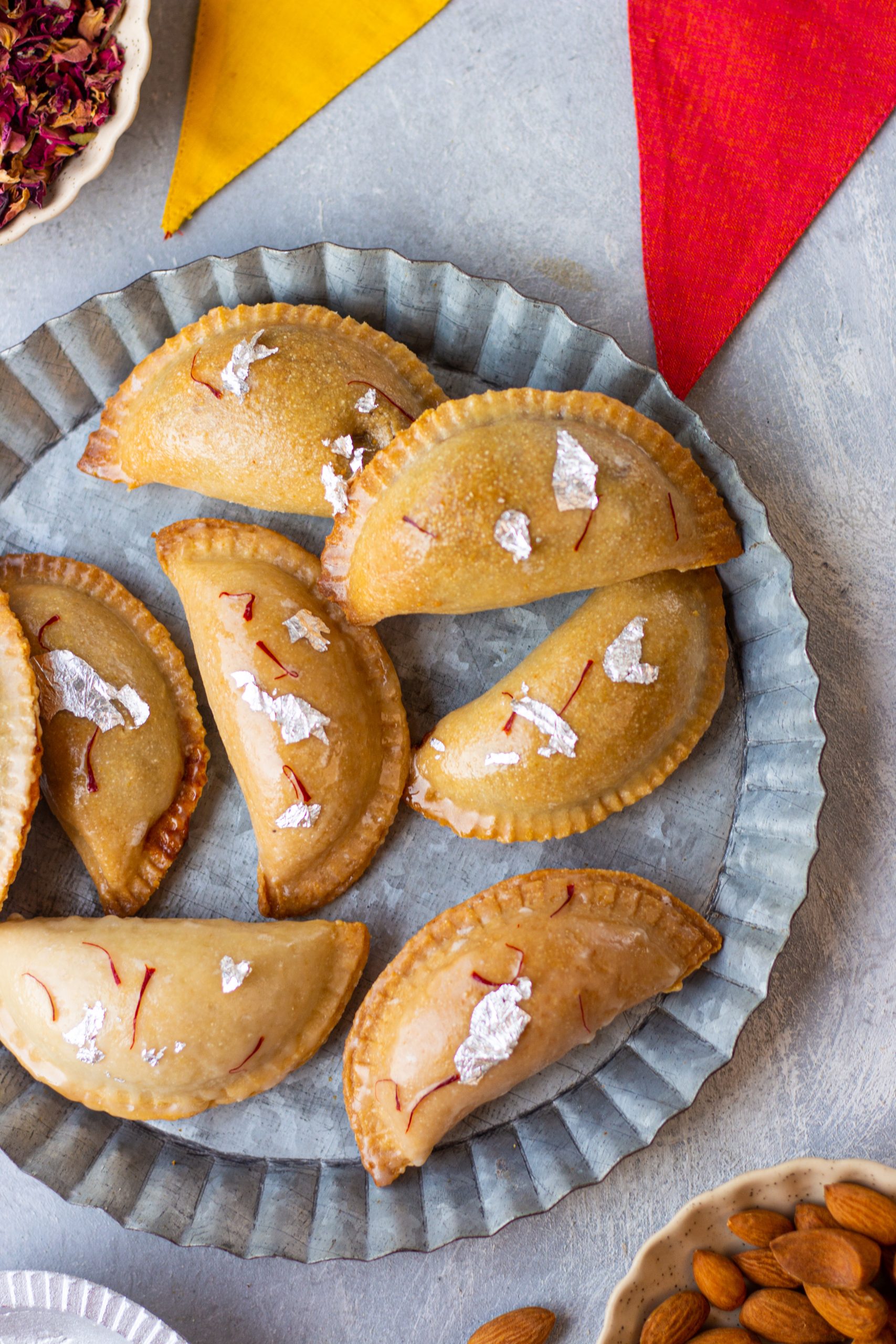 Baked Gulkand Gujiya Recipe
Baked Gulkand Gujiya
Ingredients
For the dough:
¼ cup all-purpose flour
¼ cup semolina (suji)
2 tablespoon ghee
2 tablespoon water
For the filling:
½ cup khoya (milk solids)
3 tablespoon gulkand
2 tablespoon icing sugar
¼ cup mix nuts
Ghee for brushing on top
Instructions
Line a tray with silicone mat and pre-heat the oven at 180*C.
In a bowl, take all-purpose flour, semolina, ghee and water and make dough out it. You can add an additional tablespoon of water, if your dough is very dry. Set this aside.
To make the filling, in a pan add the khoya and cook it over low heat till it gets light brown in color and dries a bit. You will know once it done, when the fragrance comes and it doesn't stick to your pan and gets light brown in color.
Remove it from the heat and let it cool completely.
Add the gulkand, icing sugar and roasted chopped cashews and almonds in it and make the filling.
Roll the dough out into a thin layer and with a round cookie cutter cut circles.
Place one circle into your gujia mould and press it from the sides so that it holds the impressions.
Take one tablespoon of the filling and keep it in one side of the mould.
With your index finger, brush some water on the sides of the rolled dough and close the gujia mould and press nicely, so that the excess dough comes out and the impressions of the mould comes.
Open the mould and take out the gujia and place it over your lined tray.
Repeat this process with all the dough and filling and place them 1 inch apart on the tray.
Bake them at 180*C for 20 minutes, till they turn brown in color and the crust hardens.
Rotate the tray in between, for even heating.
As soon as they get baked, brush ghee on top of each gujia and let them sit and soak it all up.
Decorate it as you like, with saffron strands or silver leaf and enjoy!
If you like this recipe and happen to make it, don't forget to share pictures with me by tagging me on 
Instagram
 / 
Facebook
 using #bakewithshivesh.