Baked Gulkand Gujiya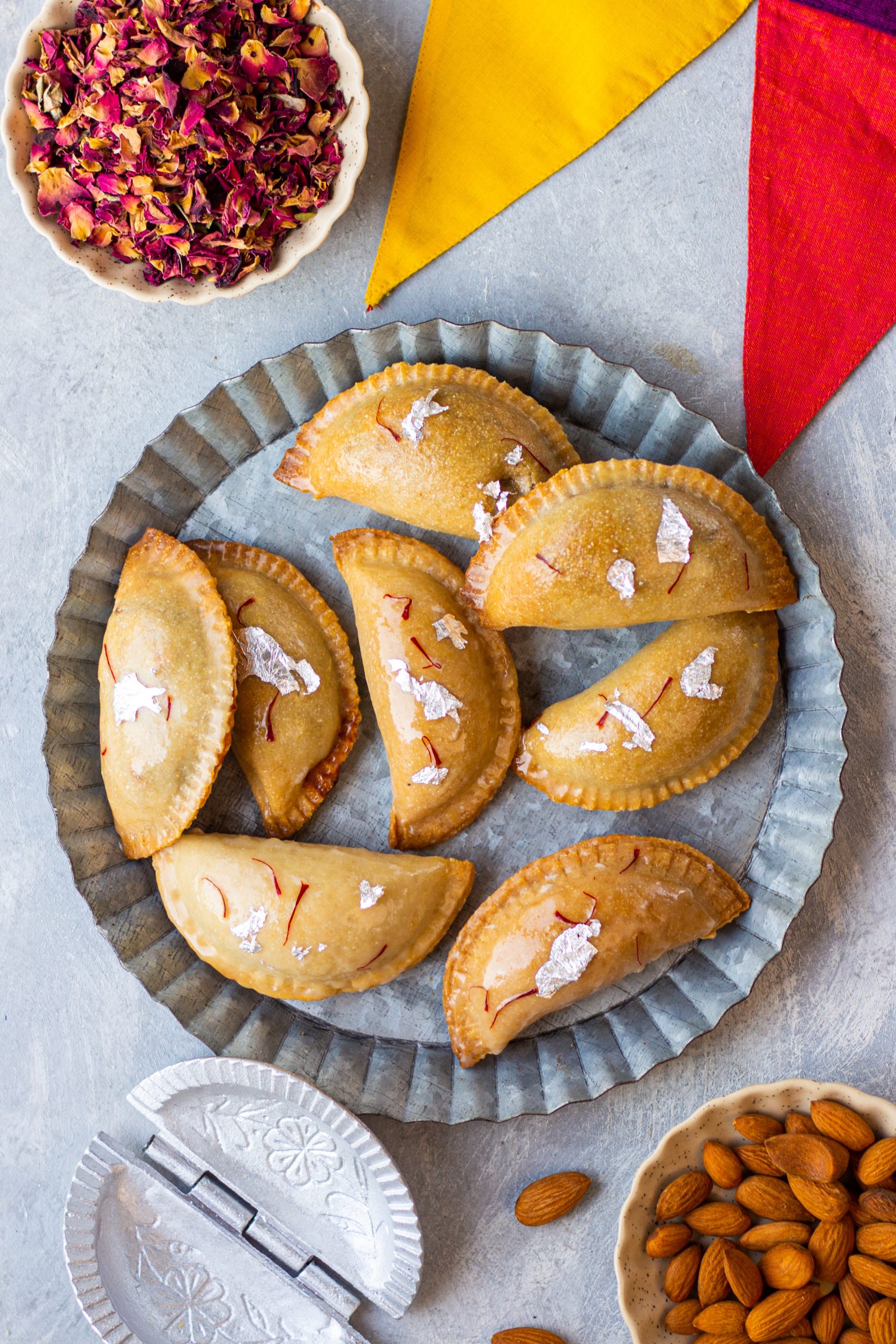 ¼ cup all-purpose flour
¼ cup semolina (suji)
2 tablespoon ghee
2 tablespoon water
½ cup khoya (milk solids)
3 tablespoon gulkand
2 tablespoon icing sugar
¼ cup mix nuts
Ghee for brushing on top
Line a tray with silicone mat and pre-heat the oven at 180*C.
In a bowl, take all-purpose flour, semolina, ghee and water and make dough out it. You can add an additional tablespoon of water, if your dough is very dry. Set this aside.
To make the filling, in a pan add the khoya and cook it over low heat till it gets light brown in color and dries a bit. You will know once it done, when the fragrance comes and it doesn't stick to your pan and gets light brown in color.
Remove it from the heat and let it cool completely.
Add the gulkand, icing sugar and roasted chopped cashews and almonds in it and make the filling.
Roll the dough out into a thin layer and with a round cookie cutter cut circles.
Place one circle into your gujia mould and press it from the sides so that it holds the impressions.
Take one tablespoon of the filling and keep it in one side of the mould.
With your index finger, brush some water on the sides of the rolled dough and close the gujia mould and press nicely, so that the excess dough comes out and the impressions of the mould comes.
Open the mould and take out the gujia and place it over your lined tray.
Repeat this process with all the dough and filling and place them 1 inch apart on the tray.
Bake them at 180*C for 20 minutes, till they turn brown in color and the crust hardens.
Rotate the tray in between, for even heating.
As soon as they get baked, brush ghee on top of each gujia and let them sit and soak it all up.
Decorate it as you like, with saffron strands or silver leaf and enjoy!