The festive season for me is all about spending quality time with my family and reminiscing about old times over some delicious food and desserts. I've fond memories of eating lots of nankhatai that my mom and nani used to make and it only struck me recently that I've never made Nankhatai in my kitchen! Maybe because I'm so fond of the nankhatai that my family makes and I know that my nankhatai would never be as good as theirs. But out of nostalgia and because it's holi, I decided to try out these delicious buttery cookies for y'all in my kitchen and let's just say that I'll be making them more often from now on!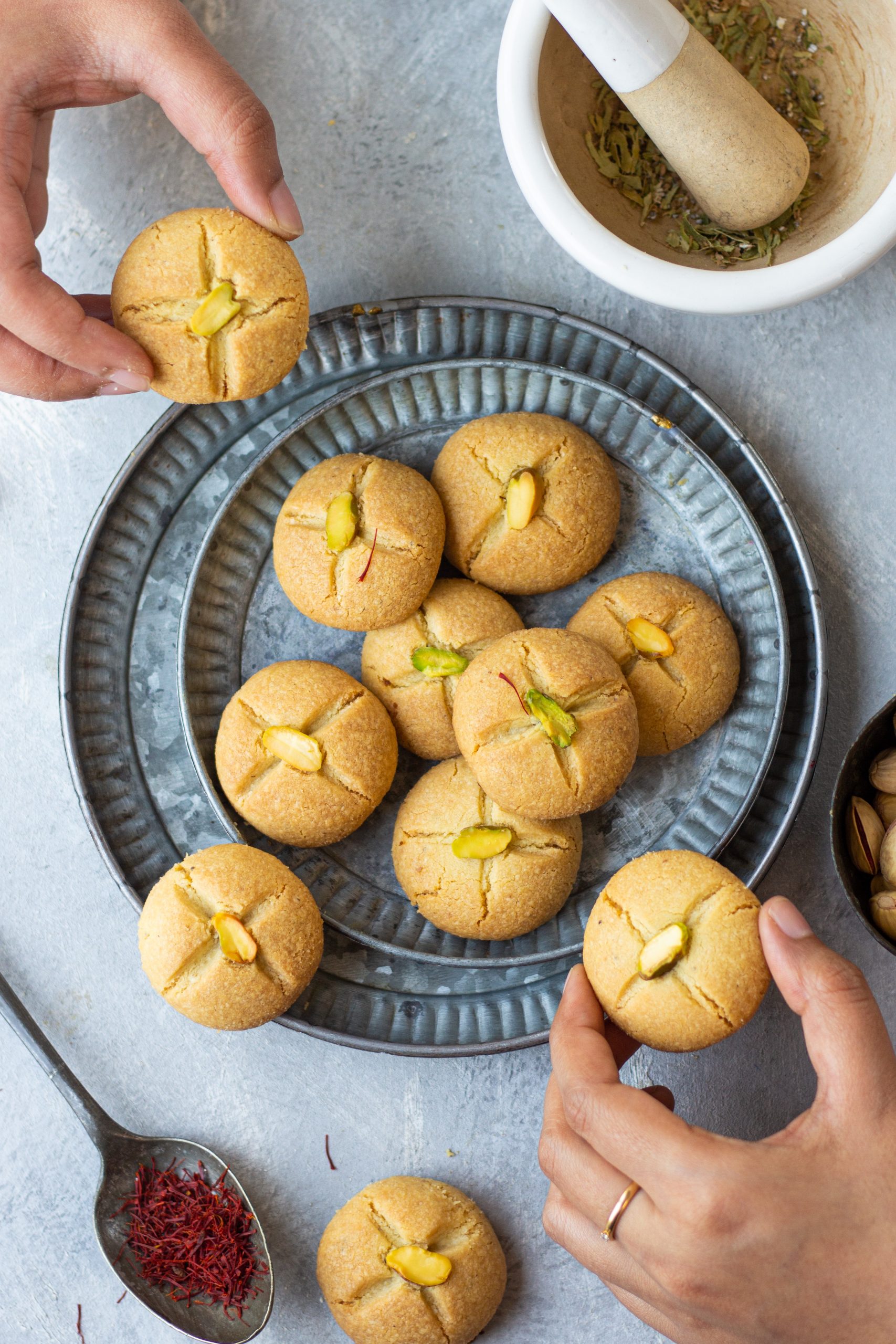 What is Nankhatai?
Nankhatai are Indian Shortbread Cookies which are made using very simple ingredients and are iconically famous for their beautiful shape and incredible taste. The word Nankhatai is derived from a Persian word "Naan" meaning bread and "Khatai" meaning Biscuit. What makes a good nankhatai is that it is crispy outside, crumbly inside and has a wholesome nutty flavor! Nankhatai cookies melt in your mouth and have a rich flavor profile because of all the shortening that goes in it.
Ingredients needed for Eggless Nankhatai
The thing I like the most about these cute little biscuits is that they need minimal ingredients but pack a bomb of flavor in every bite. Unlike a traditional cookie which uses butter, nankhatai, being an Indian version, uses ghee which is also commonly known as clarified butter. The ghee add a delicious festive flavor to our eggless nankhatai, making them perfect for Holi! For the sweetener, I use icing sugar for my eggless nankhatai and also add in some regular pantry ingredients like semolina, besan, all-purpose flour and baking powder. My favorite ingredient going in these eggless nankhatai is cardamom powder! I use homemade cardamom powder because homemade anything is always more delicious and you can actually feel the aroma of cardamom in every bite you take.
That's literally all the ingredients you need for making my delicious eggless nankhatai!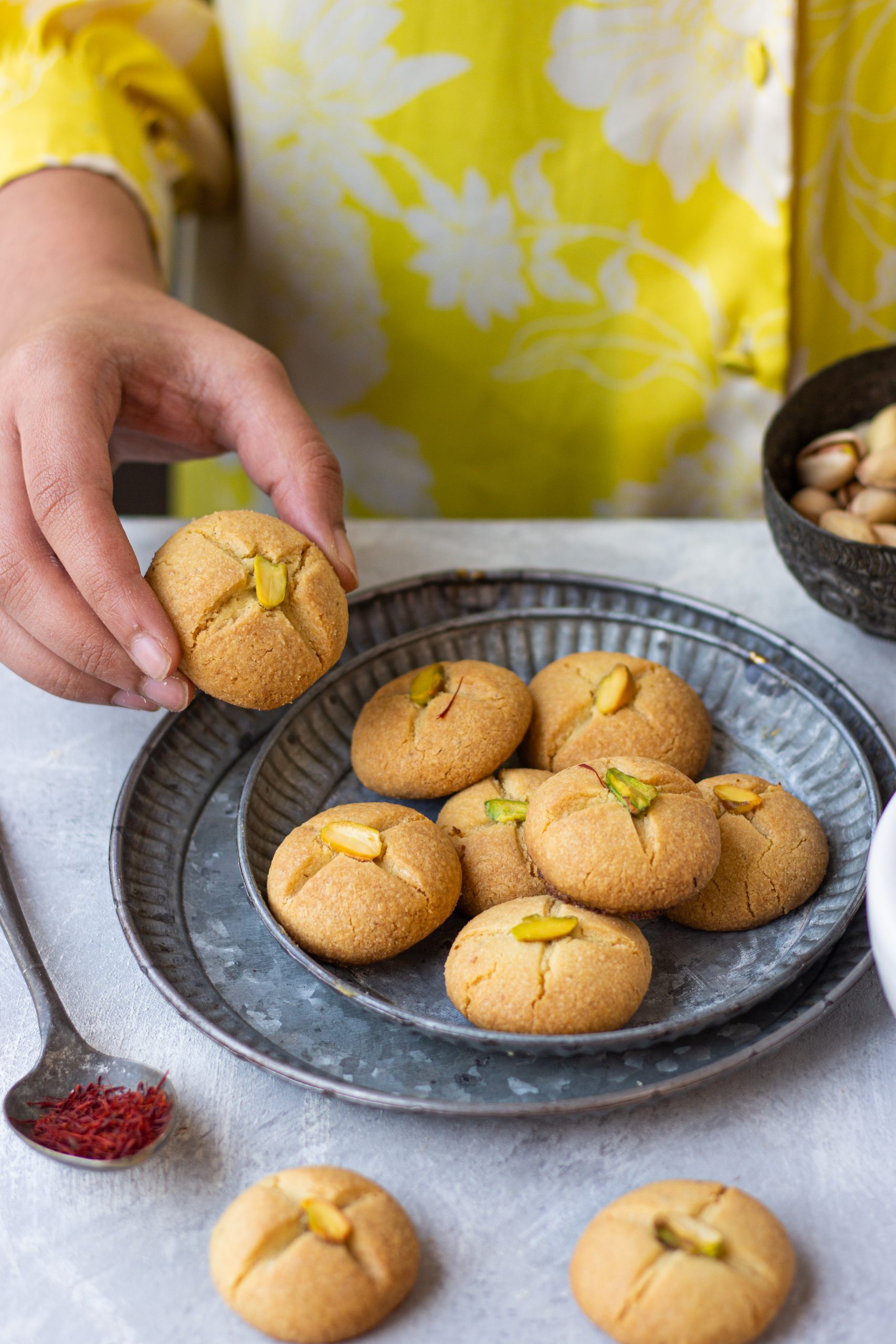 Tips to make the best eggless nankhatai
My eggless nankhatai are quite easy to make, but here are a few tips to keep in mind so that you make the best nankhatai cookies for holi this year –
The fat that goes into the nankhatai dough is what gives it a flaky (khasta) texture. So make sure you don't alter the measurements of any ingredient in this recipe or you'll lose the correct ratio of fat to dry ingredients and end up with a weird texture in your eggless nankhatai.
Once the dough comes together, make sure you don't knead it using your hands or else gluten will form and your eggless nankhatai will come out super hard after being baked. Just bring the dough together using a spatula. You'll know that the dough is ready if you can make a crack-free ball out of it.
Freezing the shaped Nankhatai is the most important step for making these eggless nankhatai because when the fat (ghee) solidifies, it takes longer to melt when exposed to high heat in the oven. This makes sure that your nankhatai retains the needed shape and doesn't spread too much in the oven.
How can I store these Eggless Nankhatai
Once the cookies are baked and cooled completely, you can transfer them to an airtight container and store for 10-15 days but I'm sure that they really won't last this long! I've been making these eggless nankhatai almost every alternate day to have with my evening coffee and trust me, they last only for a day or two! My family loves them and so will you, once you try out this incredible recipe.
And if you like my festive eggless nankhatai, don't forget to check out some of my other festive recipes like my motichoor cheesecake, baked gujiya and rasmalai Tres Leches. Hope you have a blast making and relishing all these desserts, this festive season!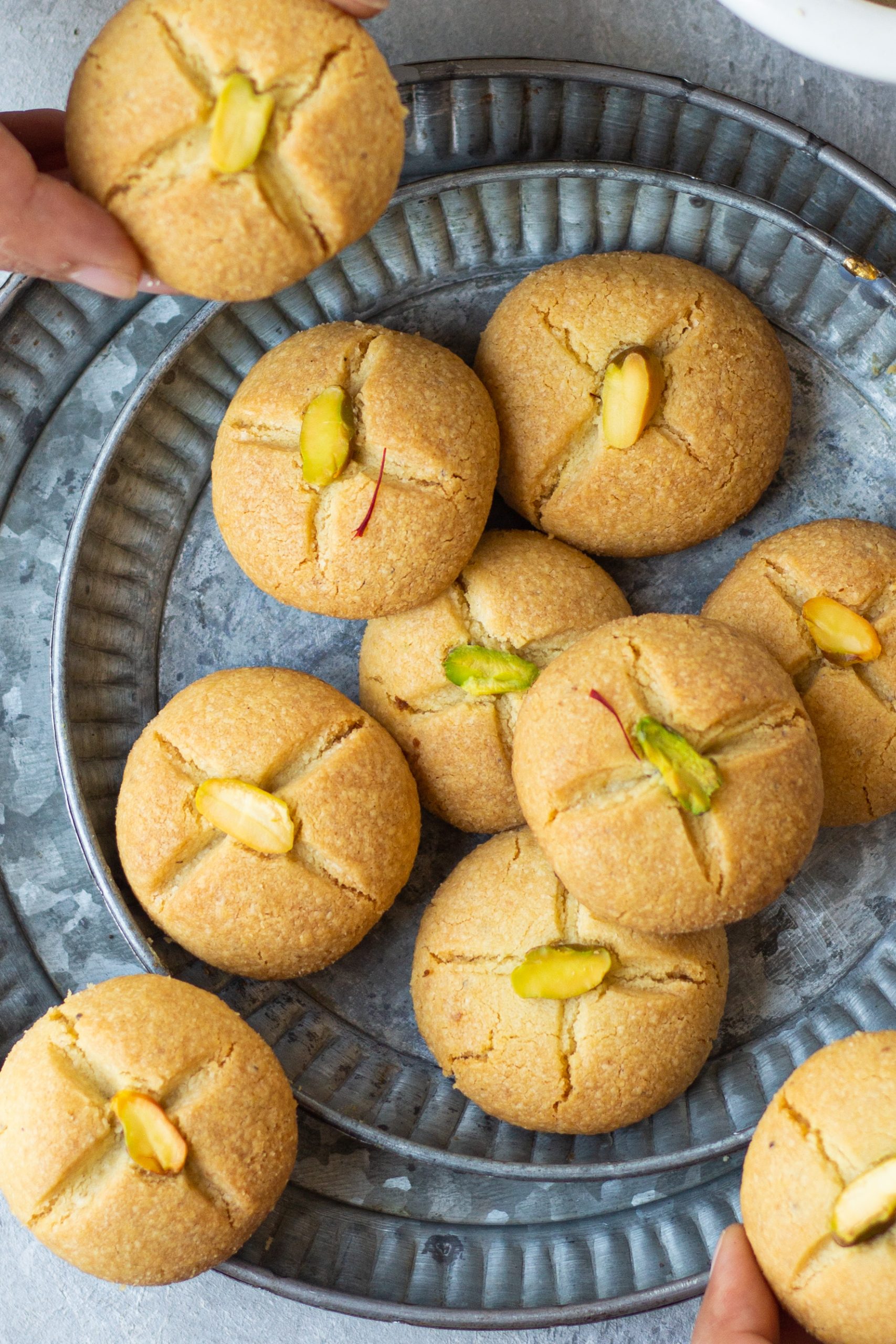 EQUIPMENTS USED TO MAKE EGGLESS NANKHATAI
The kind of equipment you use when you're baking makes a huge difference to the end result! I would recommend you to use good quality mixing bowls and other equipment so that your eggless nankhatai comes out delicious.
To bake my cookies I have used my Borosil 60L Oven. It's been a part of my kitchen for a few months now and I absolutely love it.
Eggless Nankhatai Recipe
Eggless Nankhatai
Ingredients
6 tbsp ghee
½ cup icing sugar
¼ tsp saffron strands
¼ tsp cardamom
1 tbsp suji/ semolina
¼ cup besan/ gram flour
¼ tsp baking powder
½ cup all-purpose flour
Instructions
Start with melted ghee in a bowl. Whisk in sifted icing sugar, cardamom powder and a few saffron strands.
Give it a good mix.
Sift in all the dry ingredients and bring the dough together using a spatula or use your hands.
Shape the dough into small balls and using a knife make a criss cross sign.
Top the centre with half a pistachio.
Freeze the cookie balls while your oven is preheating at 180C.
Bake them for 15-20 mins.
If you like this recipe and happen to make it for holi this year, do share pictures with me by tagging me on
Instagram
using #bakewithshivesh. Happy Baking!