Throughout the summer season, I like to keep a pitcher of some crisp and cool beverage in my refrigerator; be it my mango mojito or simply from any of my three lemonade flavors. And I love the feeling of just opening my refrigerator, topping my glass with ice cubes and pouring my cool drinks from the pitcher, I and my family love it the whole day! One such recipe which I have wanted to try for a very long time is a pineapple iced tea! But it has been a bit difficult for a fresh pineapple to be present at home at all times! So I tried and I created the perfect healthy recipe for this pineapple iced tea with pineapple juice! And trust me when I say this, it is so yummy and as good as the one made with fresh juice. 
This pineapple iced tea is refreshing and satisfying, the ideal drink to quench a thirst on a hot sunny day! But not only for summer season but if the weather rainy, dull and gloomy a glass of this pineapple iced tea immediately boosts spirits as it evokes a tropical atmosphere around you and leave you with all the beach and jungle tropical vibes it can!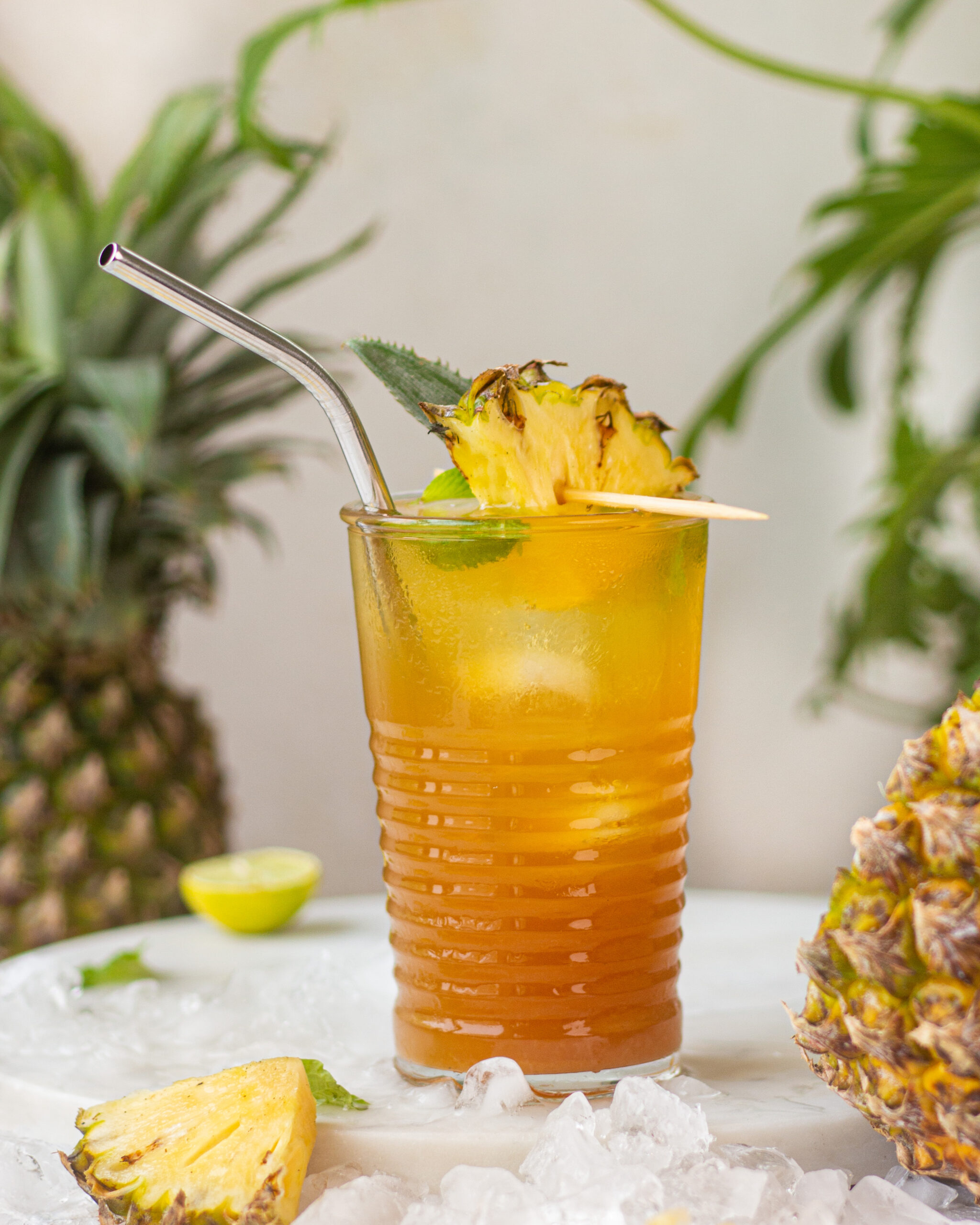 INGREDIENTS TO BE USED TO MAKE THIS PINEAPPLE ICED TEA
Because we are preparing our own iced tea for which we need to steep some tea bags in hot water, I am using ¾ cup of hot water to start off for our pineapple iced tea.
I am using 2 normal tea bags to steep in hot water but if you do not have tea bags, you can use 1 tablespoon of tea leaves and boil it with water for 2-3 minutes and strain it after. I am using no flavor black tea bags here.
And because this is my 5637394 attempt to make something healthy! I am using 1 tablespoon of honey here instead of any kind of sugar. If you want you can increase the quantity according to your preference. You can also use caster sugar or brown sugar or even sugar syrup, it's all on you!
I like my drinks to be very icy and cool while drinking and that's why for this pineapple iced tea, I would load up the glass with ice cubes and then pour my drink on it for that cool and refreshing feeling!
And our star ingredient, pineapple juice, I am using canned pineapple juice here with zero sugar and no preservatives. You can use the store bought one or even get the fresh one from the market! ¾ cup of pineapple juice is what makes this pineapple iced tea very tropical and yum, if you want you can simply, reduce of increase the quantity of pineapple juice and balance it with our tea concoction!
I like my iced teas with a little bit of tang! And a little vitamin C always do some good, so I am adding 1 tablespoon of lemon juice in my pineapple iced tea. If you want you can increase it to 2 tablespoons for sourer flavor!
I love mint leaves in my pineapple iced tea, they level up this drink and make it even more refreshing and yummy! Mostly, everyone have this at home but if you do not have them, you can also skip it.
TIPS AND TRICKS TO MAKE THIS PINEAPPLED ICED TEA
Make sure once you prepare your tea concoction with hot water, tea bags and honey; you let the tea bags steep there properly for good flavor.
Make sure to cool the tea concoction properly before adding it to the final drink!
Instead of regular black tea bags, if you want to make this pineapple iced tea healthier, you can substitute it with green tea bags as well. The flavor will differ but it will be healthier.
You can also add small cubes of fresh pineapple into this pineapple iced tea while serving.
This pineapple iced tea can be kept in the fridge stored in a glass pitcher for the entire day. You just need to stir it before consuming.
You can also add lemon wedges in the drink to make it tangier.
MORE PINEAPPLE RECIPES ON THE BLOG:
Bakery style eggless pineapple pastry
Pineapple and musk melon sorbet recipe
Pineapple Iced Tea 
Pineapple Iced Tea
Ingredients
¾ cup water
2 black tea bags
1 tablespoon honey
Ice cubes
¾ cup pineapple juice
1 tablespoon lemon juice
Few mint leaves
Pineapple wedges to garnish
Instructions
Take a microwave proof glass jar and pour the water in it and microwave it to 2-3 minutes till we get very hot water.
Put the tea bags in it and let it seep for 5-7 minutes.
Add honey in this tea concoction and give it a stir. Keep this in the refrigerator with the tea bags to cool down properly.
Take your serving glass and add 3-4 ice cubes in it.
Pour pineapple juice on it.
Add lemon juice and mint leaves to this glass.
Pour ½ cup of the cooled tea concoction in this glass and give it a stir.
Add pineapple wedges to garnish the pineapple iced tea and enjoy!
Also, if you happen to make this pineapple iced tea in your kitchen, do tag me on Instagram and share pictures with me using #Bakewithshivesh. Happy Baking!