We're almost in the peak of summer and I don't know about you, but I am hoarding fruits like a crazy person because it is all I crave for in this weather! The beauty of summer comes from the abundance of fresh and juicy fruits that it brings with it.  Check out my Instagram  @shivesh17 account to see all fruit dessert recipes. One of my favorite ways to consume fruit is by making a sorbet. This pineapple and musk melon sorbet recipe is a must make recipe for the summer months. 
There are a lot of simple joys in life and an easy sorbet recipe is definitely a part of that list. A sorbet is perfect for the hot summer days. It is also the best option for when you need a super light and super fruity dessert that your taste buds will thank you for.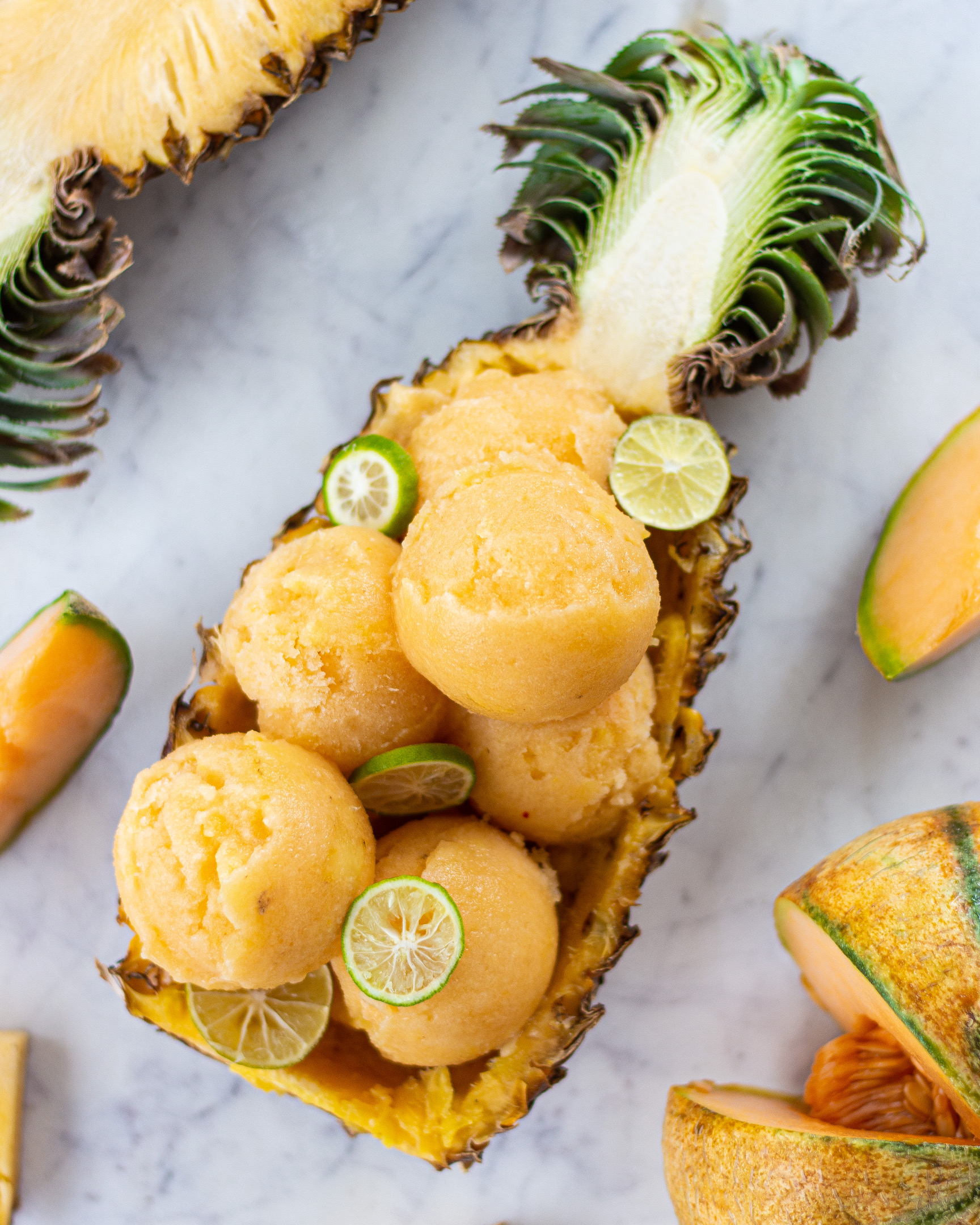 What is a sorbet?
A lot of us love and are obsessed with eating ice cream and rightly so. But another super fun and cold summer treat is a fruity sorbet. A sorbet is not as popular in India, but trust me, when I say that you need to make one at home.
A sorbet is basically a frozen dessert in which the two main ingredients are fruit and a sweetener of choice. All sorbets are made out of fruit and there is no inclusion of cream, or milk. It is such an easy thing to make that gives you the perfect relief from the summer heat. 
Another frozen dessert that is closely related to sorbet is granita. Don't get confused between the two. The main difference lies in the texture and consistency. Both sorbet and granita have the same ingredients but a sorbet can sometimes be churned like ice cream and therefore has a smoother texture. However, a granita is known for its icy texture and does not go through the churning process. 
Sorbet VS Sherbet 
One very frequently asked question and or dilemma is about the difference between a sorbet and sherbet. 
If you do not already know, a sherbet is also made out of fruit and sugar but in addition to that, sherbet will always have a creamy element. This is why a sherbet resembles ice cream more than a sorbet or granita. 
This also makes the difference between a sorbet and a sherbet clear. While both have fruit as their main ingredient, the texture is extremely different of a sherbet because of cream. This also increases the fat content of sherbet and makes it more than that of a sorbet. 
Ingredients needed for any sorbet recipe 
 As I have already mentioned in the article, sorbet is made out of fruit and sugar/sweetener. Making sorbet is not an exact science, but you do need a basic idea of what sorbet ingredients you are adding, why you are adding it.
Fruit
You can use any fruit under the sun to make a sorbet. The ones that work most beautifully include all berries, mango, pineapple, lemon and so on. Once you have chosen which fruit to use, you need to make a puree of it. You can always use a combination of fruits, that too is totally your choice. 
Now because fruit is one of the two ingredients that are being used, you need to use a good amount of fruit. 3-4 cups seems to be the standard amount of chopped fruit used to make sorbet. You can choose to freeze your fruit or not. I prefer freezing it because the puree is of a much better texture then.
Sugar
The second ingredient is sugar and it does more than just sweeten your sorbet. Now if you are using fresh fruit, the amount of sugar you put totally depends on the sweetness of the fruits that are available to you. So please add sugar accordingly. 
However, it is very important to keep in mind that upon freezing, items lose their sweetness quite a bit. This is why whenever you're making a frozen dessert like sorbet, always add a bit of extra sugar. 
Sugar can be added in a lot of ways. One of the most popular ways is to make a simple sugar syrup. All you need to do is simmer equal parts of sugar and water. Make sure all the sugar granules have dissolved in the water. Turn off the heat and let this cool down. Another way to add sugar is by adding other sweeteners such as condensed milk or honey. 
Apart from adding sweetness to sorbets, sugar is also crucial for the texture of the sorbet. This is why it becomes extremely important to get the amount of sugar just right in your sorbets. If you add too little sugar, the sorbet will be icy. If you add too much sugar, it can become very slushy and not as smooth. But don't worry, my sorbet recipe will give you the perfect ratio of fruit and sugar and you can use this as a base for any sorbet you might want to make!
The best thing about the two ingredient sorbet recipe is that it gives you a blank canvas and the opportunity to be creative. You can add any flavorings you like and prefer. You can also use some kind of liqueur to take things up a notch.
Sorbet recipes on the blog
I have a few sorbet recipes on the blog but you can also try other frozen dessert recipes on my blog. Some of my favorites are: Watermelon Sorbet, Easiest Frozen Raspberry Yogurt, Strawberry Cheesecake Ice cream.

Pineapple and musk melon sorbet recipe
Ingredients
1.5 cups frozen pineapple (chunks)
1.5 cups frozen musk melon (chunks)
2 Tbsp icing sugar
2 Tbsp lemon juice
Instructions
In a food processor put frozen pineapple and frozen musk melon chunks. Add in icing sugar and blitz everything together till it reaches a slushy consistency.
It will take 2-3 minutes to form a smooth fruit slushy mixture. After a minute or so add in the lemon juice with the rest of the fruit mix.
Continue to blitz till there are no big fruit chunks and you have a lump free mix. Serve immediately for a soft serve consistency or pour the mixture in a baking dish and freeze it for 6-8 hours or overnight.