Can I just say I have had 3 donuts in the span of 15 minutes right after I finished making them? This recipe is contagious, there I said it! The eggless donut recipe is super easy and  a must try for all you bakers at home. With the lockdown currently easing up a bit, I know it is still very intimidating to go and about. And if you are craving this sugary goodness, make it at home right away! The eggless donuts use staple pantry ingredients and are super simple to prepare. It's just so fascinating how such basic ingredients can be turned into something so heavenly.
My most favourite thing about donuts is how versatile they are, you can top with anything from chocolate, caramel, fruit preserves, matcha, whipped cream or just have as old fashioned donuts. For all the matcha fans you can check out my Glazed Golden Matcha Donuts, I bet you will fall in love!
These eggless donuts are yeast free and super fluffy. It's like eating a cloud, kinda fluffy. And you know how big of a chocolate lover I am, so I had to glaze these donuts with chocolate. The donuts will just melt in your mouth and trust me you will keep wanting more. So make sure you double this batch up when making these. Haha! If you recreate my recipes don't forget to share pictures with me on my Instagram @shivesh17.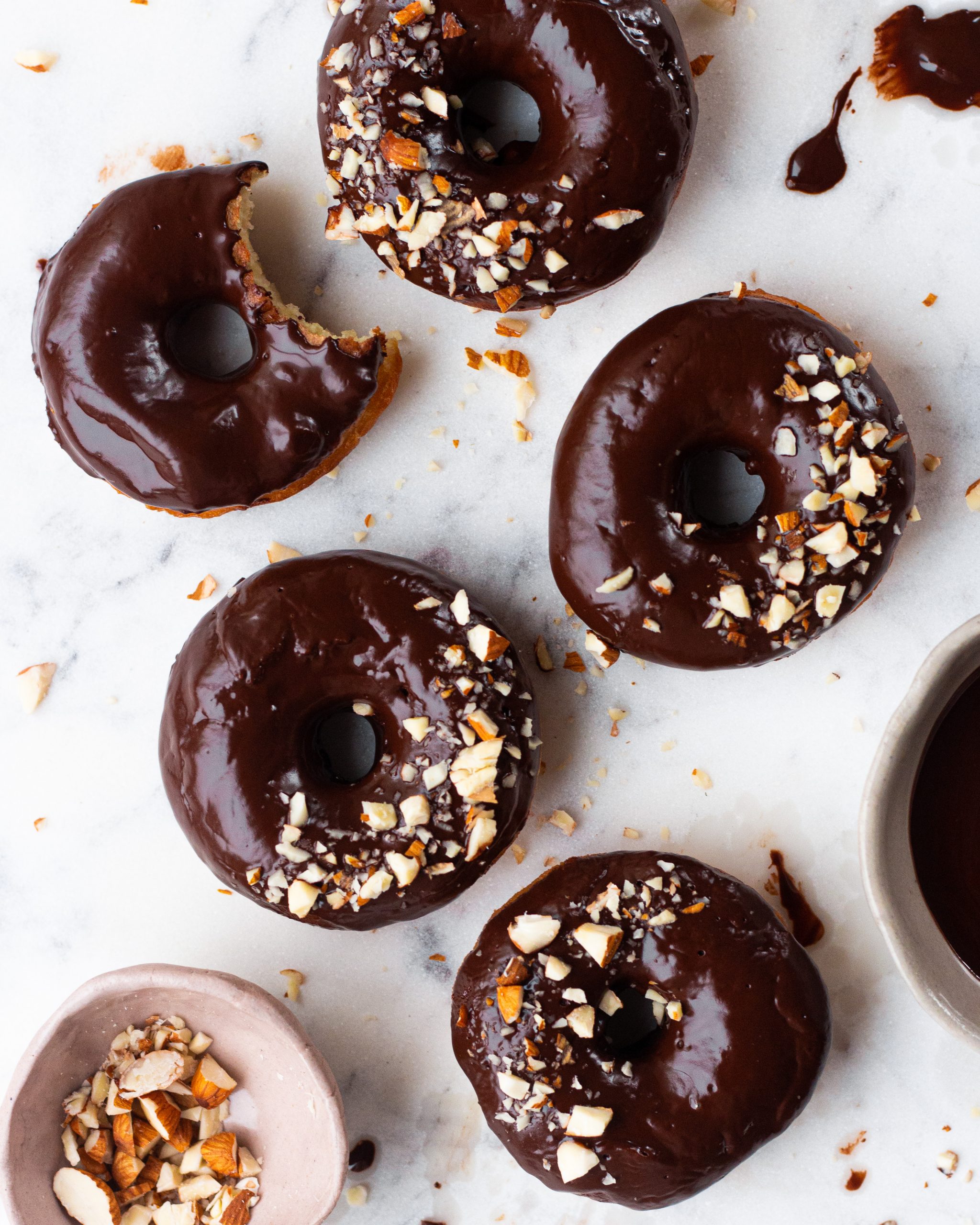 What is a donut?
Donuts or also known as doughnuts, is a deep fried dough shaped in a circle. The donuts can be shaped in three different ways. First being just a circle, second being a hollow circle/ring donut and lastly donuts holes that are just small donut balls. 
The first type of donut which is a circle piece of dough when fried is usually pierced and filled in with some kind of custard or fruit preserve. For a similar experience you can also try the Strawberry Jam Donuts, the perfect balance between sweet and tart! The second which is ring donut is usually topped/ coated with a glaze or dusting. 
The third type which is donut holes are basically the center cut out of the ring donuts that is usually dusted in icing sugar. For my eggless donuts I have picked the ring donut shape that I have then coated with chocolate glaze. Personally for me the ring donuts are a perfect combination of just enough dough and extras, like the chocolate
Types of donuts
There are two main types of donuts, yeast donuts and cake donuts.
Yeast donuts being the ones that have been activated by yeast and then deep fried. Cake donuts on the other hand are similar to cake batter that has been baked. Check out baked carrot cake donuts recipe.
No yeast donuts
Traditionally donuts are prepared with the help of yeast. When yeast reacts in the batter it creates small air bubbles that bake into fluffy donuts. I know some of us are intimated with the use of yeast and how to activate and feed it. Which is why this yeast free eggless donuts recipe is made for you! The alternative I have used here instead of yeast is baking soda and baking powder. Baking soda and baking powder create a similar effect to yeast by creating bubbles of carbon dioxide that make our donuts super fluffy and so so GOOD!
Eggless donuts
So many of you guys do eggless baking and I am constantly working on making recipes that can be adapted by all of you! To supplement the eggs here I have used milk, vinegar and curd. All of these ingredients will help furnish the gap and make our donuts the best homemade eggless donuts you have ever had!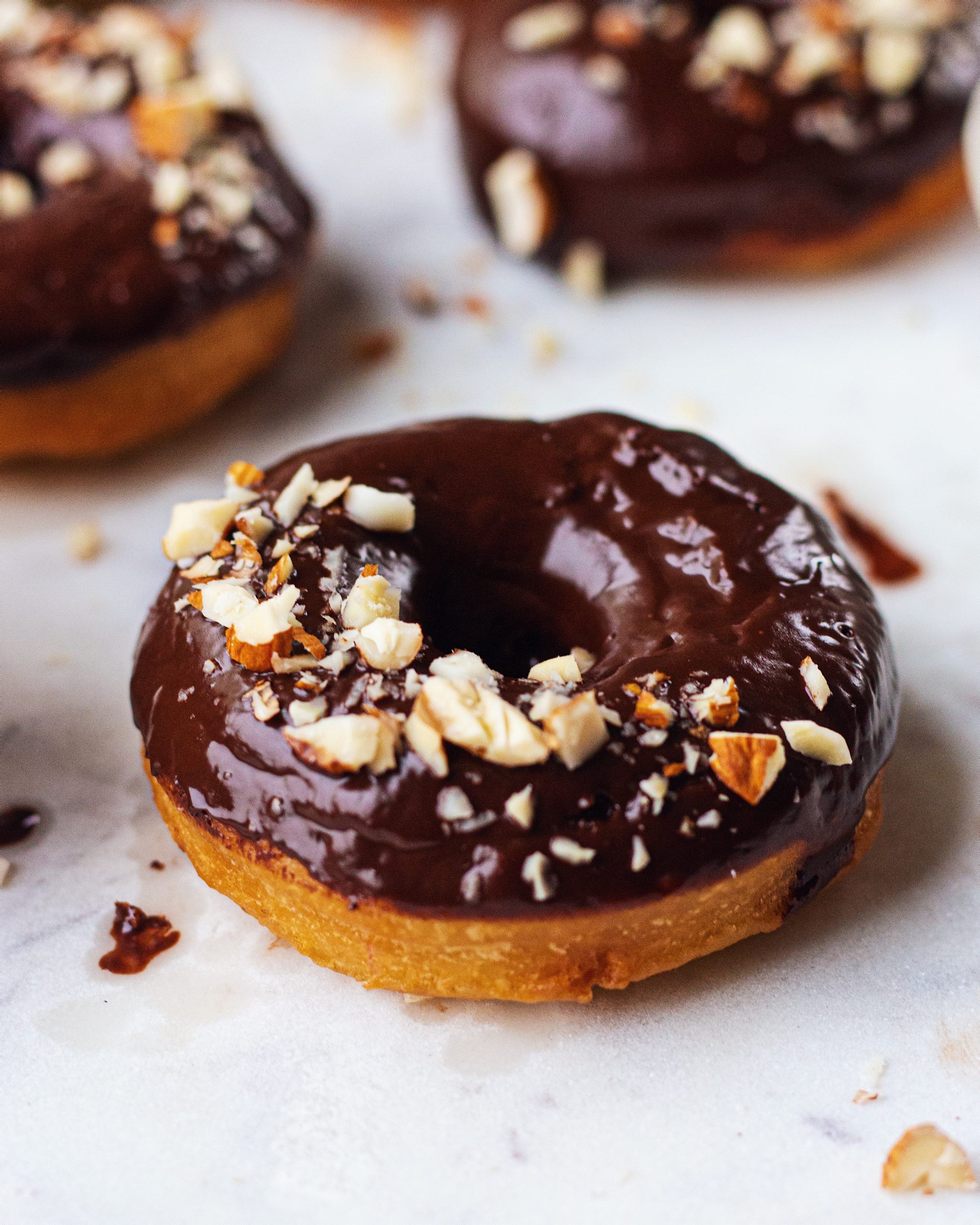 Tips to make perfect donuts
While making the dough it will be slightly on the sticker side and that is okay! Do not add extra flour by looking at the consistency or roll the dough vigorously as this will make the donuts tough.

Rest the dough for 30-40 minutes so that the leavening agents can get activated and our donuts turn out pillow-y.

Add the vinegar to the milk and let it rest for 5-10 minutes, this extra step will make the donuts soft and texturally perfect.

Add my secret ingredient-nutmeg. Nutmeg adds a beautiful flavour and smell to the donuts. This will have your donuts taste just like you have picked them off a bakery counter.

Make sure the frying oil is at the right cooking temperature which is usually between 185-190C. The oil will be VERY hot, so please be careful and ask for help if need be. 
Happy baking!

Eggless donuts
Ingredients
½ cup milk
1 tsp vinegar (optional)
1+ ½ cup maida + 1 tbsp ( if needed)
¼ cup castor sugar
½ tsp baking powder + ¼ tsp baking soda
Pinch of salt
¼ tsp grated nutmeg
¼ cup melted butter
1 tbsp curd
Oil for frying
For the glaze-
1 cup chopped chocolate
2 tbsp vegetable oil
Instructions
In a bowl add vinegar to the milk, mix and let this mixture stand for 5-10 minutes.
In a separate large bowl, add the flour, castor sugar, baking powder, baking soda, salt and nutmeg. Mix the dry ingredients well.
To the dry ingredients now add the milk and vinegar mixture, butter and curd. Mix everything until the dough comes together. If the dough feels very sticky, add a tbsp of flour. Let it rest for 30-40 minutes.
Heat a pot with oil and bring it to 185C to 190C, (Please be careful around hot oil)
Dust the counter with flour, divide the dough in half and roll the dough to ½ ' of thickness. Cut the dough using a cookie cutter or large lid for the outer circle and small lid for the center.
Carefully add the donuts to hot oil to fry and let it fry until the donuts become fluffy and they rise, flip and cook until golden brown.
For the glaze chop the chocolate and add to a microwave safe bowl. Add the oil and microwave it in 30 second intervals until the chocolate is fully melted.
Glaze the donuts with the chocolate glaze, top with crushed almonds and enjoy!