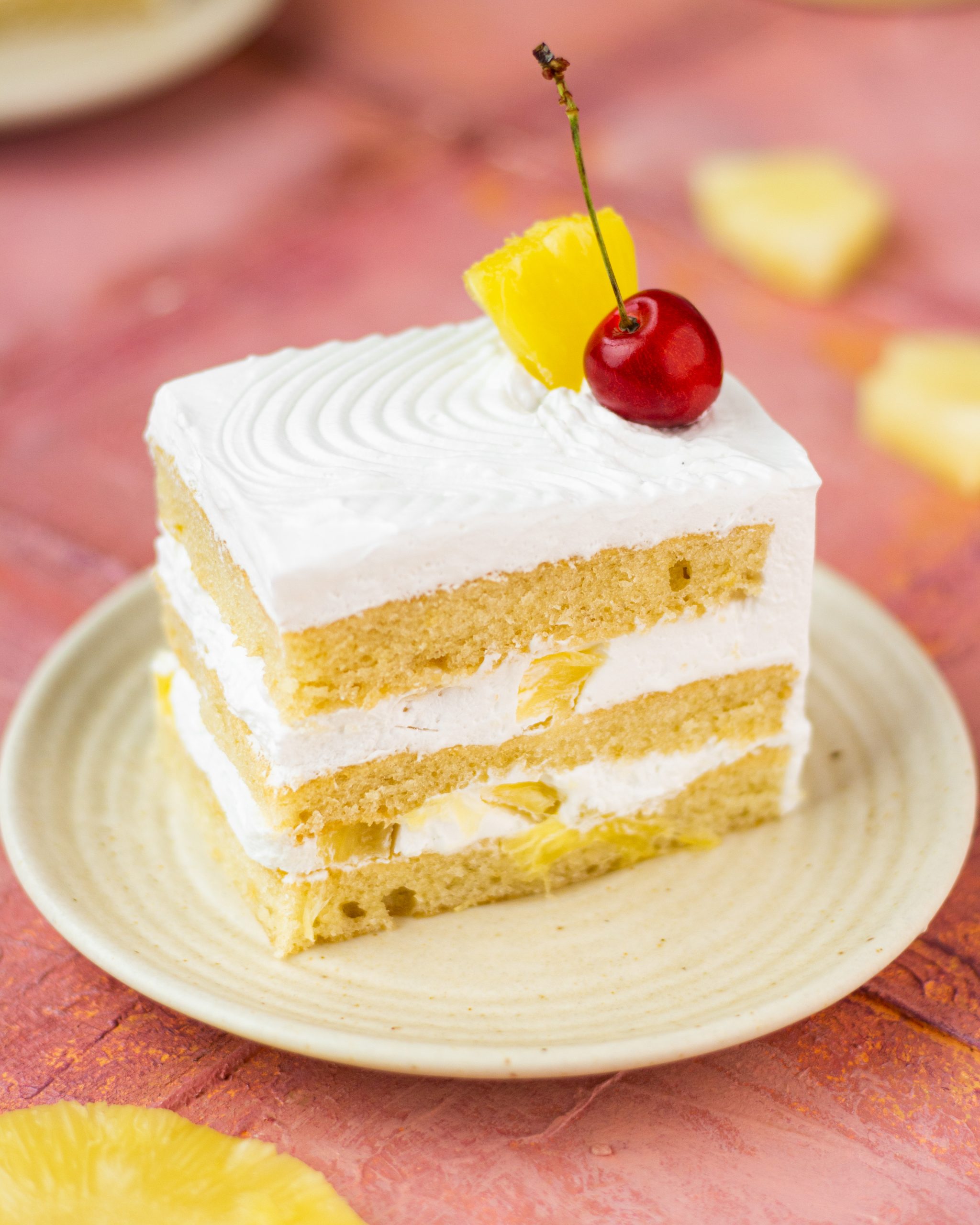 Tell me you have a better childhood memory than sharing, (well not really) slice of pineapple pastry with your sibling or family. Little joys of requesting dad to treat us with a dessert, and then spending the whole evening anticipating his arrival. Sweet sweet memories that I will always cherish. Cut to present day, me trying to recreate every possible dessert at home. We are making the bakery style eggless pineapple pastry that is eggless, fruity and absolutely delicious.
All you need for this recipe is some basic pantry staples, alongside canned pineapple, some whipping cream. We are also not going to be using any cake pans, and baking in the baking tray itself. The whole process of layering and assembling is so fun, I would highly encourage and see it becoming a family activity. And this eggless pineapple pastry becomes your go to family favorite dessert.
The base of eggless pineapple pastry
The base of this pineapple pastry is going to be a pineapple flavored eggless sponge cake. Instead of baking it in a cake pan, we are directly going to use our baking tray and bake the batter in it. This will help us get a thin sheet like cake that we will cut up later and assemble as pastries. You can simply use a palette knife to ensure the batter is spread evenly throughout. So the main flavoring agent here in the cake base will be pineapple essence, make sure you get a good quality essence and also use just the amount mentioned. Flavoring essence can have a strong taste that when added in abundance can get overpowering. However if you do not have pineapple essence at hand, you can simply replace it with vanilla essence. The one that I have used is from the brand- Harvey's.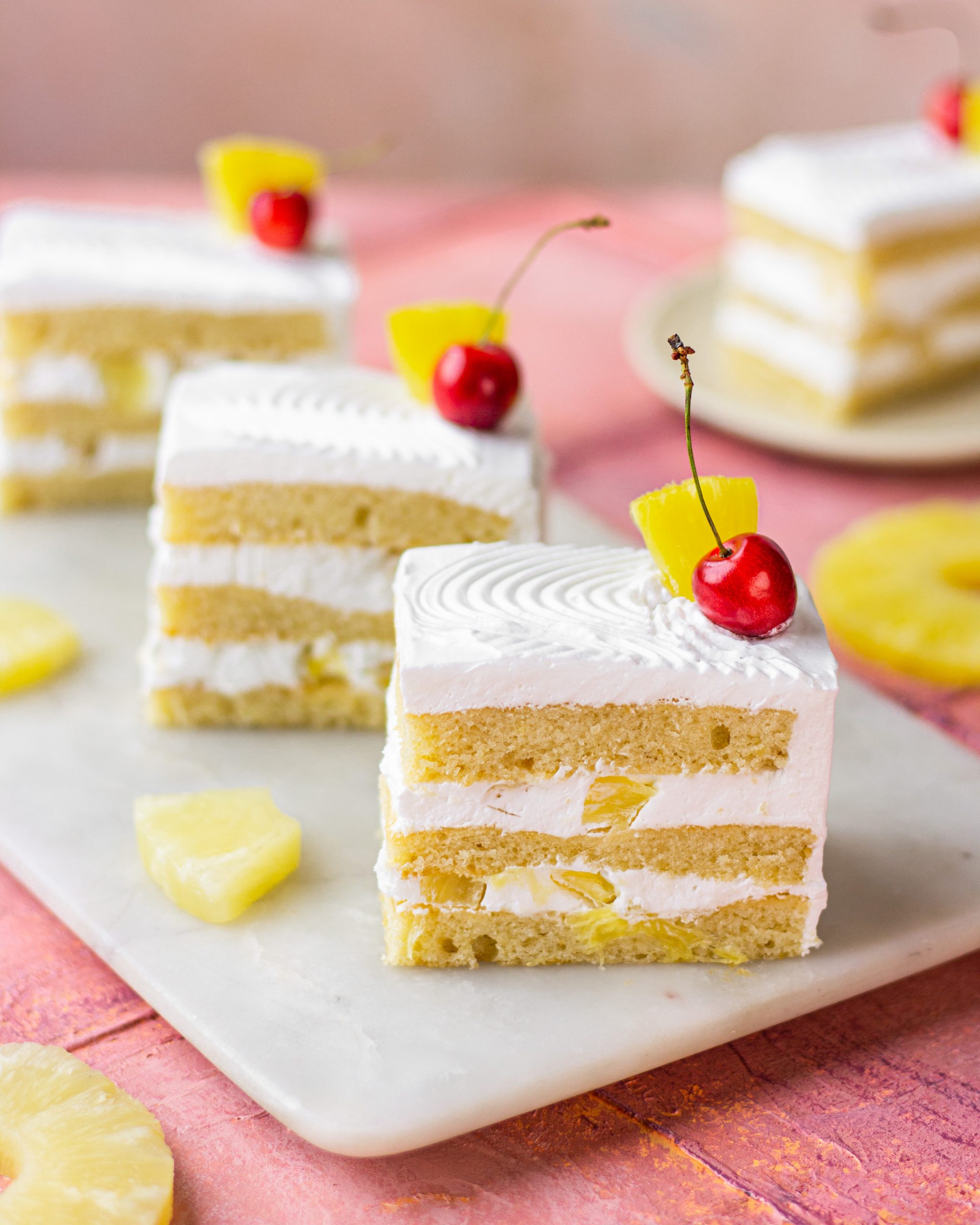 Pineapple soak
Since I am using canned pineapples here for this pineapple pastry. I will reserve the syrup that came in the can. This syrup is sweet and flavored with pineapples, which will be great to soak our cake base with. Using a pastry brush I will brush my cake base once before I will start layering it. If you don't want to use this syrup, you can simply prepare a sugar syrup by just combining water and sugar.
The cream
This is the element that I believe distinguishes between a regular cake and a pastry. Usually pastries have a lot more cream in them, which makes them more moist and decadent to eat.
I have used a non-dairy whipping here like rich or tropolite. You can also try to make this a dairy cream like amul or purez, but considering how hot it gets in Delhi, managing dairy cream would be a task. To make this pineapple pastry extra flavorful, I have also added in a few drops of pineapple essence in the cream as well.
The pineapple
Ahh! The star of the show – pineapple. To make this eggless pineapple pastry true bakery style I have used canned pineapple that is much sweeter, juicer and tender. Fresh pineapple can also be a great alternative here, whether raw or cooked into a little sugar. Make sure to cut the fruit into small dice and add lots of it so that you can get pineapple in each and every bite.
The grand assembly of the eggless pineapple pastry
Unlike other cakes, the assembly process of the pastry is slightly different. So once our sheet cake is baked and cooled completely. We will brush it gently with the reserved pineapple syrup first. Then with the help of a ruler, we will divide the cake lengthwise keeping each section as 3 inches. Once cut, spread a generous and even layer of the whipped cream on top of the cake sections. This is a crucial part so make sure you spend enough time and effort in spreading the whipping cream.
Once the cake layers are fully covered, I am going to top 2 out of the 3 layers with the chopped pineapple cubes. Spread the pieces generously and then press them down into the cream. You can also run your palette knife again over the top to make sure everything is nice and leveled, so that stacking the layers happens smoothly.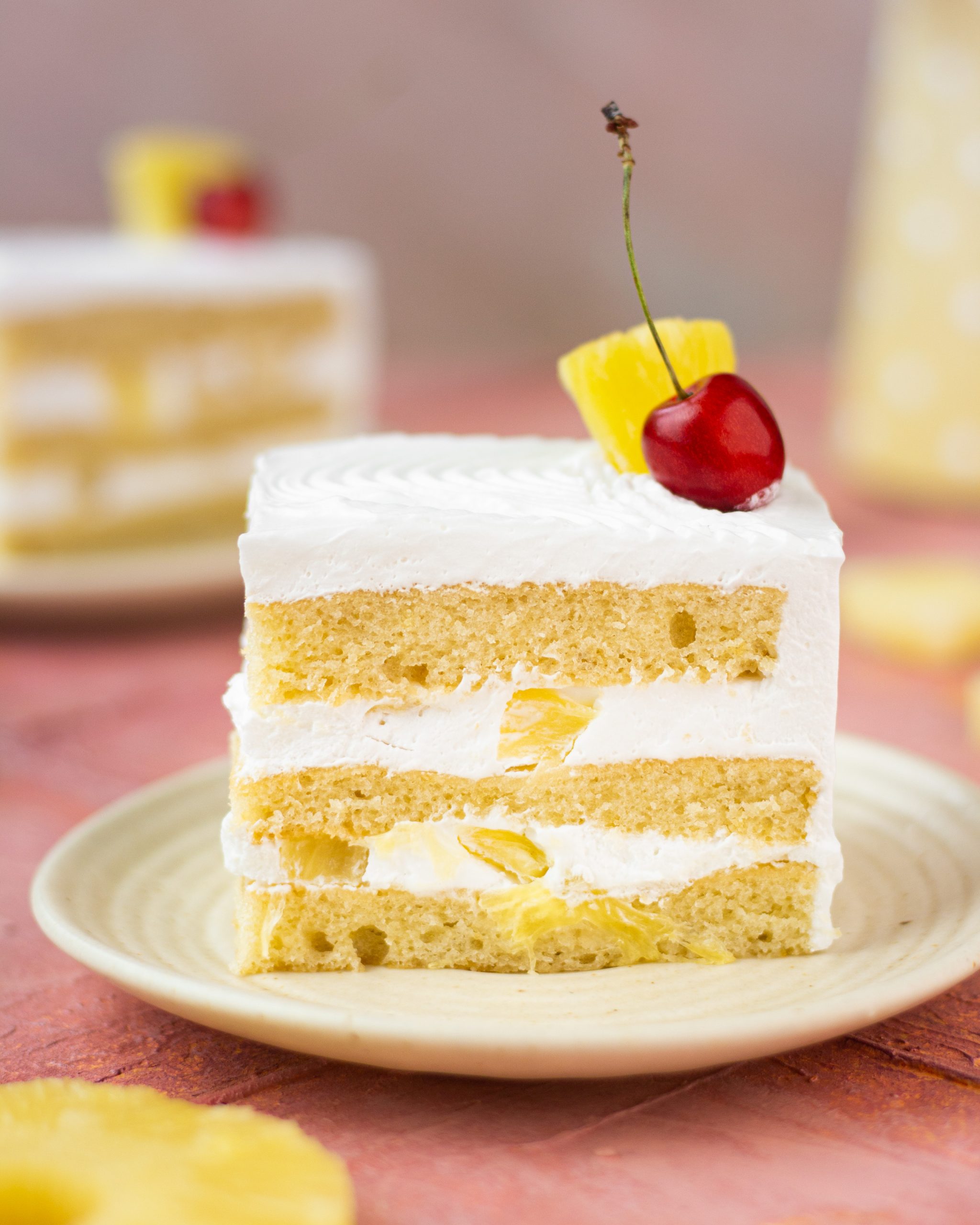 Now we are going to stack the layers on top of each other, leaving the layer without the pineapple for the final top layer. Once the pastry is assembled, you can also coat the back (lengthwise) with extra whipped cream. Then we will divide this into individual 2 inch pastry slices. To make it look even more bakery style, I used a cake scraper with ridges to create a fun design on top, also added pineapple slices and fresh cherries.
Tips to make the perfect pastries at home
While preparing the cake base, spread the cake batter evenly so that all the layers once cut are leveled.
Soak the cake with pineapple syrup to help the cake stay moist and not dry out.
Do not hold back on the cream, cream is what will hold our pastries together and add that rich flavor, so be generous.
When adding pineapple pieces, take time to stud them in the whipped cream so that they don't pop out when the cake get layered on top of each other.
Have fun, at the end I think if you put love and joy into any recipe it is bound to taste the absolute best!
If you also love pineapple as much as me, you can try my other pineapple favorites like my Eggless Pineapple Cake. If you do recreate this childhood favorite, do tag me on Instagram at shivesh17.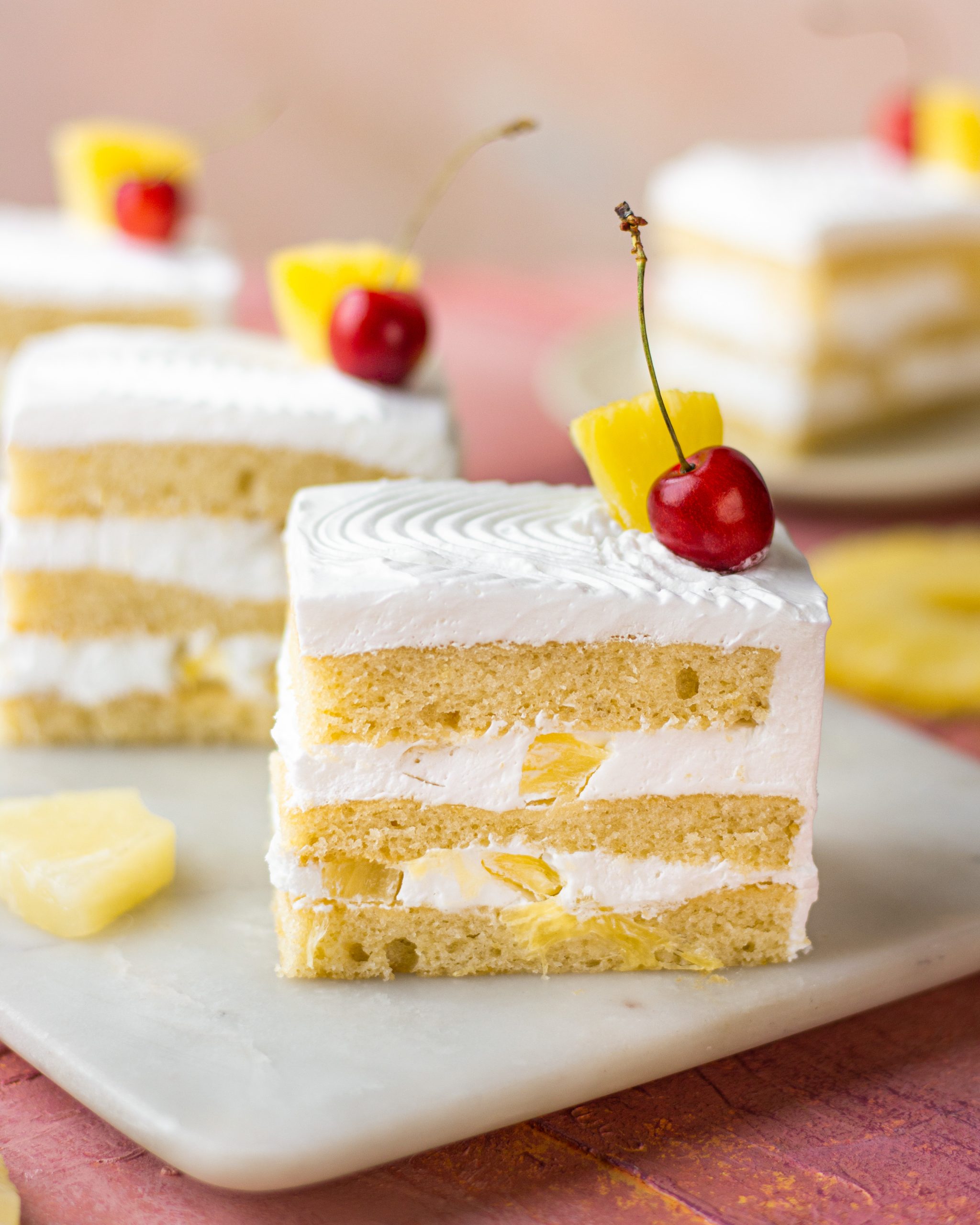 Bakery style eggless pineapple pastry
Ingredients
1 + ½ cups (180g) all purpose flour (maida)
1 teaspoon (4g) baking powder
¾ cup (215g) yogurt
½ teaspoon (3g) baking soda
¾ cup (150g) castor sugar
½ cup (120g) vegetable oil
1 teaspoon (5g) Pineapple essence
¼ cup (60g) pineapple juice
2-3 tbsp (30-45ml) pineapple syrup from the pineapple can
1 + ½ cup (345ml) whipping cream
1 tsp (5g) pineapple essence
½ cup (100g) chopped canned pineapple chunks
6 fresh cherries
Instructions
Pre -heat the oven to 180 degree C and line a baking tray with parchment paper.
In a bowl add the yogurt and sprinkle baking soda over it and set it aside to foam up.
Whisk together castor sugar and oil in a separate bowl until pale and well combined.
Now pour the yogurt mixture into the oil and sugar mixture and mix well. Add the pineapple essence and mix.
Sift through the flour and baking powder. Gently fold in the dry ingredients and mix until everything is well combined and there are no large flour pockets in the batter. Do not over mix at this stage.
Transfer the batter into the baking tray and spread out evenly.
Bake at 180C for 20 minutes or only until a skewer inserted in the center comes out clean.
Meanwhile: add the whipping cream into a large bowl along with pineapple essence and whip using an electric mixer until stiff peaks are achieved.
Allow the cake to cool and then transfer over to a chopping board. Brush the cake generously with the pineapple syrup reserved from the pineapple can.
Cut the cake base into 3 inch sections length wise. Evenly spread the whipped cream on all three layers.
Add the chopped pineapple onto 2 out of the 3 layers and then stack then on top of each other leaving the one without pineapple for the final top layer.
Spread more whipping cream on the back and use a cake scraper to make designs on top of the pastry. Then cut into individual 2 inch pastry slices.
Top with pineapple slices and fresh cherries.