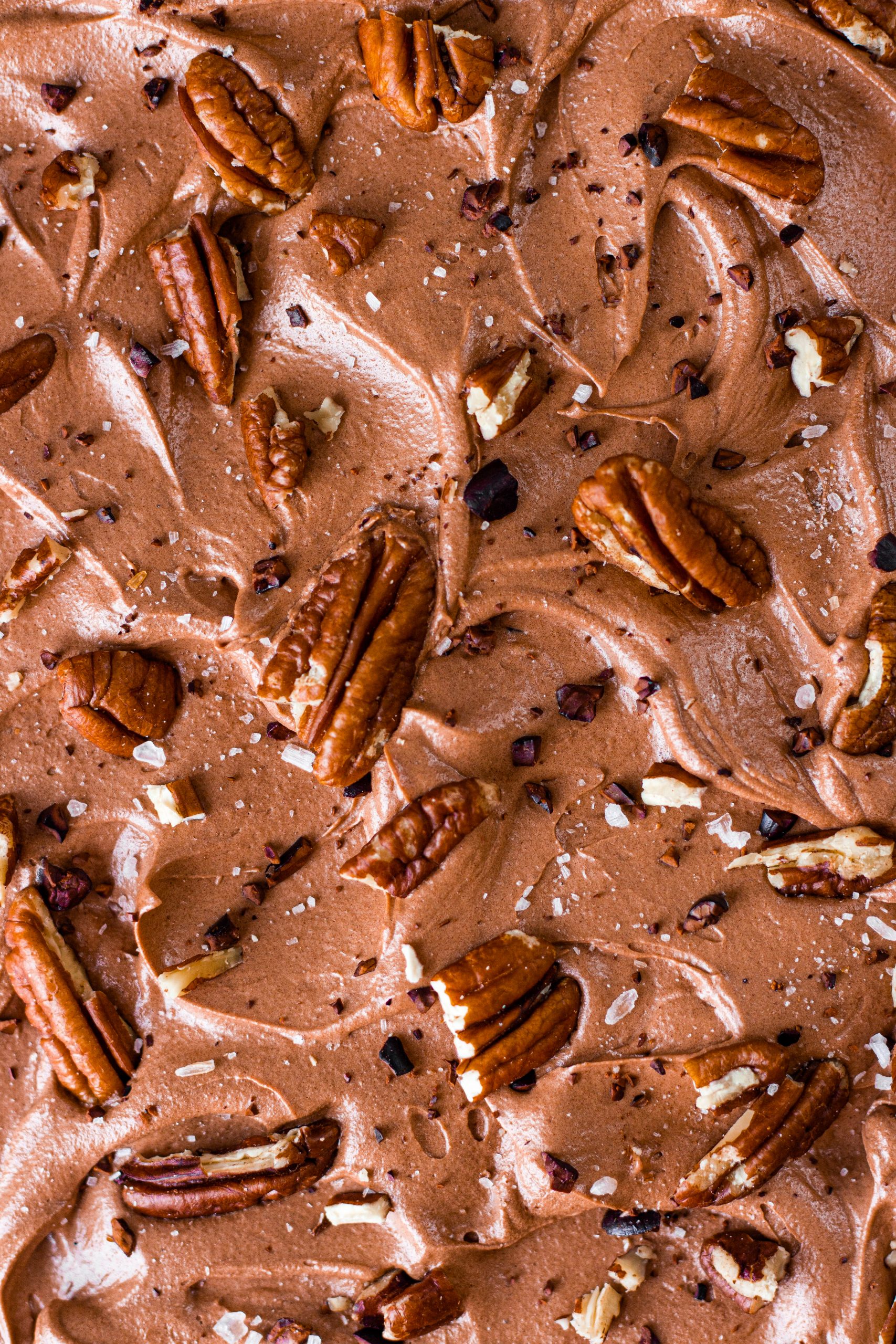 One thing every baker needs, whether you are a professional or a home baker, is to have some amazing frostings and filling recipes up their sleeves. Any kind of ganache or frosting can totally change the game of how your dessert is tasting and looking. This salted caramel chocolate ganache is hands down one of the most epic frostings I have ever made.
It is unbelievably silky, tasty, shiny, and easier to make than you might think. The salted caramel chocolate ganache is perfect for anyone who loves the classic caramel-chocolate duo. This epic ganache has two components- the caramel and the chocolate. Let us look into the details of each so that we can make the best possible salted caramel chocolate ganache at home. 
The caramel 
For the salted caramel chocolate ganache, you need to make caramel sauce from scratch at home. Using a store bought caramel syrup will not work for this recipe. You want your ganache to be thick, luscious, and shiny. If you use store bought caramel sauce, there is no guarantee it will give you the same taste and consistency as the homemade version.
The caramel you need to make for this particular recipe is slightly different from the regular caramel sauce that I usually make. The ingredients are the same – granulated sugar, butter, salt, and fresh cream but the ratios of each are slightly different. 
For the caramel of this ganache, we are adding almost double the amount of fresh cream from the original caramel sauce recipe and also cooking it slightly more than the caramel sauce. The increase in the amount of fresh cream and cooking time ensures that the end result is thicker and darker. This consistency further helps with the consistency of the final salted caramel chocolate ganache. It'll be perfectly thick to fill in cakes, cookies, cupcakes, and literally any dessert you want to eat it with. 
Couverture chocolate 
For an amazing ganache like this, you want to use the best quality of chocolate that you can get your hands on. Quality of your chocolate really makes a difference to the mouthfeel, and texture of your ganache. The shiny and silky ganaches are always made with couverture chocolates and not with the commonly available compound chocolate. 
If you cannot find any of the typical couverture chocolate like Callebaut, All things chocolate, Vanhouten or Vanleer, then you can also use Amul dark chocolate. Amul chocolates are very popular and widely available in the local markets of Delhi. You can also find them on online applications like amazon, and bigbasket and get them delivered to your doorstep. 
Things to take care of while making salted caramel 
Caramel is extremely hot and you want to make sure you are being very careful while working with it. If the hot caramel directly touches your skin, it will definitely lead to a nasty and painful burn. Make sure you have everything in one place and ready to go so that there is no confusion while you are cooking the caramel. 
Making caramel is actually very easy if you keep a few important points in mind. Firstly, use a pan that is big enough to fit 1 cup of granulated sugar in one layer. If you add too much sugar in your saucepan, it will not melt evenly and will definitely seize and become firm. 
Only add warm cream to the caramel. If you add cream that is just taken out of the refrigerator or cream that is at room temperature, both will change the temperature of the caramel when poured into the saucepan. Such a sudden change in the temperature of the caramel will again lead to it seizing and becoming very very hard. 
Keep the flame on low at all times. Initially the sugar will take time to melt but once there is enough heat in the pan, the sugar will start caramelizing quickly and evenly. If you get tempted and increase the heat to speed up the process, it will in turn burn the sugar and you will have to do the entire process all over again. 
Adding salt in the caramel 
I know, this might sound odd but adding salt is an absolute game changer while making desserts. Every professional baker uses unsalted butter to control the amount of salt going in the desserts. I have always used simple Amul salted butter and my desserts have a great balanced flavor too. In addition to adding salted butter, I also added another pinch of salt. Caramel is intensely sweet and adding salt not only enhances the flavor but cuts through all the sweetness beautifully. Do not be afraid to add salt in your desserts. It is a great flavor enhancer. 
The chocolate of the salted caramel chocolate ganache 
This part could not be easier. All you need is some chopped up couverture chocolate. Make sure your chocolate is chopped in even chunks that are not too big. Once the caramel is ready, it will directly be poured onto the chopped chocolate. Then the intense heat of the caramel will melt the chunks. You can use either a hand whisk or a wooden spoon to combine everything into a smooth and luscious ganache. If the chocolate chunks are too big, you might end up with some small chocolate lumps in the end which will result in a lumpy ganache instead of a smooth one. 
I used dark couverture chocolate but you can use either milk chocolate or white chocolate too. Just keep in mind that caramel on its own is dominantly sweet. This is why dark chocolate pairs perfectly with it. But if you want to make it even sweeter, then you can definitely opt for either milk chocolate or white chocolate too. The quantities and the process remain the same of course. 
Uses of the salted caramel chocolate ganache 
This ganache is so versatile! But before you start to use it on desserts, make sure you let it cool down completely so that it can thicken up and is easy to work with. 
My favorite way to use the salted caramel chocolate ganache is in my cakes, whether they are layered cakes or sheet cakes, or loaf cakes. If you are using this in layered cakes, it would go perfect with flavors of chocolate, vanilla, coffee, and even banana. 
You can use it to make stuffed cupcakes where you hollow out the center of the cupcakes and stuff them with this ganache in the center and then pipe another kind of frosting on top. 
A super simple way to use this is as the perfect drizzle over your chocolate brownies or your ice cream, oh my god! Just imagine, the thick, silky ganache with warm brownies or cold ice cream or both! I am in heaven just thinking about it. 
Storing the salted caramel chocolate ganache 
Once the ganache comes to room temperature, transfer it to a glass jar that is airtight and store it in the refrigerator for up to 3 months. It has a great shelf life and whenever you need to use it, just take it out of the refrigerator and heat it in the microwave for 20-30 seconds. 
If you make this epic ganache, please share your images with me on Instagram @shivesh17 and tell me what dessert you paired it with. Happy baking! 

salted caramel chocolate ganache
Ingredients
1 cup (200gms) sugar
½ cup (113gms) butter (cubed)
Pinch of salt
2 cups (260ml) fresh cream (warm)
1 cup (175gms) dark chocolate (chopped)
Instructions
To make the caramel, in a saucepan over low heat add in granulated sugar.
Let the sugar melt and caramelize without increasing the heat. You will see it turn into a beautiful light golden color.
Add in the cubed butter and use a wooden spoon to mix it in. Add in a pinch of salt and mix that it as well.
Next add in warm fresh cream. Be careful, the caramel will sizzle when you add cream. Use the wooden spoon to combine everything and lightly keep stirring till the mixture becomes slightly thick.
Pour the caramel over chopped chocolate and use a whisk to combine. Chill in the fridge for 30 minutes and use.