I think this is one of the best recipes I have ever shared on the blog. A lot of us do not have ovens at home which can come in the way of baking desserts at home. This is why I love sharing recipes that are made in the microwave. This 6 minute vanilla microwave cake is the perfect choice for when you want to make a great impression without making much effort.
This is not just any vanilla microwave cake, it is a vanilla cake that is filled with caramel and topped with chocolate ganache and garnished with butterscotch nuts. It tastes better than any cake you have ever made and is an absolute show stopper.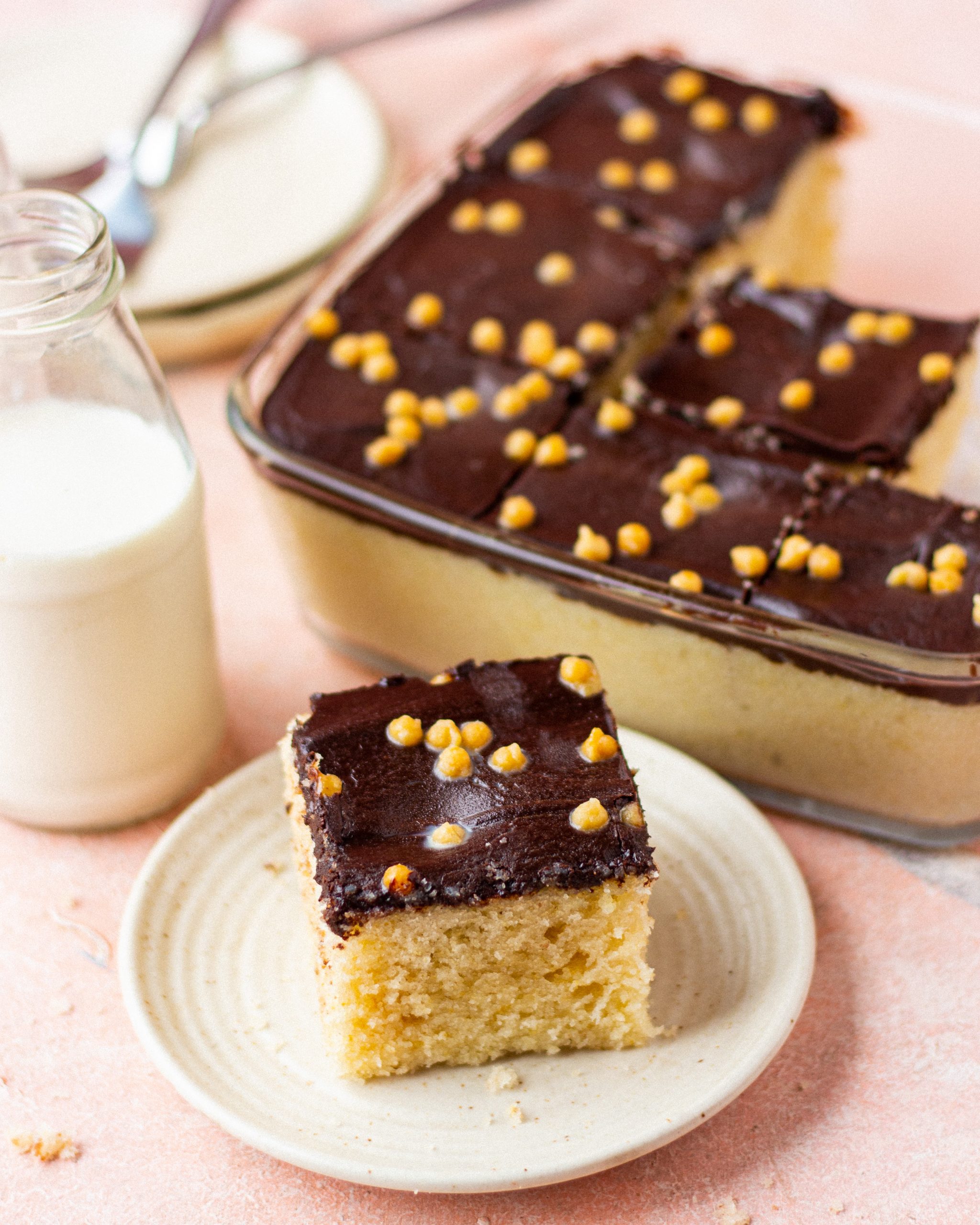 Components of vanilla microwave cake
Like I said, this is no ordinary vanilla cake. I wanted to take things to the next level and to do that, I decided to fill the cake with homemade caramel sauce, and a decent layer of a smooth chocolate ganache on the top.
The caramel sauce adds an amazing caramelized flavor which goes so well with the flavors of vanilla chocolate. And adding chocolate ganache on top of any cake is always a great idea. I don't think there is a better frosting out there. It is easy to make and literally only needs two ingredients.
Making a cake in the microwave
Making cakes in the microwave makes life so easy! For the vanilla microwave cake, all you need to do is use the normal heating mode. Once the batter is ready and poured into the prepared dish, place it inside the microwave and set the timer for 6 minutes.
Now all you have to do is wait for 6 minutes and watch your cake rise like magic!
Every microwave is different. It's possible that your microwave might take a few minutes less or more. You can definitely play with the timing accordingly. Just make sure it's completely cooked
How to make the caramel sauce
You can use store bought caramel sauce to fill the cake or you can make some at home. In my opinion, homemade caramel sauce is the best thing ever and you should just do this extra step and the effort is so worth it.
In a heavy bottom sauce pan, first add in granulated sugar and water.  Water helps the sugar melt nicely and more evenly and helps ensure that your caramel doesn't burn. Continue cooking this on a low-medium heat without stirring. Instead of stirring, the best way to treat your sugar-water mixture is to tilt the pan from side to side. The reason we don't stir our caramel is because sometimes, as the sugar-water syrup boils, sugar starts to form back into crystals, which turn hard and cloudy. Moving the sugar can help bring these crystals together and when they do, it's called crystallization.
While the caramel is cooking, you should always keep a close eye on it as it is reaching the perfect amber color. Once it reaches an amber color, it is very easy to burn your caramel. The sugar is at a very high temperature and continues to cook even when the heat is turned off.
Once caramel is off the heat, you need to add in warm cream. While adding cream, caramel will bubble vigorously so please be careful and mix it nicely and slowly. Next, you will turn the heat back on medium low and add 2 tablespoons of butter into it and mix all of it really well. Once the butter is mixed, you will turn off heat and let the caramel cool completely. After it has cooled, transfer it to a jar, cover it and store it in the refrigerator till needed. You can find the recipe here.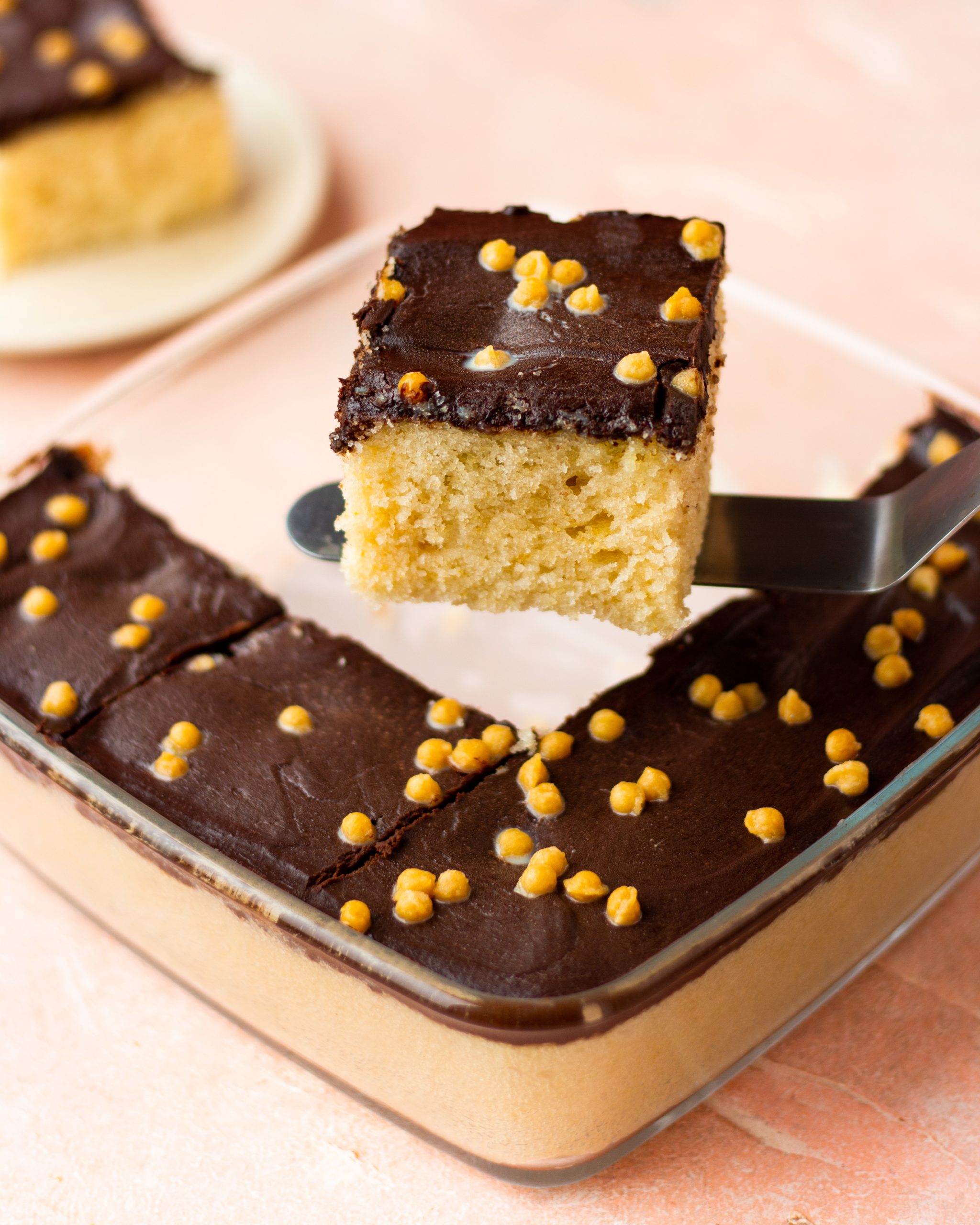 How to make chocolate ganache
Making ganache is pretty basic which involves combining chopped chocolate and cream. There are still a few things that you need to keep in mind:
Chop the chocolate evenly, this will ensure even melting of the chocolate making the mixture smooth and lump free.
Do not stir the cream when you pour it over chopped chocolate. Be patient, let the cream do its work.
Make sure the chocolate does not come in contact with water, this will seize the chocolate. Keep all your bowls, spatulas and pans dry at all times.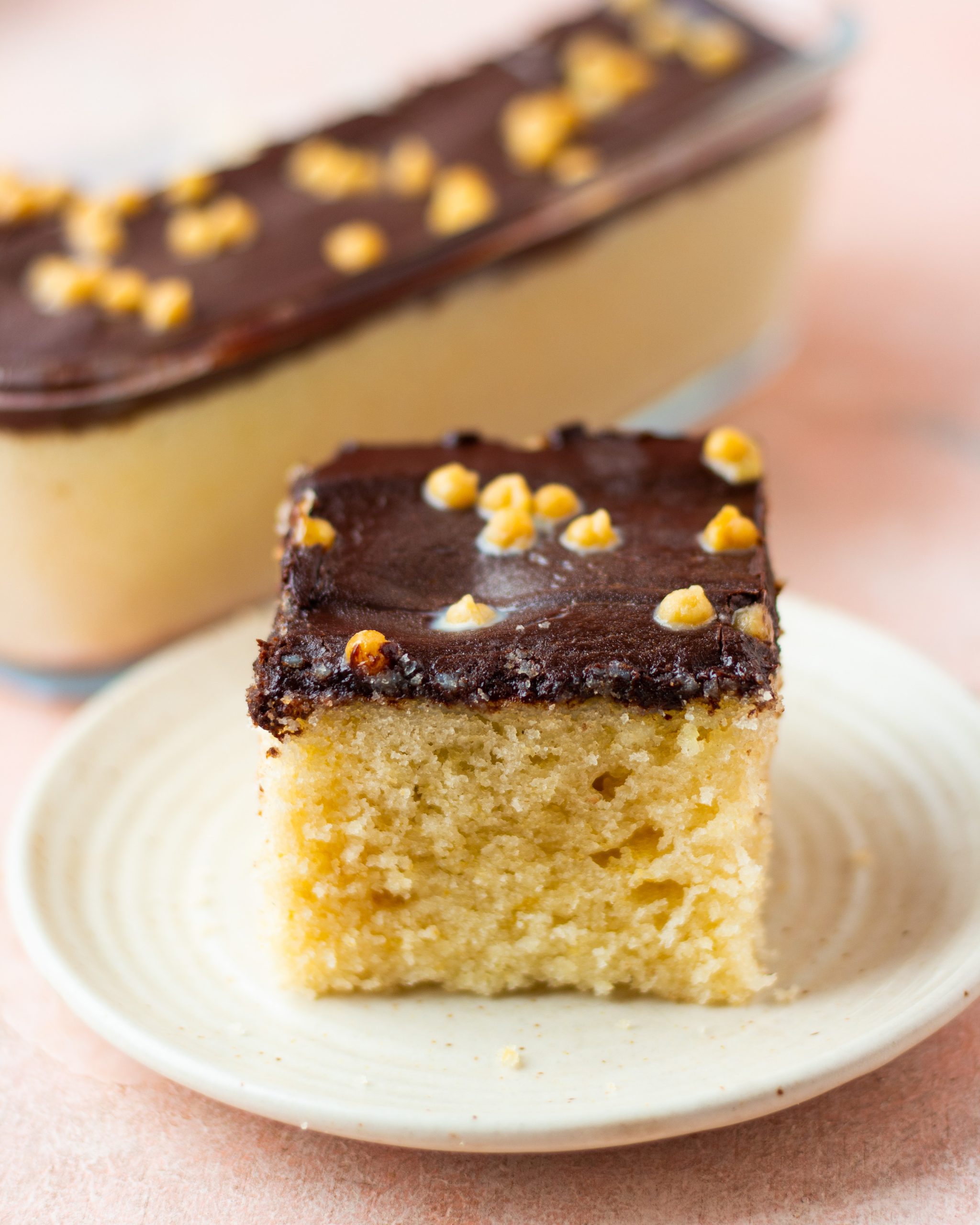 Filling vanilla microwave cake with caramel
Once your cake is fully cooked in the microwave, all you need to do is let it cool down completely and then fill the cake with caramel and top it off with the ganache.
Before filling the cake, we need to make indents on the top surface so that we have hollow spaces to stuff with caramel. I used the back of a large piping tip. Dig the back of the piping tip and push it down. Make sure to not go all the way down otherwise while slicing the cake, you won't have a base and all the caramel will ooze out from the open bottom.
So go only halfway through and then pull the piping tip upwards. You'll see a hollow circle which can then be filled with caramel.
While making the indents, be very careful of the position of the indent. These can be in accordance with the number of slices you want to cut. Each slice needs to have a caramel center. I decided to cut my 6 inch cake into 4 squares and that is why I only made 4 indents, keeping it as centrally aligned with my slices as possible.
If you don't have a piping tip, you can use a melon baller, an apple core scooper, or just a knife to cut out hollow circles. All will work just fine.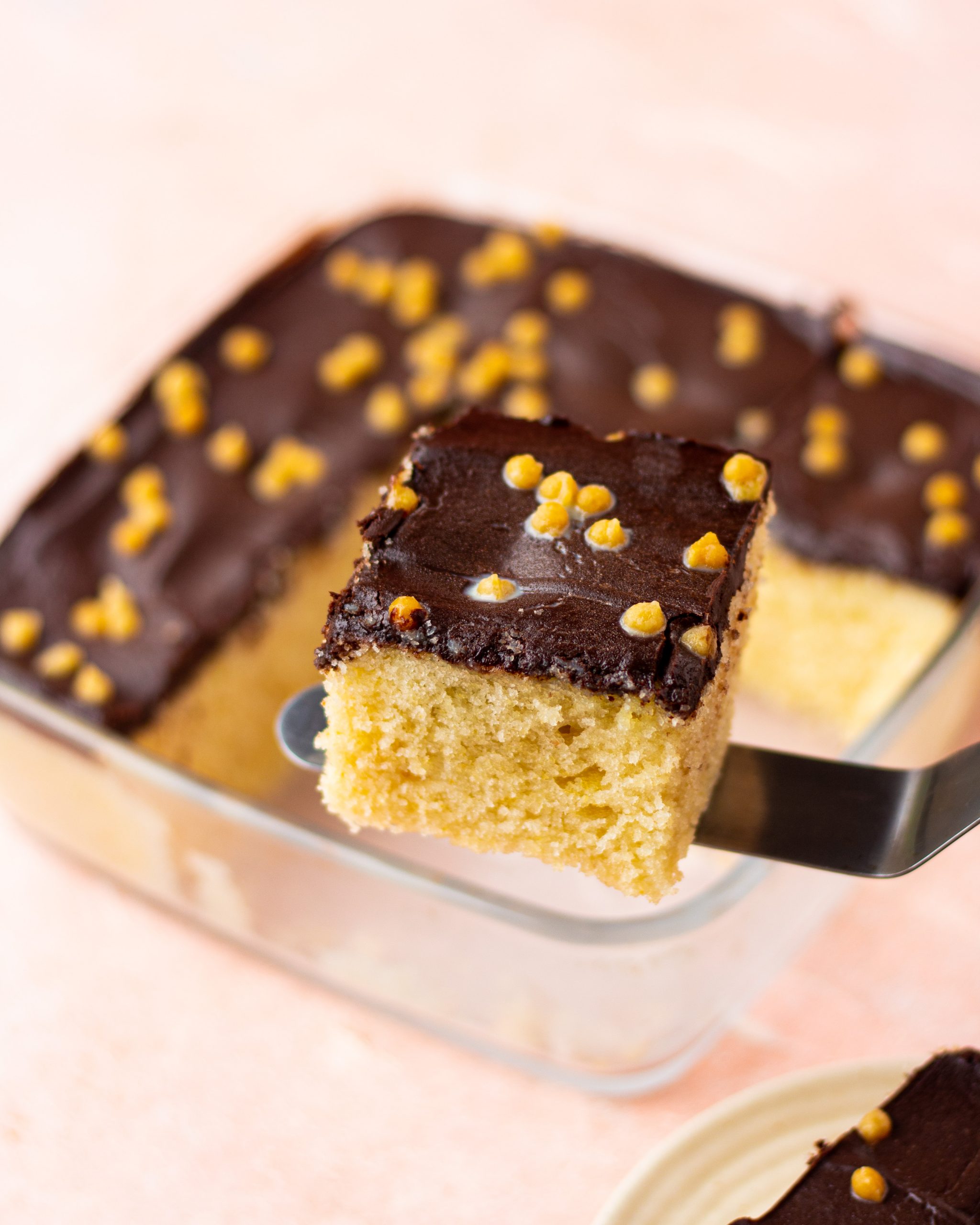 6-minute vanilla microwave cake recipe
6-minute vanilla cake - no oven
Ingredients
For the cake
1 cup (120gms) maida
½ tsp (2gms) baking powder
¼ tsp (1.5gms) baking soda
6tbsp (90ml) oil
½ cup (100gms) sugar
½ cup (142gms) yogurt
½ tsp (2.5ml) vanilla
2tbsp (15ml) milk
For ganache
1 + ½cup (200gms) chocolate
¾ cup (100gms) cream
Instructions
Grease a microwave dish and line it with parchment paper.
In a bowl add oil and sugar and give it a good mix. Add in yogurt and vanilla and combine those in too.
In another bowl add in maida, baking powder, and baking soda and give this a good mix.
Combine the dry and the wet ingredients and bring the batter together.
Lastly, add in milk and gently mix it in.
Pour the batter into the prepared dish and cook it in the microwave for 6 minutes at normal cooking mode.
Once cooked, take it out of the microwave and let it cool down.
Use the back of a piping tip to make 4 indents, equally distanced from each other.
Pour the caramel into the indents.
Finish the cake by spreading a generous layer of ganache on top and garnishing with butterscotch nuts.
Slice and enjoy!
If you liked this recipe and make it at home, don't forget to share pictures with me on
Instagram
/
Facebook
using #bakewithshivesh.