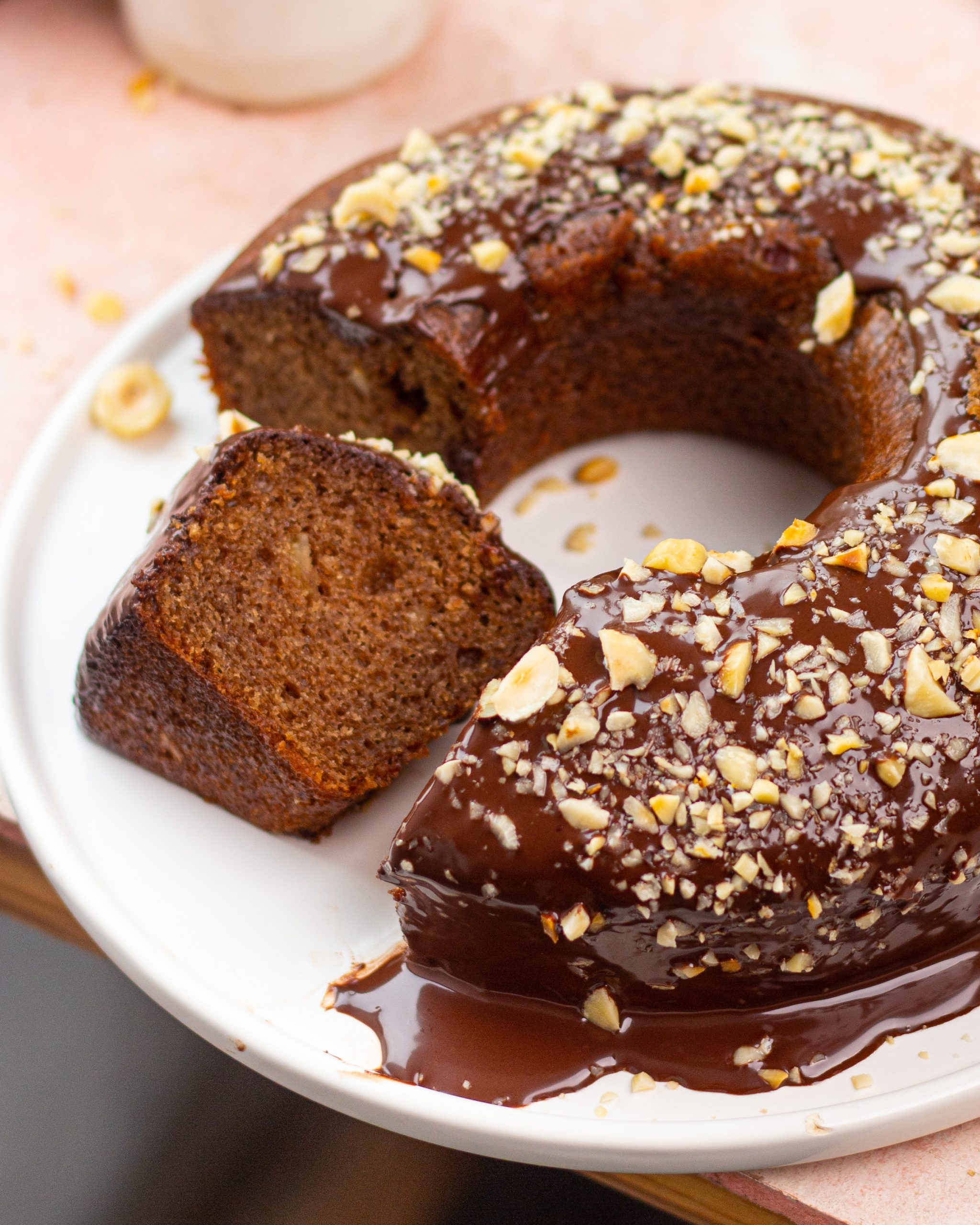 The only thing I love more than cakes is cakes that are actually completely fuss friendly, and super easy to make. When minimal effort gives you great results like this easy eggless nutella cake, it is a total win-win situation and everyone is left happy.  
This easy eggless nutella cake ticks all the boxes. It is not only extremely simple to put together, but also tastes like an absolute dream with the flavor of nutella going in. To top it off, I also added some chopped hazelnuts into my batter and made a chocolate glaze for final touches. I know you will love this recipe as much as I did. Let me take you through everything you need for the easy eggless nutella cake. 
Making easy eggless nutella cake in a food blender 
This might sound odd but making cake batters in food blenders is actually a great hack. This is a trick that goes way back in my family. I am sure some of your family bakers/chefs have also used the food blender  to make amazing homemade cakes and other baked goods. 
One of the most popular cakes in my childhood was a blender cake that my mom used to make almost every weekend. It was a vanilla cake where all the effort required was to bring out the food blender and dump all the ingredients in it at once. Blitz everything together till it is combined. Pour the batter into your cake pan and bake as instructed. That is it! 
You do not need any specific kind of food blender for it. Any mixer/grinder you have at home will do a fine job. Just make sure it can hold the capacity of the cake batter. So small grinders might not work but a medium size will be perfect. 
Just in case you only have a small grinder available, you can blitz the batter in two batches and then bake. Easy! 
Ingredients needed for the easy eggless nutella cake 
Both the ingredients and the process of this cake are basic. To make the eggless nutella cake, you need all purpose flour, that is maida, baking powder, baking soda, yogurt, vegetable oil, and some milk and nutella. I added two tablespoons of nutella in my cake but if you want, you can add more or less as per your taste preference. 
Before putting the cake pan in the oven, I also added some chopped hazelnuts on top. This is completely optional. You can add hazelnuts or any other nut of your choice on top or you can simply not add any nuts at all. 
In addition to making the cake batter, I also made a two ingredient chocolate glaze for the top of my cake. To make the glaze you only need melted chocolate and vegetable oil. Combine the two with a whisk and voila, a silky, shiny, and smooth glaze is ready to be used. 
Using a bundt pan 
For my cake, I used a bundt pan. A bundt pan is a cake pan that has a hollow tube in the center and high raised edges with decorative patterns or a plain pattern. It gives a great look to cakes and makes them stand out without making much effort. 
The tricky part of using bundt pans is demoulding the cakes from it. A lot of times the cakes get stuck in the intricate design and fall apart while demoulding. There are two main things you should do if you need to avoid this: 
Always make sure to grease a bundt pan extremely well. All sides and edges should be fully greased in either oil or butter. A lot of people like to sprinkle some all purpose flour too but I find doing that leaves a lot of flour marks on your cake. Greasing it well with butter/oil is sufficient enough. 

Bundt pans release from moulds most easily when they are still warm. Once your cakes have baked, take the pan out of the oven and let it sit only for 10 minutes. Take a plate or the serving dish, place it on top of the cake pan and turn the pan upside down while it is still warm and you will hear the bundt cake fall onto the base. Carefully lift the pan up and you will have a crack free, beautiful bundt pan ready. 

Let the cake cool completely on the plate/base itself before you decorate and garnish it. 
It is not at all necessary to bake this pan in only a bundt cake. You can bake it in any cake pan you have. I think it will look super cute in a loaf cake pan as well.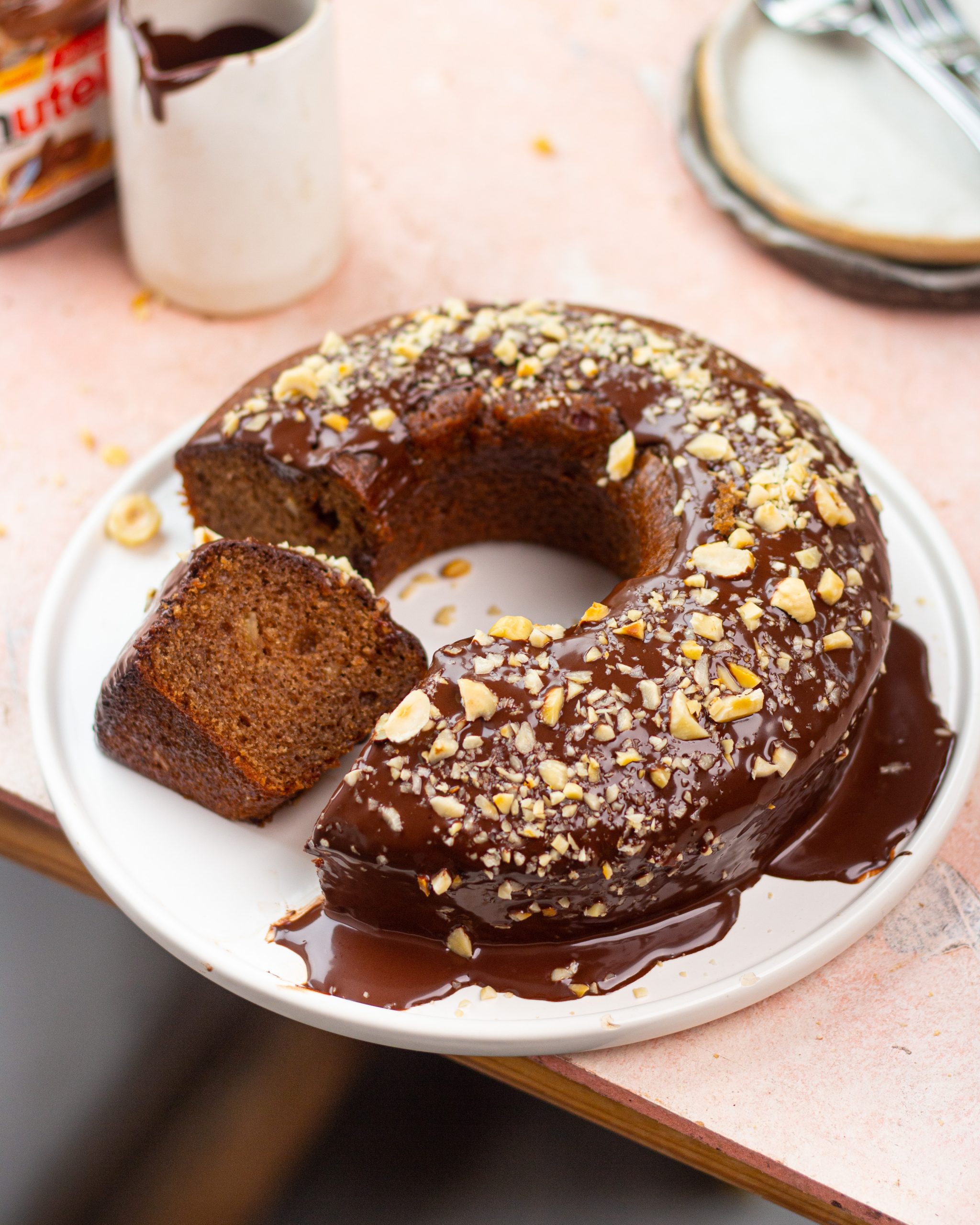 How to make a perfect chocolate glaze 
Making a chocolate glaze is actually one of the easiest things to do. It only needs two ingredients, comes together in minutes and gives your baked goods a great finish. To make the glaze, you can use any chocolate you like whether it is dark, milk, or white. I love using dark chocolate so that is what I used to make this glaze as well. 
Just chop some chocolate and add it into a heat proof bowl. Place the bowl over a pot with simmering water, making sure the bowl does not touch the water. By doing this you have created a double boiler where the steam from the simmering water will start melting the chocolate. In the same bowl add two tablespoons of oil and give it a mix. Let the chocolate melt completely. Once melted, transfer the glaze to a pourer and set it aside for later use. 
Can you make the easy eggless nutella cake without a blender 
Yes, absolutely. The blender process is just a hack to make things super simple and fast. If you do not want to use a food blender, then you can make the cake via the traditional mixing method. For this, you will first add curd, sugar, and oil in a large bowl and give this a good mix. Next add in nutella and mix that in nas well. Lastly, add in milk and combine all the dry ingredients. Place a sieve over the same bowl and add maida, baking powder, and baking powder. Pass these through the sieve and then use a spatula to combine the wet and the dry ingredients and your batter will be ready. 
Transfer the cake to your prepared baking pan and bake it at 180C for about 25-30 minutes. 
I know you will have a great time making this cake and everyone around you will have a better time eating it. If you make this recipe, do not forget to share images with me on my Instagram @shivesh17. I love to see your recreations. Happy baking! 

easy eggless nutella cake
Ingredients
1 + ½ cup (180gms) maida
½ cup (100gms) sugar
¼ cup (60ml) vegetable oil
1 cup (285gms) yogurt
2 tbsp (30ml) milk
1 + ½ tsp (6gms) baking powder
1tsp (3gms) baking soda
2tbsp (30gms) Nutella
For glaze
1 cup (175gms) melted dark chocolate
2 tbsp (30ml) vegetable oil.
Instructions
Generously grease a bundt pan with butter and set it aside. Preheat oven at 180C.
In a food blender add in maida, sugar, oil, yogurt, milk, baking powder, baking soda, and nutella.
Blitz everything till it reaches a smooth consistency.
Transfer the batter to the prepared pan and bake the cake at 180C for 25-30 minutes.
Once baked, take it out of the oven and let it cool down for 10 minutes.
Meanwhile make the chocolate glaze by combining melted chocolate and oil. Use a whisk to make sure chocolate and oil are well combined. Set it aside.
Demould the cake after 10 minutes by placing a plate over the pan and turning it upside down.
Let the cake cool down completely and pour chocolate glaze all over it and some crushed hazelnuts.
Slice and enjoy!