Move aside lemon mojito, we have a new comer in town! Most simple, refreshing and delicious drink you can put together in just 5 minutes, this mango mojito is what you need to beat the heat this summer. All you need is some mint leaves, lemon, sweet mangoes and soda water and you are good to go! If you love mojitos as much as I do, this mango mojito might become your favourite drink in this scorching weather. Let's make my favourite summer drink this season!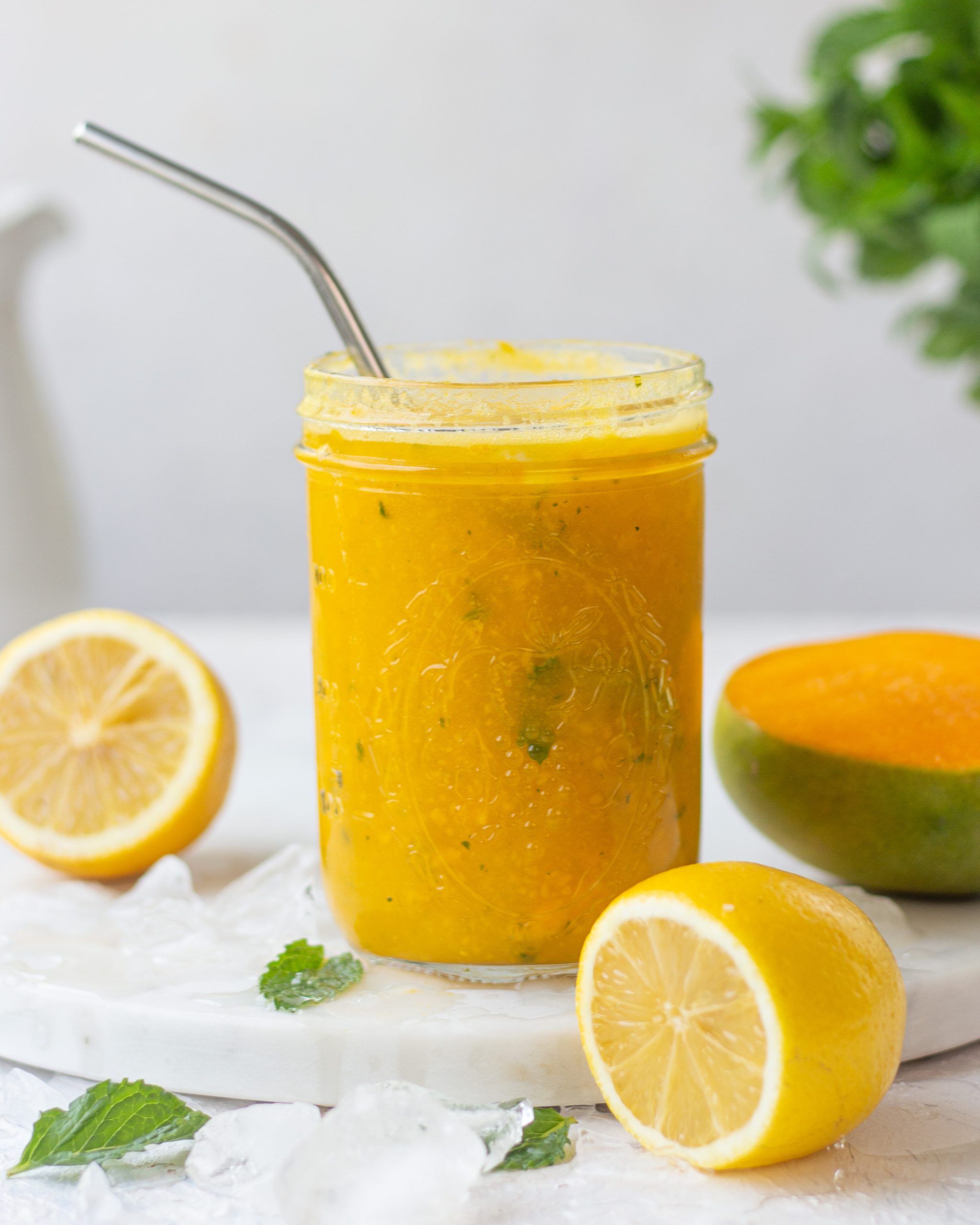 HOW TO MAKE MANGO MOJITO
With just a few regular ingredients which are easily available at home during the summer season, this mango mojito comes together very easily. Start with some lemon slices and handful mint leaves in a muddler and muddle for a few minutes. What we are looking for here is a paste of lemon and mint where in they both have released their flavour beautifully. Keep it aside. Prep for mango puree on the side. You will need ½ a cup which is nearly pulp of a single medium sized kesar mango. I am using kesar mangoes as I wanted a really sweet mango to cut the tartness of soda and lemons in mango mojito. Feel free to use any kind of mango you like, preferably a sweet one.
I have also added a bit of sugar syrup in the mango mojito. If you wish to replace it with regular sugar, feel free to do that. The sole reason behind using sugar syrup is to eliminate the process of dissolving sugar in the drink as it becomes very difficult in something cold.
Now to assemble the drink, start with some ice in the glass, muddled leaves and lemons, some lemon juice for that extra kick of lemon, topped with sugar syrup and freshly pureed sweet mango pulp. Add some mint leaves for that freshness and mix that all together really well. Top the glass with soda water and give it one final mix. Enjoy fresh!
TIPS AND TRICKS TO MAKE MANGO MOJITO
Do not use a very sour mango for this mango mojito. Look for mangoes that are sweet enough on their own.
You should ideally strain your mango pulp before using it to avoid adding any fibres from the mango.
Sugar syrup makes the process a lot easier. Cook equal parts of sugar and water until the mixture thickens.
Preferably start with a mango straight out of the fridge. It helps in getting a cooler mango mojito than with a mango sitting out of the fridge.
I have used Italian lemons in the recipe. Feel free to use the regular ones or any you can get your hands on.
If you want, you can make the complete drink in the blender as well. Start by pureeing the mango. Add ice, mint leaves, lemon and ice. Give it a quick blend. Top with soda and serve.
To make this drink alcoholic, feel free to add a shot of any alcohol of your choice and reduce the quantity of soda added.
And if you try this recipe and like it, do try other drink recipes from the blog. I am sure you are going to love them too!
OTHER DRINK RECIPES ON THE BLOG
MANGO MOJITO
Ingredients
3-4 ice cubes
handful mint leaves
4-5 lemon wedges
1 tbsp lemon juice
1½ tbsp sugar syrup
½ cup mango puree
soda to top
Instructions
Start by muddling some mint leaves and lemons. Keep it aside.
Before assembling the final drink, make sugar syrup with equal quantities of sugar and milk.
To assemble, start by adding ice, followed by muddled mint leaves and lemons.
Add lemon juice and our star ingredient mango puree.
Give it a good mix.
Top the glass with soda water and stir again.
If you like my mango mojito recipe and happen to make it in your kitchen, do tag me on Instagram and share pictures with me using #Bakewithshivesh. Happy Baking!