Summers are officially here! And it is time for me to share all the refreshing summer recipes I have been dreaming about on the wintery gloomy nights. For me summers are all about refreshing fruity and juicy desserts, which requires limited ingredients and are quick and easy to make! I love making all sorts of ice-creams and popsicles, just because they are super fun to make and can be taken out from the freezer on a sunny day and it just make hot days easy to survive. Here I am sharing my recipe of these creamy mango yogurt popsicles which are just so yummy! And if I tell you they are just made with 3 ingredients, will you believe me? I know you won't but it is true!! These mango yogurt popsicles are pet friendly too as no refined sugar goes in it. You and your paw-pal can enjoy these together any day, anytime once you get your stock freeze!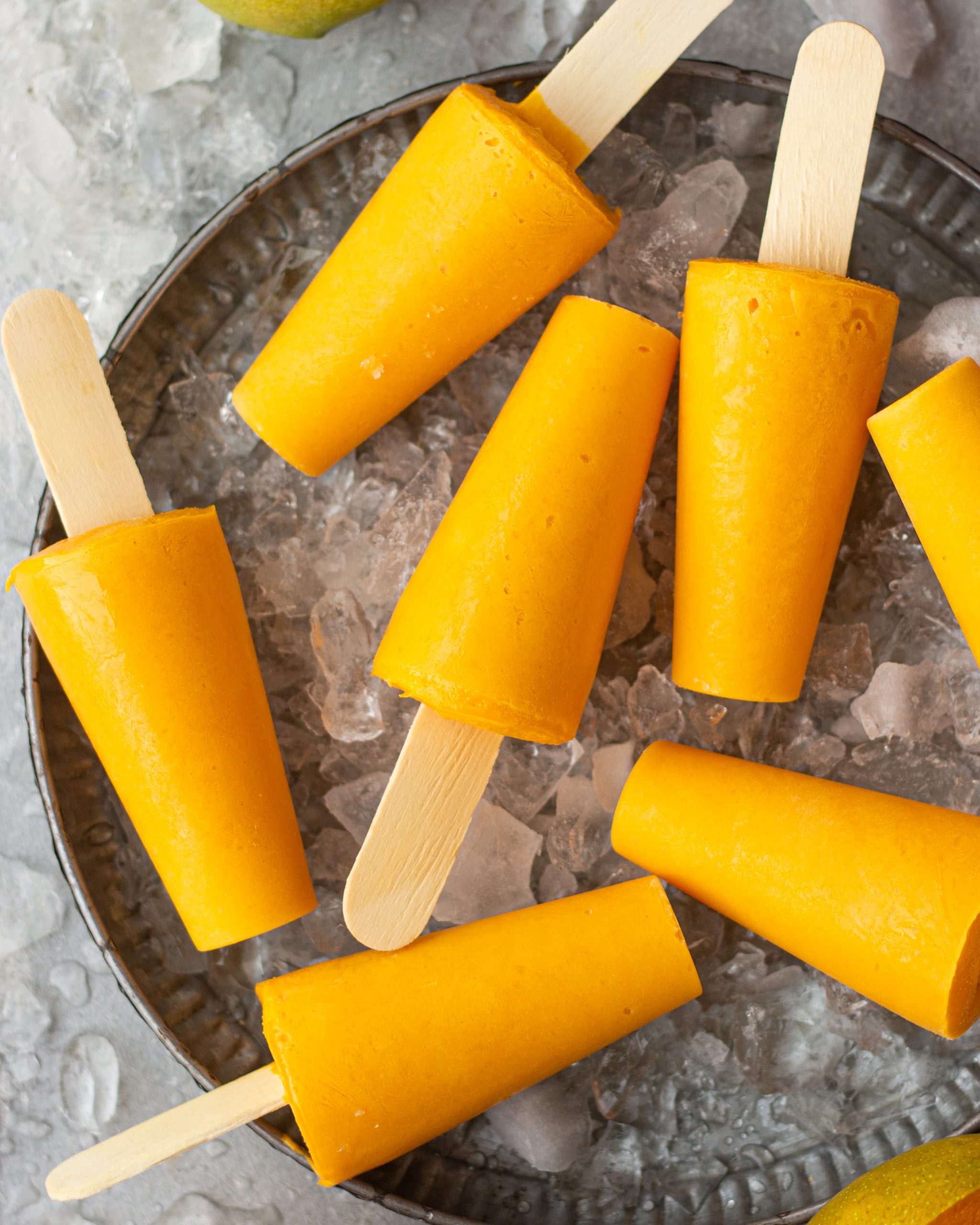 INGREDIENTS USED TO MAKE THESE MANGO YOGURT POPSICLES
MANGO
First thing first, you obviously needs mangoes to make these. Mangoes are in season and there is no way I am not making 20-30 desserts with it this summer season! I am using mango puree in this recipe by blending mangoes. I have used sindoori mangoes because they are a combination of sweet and sour, you can use whatever you get your hands on. If you are unable to find mangoes, you can even use store-bought mango pulp which comes in a tin.
YOGURT
These mango yogurt popsicles are not water based but yogurt based. The reason I have wanted to make these is because I love frozen yogurt and these mango yogurt popsicles are a version of them. Ice based popsicles are not stable and melts very quickly but because these ones have yogurt in them, they are stable and doesn't melt that easy! They have added nutrition value too. I have used home-made dahi, you can use store-bought too.
HONEY
I love these mango yogurt popsicles even more because they have honey as the sweetener! This makes them even healthier. I wanted my dog yoda to consume these, that is why I added honey at the first place and trust me, they are an absolute hit, for you and for your pets too. But if you don't like honey, you can easily substitute it with caster sugar or even maple syrup.
VARIATIONS FOR THESE MANGO YOGURT POPSICLES
These mango yogurt popsicles are very versatile when it comes to flavors. You can easily substitute the mango pulp with strawberries if you like. If you do not have fresh strawberries, just blend the frozen ones. You can even use equal quantity of frozen berries if you like. Any kind of berries will do like, blueberry, raspberry, blackberry and so on. These can be made with pureed coconut too and if you like you can even cut small coconut slices and fold in the mixture before freezing.
HOW TO EASILY GET THE MANGO YOGURT POPSICLES OUT OF THE MOULD
There are few tricks you can use to get the popsicles out of the moulds but the easier ones I have tried so far is to stick the popsicle mould in a big bowl of hot water. Stick the mould in the water for 15 seconds and remove. Then all the popsicles should easily pop out. Another method to remove the popsicles from the mould is to rub them between your palms for 15-20 seconds and with the body heat, the popsicles loosens up and can be removed efficiently.
HOW LONG TO STORE THESE MANGO YOGURT POPSICLES
Unlike the popsicles you and me buy from the super markets, these mango yogurt popsicles should be best consumed within 1-2 weeks. The fresher the better! Later, the taste might change and there is a chance they get ice crystals too. We aren't adding any preservatives in it after all. If you want you can remove them from the mould and wrap them between parchment paper and a zip lock bag and keep them in the freezer.

OTHER REFRESHING MANGO RECIPES ON THE BLOG
mango yogurt popsickles
Ingredients
¾ cup mango puree
½ cup yogurt
1-2 tablespoon honey
Instructions
In a bowl, take mango puree and add yogurt to it. Mix them together with the help of a whisk till they are properly combined.
Add honey to this mixture and mix well.
Take your popsicle moulds and put the mixture in it with the help of a spoon till the rim or you can even fill a piping bag with the mixture and pipe it in the moulds.
Tap the moulds on the flat surface to remove all the air bubbles.
Place the wooden ice-cream sticks in the center of each mango yogurt popsicle and place them in the freezer to set for 6-8 hours.
Remove them from the freezer, remove them from the mould and enjoy!
If you like this recipe and happen to make it for your holiday celebrations, then share pictures with me by tagging me on Instagram using #bakewithshivesh.