Summers are all about drinking icy cold drinks and staying as hydrated as possible and I love drinking almost any and every beverage at any time of the day! Since I had a bag full of lemons and the timing was perfect, I thought to myself why not make lemonade out of it! But not your usual summer lemonade; but something unusual, fun yet very flavorful and very lemony! Generally, people make lemonades very tart but i like my lemonade to be tangy and sweet at the same time.
After a couple of tries, I cracked the recipe for this perfect frozen lemonade! It is not frozen as ice and not watery like our usual lemonade but this frozen lemonade recipe will become your go to once you try it! It has a texture like that of a slushie and it is super yummm and made in absolutely no time.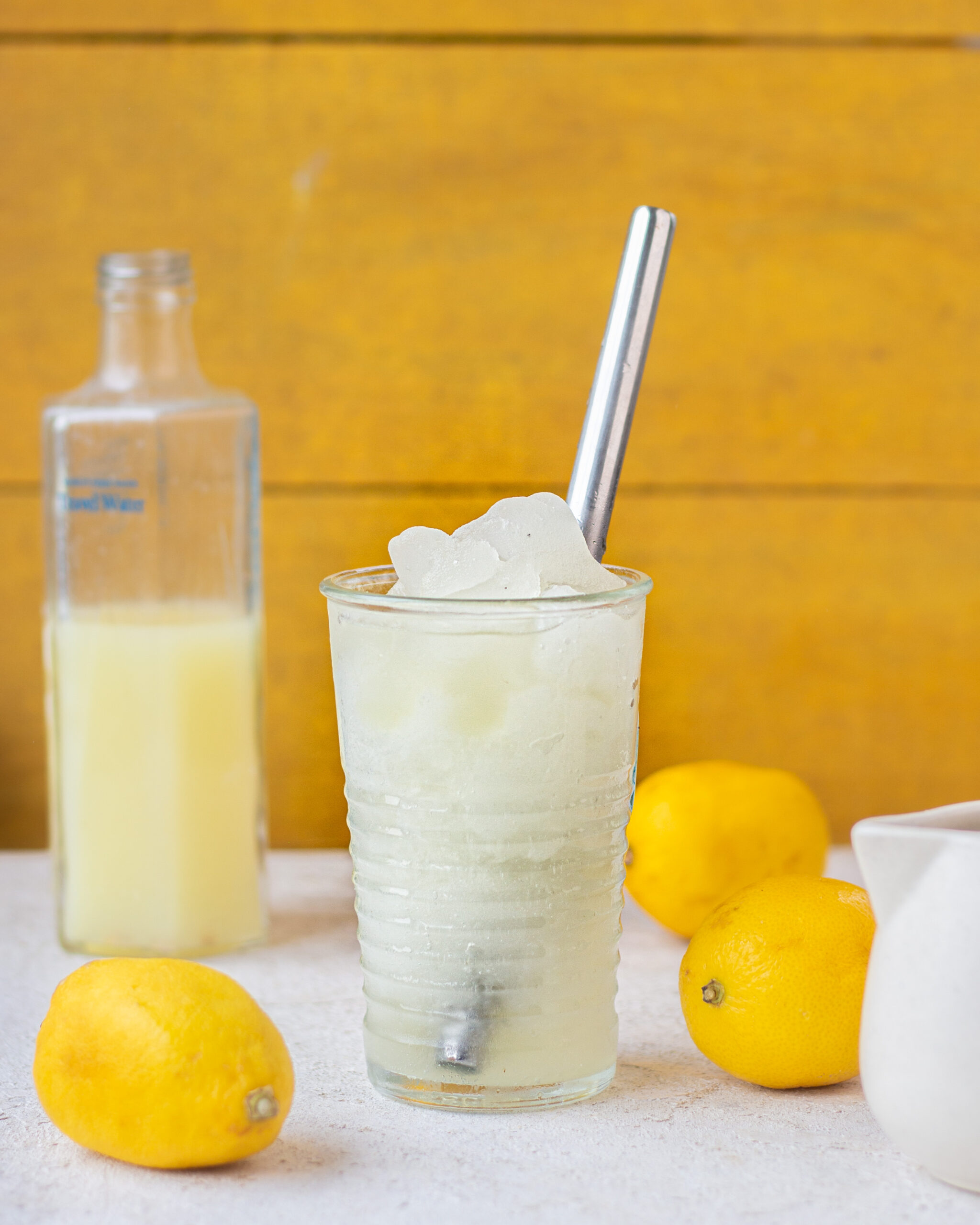 HOW TO MAKE A FROZEN LEMONADE
Firstly, we made lemonade in a glass by combining lemon juice, sugar, black salt and water then we added this mixture to small ziplock pouch. After this we added this ziplock bag to another bigger ziplock bag and added lots of ice cubes in it and about ½ cup salt. And now the fun parts which makes this frozen lemonade unique and something to try out with friends and family! Shake this whole thing for about 5 minutes and after that what you will see is frozen lemonade which is of slush consistency. Put this in the glass and slurp it away!
INGREDIENTS TO MAKE THIS FROZEN LEMONADE
This frozen lemonade is after all lemonade so lemon juice needs to be added. I have added 2 tablespoons of lemon juice because I don't like my lemonade to be very tart and this is the right quantity for me. You can use normal lemons or Italian lemons whatever you prefer. I am using normal lemon juice here! If you want you can make it 3 tablespoons of lemon juice too if you like it at the sour side!
I am adding caster sugar here as it dissolves quickly. 1 tablespoon is what I have added as I add 1:2 ratio of sugar and lemon juice in my frozen lemonade. If you like it sweeter you can add 2 tablespoons of caster sugar too. 
What is better than table salt in drinks? Black salt of course! I love the flavor of black salt when combined with lemon juice and thus I added it in my frozen lemonade. It is also healthier than the table salt! ¼ teaspoon is enough for me but if you like it salty you can definitely add more.
I have added about 1 cup of water for my frozen lemonade as this recipe makes about 1 glass in total and all the proportions goes well with 1 cup of water. If you want you can double the recipe for more glasses of frozen lemonade!
TIPS AND TRICKS TO MAKE THIS FROZEN LEMONADE
When the mixture is ready and you are pouring it in the small ziplock bag and then in the bigger one with ice cubes, do not forget to add salt in it with ice cubes because that's what helps the liquid lemonade turn into the frozen lemonade.
Be careful while shaking the ziplock bag as it needs to be tightly zip locked as for no liquid to escape the bag.
If you use cold water to prepare the lemonade it will become slush-like faster than the regular water.
Instead of sugar, you can also use sugar syrup with 1:2 ratios; 1 being water 2 being sugar.
For further flavor enhancement, you can also add fresh mint leaves in the lemonade before the fun shaking process.
Frozen Lemonade Recipe
Frozen Lemonade
Ingredients
2 tablespoon lemon juice
1 tablespoon sugar
¼ teaspoon black salt
1 cup water
For Shaking
Lots of ice cubes
½ cup salt
Instructions
In a glass, add lemon juice, caster sugar, black salt and water. Mix it all properly.
Take a small ziplock bag and add this mixture in it and seal it properly.
Take another bigger ziplock bag and add the small bag in it. Also add the bigger ziplock bag with ice cubes and salt for shaking. Seal the bigger ziplock bag properly too.
Hold it properly and shake the whole thing for 5 minutes.
The consistency of this lemonade will be of that of slush. Pour this into the glass and enjoy!
OTHER SIMILAR SUMMER RECIPES ON THE BLOG:
5 drinks to beat the summer heat
Summer drinks & coolers – 3 ways!
Make this frozen lemonade with your friends and family and don't forget to share pictures with me on my Instagram handle @shivesh17. Happy baking!