Even though summer brings with it the best kind of summer fruits and lots of happy memories, I have to say that I am lover of cold weather. There's nothing merrier for me than cosying up under layers with a cup of hot bevvy. But it's hard to ignore the good dose of summer that we get here in Delhi and I always rely on some cool, refreshing summer drinks to be my go-to for such hottest of days.
As summers are almost here and I can already feel the sweltering heat, I'm here with a list of 5 of my top refreshing summer drinks recipes that you can make this summer to cool yourself down! This list has milkshakes, cold coffee as well as some water-based drinks, so I hope there's something for almost everyone!
1. Nutella Milkshake
Amongst all the Nutella recipes in the world and also among the ones that I've posted (which are MANY), my favorite has to be this Nutella Milkshake! It's super easy, absolutely delicious, ready within minutes, and a super hit with everyone! This milkshake is too forgiving. You can simply use a hand mixer instead of a milkshake maker or a processor and it will come out just right! I would suggest you mix it until everything seems to have come together and a little extra minute for the fluffy goodness on top! Too yum to be true, no? One of the best refreshing summer drinks! This Nutella milkshake is honestly too forgiving and you do not have to fret a lot over it.
It literally starts with the milk. Keeping chilled milk ready for your Nutella Milkshake is going to take it to another level. Also, what happens with chilled milk is it does not break down the cold temperature of the ice cream. Rather, it supports the icecream and brings about a perfectly cool and super delicious Nutella Milkshake. A lot of people add ice to their milkshakes not realizing that all it does is water the Nutella Milkshake down. Ice also obviously melts afterward so as you are drinking your milkshake, it has watered down terribly and has become more or less undesirable. Do not do this mistake with your milkshakes or the consistency will become too liquidy.
2. Fruit Coolers
If you've been following me since the beginning, you'll know that summer or winter, I always, without a doubt, start my day with a big glass of orange juice or a fruit smoothie so I completely understand the importance of refreshing drinks. It can give a great boost to you right in the morning and get you set for the day. Pineapple, Peach and Orange are three flavors I absolutely love to keep myself and my family happy in the summer weather. All of these refreshing summer drinks require locally available ingredients and are super quick to use in coolers.
For fruit based coolers, always remember to use the best and the freshest fruit possible. Since the fruit is the star ingredient in most summer coolers, you have to ensure you're buying sweet ones. If your fruit is not ripe enough or is tasteless, the final taste of your drink will also be effected.
Find the full recipe here.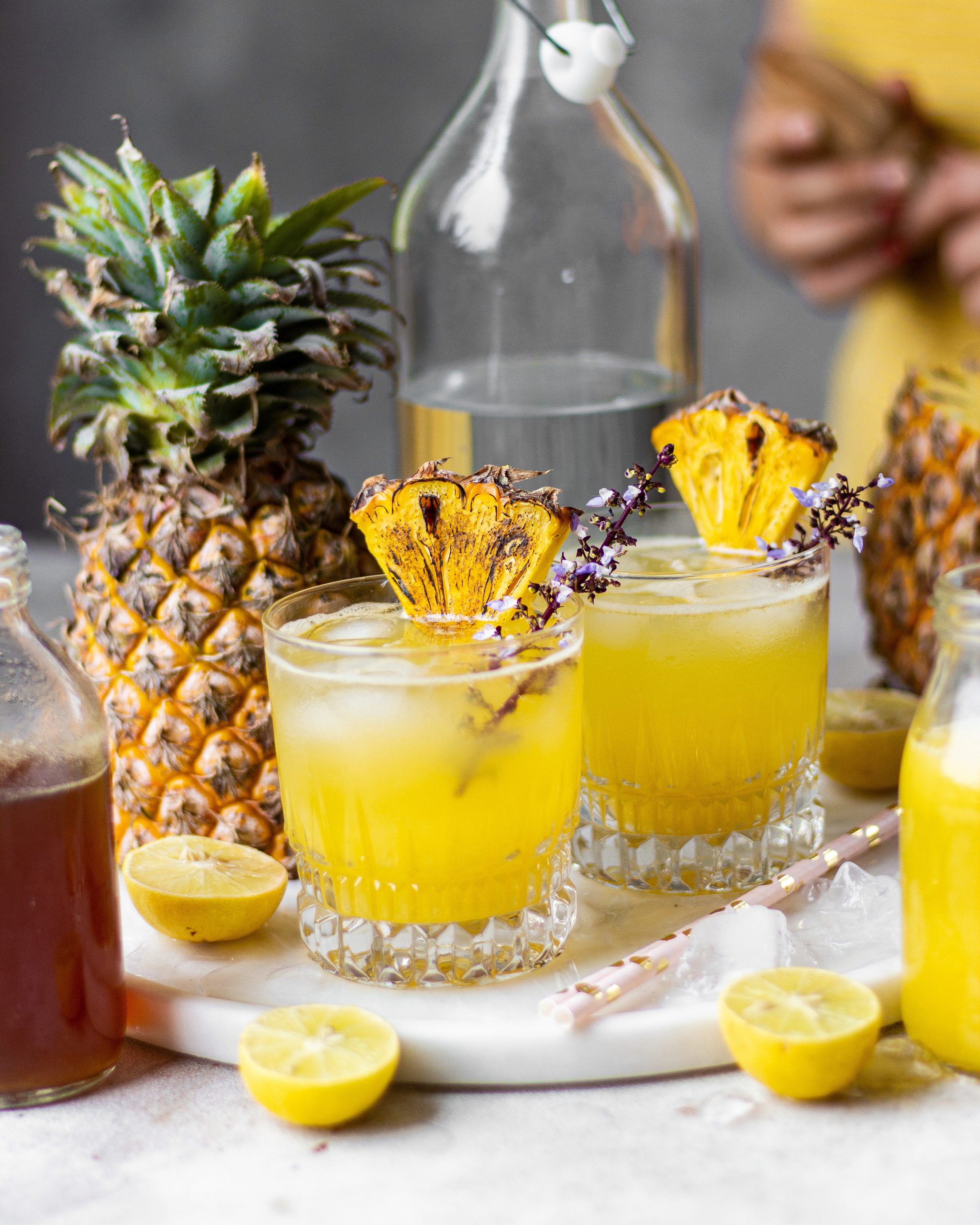 3. Chocolate Cake Milkshake
Chocolate Cake is the star ingredient of this delicious Chocolate Cake Shake. A good, moist chocolate cake makes such a different to your shake because I honestly love the cake bits in my shake.  I use about 2 slices for my milkshake. Indulgence to the maximum! But if you don't like chocolate cake or don't have it at home, then you can use anything you like – Oreos or KitKat. There's a great recipe for Oreo milkshake on the blog, do check that out. Honestly, this Chocolate Cake milkshake is so versatile that it would taste awesome with anything!
I mostly always have a chocolate cake in my fridge so whipping up this shake literally takes 10 minutes for me, which makes it one of the best refreshing summer drinks! But if you don't have chocolate cake at home, you can make a quick chocolate cake using this awesome 6-minute Chocolate Cake recipe. You can also use store-bought chocolate cake or even Britannia Chocolate Cake, it'll work equally well for this recipe.
Find the full recipe here.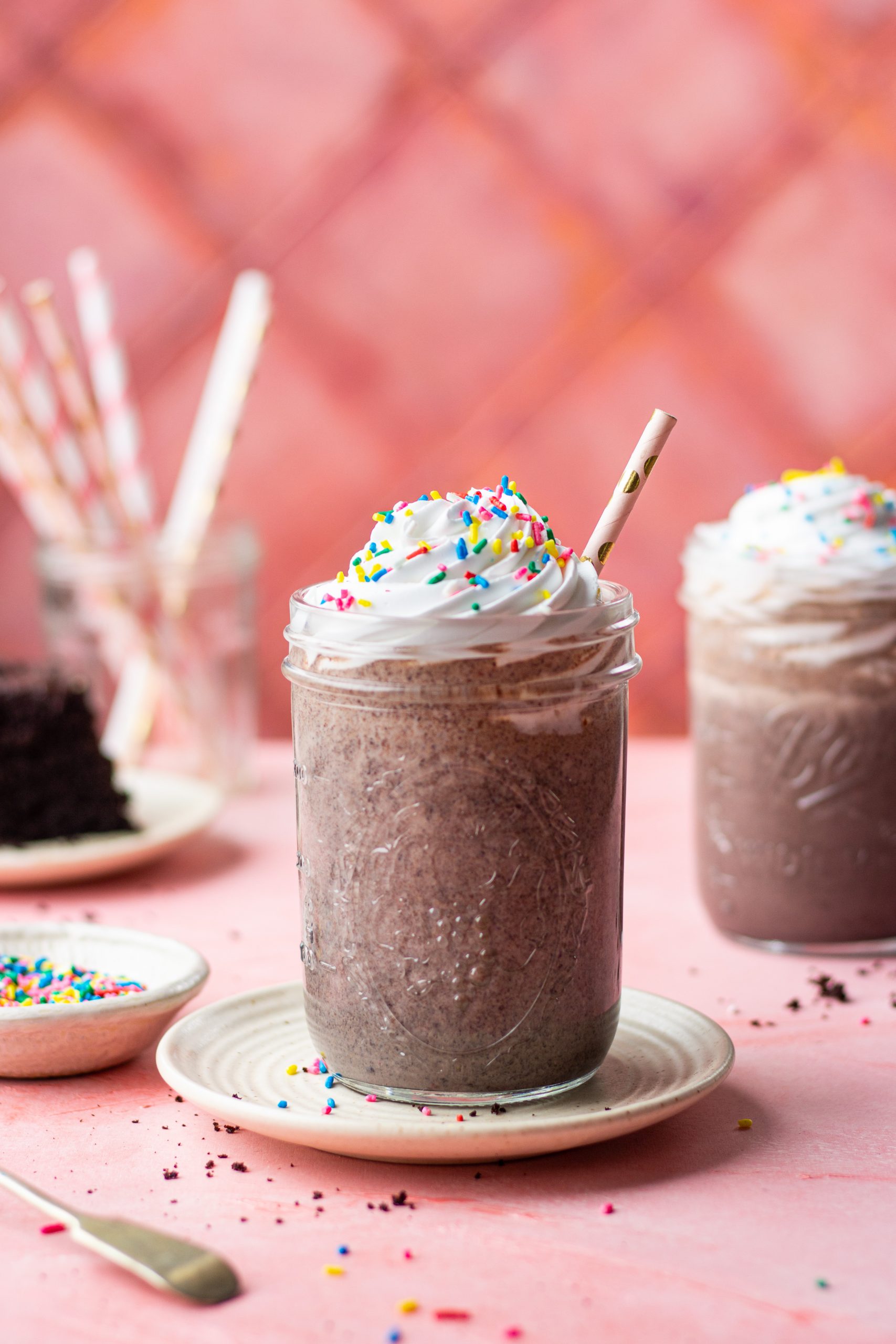 4. Coffee Banana Smoothie
I know what you're thinking. Did he just add coffee to a banana smoothie? Is he crazy? Happy to tell you that I'm 100% sane because for some reason, banana and coffee work together. The frozen bananas make the smoothie super creamy and the espresso adds that perfect dose of caffeine needed to balance out the creaminess. It's just the perfect breakfast on days you don't feel like having something elaborate.
On hectic days which need me to have that extra pump of energy, I get some extra nutrition to my coffee banana smoothie by adding some chia seeds or flax seeds and having it like an açaí bowl. It's yum!
I love coffee – cold, hot any actually. It is my Monday motivation of course and as soon as the caffeine hits, I am all in for the day. So if you love coffee as much as I do, you'll love my cold coffee- 3 ways.
Anyways, find the coffee banana smoothie recipe here.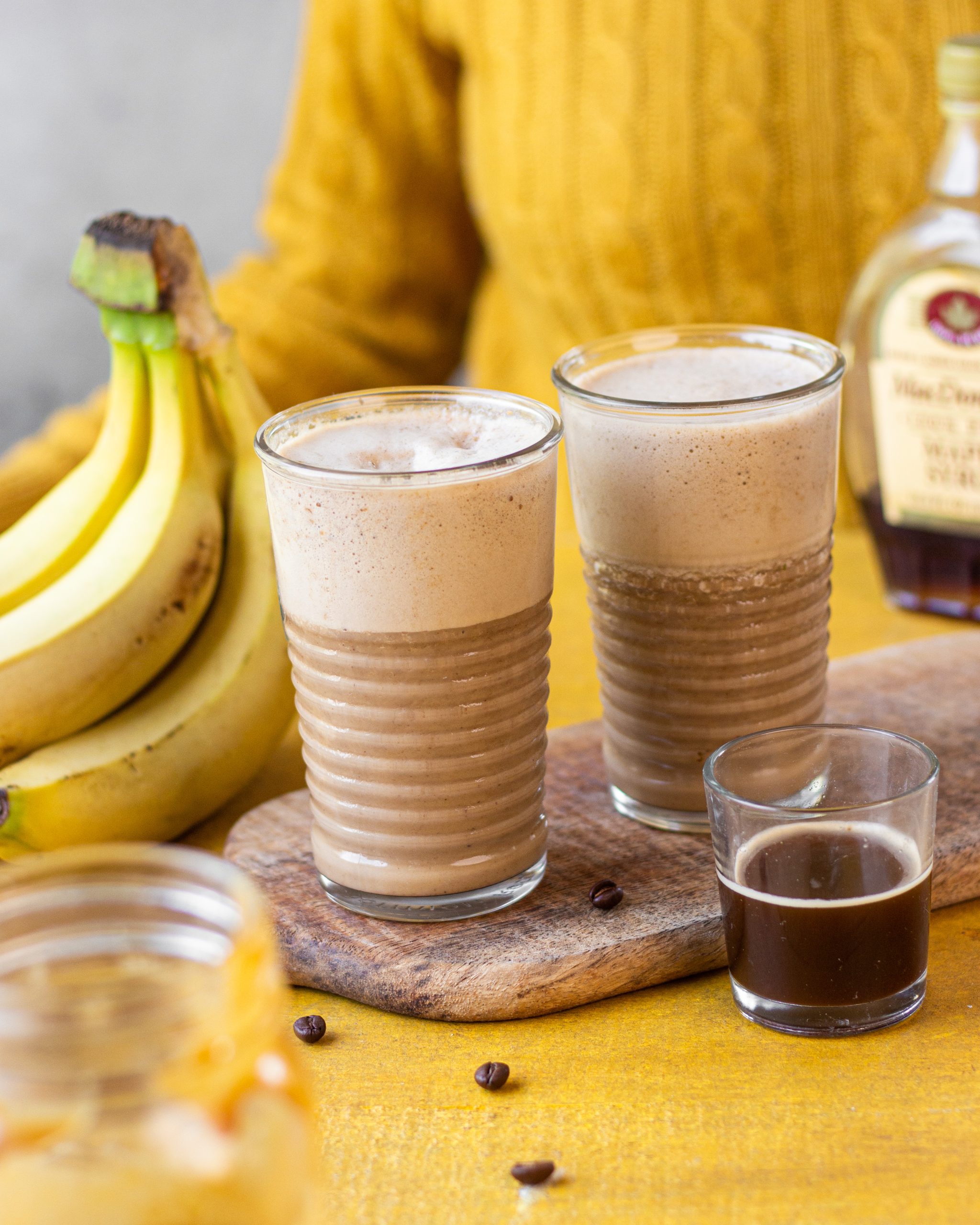 5. Fruity Lemonades
I'm craving a watermelon lemonade right now, as I am writing this section of the article. I remember making these three wonderful fruit based lemonades last year and they were an absolute hit. Of course, the watermelon one was my favorite but if you keep all three of them in front of me, I'll gulp them down in a jiffy. The three refreshing summer drinks I chose are : Watermelon Lemonade, Mango Lemonade and Cucumber Mint Lemonade. The ingredients in these coolers are more or less available in your pantries so that's one less thing for you to worry about.
As they say, when life gives you lemons, make lemonade. And if you're here, might as well take it up a notch with three awesome lemonade flavors!
Find the recipes here.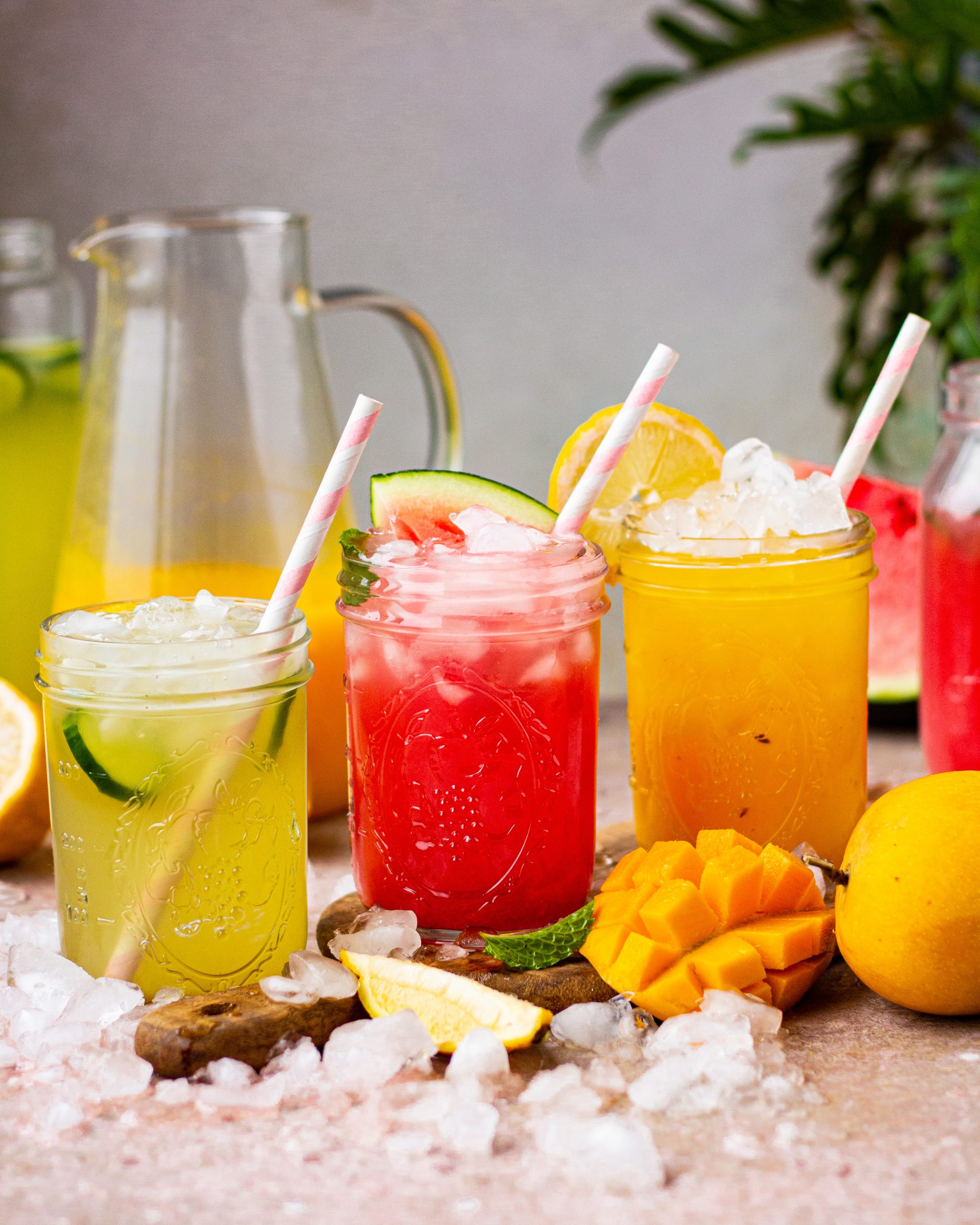 That's that! My top 5 refreshing drinks that will become your go-to recipes this summer. If you want to see any specific summer drinks recipes, let me know in the comments and I'll be happy to share those recipes with you soon. And if you happen to make any of these recipes, do share pictures with me on Instagram. Happy summers!