Honestly, I am a breakfast person and someone who would love to have smoothies and pancakes even for dinner! And I love coffee – cold, hot any actually. It is my Monday motivation of course and as soon as the caffeine hits, I am all in for the day!
What if I tell you, I have got the perfect recipe for a coffee banana smoothie? It has a good dose of caffeine and some healthy elements too! It is perfect for a rushed breakfast and wakes every cell of your body instantly. A smoothie super thick and super yum, so let's see how you can make it in your kitchen.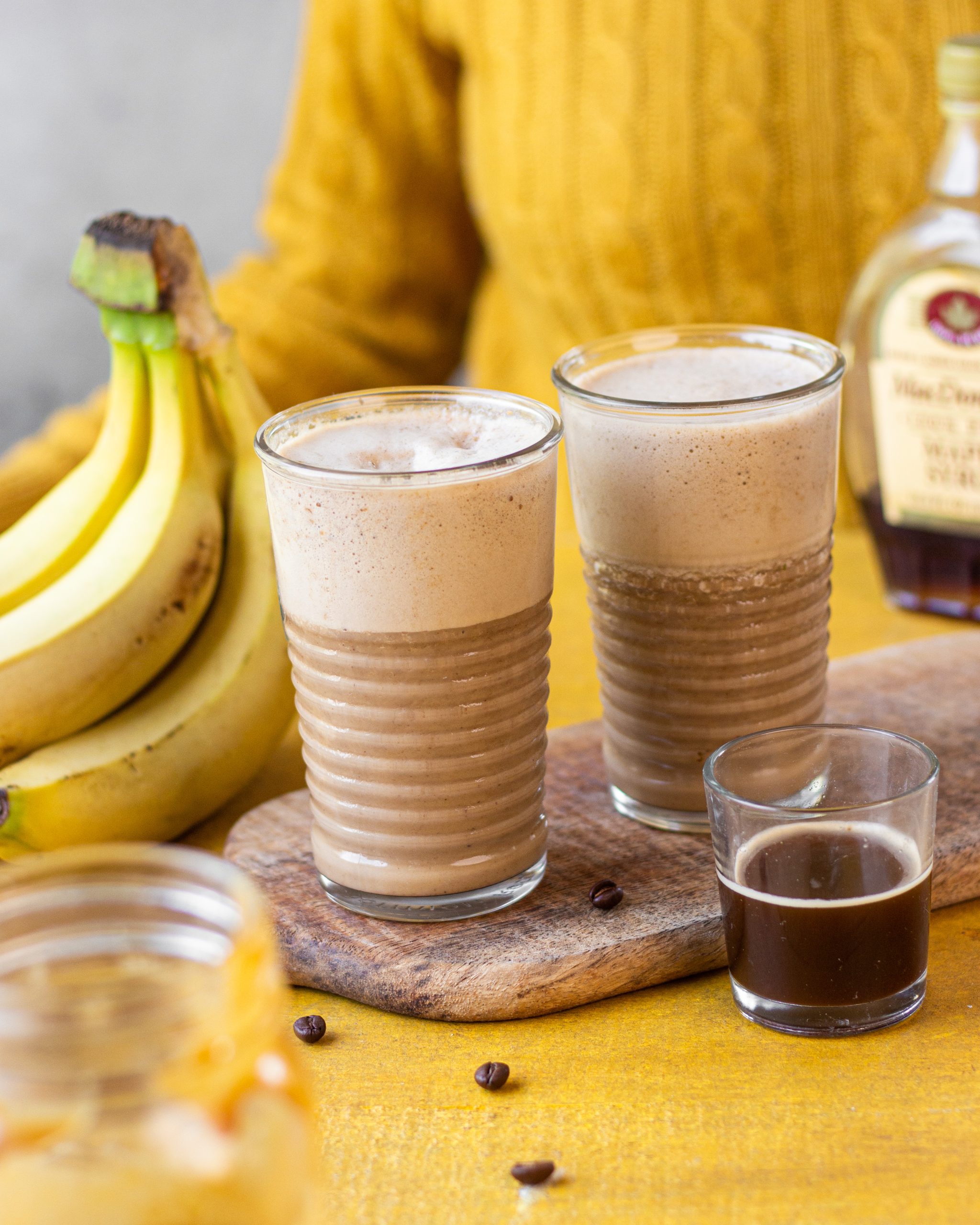 Coffee banana smoothie ingredients
Below are ingredients you will need to make this coffee banana smoothie. You can alter it in a few ways but I would suggest you to stick to it as it has everything which gives us the result for a seriously nutritious and yummy coffee banana smoothie!
Espresso shot – Add a kick of caffeine and a delicious flavor of coffee to your smoothie by adding an espresso shot which has 1 tablespoon of instant coffee powder and 2 tablespoons of hot water. The brands I use are Nescafe or Davidoff, and you can use others too. Just mix in the two ingredients and your home-made espresso shot is ready!
Frozen banana – I love a thick, cold smoothie and frozen sliced bananas just do the trick and improves the texture of your smoothie by a million times! Just slice a big banana and put it on a plate in the freezer for about 2 hours or do it before you go to bed and they are perfect for your next morning smoothie. Also, bananas and coffee go insanely good together so that's a bonus!
Milk – Now you need to add milk here. I am using low fat packed milk but feel free to use full fat milk if you wish or plant based milks like almond milk, oat milk, soy milk for that extra nutrition.
Vanilla extract – If you have not used vanilla extract in your smoothies, what have you even been doing? A good vanilla extract improves the flavor of this smoothie by multiple times. It adds that subtle vanilla bean flavor and helps enhance banana and coffee flavors too. But make sure to use pure and good quality vanilla extract here.
Cinnamon powder – I love cinnamon latte so much! That is why I thought about incorporating ½ a teaspoon of cinnamon powder in this recipe. I love how it tastes when combined with everything. If you do not like the flavor of cinnamon you can simply skip this ingredient as it just adds flavor and won't have any effect on the texture of the smoothie.
Maple syrup – Banana already adds natural sweetness to this smoothie but maple syrup adds sweetness and a hint of caramel and nuttiness which I really like. So 2 tablespoon of it is added but if you do not have it you can alternate it with honey too.
Ice cubes – I am adding ice cubes for a thick frothy texture for this banana coffee smoothie. They do make a big difference here! If you think you like a strong taste of coffee and the quantity of espresso shot added is less, you can also add espresso ice cubes here instead of regular water based ones!
 Adding extra nutrition to your coffee banana smoothie (variations)
Flaxseed meal, a tablespoon of grinded flaxseeds works great in smoothies and can be a good addition to this one too.
Chia seeds, a tablespoon of chia seeds can be added for a boost of healthy fats and fiber.
Avocado, instead of bananas can be added in this coffee banana smoothie. ¼ or ½ cup of it would be sufficient.
Other smoothie recipes on the blog are:
Coffee Banana Smoothie Recipe
Coffee Banana Smoothie
Ingredients
1 cup milk
1 espresso shot (1 tablespoon of instant coffee + 2 tablespoon of water)
1 medium sized banana
2 tablespoon maple syrup
½ teaspoon vanilla extract
½ teaspoon cinnamon powder
½ cup ice cubes
Instructions
In a blender, add milk, espresso shot, medium sized sliced and frozen banana, maple syrup, vanilla extract, cinnamon powder and ice cubes.
Blend them all together properly, till everything gets combined.
Pour them in two glasses and enjoy!
If you liked this recipe and make it in your kitchen, do share pictures with me by tagging me on
Instagram
using #bakewithshivesh.