Winter evenings are windy lately and I am still not over the concept of having a good, wholesome mug of hot chocolate! In the past, I have tried different variations of hot chocolate like salted caramel, white chocolate hot chocolate, mocha and spiced hot chocolate. And I loved all of them so much and they did make a difference to my winter season. Strawberries are here and for these three months, I try to make as many strawberry recipes as I can. I know, strawberry hot chocolate might seem weird to you, like a hot strawberry drink! Well, that was my first reaction too when I heard of it but trust me, it is childhood in a mug! It is super yum and the first sip itself reminded me of the strawberry milk I used to have as a kid.
This strawberry hot chocolate has the cutest shade of pink when prepared and it's so easy to make! It is ready to be served in absolutely no time.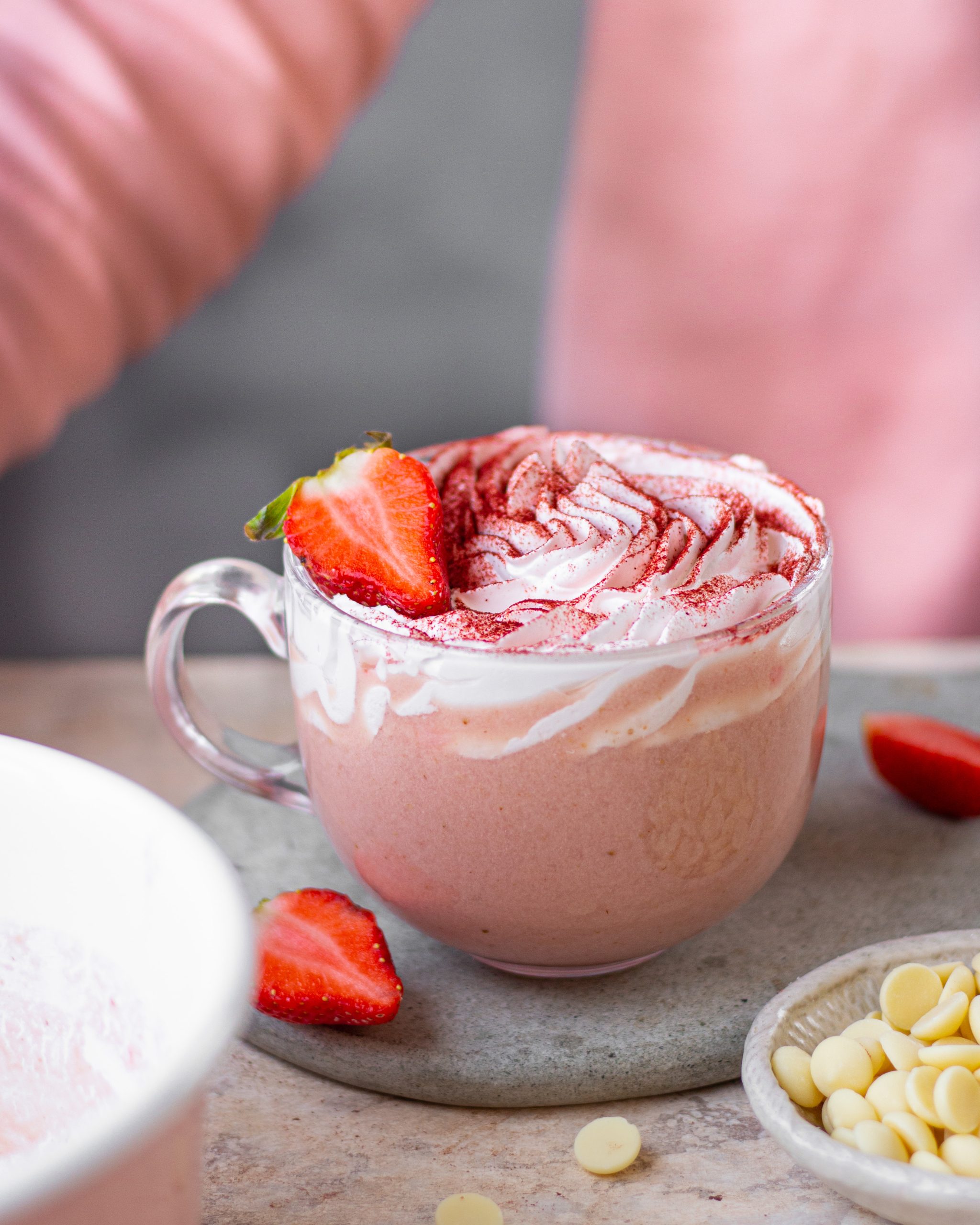 Ingredients used in strawberry hot chocolate
This recipe holds five basic ingredients, which will be available in your kitchen or you can get them from any shop near you! Obviously, this recipe will have strawberries. I have pureed them and then incorporated in my recipe; if you want you can even use a store-bought strawberry puree tin or strawberry crush but you would have to alter the sugar then as they do have sweeteners in them. It also has milk, I am using full fat milk, and you can use any milk you like. If you want you can even use, oat or almond milk. It has white chocolate as the base ingredient, I have used callebut white chocolate. You can use van houten white chocolate too. It has vanilla extract too, I always advise people to use a good quality vanilla extract, I used sprigs vanilla extract. Lastly, it has very less quantity of caster sugar. We are using white chocolate as the base and it is very sweet too so if you like less sweet, you can simply skip caster sugar.
Tips for making your strawberry hot chocolate
When strawberry puree is added to the pan, on medium heat, do not boil it and remove it just after a simmer as we don't want the milk solids to separate because of the addition of fresh strawberry puree.
Do not over mix the mixture on the heat.
Use a good quality vanilla extract and a good quality white chocolate as the taste of strawberry hot chocolate depends on the quality of chocolate used.
Keep all your ingredients measured and ready in advance as the process will be very smooth then.
After making strawberry hot chocolate, it will thicken slowly so do not worry if yours is runny , just after the preparation.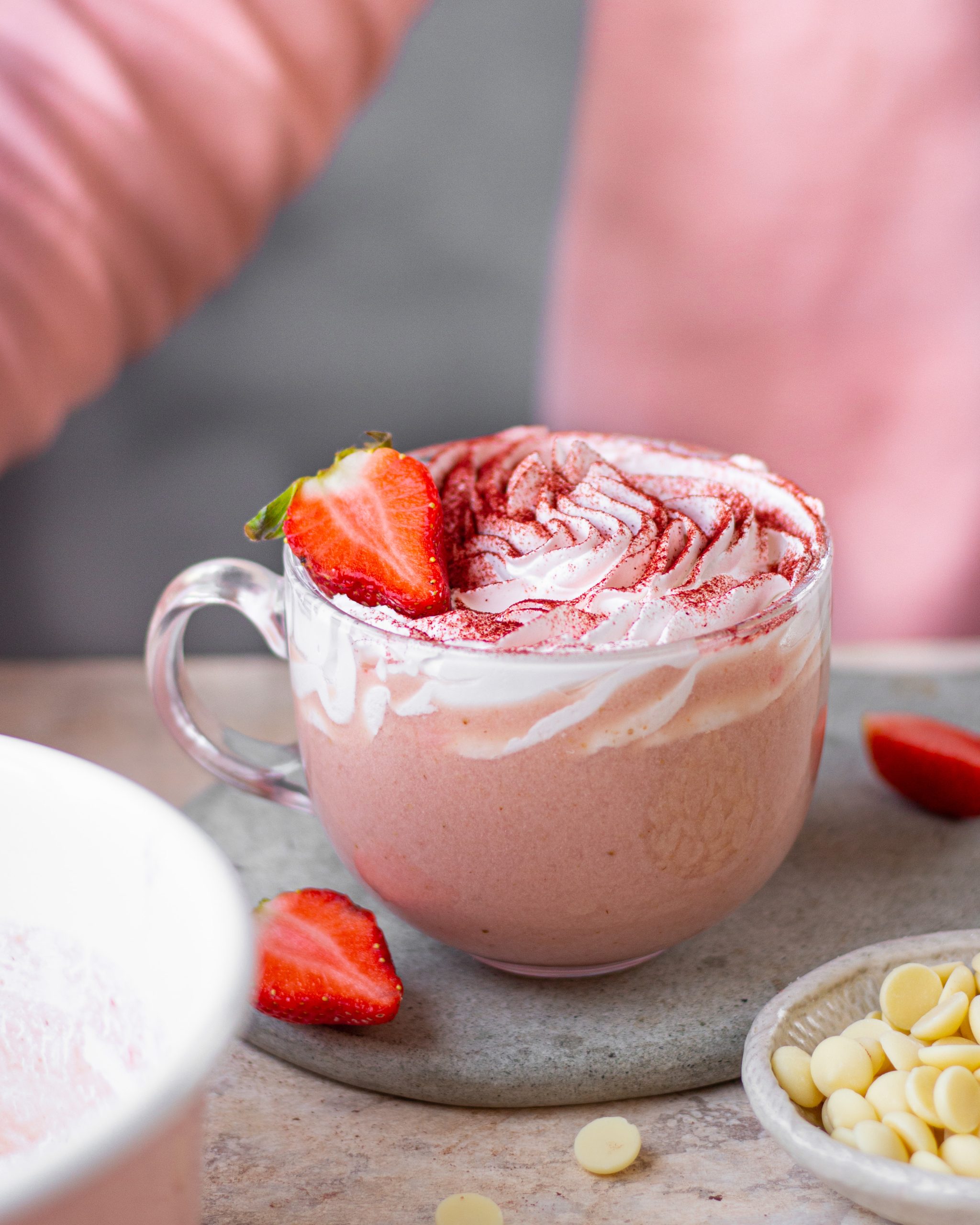 Other similar posts on the blog
Strawberry Hot Chocolate Recipe
Strawberry Hot Chocolate
Ingredients
1 cup (250ml) milk
1 tablespoon (15g) caster sugar
½ cup (50g) white chocolate
½ cup (120ml) strawberry puree
1 teaspoon (5ml) vanilla extract
Instructions
Set a saucepan, over a low-medium heat and pour milk in it.
Add caster sugar and let it come to a simmer, till the sugar is dissolved.
Add white chocolate and mix it properly, till the chocolate melts.
Add the strawberry puree and give it a quick mix.
Add vanilla extract and mix it all in. Remove the saucepan from the heat.
Pour the strawberry hot chocolate into your mug and top it with whipped cream and a strawberry. Serve and enjoy!
If you like this recipe and make it in your kitchen, do share pictures with me on
Instagram
using #bakewithshivesh.