I love making birthday cakes for my friends and family; I have been baking them for the longest time now but I just felt, if someone lives alone or just two people live together and it's quarter to 12 and the birthday is in just 15 minutes of time, can there be a birthday cake which could be made?
And that's when I thought about a colorful and bright birthday mug cake! It is easy; it is quick and serves just one or two people! Also, it can be quickly made in a microwave in just two minutes and when a cute candle is lit on top of it, it is even cuter! This recipe is perfect for a quick celebration or even for a last minute celebration, when one forgets someone's birthday too!! It is also kids friendly and works like a DIY activity too.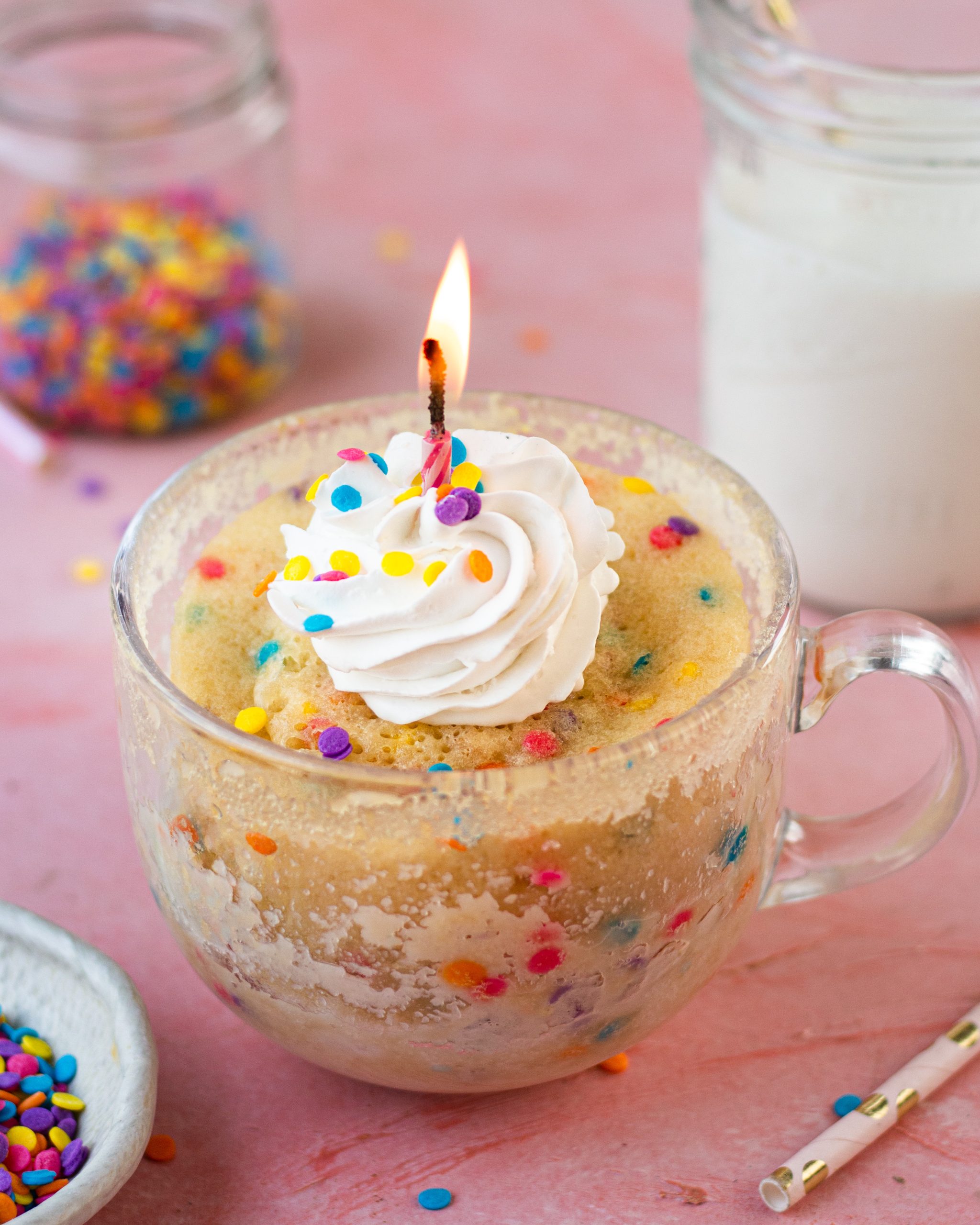 Ingredients used for the birthday mug cake
The ingredients used for this birthday mug cake are very basic and easily available anywhere. It has all-purpose flour, caster sugar, baking powder, refined flavorless oil, vanilla extract, milk and some sprinkles. If you want, you can substitute 50% of all-purpose flour with whole wheat flour and can even use light brown sugar instead of caster sugar; for extra flavor, a pinch of salt can also be added. For the topping, I have added a swirl of whipped cream with a tiny candle, if you want you can add a scoop of vanilla or chocolate ice-cream and some more sprinkles on top, as ice-cream hurts nobody, am I right or am I right?!
How to make birthday mug cake in a microwave
The best part about mug cakes are, they are quickly made without any hassle and the amount of utensils or equipment used is very minimal. It is just everything in a mug mixed properly and poured step by step, one after the other.
All you need is an oven safe mug, I am using a giant glass mug here because I like looking at the texture and sprinkles in this case, you can use any microwave safe mug, a microwave (obviously). Also, another thing to keep in mind is, to take a big mug so that when the cake rises, it doesn't come out while expanding and it has enough room to get baked properly and it is easy for you to stir all ingredients properly.
Next thing after the batter gets ready is, to simply keep the mug in the microwave and set the timer for 2 minutes and it will be fully baked and becomes all pretty and nice.
Other mug cake recipes on the blog
Birthday Mug Cake Recipe
Birthday Mug Cake
Ingredients
½ cup (60g) all-purpose flour (maida)
¼ cup (50g) caster sugar
½ teaspoon (2g) baking powder
¼ cup (60ml) oil
½ teaspoon (2.5ml) vanilla extract
½ cup (120ml) milk
1 tablespoon sprinkles
Whipped cream swirl on top
Instructions
In a microwave safe mug, add all-purpose flour, caster sugar and baking powder and give it a good mix using a spoon or a small whisk.
In the same mug, add the oil and vanilla extract and give it a gentle mix too.
Warm the milk and add it to the same mug and mix it properly till the batter comes together.
Add the sprinkles and give a final mix.
Put the mug in the microwave for 2 minutes.
Take it out of the microwave, once baked and let it cool for 10 minutes.
Pipe a swirl of whipped cream on top with some more sprinkles and add a birthday candle if yu want. Enjoy!
If you like this recipe and make it in your kitchen, do share pictures with me on
Instagram
using #bakewithshivesh.