I am back with another super simple, delicious, and a hundred percent lovable mug cake recipe! It has got one of the not so common flavors – biscoff! In a year, I manage to get my hands on a biscoff spread only a couple of times. And everytime I do, I try my best to make it worthwhile. This biscoff mug cake is an absolute treat and it is ready in 5 minutes or less! 
Let me show you how I like to make my version of the biscoff mug cake. You need limited ingredients, and barely 5 minutes of patience. Let's get started.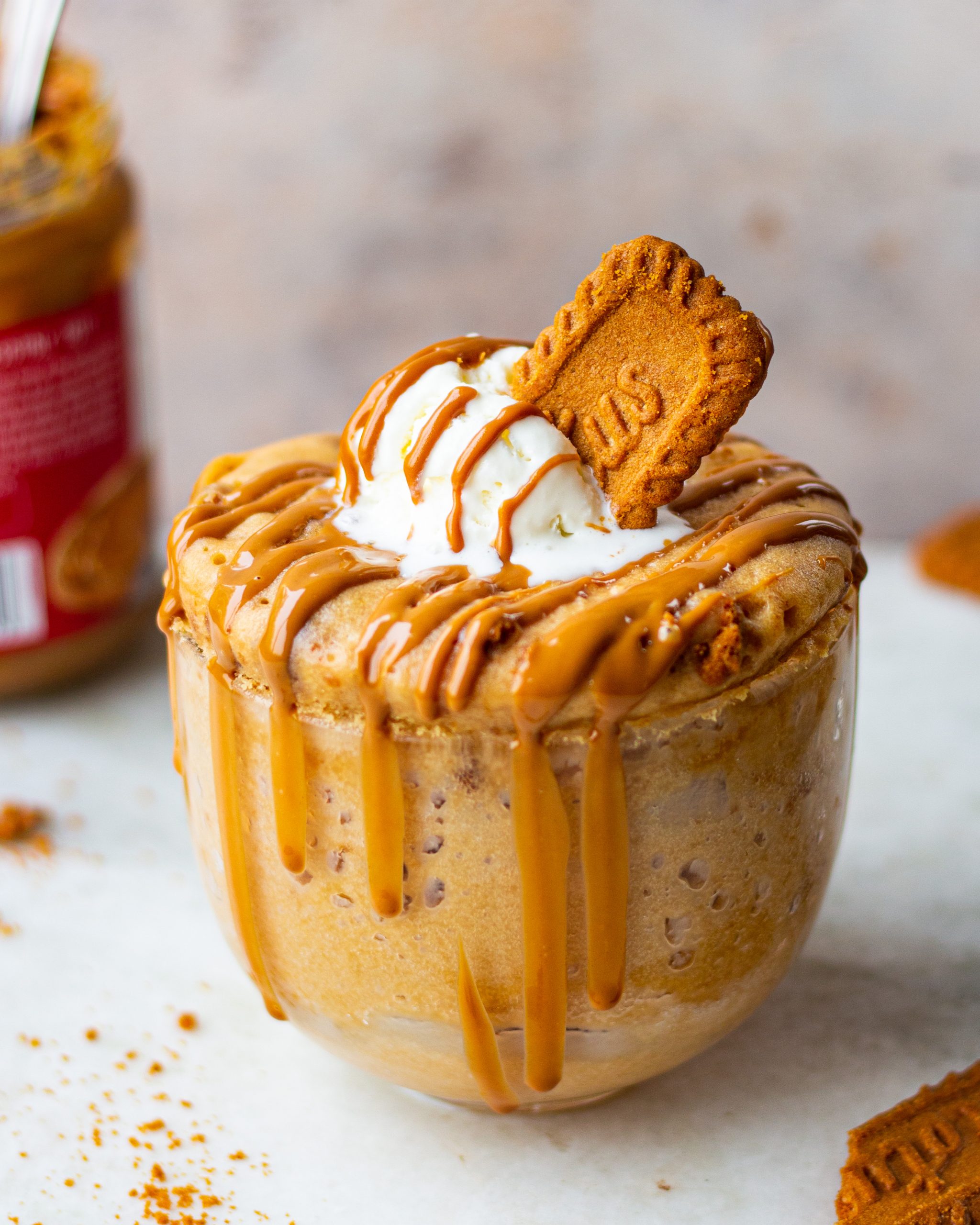 What is biscoff 
Alright so biscoff is actually a biscuit spread or a cookie butter that is mainly made with crushed cookies, some source of fat, flour, and sugar. In other countries of the world, this biscoff spread is just as famous and common as Nutella or peanut butter. 
The biscoff spread in particular is made with these crushed biscuits called lotus biscoff. The lotus biscoff biscuits gained popularity because of their distinct caramelized flavor and textural crunch. If you want to try out these famous biscuits, you can find them here. 
Ingredients needed for biscoff mug cake 
The ingredients you need are very basic. They include all purpose flour, baking powder, caster sugar, biscoff spread, crushed lotus biscoff biscuits, milk, and oil. This will be everything that you will add in your microwave safe mug. And for the topping, you will need some vanilla ice cream because let us face it, no mug cake is complete without some vanilla ice cream on top! And for some extra pizazz, drizzle a little bit more of the biscoff spread. 
How to cook the biscoff mug cake in the microwave 
The beauty of mug cakes comes from the fact that they are perfect for single servings. If you live alone and you do not want to make a full fledged cake just for yourself, then the mug cake is the perfect option.
It is also a great option for anyone who is way too lazy to spend time in the kitchen but always wants dessert. With a mug cake, the effort is so minimal and the result so good, anyone is bound to fall in love with them. If you are an amateur, even then the mug cake made in a microwave is a perfect option for you.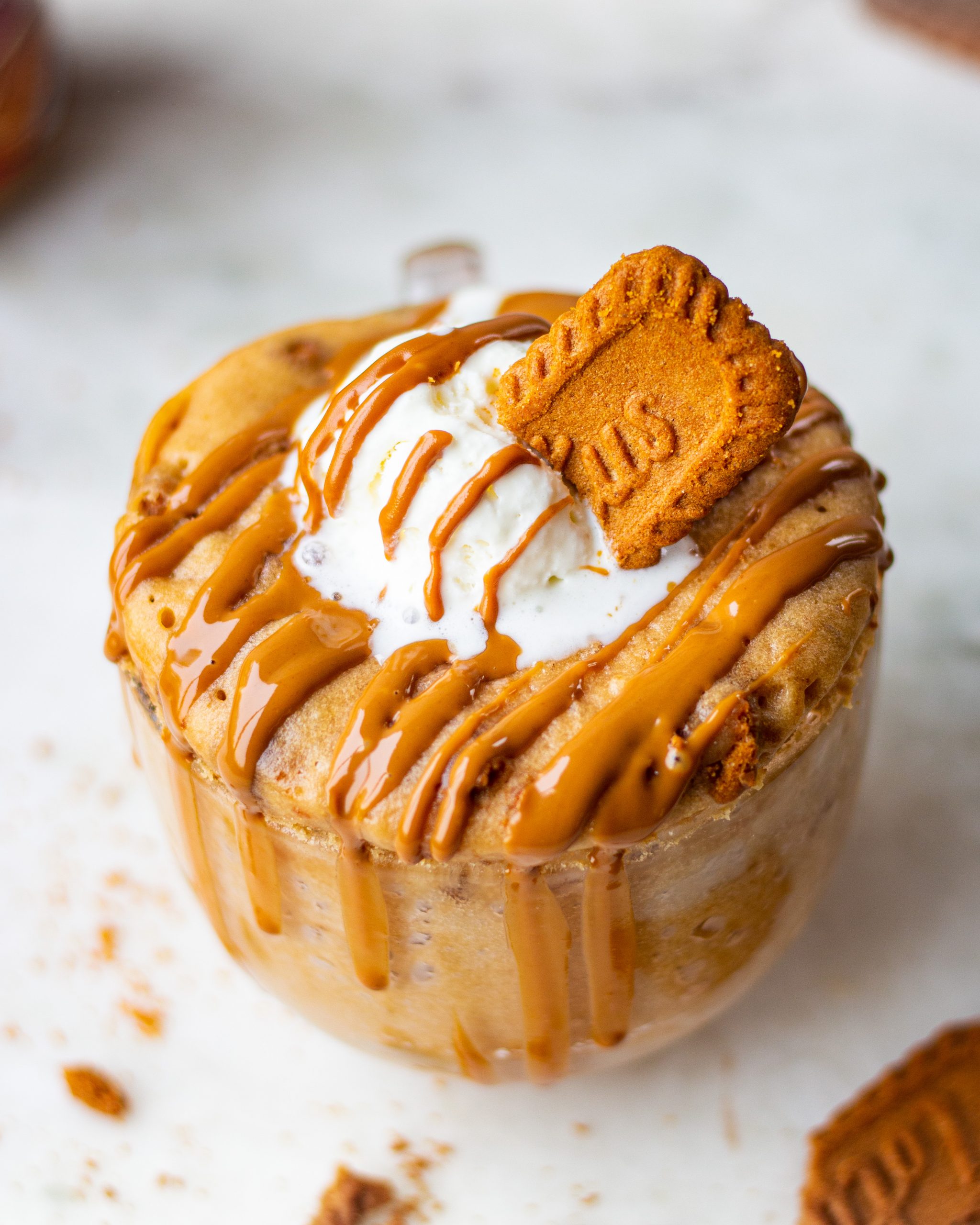 So to make the mug cake in the microwave you only need two things: a microwave safe mug and a microwave (obviously). Make sure the mug that you choose is big enough to let the cake rise in the microwave. If your mug is too small, the batter will definitely flow out of the mug while cooking and create a mess in the microwave. As a rule, it is always safe to only fill half way or two third of the way of the mug and leave the rest of the space for the cake to rise. 
I used a glass safe microwave mug for my mug cake but you can use any you have. Ceramic mugs also work great! 
The cooking time for this mug cake is just two minutes! So once your batter is ready, all you need to do is pop it in the microwave, set the timer at two minutes and watch the cake magically rise to the top and get ready to dive in. 
Other mug cake recipes on the blog
There are so many mug cake recipes on the blog. I know you guys love them as much as I do so I always try to cover as many flavor options as possible. You can also check out their recipes!
Biscoff mug cake
Ingredients
½ cup (60gms) maida
¼ cup (50gms) sugar
½ tsp (2gms) baking powder
3 tbsp (45ml) oil
½ cup (120ml) milk
2 tbsp biscoff spread
2-3 crushed lotus biscuits
1 scoop vanilla ice cream
Instructions
In a microwave safe mug add in maida, sugar, and baking powder. Use a whisk to give these a mix.
In the same mug add in oil, milk, and the biscoff spread. Mix again to bring the batter together.
Lastly add in some crushed lotus biscuits and put the mug in the microwave for two minutes.
Take it out of the microwave and serve with some vanilla ice cream on top and an additional drizzle of the biscoff spread.
Enjoy!