Biscoff mug cake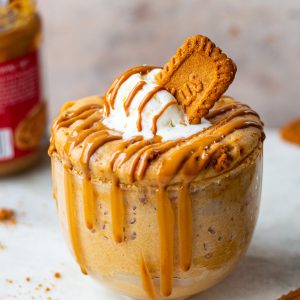 ½ cup (60gms) maida
¼ cup (50gms) sugar
½ tsp (2gms) baking powder
3 tbsp (45ml) oil
½ cup (120ml) milk
2 tbsp biscoff spread
2-3 crushed lotus biscuits
1 scoop vanilla ice cream
In a microwave safe mug add in maida, sugar, and baking powder. Use a whisk to give these a mix.
In the same mug add in oil, milk, and the biscoff spread. Mix again to bring the batter together.
Lastly add in some crushed lotus biscuits and put the mug in the microwave for two minutes.
Take it out of the microwave and serve with some vanilla ice cream on top and an additional drizzle of the biscoff spread.
Enjoy!