Making mug cakes give me so much joy and I'm here with yet another mug cake recipe and this one is a keeper! The main ingredient of this mug cake is something that makes any dessert taste absolutely delicious. It's Oreos!
What's not to like about mug cakes? They take limited ingredients and get ready in less than 5 minutes! Even better when you can add all your favorite ingredients to it and this is what I love the most about this mug cake.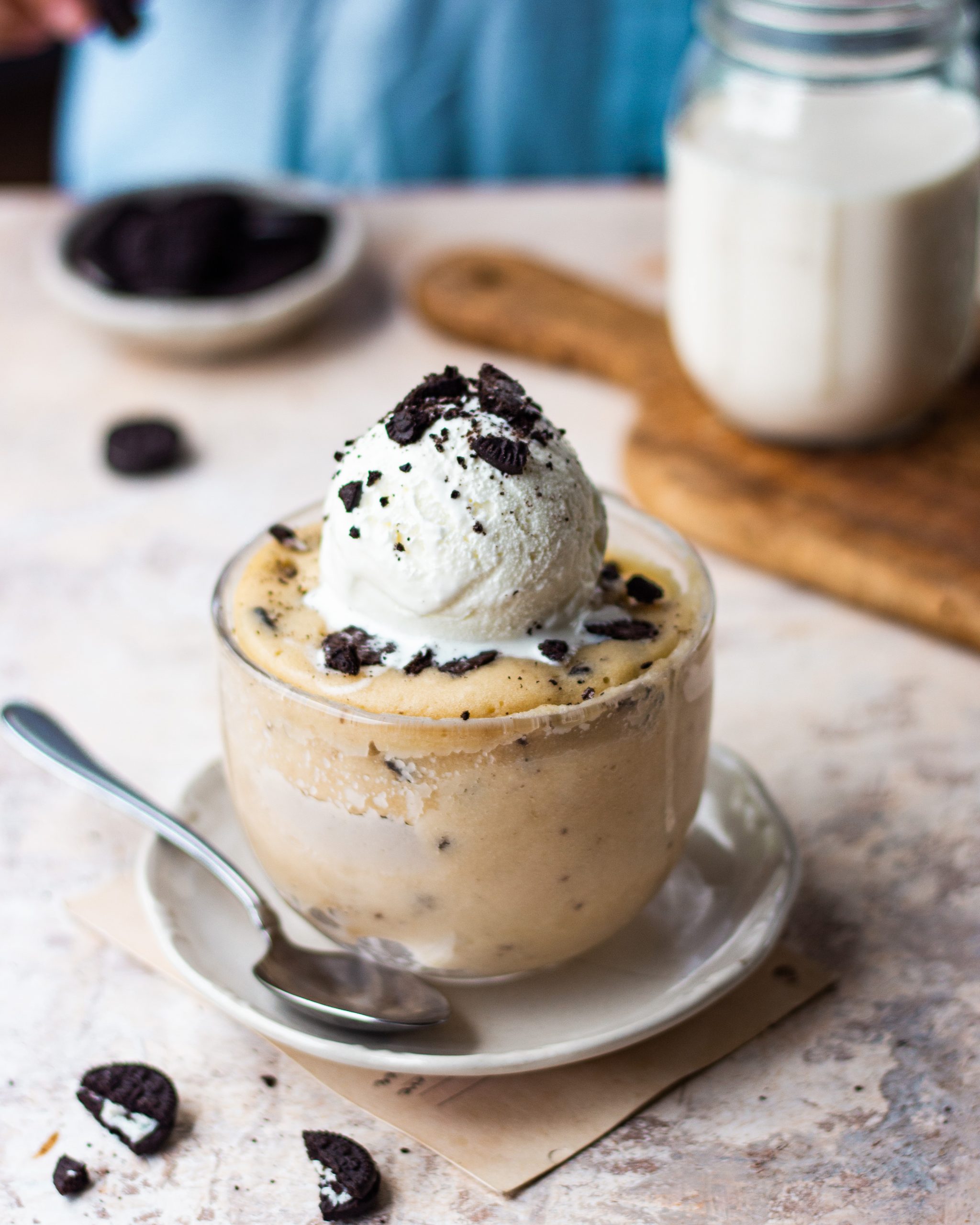 Ingredients used in Oreo Mug Cake
The ingredients you need for making this oreo mug cake are very basic. They include all purpose flour, baking powder, caster sugar, vanilla, milk, oil and some crushed Oreos. This will be everything that you will add in your microwave safe mug. And for the topping, you will need some vanilla ice cream because let us face it, no mug cake is complete without some vanilla ice cream on top! Of course, we're topping this one with more & more Oreos on top.
HOW TO COOK THE OREO MUG CAKE IN THE MICROWAVE
The beauty of mug cakes comes from the fact that they are perfect for single servings. If you live alone and you do not want to make a full fledged cake just for yourself, then the mug cake is the perfect option.
It is also a great option for anyone who is way too lazy to spend time in the kitchen but always wants dessert. With a mug cake, the effort is so minimal and the result so good, anyone is bound to fall in love with them. If you are an amateur, even then the mug cake made in a microwave is a perfect option for you.
So to make the mug cake in the microwave you only need two things: a microwave safe mug and a microwave (obviously). Make sure the mug that you choose is big enough to let the cake rise in the microwave. If your mug is too small, the batter will definitely flow out of the mug while cooking and create a mess in the microwave. As a rule, it is always safe to only fill half way or two third of the way of the mug and leave the rest of the space for the cake to rise.
I used a glass safe microwave mug for my mug cake but you can use any you have. Ceramic mugs also work great!
The cooking time for this mug cake is just two minutes! So once your batter is ready, all you need to do is pop it in the microwave, set the timer at two minutes and watch the cake magically rise to the top and get ready to dive in.
EQUIPMENT YOU NEED FOR THE OREO MUG CAKE
A MICROWAVE SAFE MUG
You can use any mug or even a small bowl that is microwave safe. One thing to keep in mind is that this recipe has been designed for a 500ml capacity mug, so if the mug that you are using is smaller please adjust the recipe accordingly. Using a smaller mug with the full recipe might lead to overflowing of the batter and creating a huge mess in your microwave, trust me on this I am telling you from past experience! Haha!
SOMETHING TO MIX WITH
You do not need any fancy mixers, all you need is a small hand whisk. A hand whisk will allow our oreo mug cake ingredients to mix thoroughly with each other. Now even if you do not a hand whisk, you can simply also use a fork to yield similar results. Since there is so intricate creaming of oil and sugar happening a fork will work just fine.
That's it on the equipment list, you do not even need an extra bowl to mix the batter in, simply just dump all of your ingredients in your serving mug, mix and microwave!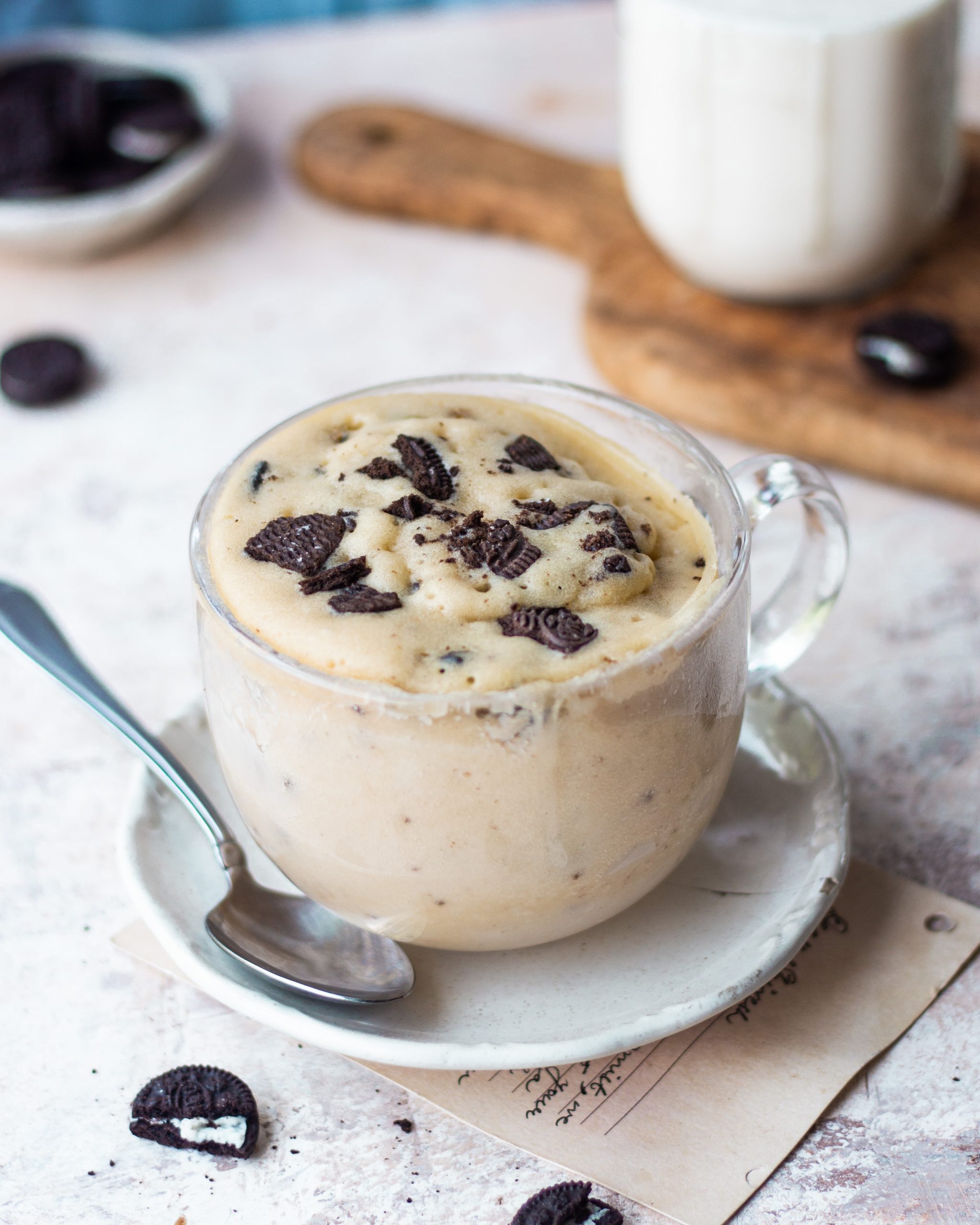 OTHER MUG CAKE RECIPES ON THE BLOG
There are so many mug cake recipes on the blog. I know you guys love them as much as I do so I always try to cover as many flavor options as possible. You can also check out their recipes!
Oreo Mug Cake recipe
Oreo Mug Cake
Ingredients
½ cup (60gms) maida
¼ cup (50gms) sugar
½ tsp (2gms) baking powder
¼ cup (60ml) oil
½ teaspoon (2.5ml) vanilla extract
½ cup (120ml) milk
2 crushed Oreos
1 scoop vanilla ice cream
Instructions
In a microwave safe mug add in maida, sugar, and baking powder. Use a whisk to give these a mix.
In the same mug add in oil, milk, and the vanilla extract. Mix again to bring the batter together.
Lastly add in some crushed Oreos and put the mug in the microwave for two minutes.
Take it out of the microwave and serve with some vanilla ice cream on top and some more Oreos.
Enjoy!
If you like this recipe and happen to make it, do tag me on
Instagram
/
Facebook
using #bakewithshivesh.