Everybody needs a quick sweet treat every once in a while when they don't have time to get into elaborate baking processes. For me, mug cakes are the perfect solution to my cravings and let's face it, it's probably the best thing somebody came up with. (after cake of course)
You get a gorgeous mini cake in a mug, it takes minimum pantry ingredients and only a few minutes of your time. Such a steal, right? I'm so happy to be sharing with you my top 5 mug cake recipes that are easy to make and will be great to make on days you feel like being lazybones.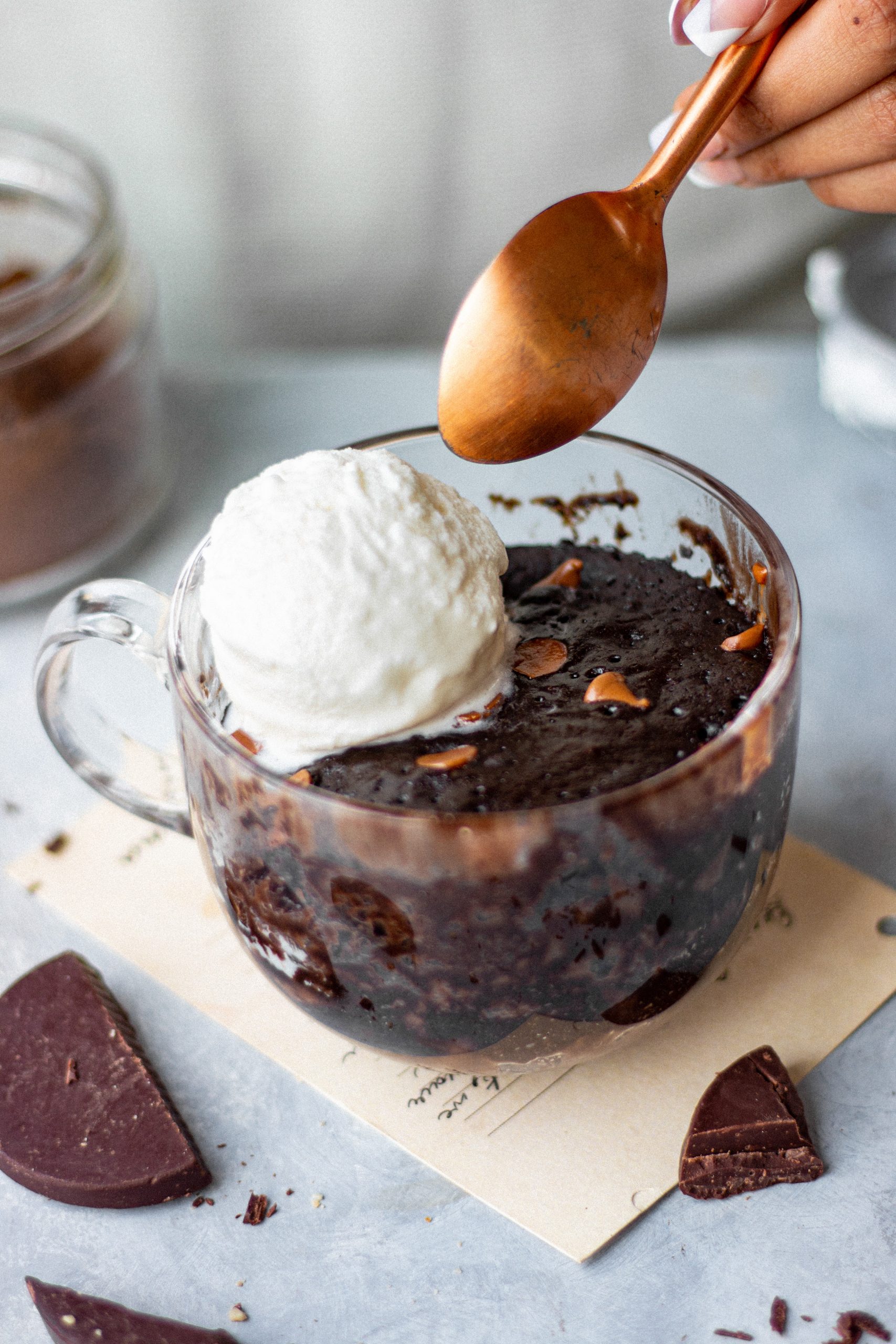 1. Double Chocolate Mug Cake
Nothing is better than a double chocolate dessert. I am all in for other flavors, be it plain jane vanilla or some fruity goodness but chocolate hits differently especially when it is double chocolate. And to enjoy this double chocolate flavor, we are making my double chocolate mug cake. It is going to be super easy to make and even easier to devour. We are going to flavour our mug cake with both cocoa powder and chocolate chips for the double chocolate punch. Enjoy this double chocolatey goodness with a warm cup of beverage and oh my, you will instantly be in a happy town!
MICROWAVE COOKING INSTRUCTIONS FOR DOUBLE CHOCOLATE MUG CAKE
We are going to make this double chocolate mug cake using the regular microwave reheating function. So it's imperative that you only use glass or ceramic bakeware that is microwave-safe. Do not use steel or cheap quality plastic that can be hazardous for your health and quite dangerous to use as well.
The cooking time will differ from one microwave to the other. I tried to microwave it for 90 seconds first and discovered that the outside is perfectly cooked but the inside and the middle was still raw. So I cooked it for an additional 30 seconds, making the full cooking time to come to 120 seconds.  I recommend that after the 90 seconds mark, you try and insert a skewer into the centre and see if the mug cake needs more cooking and then work accordingly.
Find the full recipe here.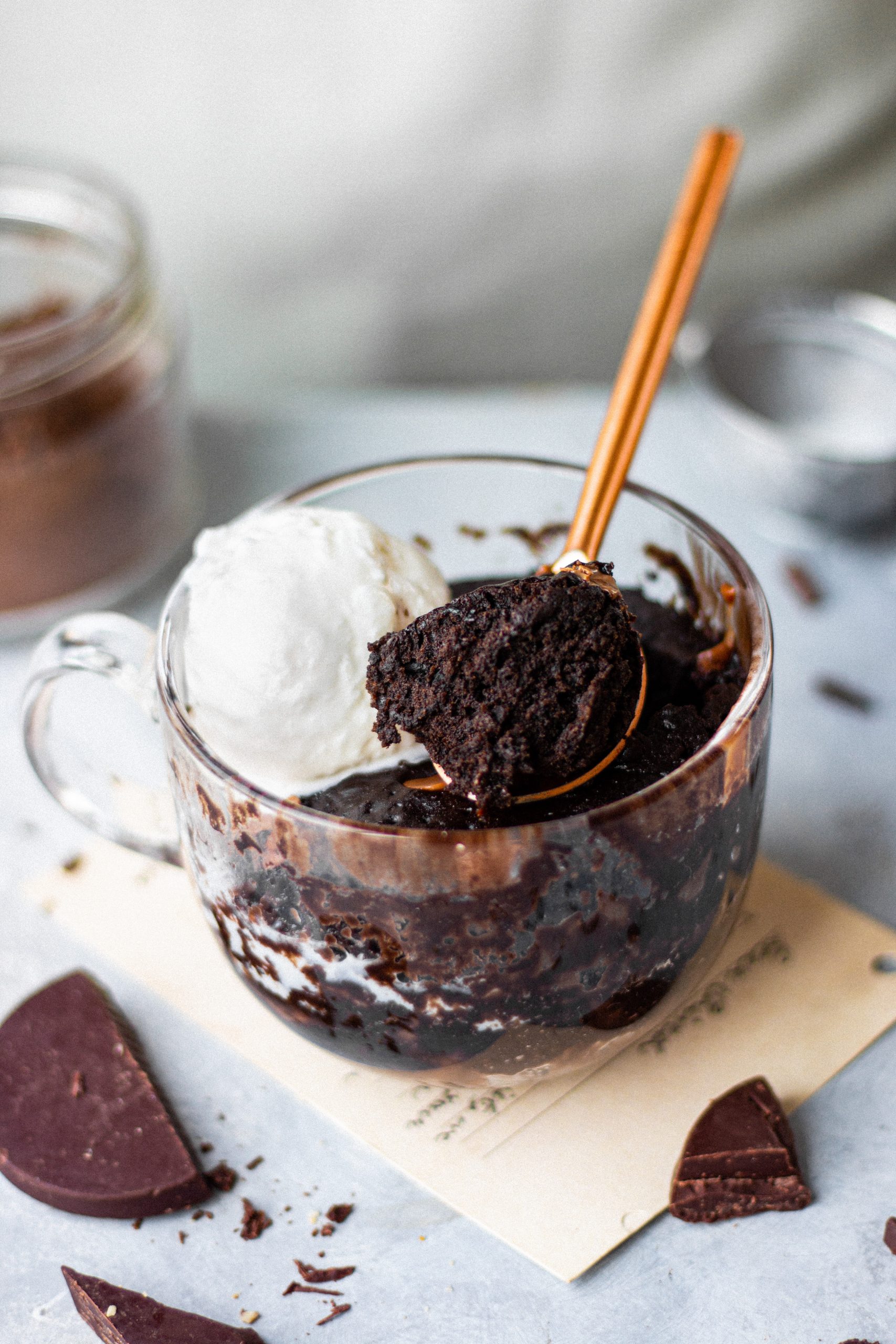 2. Red Velvet Mug Cake
This red velvet mug cake is not only the answer to your dessert prayers, but it's also super decadent too. There is nothing like a red velvet mug cake that spells a warm hug more accurately. Even though I am not a huge fan of the red velvet flavor, this red velvet mug cake won my heart too. It's so moist and when topped with a cream cheese frosting, it's all you'll need for your midnight sweet fix.
TIPS FOR THE PERFECT RED VELVET MUG CAKE
Mug cakes do promise a warm, moist, and fluffy cake after a few minutes and with minimal work. However, sometimes, all you end up with is a chewy, rubbery mess that is flavorless. I do not want you guys thinking that you at least made some effort towards making something, and even that failed. This is something that will really hurt me. So, as always, I am going to give the perfect tips to nail this smooth and yum red velvet mug cake.
LETTING THE MILK AND VINEGAR REST
The first step of the recipe is making buttermilk- a combination of milk and vinegar. This is generally used in batters to kickstart reactions that make your cakes rise, as an egg substitute. Not allowing milk and vinegar to rest at least for five minutes prevents it from becoming a curdled mixture. This curdled texture of the mix is exactly what you need in your cakes. This is why it becomes the first step of this recipe for red velvet mug cakes.
MICROWAVE SETTINGS DIFFER
All microwaves, unlike ovens, are extremely different from each other. Stick to the time the recipe asks you to stick to. However, if a toothpick inserted in the middle comes out extremely wet, bake for more short intervals until you get a stable and baked red velvet mug cake.
 FILLING YOUR BATTERS ONLY UP TO HALF THE CUP
Please give your red velvet mug cake batter some space to rise. Ideally, filling only half a cup or just slightly more is the perfect amount of batter. This truly does make the best red velvet mug cake.
Find the full recipe here.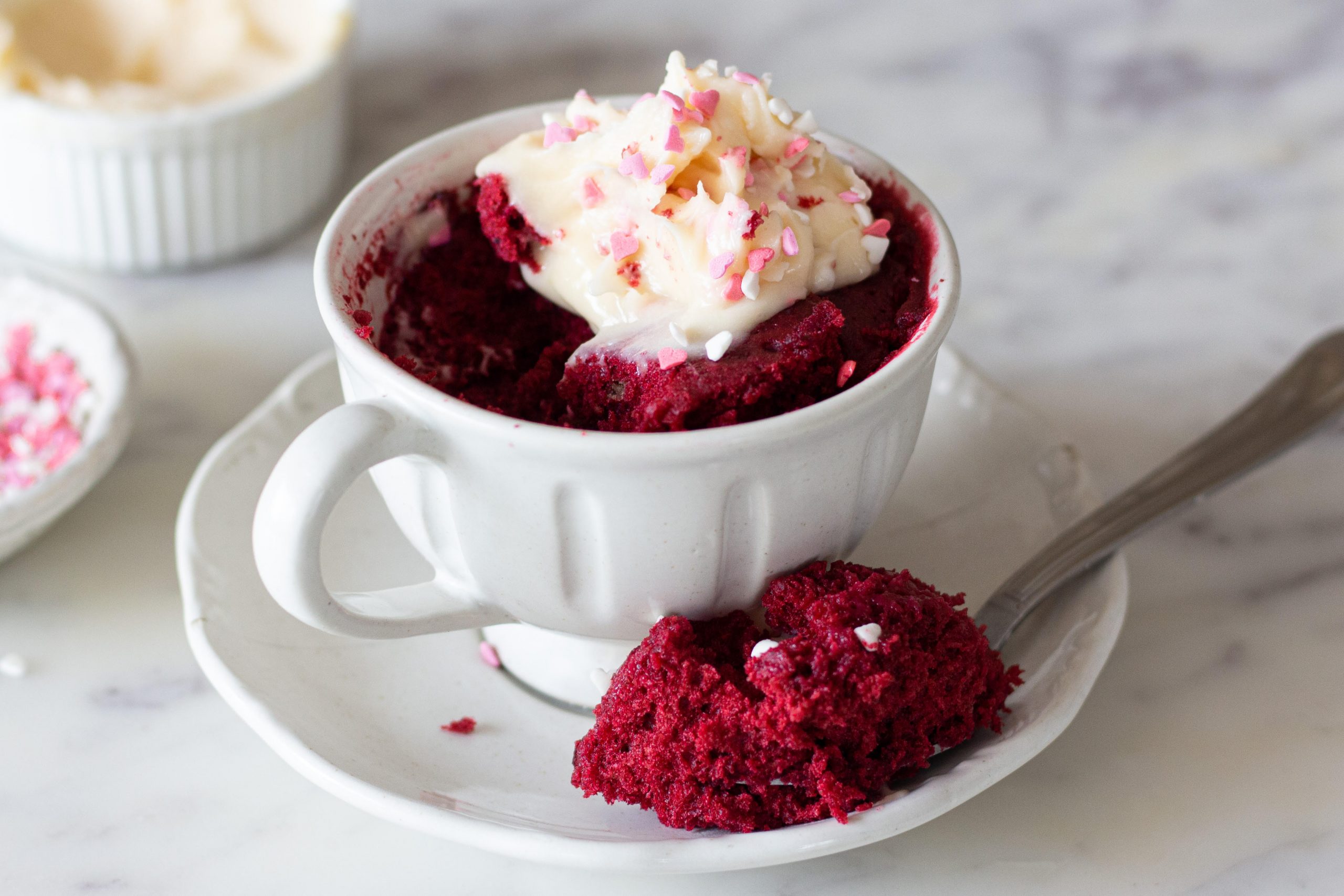 3. Biscoff Mug Cake
This one has been a very recent addition to my baking list and I'm so glad I discovered it because it's absolutely yum. What's there to not like about Biscoff?  It's a rich, smooth cookie butter that tastes dreamy and when you add it to a mug cake, the result is nothing short of fantastic. The biscoff spread in particular is made with these crushed biscuits called lotus biscoff. The lotus biscoff biscuits gained popularity because of their distinct caramelized flavor and textural crunch. If you want to try out these famous biscuits, you can find them here.
The best thing about Biscoff Mug Cake
My most favorite thing about this biscoff mug cake is that the ingredients you need are very basic. They include all purpose flour, baking powder, caster sugar, biscoff spread, crushed lotus biscoff biscuits, milk, and oil. This will be everything that you will add in your microwave safe mug. And for the topping, you will need some vanilla ice cream because let us face it, no mug cake is complete without some vanilla ice cream on top! And for some extra pizazz, drizzle a little bit more of the biscoff spread.
Find the full recipe here.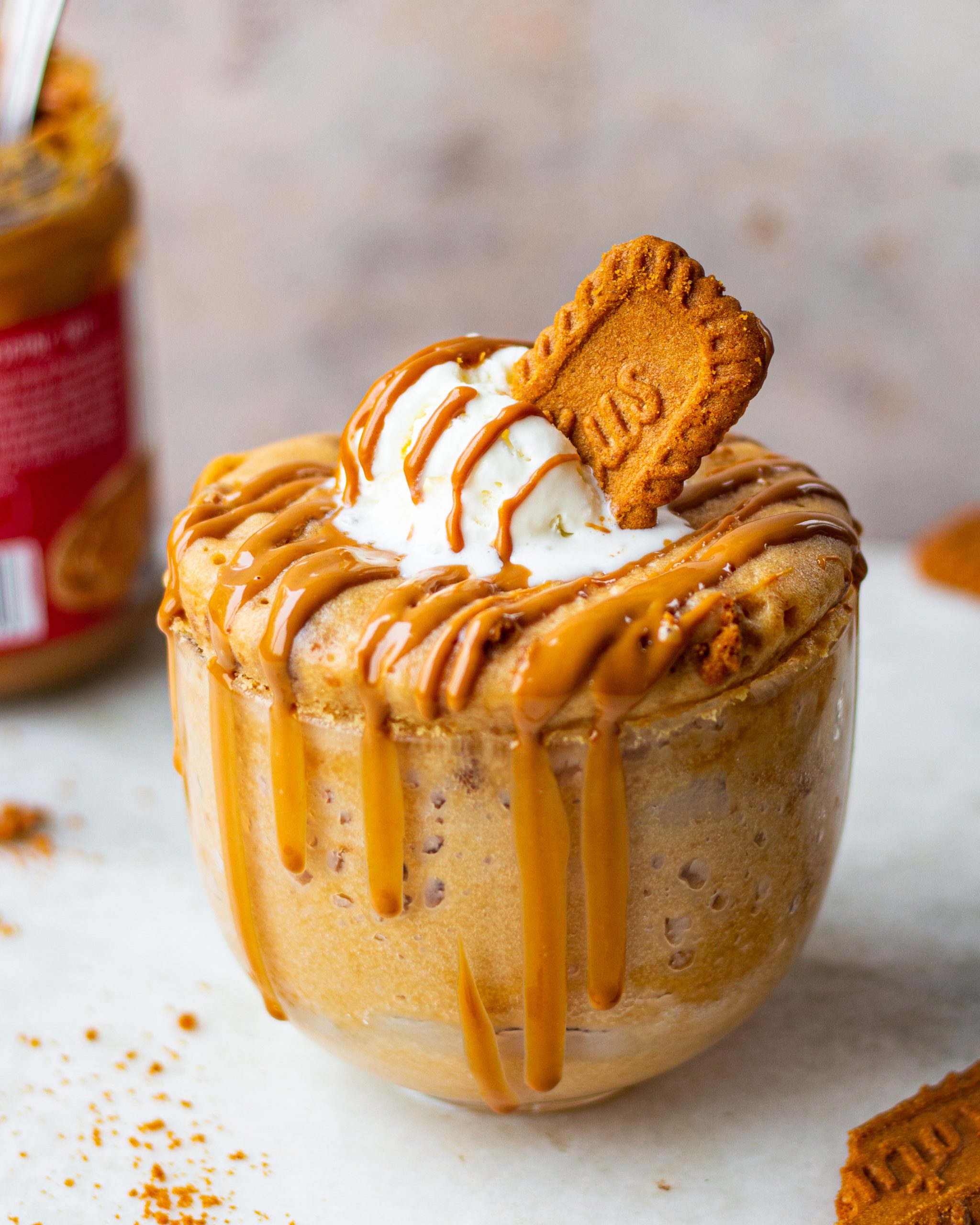 4. Oreo Mug Cake
I think one thing all of us have in our pantries is a packet of Oreos. Everybody loves them, from our kids or to our grandparents. Wouldn't it be amazing if you can make a simple yet delicious dessert with Oreos and just your normal pantry staples? This mug is just that, if not more. It was just a simple vanilla mug cake and then I added some Oreos in it. Nothing could've tasted better!
EQUIPMENT YOU NEED FOR THE OREO MUG CAKE
A MICROWAVE SAFE MUG
You can use any mug or even a small bowl that is microwave safe. One thing to keep in mind is that this recipe has been designed for a 500ml capacity mug, so if the mug that you are using is smaller please adjust the recipe accordingly. Using a smaller mug with the full recipe might lead to overflowing of the batter and creating a huge mess in your microwave, trust me on this I am telling you from past experience! Haha!
SOMETHING TO MIX WITH
You do not need any fancy mixers, all you need is a small hand whisk. A hand whisk will allow our oreo mug cake ingredients to mix thoroughly with each other. Now even if you do not a hand whisk, you can simply also use a fork to yield similar results. Since there is so intricate creaming of oil and sugar happening a fork will work just fine.
That's it on the equipment list, you do not even need an extra bowl to mix the batter in, simply just dump all of your ingredients in your serving mug, mix and microwave!
Find the full recipe here.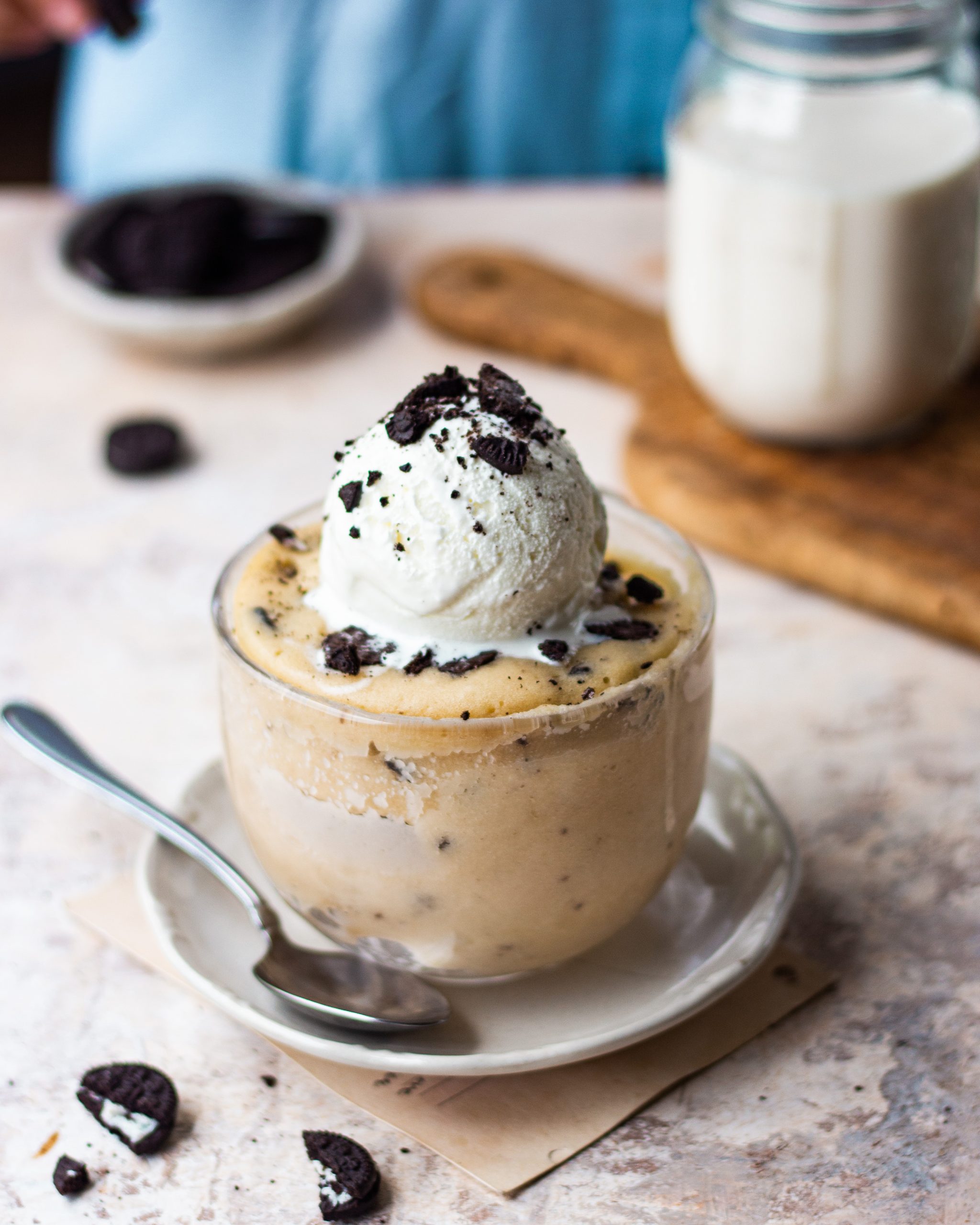 5. Nutella Mug Cake
This recipe of the Nutella mug cake is a dream come true! It is a super easy, super fast, and super yum fix for your dessert desires. And also, it is ready within a maximum of 5 minutes! What else do we need? Now, mug cakes are such a famous bunch of recipes, especially on the blog. But, this Nutella mug cake is a star. An absolute star! So many of you have already made it and so many of you are continuing to make it- it's a wonderful feeling! Probably, the reason why this nutella mug cake has won so many hearts is because it has Nutella. And of course, everyone loves some indulgent chocolate and some delicious Nutella in their desserts. I listen to what you guys want and I love it when you guys bake my recipes. I feel like such a star!
Now, the reason why you should definitely be trying your hands on this nutella mug cake is because it's a quick fix to everything you want in a dessert! Chocolate? Check! Nutella? Check! Easy recipe? Check! Microwaveable? Check! I will seriously just keep asking- what more do you guys possibly need in a dessert? This mug cake, trust me, is the answer to all your dessert prayers. Of course you'd be committing a sin and betraying that hour of workout, but the world is anyway ending, y'all. Might as well bake something this yum while we are at it, no?
Find the full recipe here.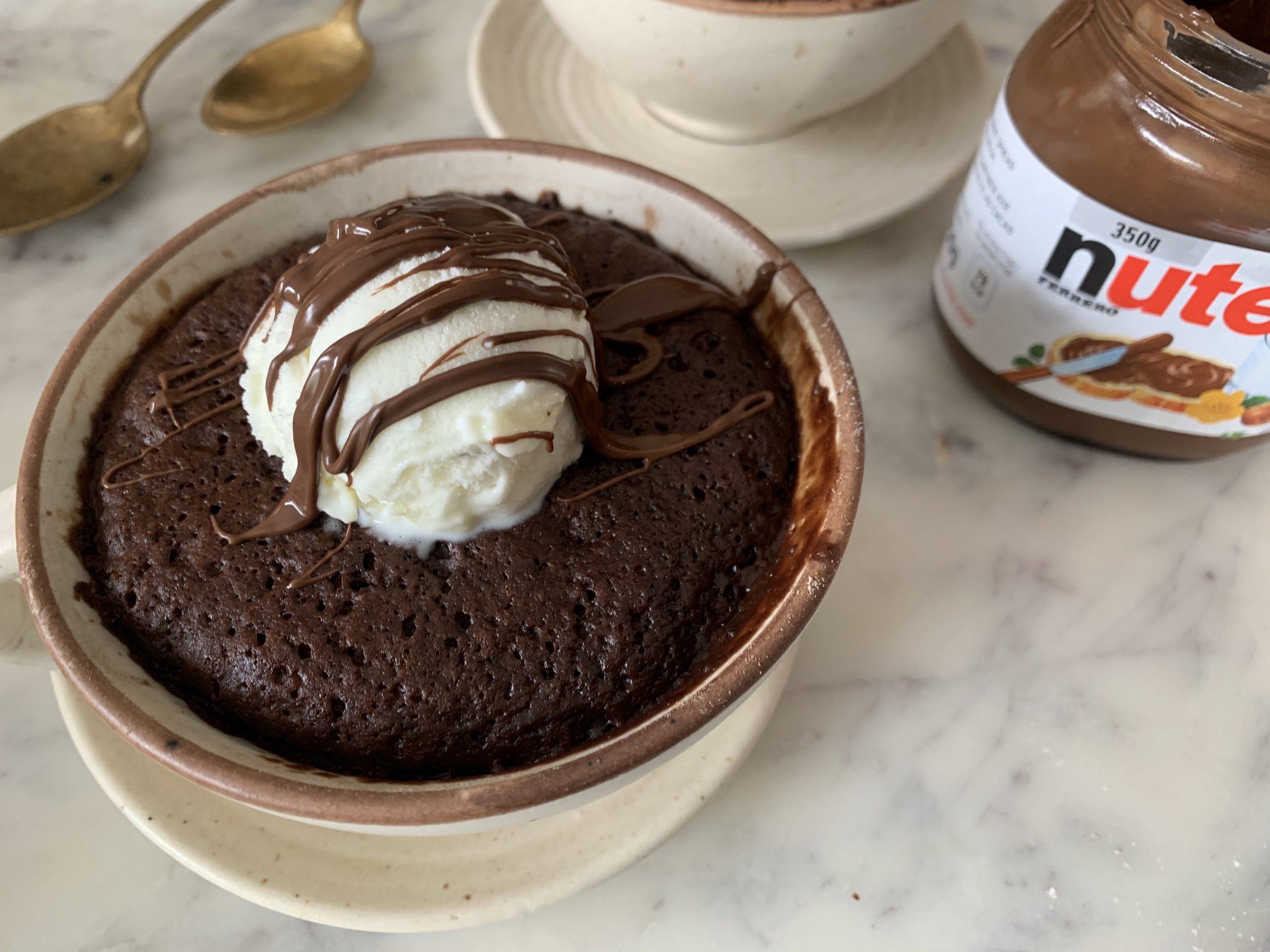 That's my listicle on the best mug cake recipes I've ever tried my hands on and absolutely loved! If you like mug cakes as much as I do, make sure you give them a try and don't forget to share pictures with me on Instagram / Facebook using #bakewithshivesh. Happy Baking!