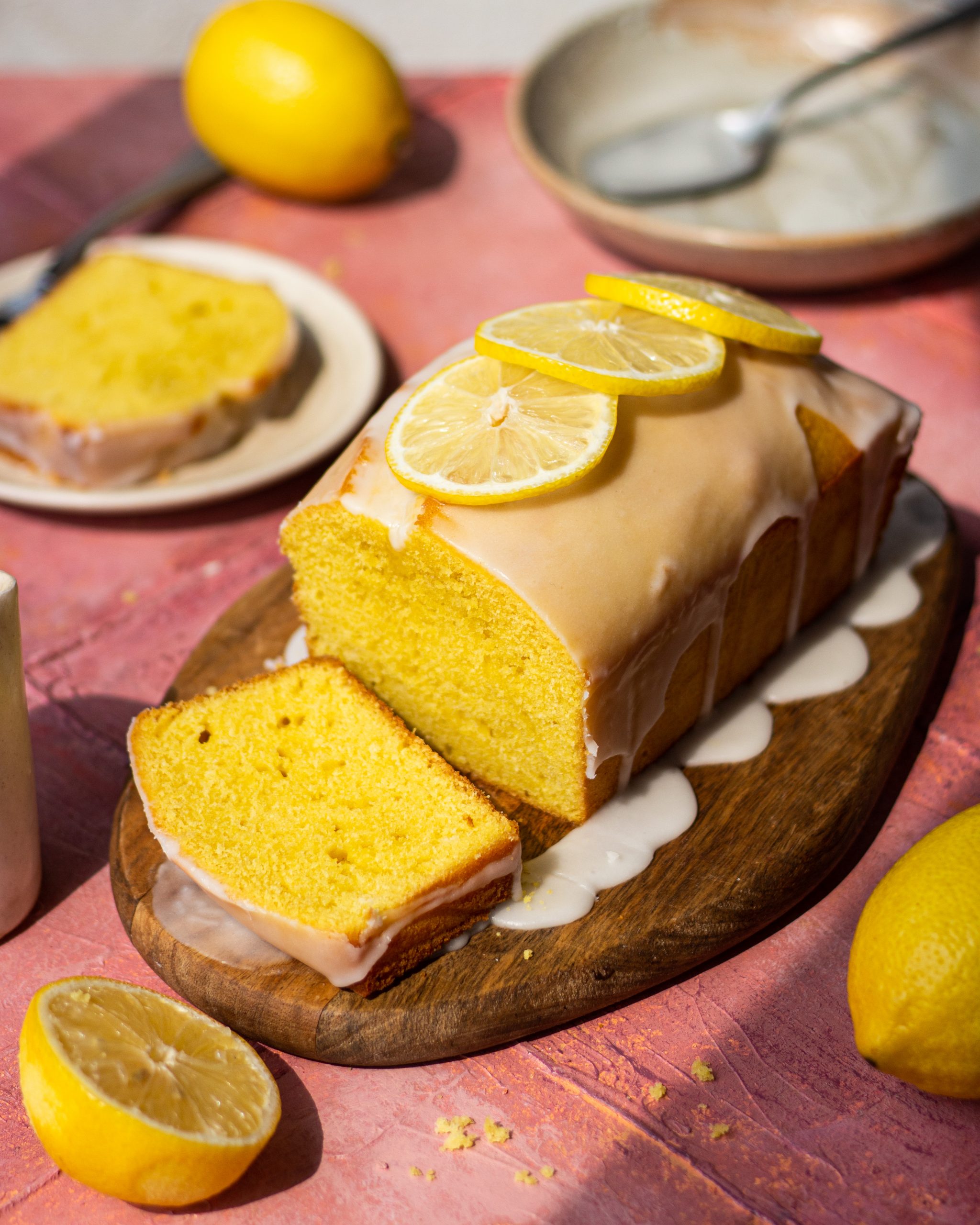 I think the last two month have been all about chocolate desserts. As much as I love chocolate, I am ready to stay away from it for a little while haha. Another great flavor that I absolutely love is lemon and I really wish more of you tried your hands at a lemon dessert. A well balanced lemon dessert is insanely delicious and gives a great kick! This lemon loaf cake is spongy, lemon-y and oh so yummy. 
I love the height and the look this cake gets. It is perfect for any tea party and you can play around with how you want to dress the lemon cake. You can drizzle some icing on top, you can make a lemon syrup, or you can serve with a decadent cream cheese frosting. My favorite way is to make a drizzle and serve this yum cake warm.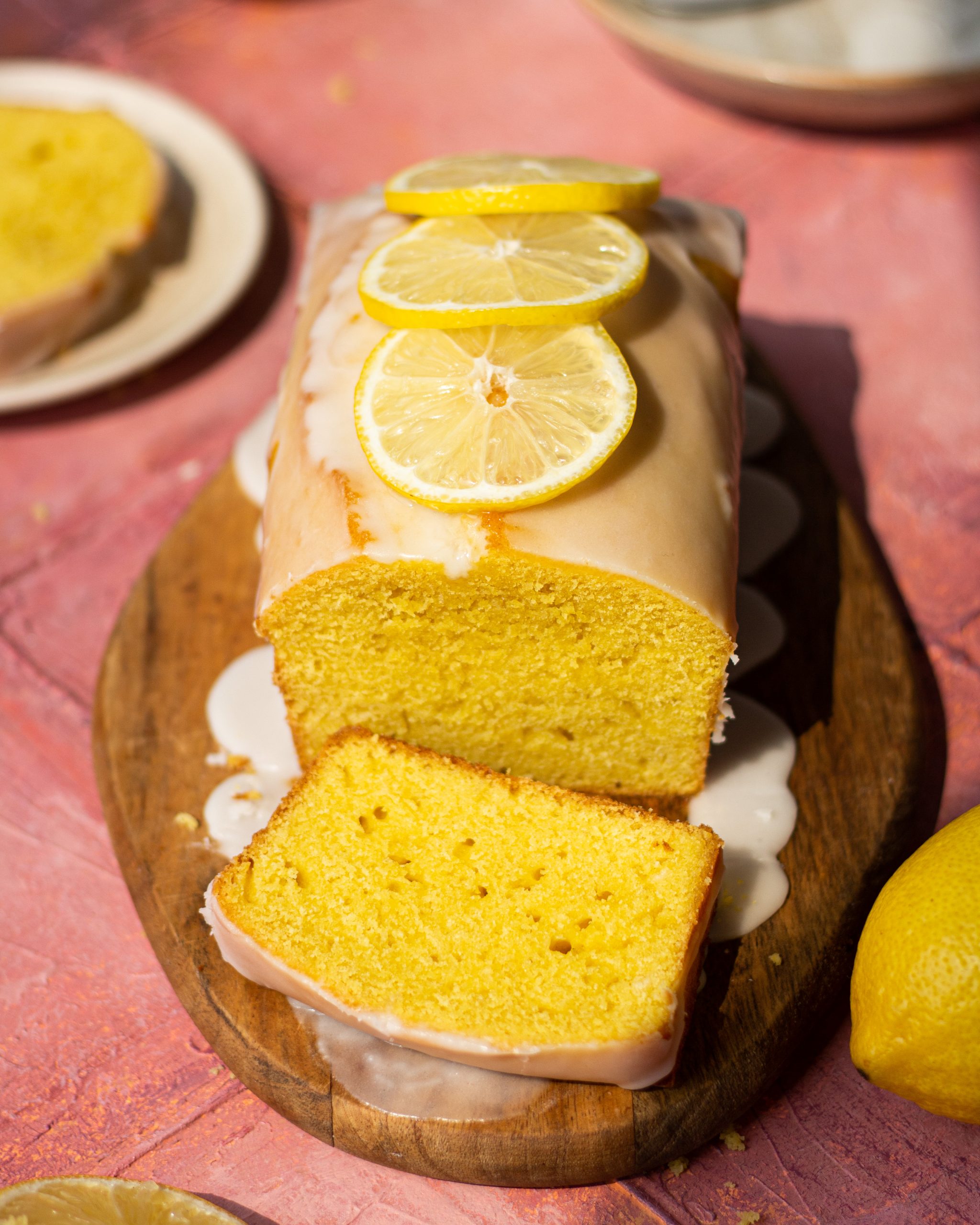 Best lemons for the lemon loaf cake 
Making lemon cakes is a lot quicker than any other I think. Other than your very basic ingredients, all you need is fresh lemons which I am sure we all have at home almost all the time. 
In the baking world you will see a lot of people being very specific about the variety of lemons available, the difference between lemon and lime and how it has an effect on the taste of the final dessert. 
In India, you find both lime and lemons. Limes are small and green in color whereas lemons are comparatively bigger, and have a bright yellow color. But the main difference between lime and lemon is the flavor. Both are acidic and sour but limes are more bitter than lemons. They definitely have a stronger flavor. Lemons are sweeter as compared to limes. Depending on other components of the dessert, you can decide whether you want to use a lime or a lemon. 
In my opinion, you can use any that you have available. Both work perfectly in this lemon loaf cake recipe. 
If we look at lemons, there is actually a crazy variety available! I never knew there were so many kinds of lemons other than our everyday Nimbu and the big Italian lemons. But actually the commonly grown lemon varieties are Assam lemon, Italian lemon, Pant lemon, Galgal and Eureka lemon, Sevilla and Malta lemon varieties are popular in South India.
I love using italian lemons because they are so juicy and so soft. They also look absolutely stunning and you know I love making my desserts look aesthetic and using Italian lemons is a great way to do that.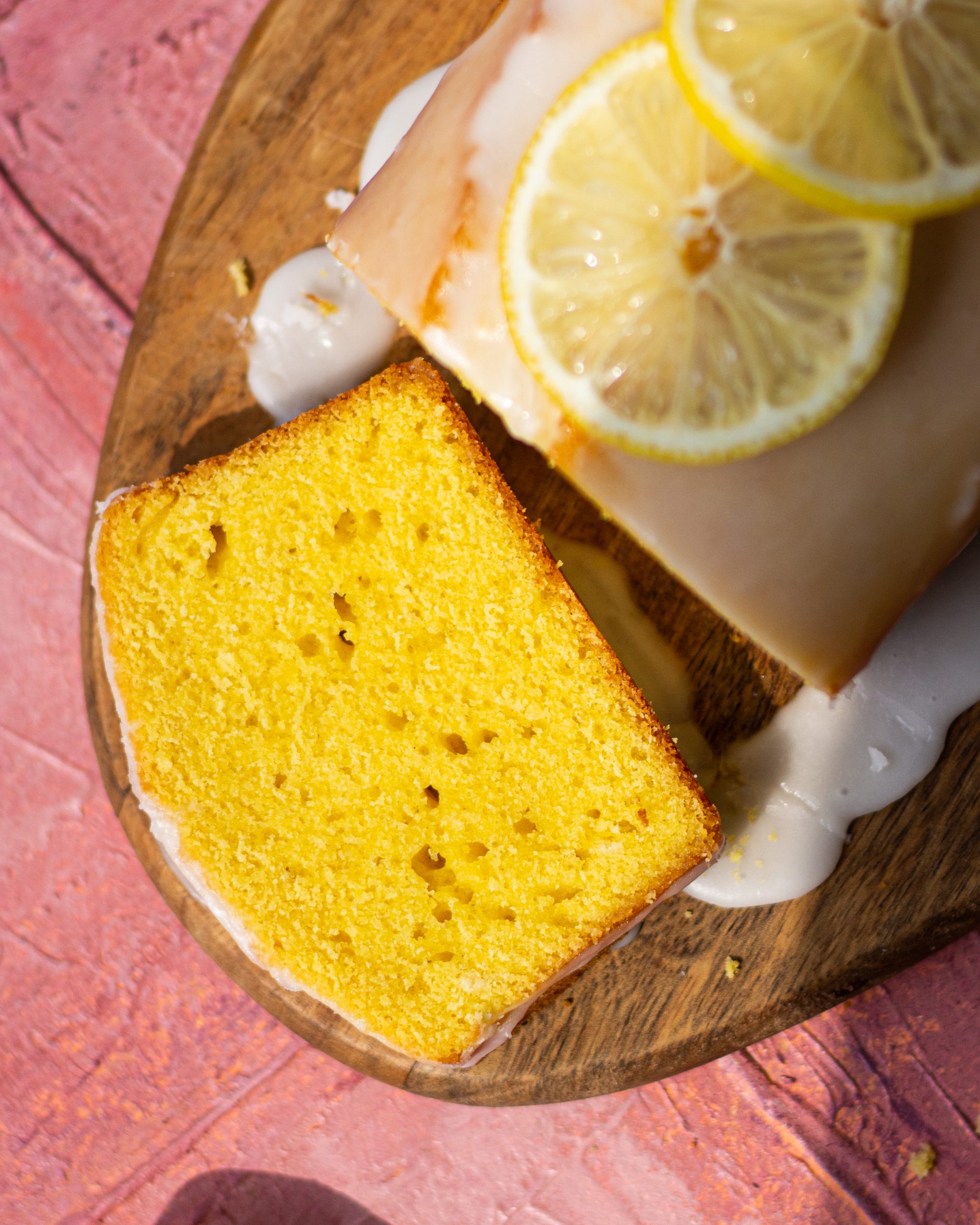 Some lemon tips for the lemon loaf cake 
For best flavor, the ingredients of this cake require both, lemon zest and fresh lemon juice. ''Zest'' refers to the colorful outer layer of any citrus fruit be it oranges, lemons, or limes. Do not confuse zest with skin. The skin of these citrus fruits is white in color and actually tastes bitter. Zest is the part just above that and the one that covers the entire outer surface of the fruit. 
This is why you need to be extremely careful while zesting anything. You want to use a sharp zester or grater that only scrapes out the colorful zest and not the white skin of the lemon/any other citrus fruit. 
If you scrape too deep, you will definitely get bits of white skin here and there and that will add an unwanted bitter taste to the cake instead of a fresh and zesty flavor kick. 
Once you have zested your lemons, you can use the same ones to squeeze out juice. One great hack to get the maximum juice out of citrus fruits is by rolling them on your working stations, applying a little bit of pressure and then slicing in half and squeezing the juice out. By applying some pressure and rolling them, it gets the juices flowing and basically makes your job slightly easier.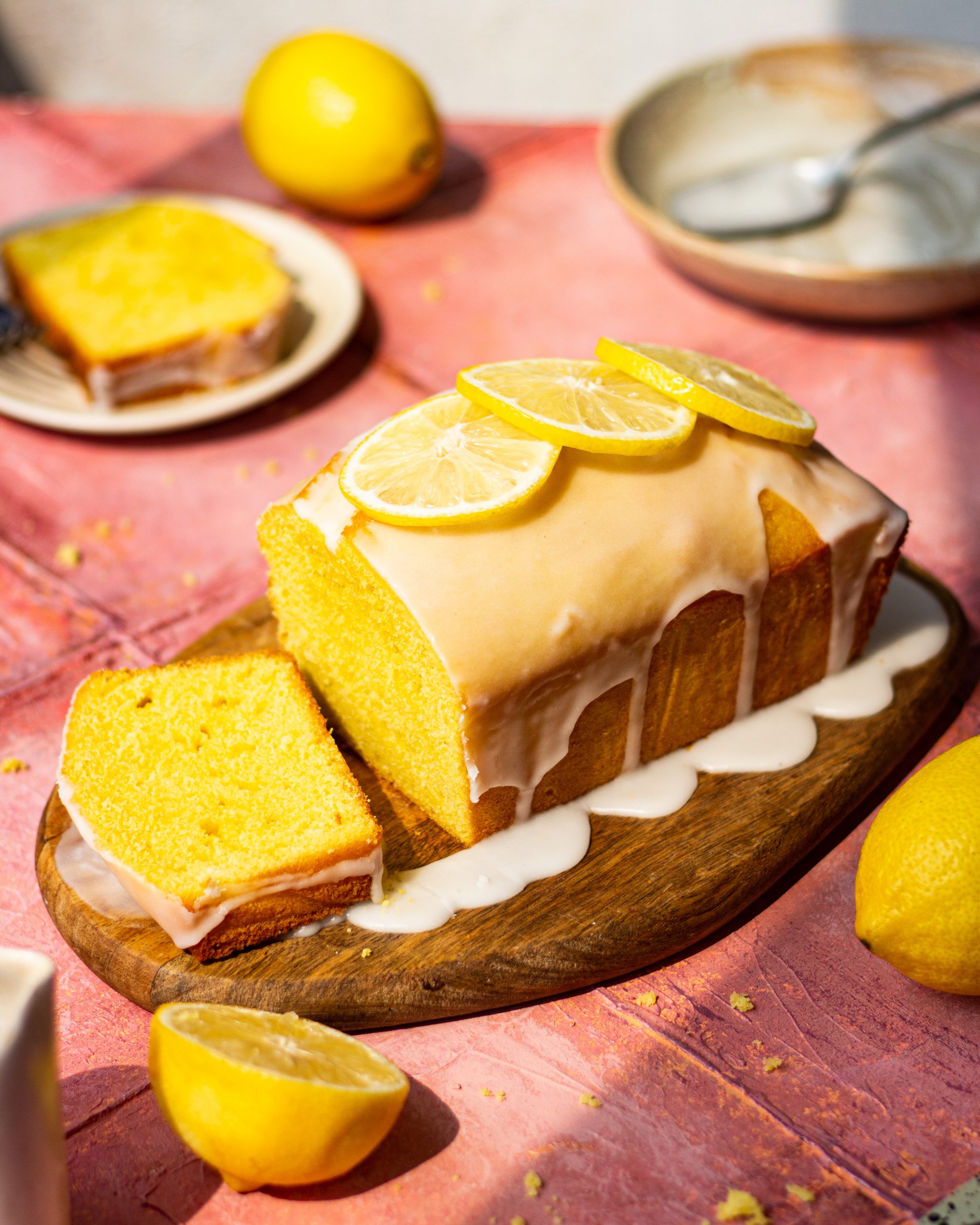 Process of making the lemon loaf cake 
Making this loaf cake could not be easier. The first thing you want to do is make sure your butter is softened till the right consistency. Then add caster sugar to it along with the lemon zest and cream the butter and sugar together. You can use either a spatula or an electric whisk for this. Just make sure the sugar is well dissolved and the mixture looks light and fluffy before we move on to the next step. 
Adding in zest with the butter and sugar is always a great idea because this is when the zest releases most of its oils and gives you a spectacular lemon flavor in the cake. 
Next add in eggs and vanilla and beat the eggs really well. Any recipe that calls for eggs should also call for vanilla. Vanilla not only adds great flavor but also makes sure the smell and taste of eggs is masked from the final cake. Add in warm milk next. You can also add cold milk or room temperature milk but warm milk makes sure your batter is smooth and does not split while mixing. Next add in the dry ingredients, that is maida and baking powder and bring the batter today. Lastly, add in the fresh lemon juice and gently mix that in. 
Now an additional ingredient is yellow gel food color which will definitely give your cake the perfect lemon yellow look but if you do not want to add any food colors into your cakes, then you can simply skip this ingredient out. I like to add a few drops, just so that I can achieve the perfect lemon color for the perfect look of this perfect cake. 
In addition to the cake, I also made a super easy glaze by combining icing sugar, milk, and lemon juice. I love the perfect consistency of the glaze and the look that it gives to my cake.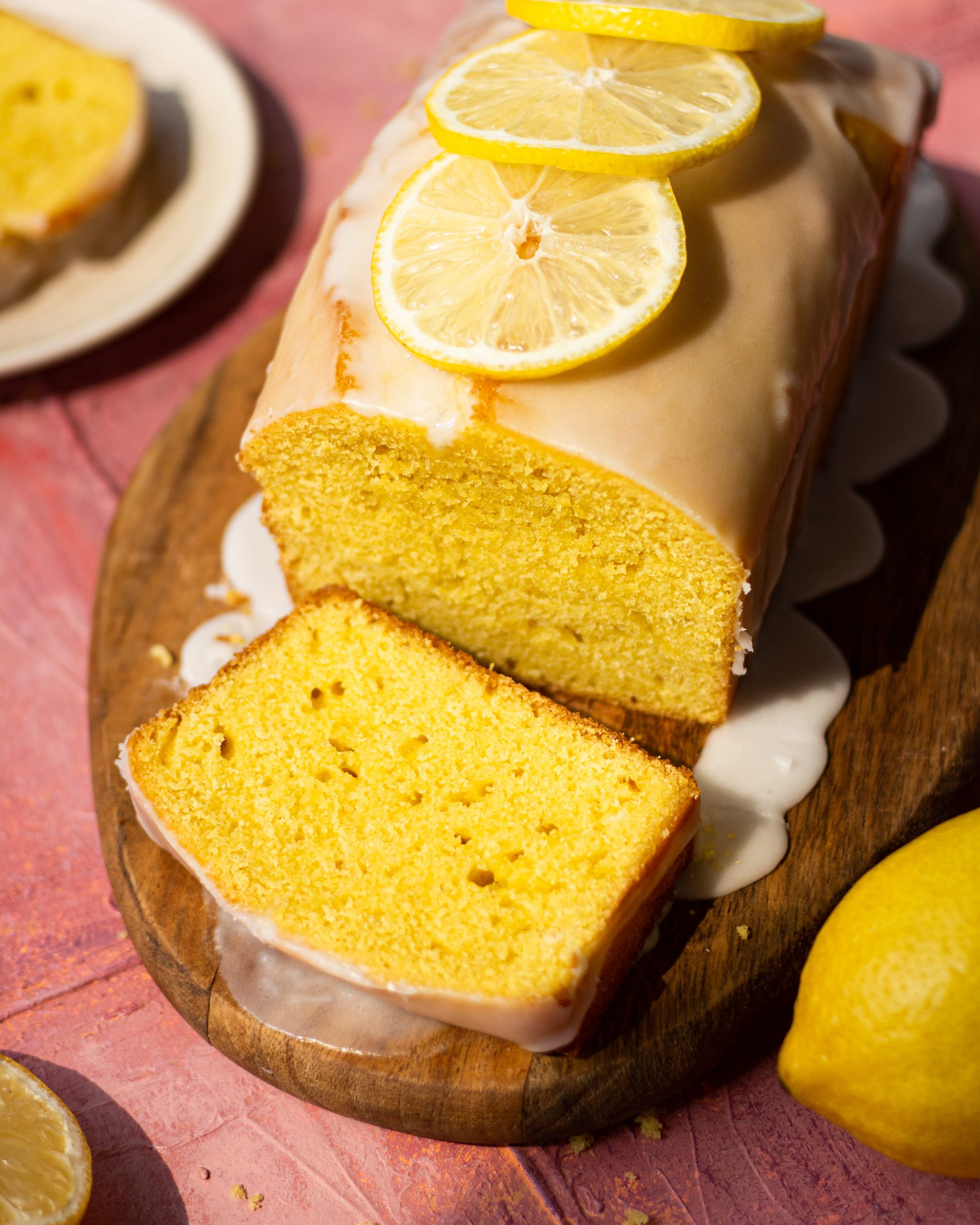 Preferable mould for the loaf cake 
I have recently got my hands on a new loaf pan which I absolutely love. You can check it out here. It is a teflon, non-stick loaf pan. It is the perfect size for one serving loaf cakes and the edges are sharp which gives my load cakes an even better look. 
While making loaf cakes, you want to make sure you grease your pan on all sides and edges and then add parchment paper, making sure there are handles on the side so that once the cake is baked, you can easily lift it out of the pan.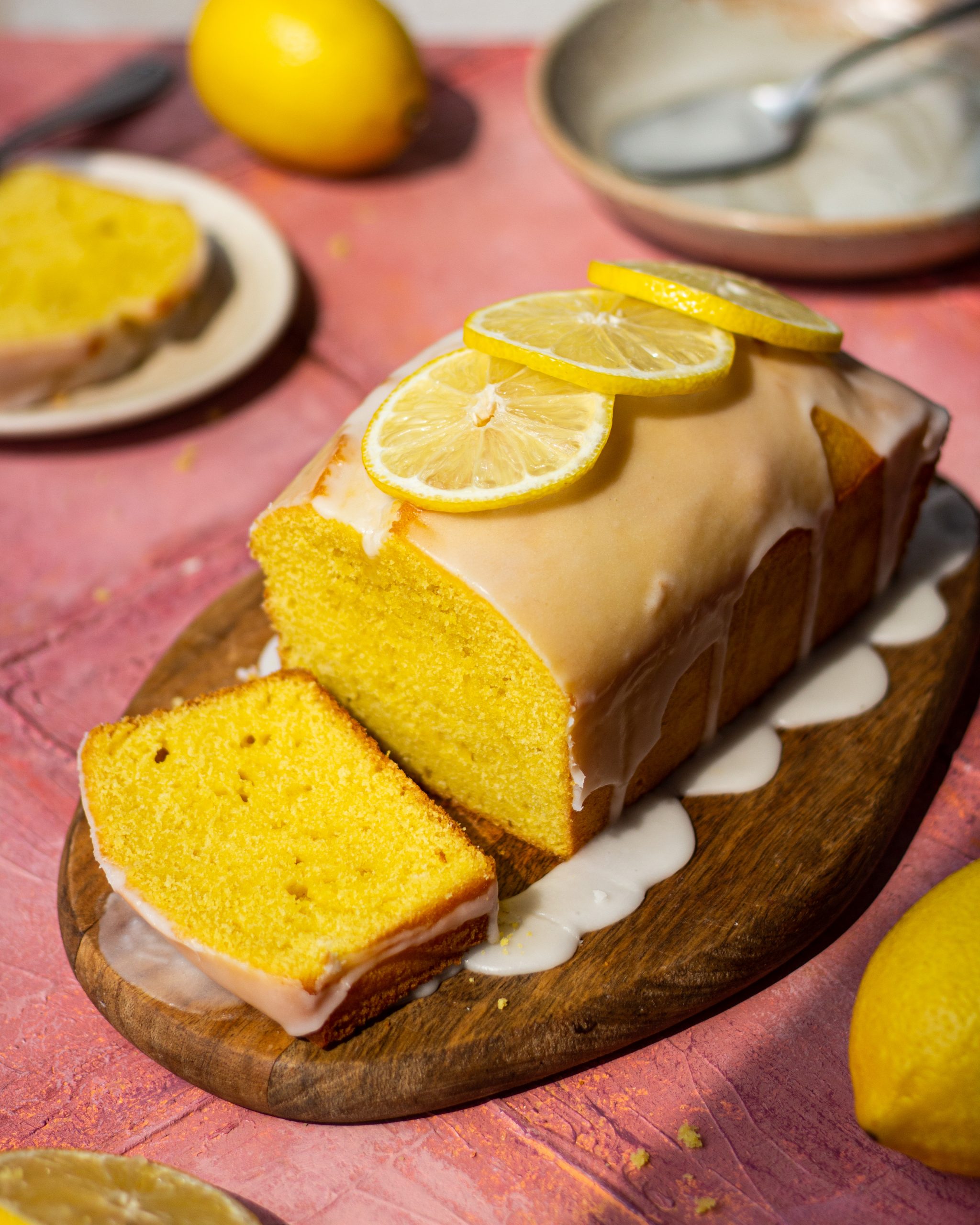 Give this recipe a try and share your photos with me on my Instagram @shivesh17. Happy baking!
Other loaf cakes on the blog are:
lemon loaf cake
Ingredients
For loaf:
2 + ¼ cup (270gms) maida
2 tsp (8gms) baking powder
½ cup (113gms) butter
1 cup (200gms) caster sugar
Zest of 2 lemons
3 eggs
¾ cup (180ml) warm milk
2 tbsp (30ml) lemon juice
2-3 drops yellow gel food color
For glaze:
1 cup (!30gms) icing sugar
1 tbsp (15ml) milk
1 tbsp (15ml) lemon juice
Instructions
Preheat your oven at a180C and line an 8inch loaf pan with parchment paper and set it aside.
In a large bowl add in butter, caster sugar and lemon zest. Neat the mixture till it becomes pale and fluffy.
Add in eggs, one at a time and give it a good mix.
Add in vanilla, warm milk, lemon juice and 2-3 drops of gel food color and mix all the wet ingredients together.
To the same bowl add maida and baking powder. Use a spatula to bring the batter together.
Pour the batter in your prepared loaf tin and bake the cake at 180C for 45-50 minutes or until a skewer inserted comes out clean.
To make the glaze in a bowl add icing sugar. Make a well in the center and gradually pour in milk and lemon juice. Give this a good mix and pour it over your loaf cake.
Slice and enjoy!