I think the name of this dessert is quite self explanatory but we'd still talk a little about it and get ourselves super excited to bake this one heck of a treat! Is there any such thing as too much chocolate? Not in my kitchen, definitely and this Dark Chocolate Loaf Cake is a really good example of that.
This Dark Chocolate Loaf Cake is only for the serious chocolate fans because it's made with loads of delicious dark chocolate! The loaf has chocolate and so does the glaze, making it for a super indulgent recipe. But wait, don't get too excited yet because we have a secret ingredient going in this loaf cake. I know you're curious, so keep reading!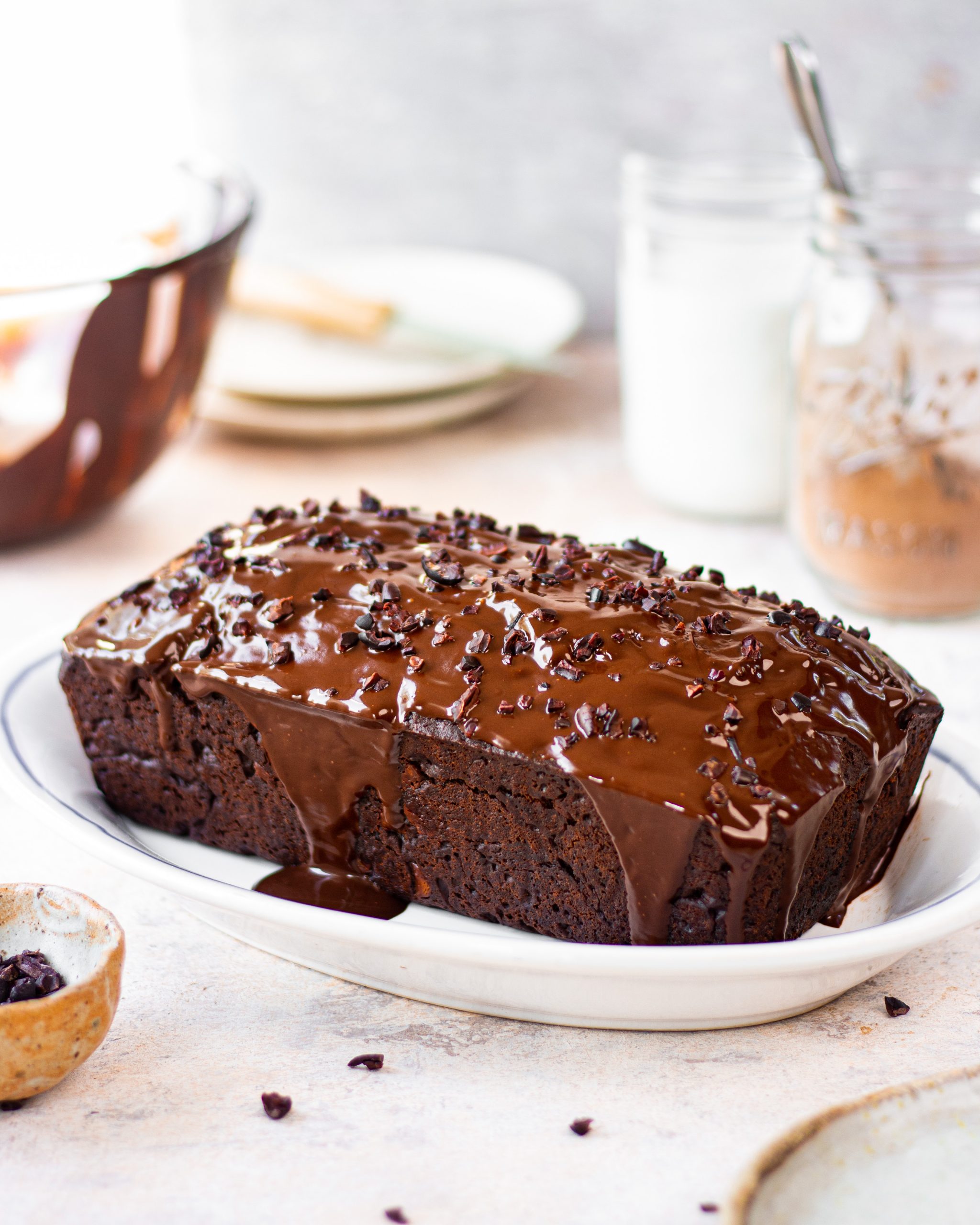 Ingredients for Dark Chocolate Loaf Cake
Now how is this Dark chocolate loaf cake so good? It has cocoa powder, chocolate chips and a rich chocolate glaze! I used 55% chocolate from Amul and for chocolate chips, I use the ones by Urban Platter. You can get it here.
Whenever you are baking try using the best quality chocolate that you can get your hands on. I don't recommend using compound chocolate but if that is what you've got, go for it! To know more about what kind of chocolates to use for baking, read Which chocolate to use for baking- compound or couverture? I use the Weikfield Cocoa powder, you can get it here. 
Apart from good quality chocolate, this recipe has some staple kitchen ingredients, like flour, sugar, baking powder, baking soda and greek yogurt. Since this is an eggless recipe, I use Greek Yogurt for this recipe. Yogurt is such a great substitute for eggs as it provides you with that fluffiness and moist texture that you need in this Dark Chocolate Loaf Cake.
There's also a secret ingredient going in this recipe and if you haven't guessed it already, it's bananas! I am bananas for bananas in this Dark Chocolate Loaf Cake, haha! They take this cake to another level and make it oh so delicious. I love a good banana bread and this has become one of my favorite recipes that includes bananas.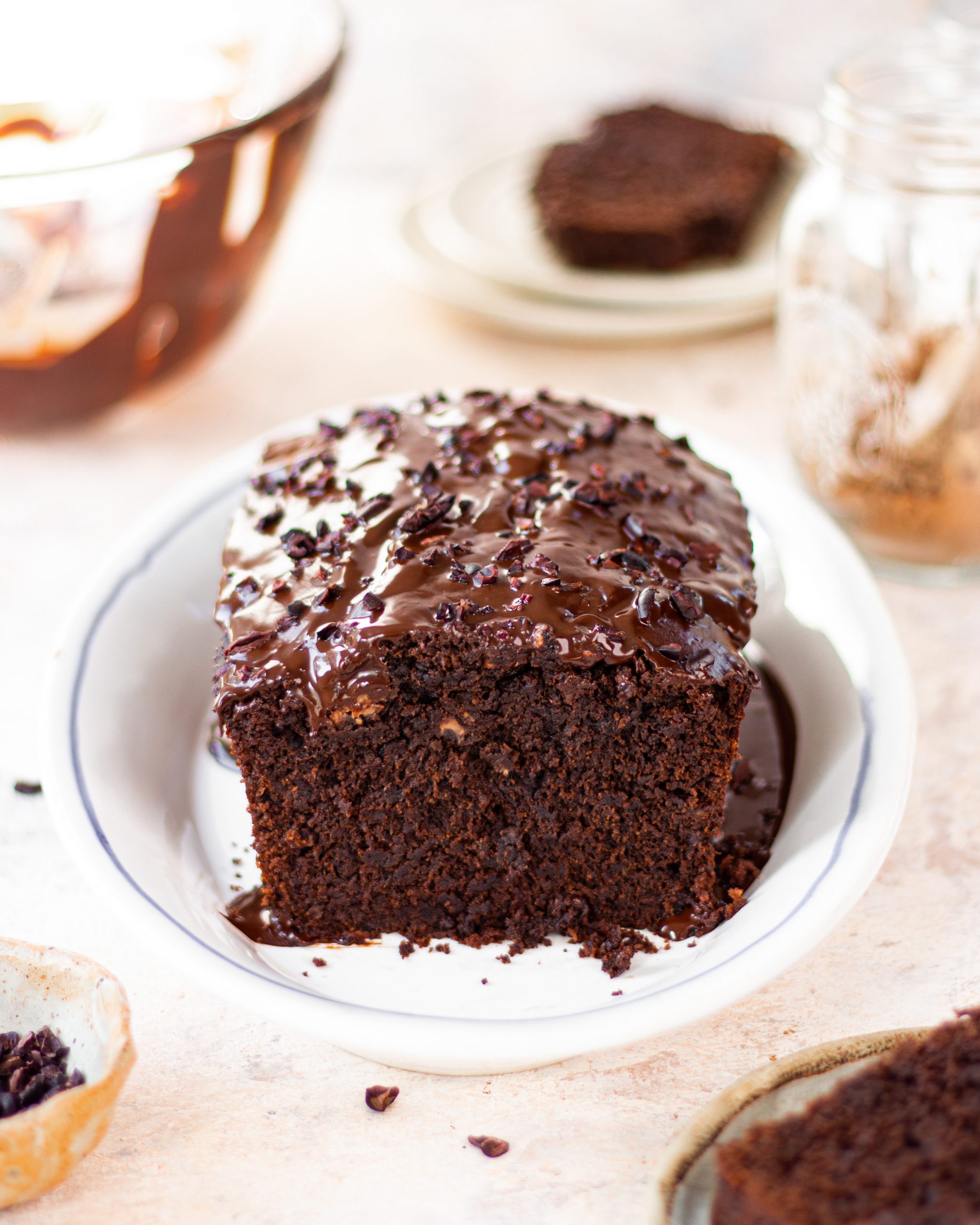 Equipment needed to make Dark Chocolate Loaf Cake
You only need a few basic equipment to make this dark chocolate loaf cake, one of them is a good loaf tin. The right tin has the power to make or break your recipe, so make sure you get your hands on really good quality tins. Here's where you can get one for yourself.
Covering your tin with good quality parchment paper is really important so that your double dark chocolate loaf cake can come out in one piece and doesn't stick to the tin.
I bake my cakes in my Morphy Richards Oven and it is hands down the best investment I've ever made! You can get yours here.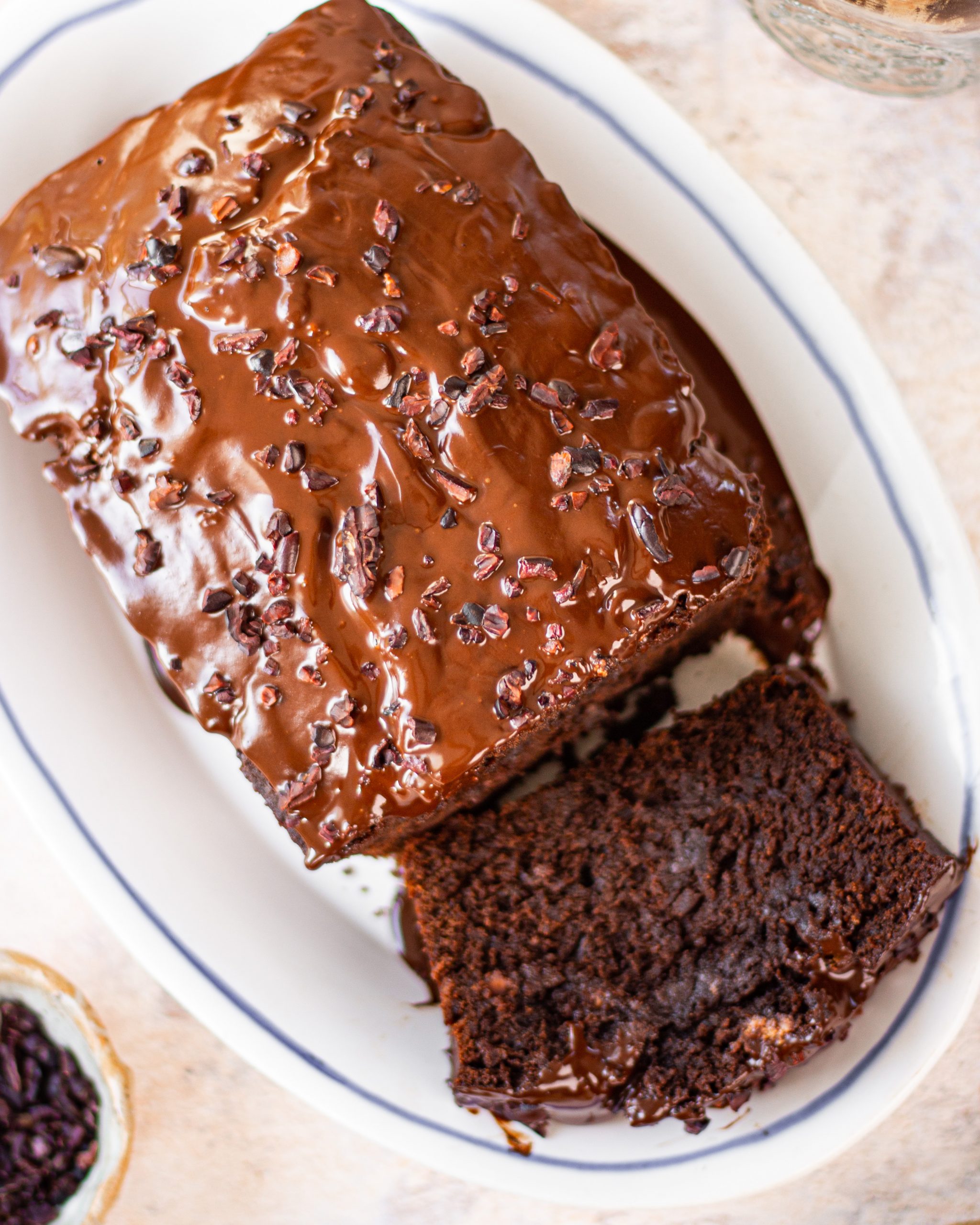 Tips on how to make the perfect dark chocolate loaf cake
1. MAKE SURE YOUR INGREDIENTS ARE AT ROOM TEMPERATURE
It is important to take out all your ingredients out of the fridge ahead of time. Take out your yogurt a few minutes before you have to bake with it and let it come to room temperature. This very simple step will insure that your mixture emulsifies properly.
2. YOUR BANANAS SHOULD BE THE RIGHT AMOUNT OF RIPE
Now you must be wondering, what is the right amount of ripe for bananas? For baking, I always like my bananas to be black from the outside. That's just the perfect amount of ripe that's needed for this dark chocolate loaf cake or any banana bread. However, if your bananas are not ripe, you can cover them in foil and pop them in the oven at 200 degrees celsius for 5 minutes and that'd do the trick!
3. MIX IT RIGHT
Be careful to not over mix when you are incorporating your dry ingredient with your wet ingredients. It is a sin! I know it is very tempting to mix vigorously at this moment but all it will do is knock out all the air and result in a dense cake. This is where a spatula becomes handy.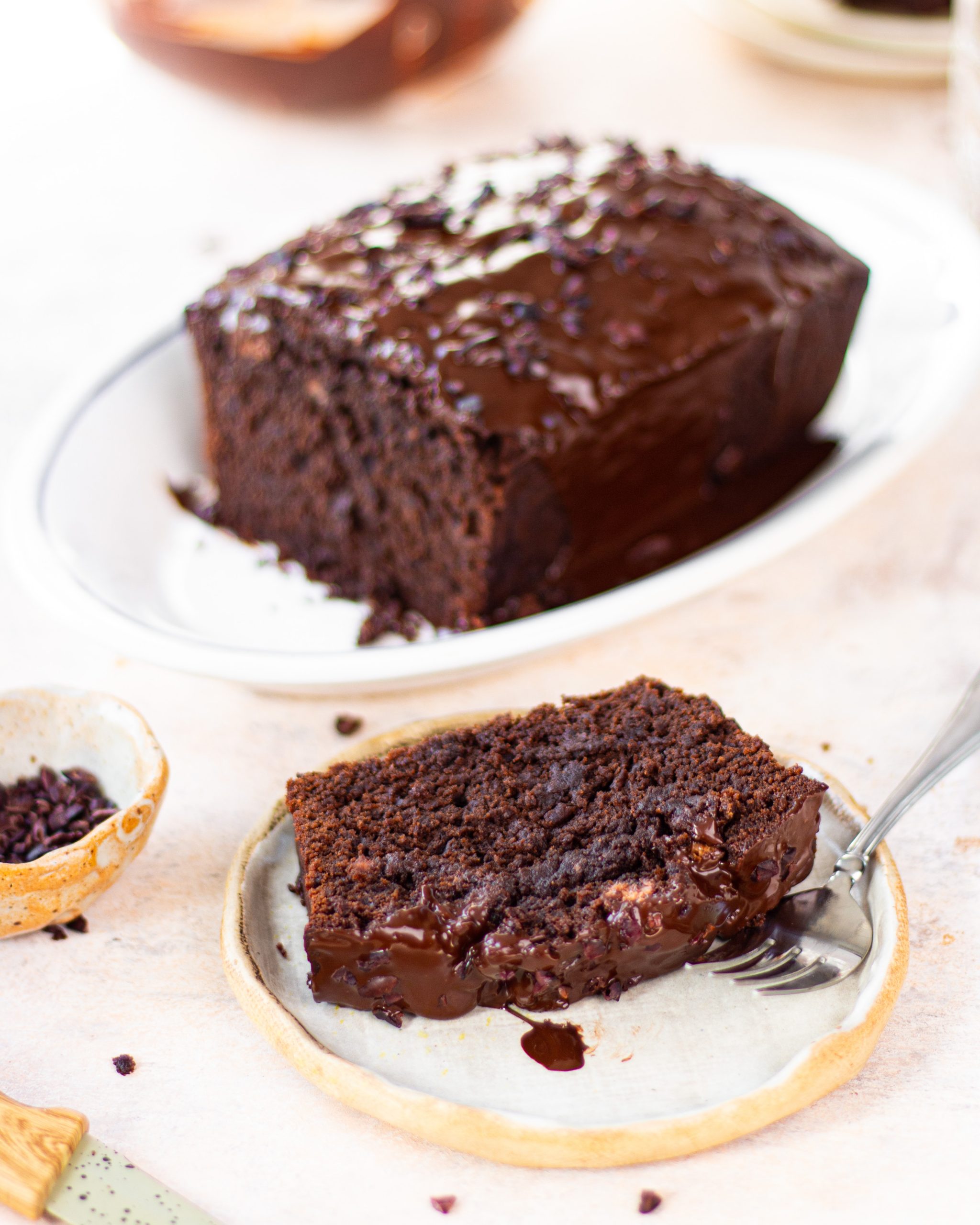 4. PREPARE YOUR PAN WELL
There is no sorrow more sorrowful than breaking a perfect, fluffy and moist cake because it stuck to the tin. Always butter/oil your pan using a pastry brush. Make sure no corner is left un-buttered. Dust your loaf tin with dust with cocoa powder in case of this dark chocolate loaf cake. To be on the safer side, I would also recommend lining your prepared pan with parchment paper.
5. PATIENCE IS VIRTUE
After taking out your dark chocolate loaf cake from the oven, be patient and let it cool completely. Handling a hot cake increases the chances of breaking it, since a hot cake is very delicate. Let the cake cool in the tin for at least 15 minutes before demolding it. After demolding it let it rest on your cooling rack for another 10 minutes.
Topping for Dark Chocolate Loaf Cake
For this dark chocolate loaf cake, I make a luscious dark chocolate glaze by melting some dark chocolate and adding some vegetable oil to it. This glaze complements the cake very well and makes it the best dark chocolate loaf cake you'll ever have! If you don't want to make this glaze, you can also top your cake with some whipped ganache.
I also use to good quality cacao nibs to sprinkle on my glaze! Cacao nibs are small, crushed pieces of cacao beans and brings out the flavors of the chocolate absolutely perfectly. You can get yours here.
This dark chocolate loaf is so versatile! You can use anything as a topping. You can put a banana on top, you can use Biscoff if cacao is not your thing! The sky is the limit when it comes to being creative with this recipe.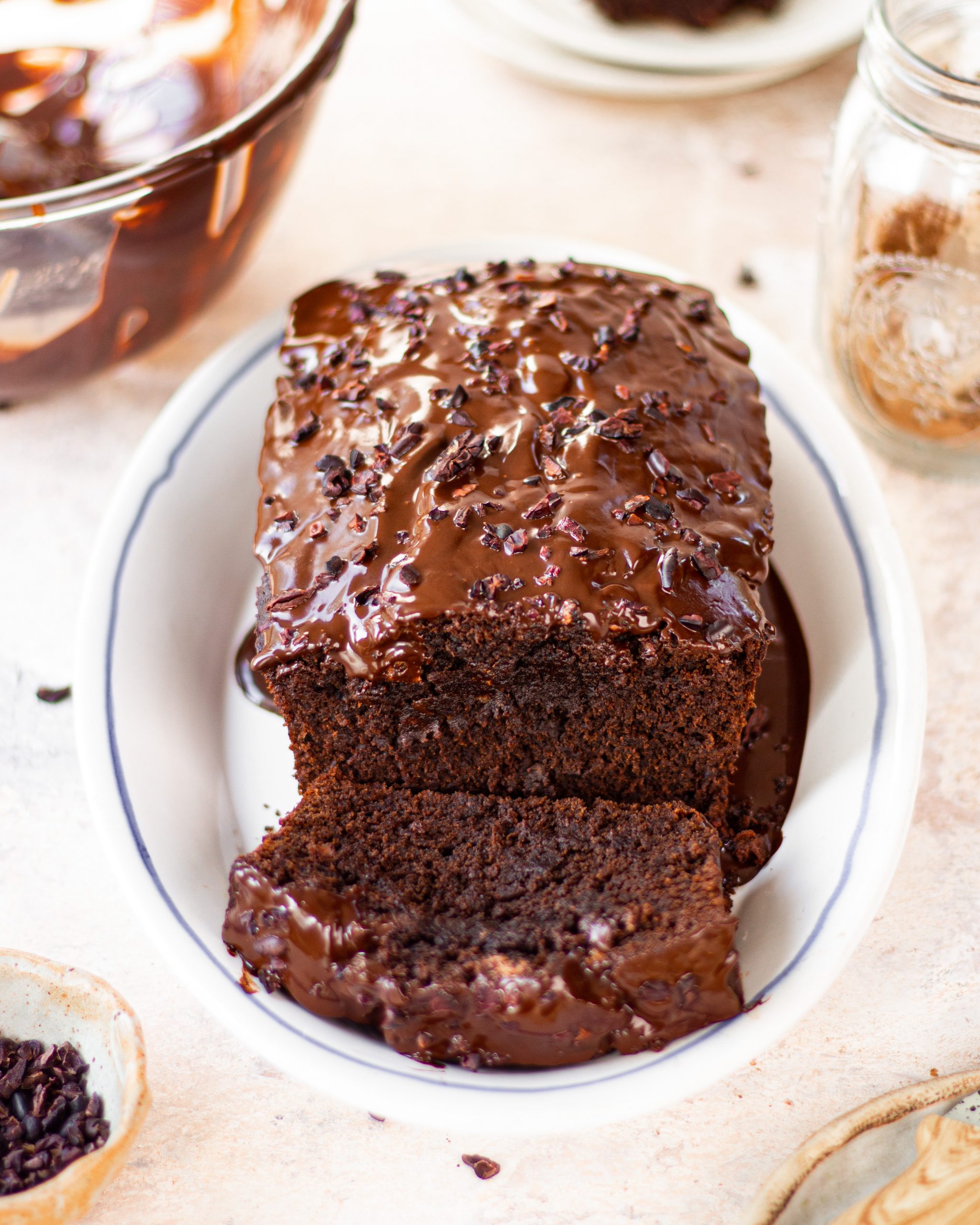 More chocolate recipes on the blog
Disclaimer : This article contains affiliate links.
 Dark Chocolate Loaf Cake Recipe
Dark Chocolate Loaf Cake
Ingredients
For cake
1+1/2 cup (180gms) all-purpose flour (maida)
¾ cup (90g) cocoa powder
½ teaspoon (3g) baking soda
1 teaspoon (4g) baking powder
4 (472g) bananas
¾ cup (180g) vegetable oil
1 cup (200g) castor sugar
4 tablespoons (71g) Greek Yogurt
⅓ cup (55g) chocolate chips
For chocolate glaze
1 cup (175gms) dark chocolate, chopped
1 tablespoon (15ml) vegetable oil
Handful of cacao nibs
Instructions
Line a loaf pan with parchment paper.
Combine all-purpose flour, cocoa powder, baking soda and baking powder in a bowl.
In an oven preheated to 200 degrees celsius, bake 4 whole bananas with their skin on for 5 minutes. Their skin will turn black and the bananas will become mushy.
Pre-heat the oven to 180 degrees celsius.
Once the bananas have cooled down, mash them in a large bowl.
Add vegetable oil, caster sugar and yogurt. Beat well.
Using a spatula, fold the dry ingredients into the wet, making sure there are no flour pockets in the batter. Also fold in the chocochips.
Transfer the batter into the prepared loaf pan.
Bake the cake at 180 degree celsius for 30-40 minutes or until a toothpick inserted into the centre comes out clean.
For the chocolate glaze, melt chocolate with vegetable oil over a double boiler. Let it cool.
Top the cake with chocolate glaze and sprinkle cacao nibs.
If you like this recipe and happen to make it in your kitchen, then do share your creations with me on
Instagram
/
Facebook
using #bakewithshivesh.