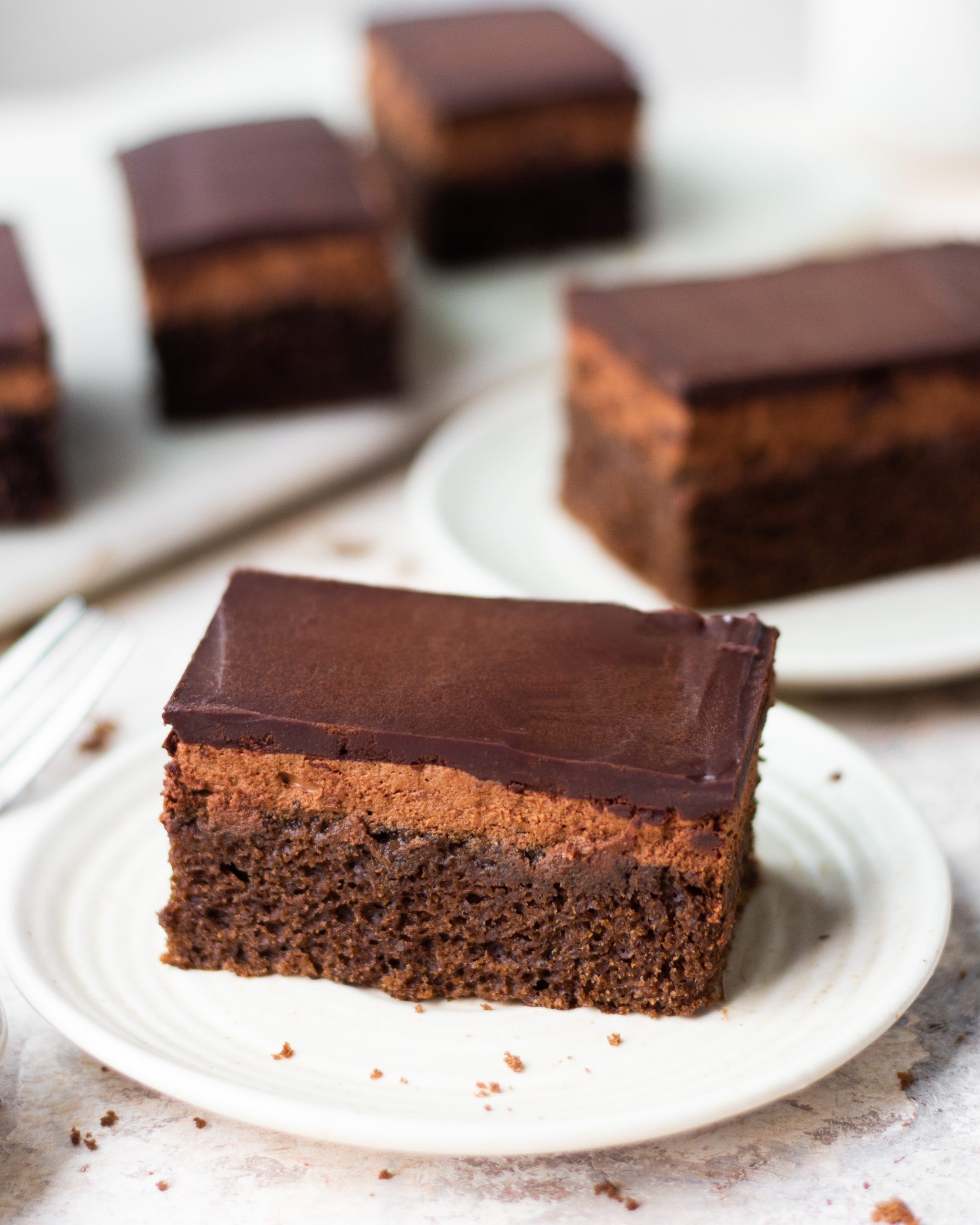 Here with another epic chocolate recipe with all of you! Recently I have been sharing multiple chocolate recipes with you and I think these eggless triple chocolate pastry  are my new favorite. 
They're so light, packed with triple chocolate flavor and not at all overpowering. The eggless triple chocolate pastry are a must make. 
The eggless cake sponge 
This cake sponge was so airy, so fluffy and perfectly sweet. The cake sponge makes ghw entire dessert light and a great base for the other two components of the eggless pastry. 
To make the sponge, you need very basic ingredients such as all purpose flour, baking soda, baking powder, caster sugar, oil, and yogurt. 
Homemade yogurt which is thick works perfect for this eggless sponge. The amount of caster sugar we're adding in the sponge is less sweet in comparison to the rest of the cakes on the blog. Why? This is because we want this pastry to have a perfectly balanced taste where it's not too sweet, and not too heavy on chocolate either. With two more sweet components going in, a sponge with slightly less sugar goes perfectly. 
Dark chocolate ganache
This element is only two ingredients : cream and chocolate. You can use either fresh cream or heavy cream for the ganache. And if you want, you can also use any chocolate you want: dark, milk, or white. The total amount of ganache that you will make will get divided into two portion. One portion gets folded into the chocolate mousse and the other portion makes the top layer of our eggless triple chocolate pastry.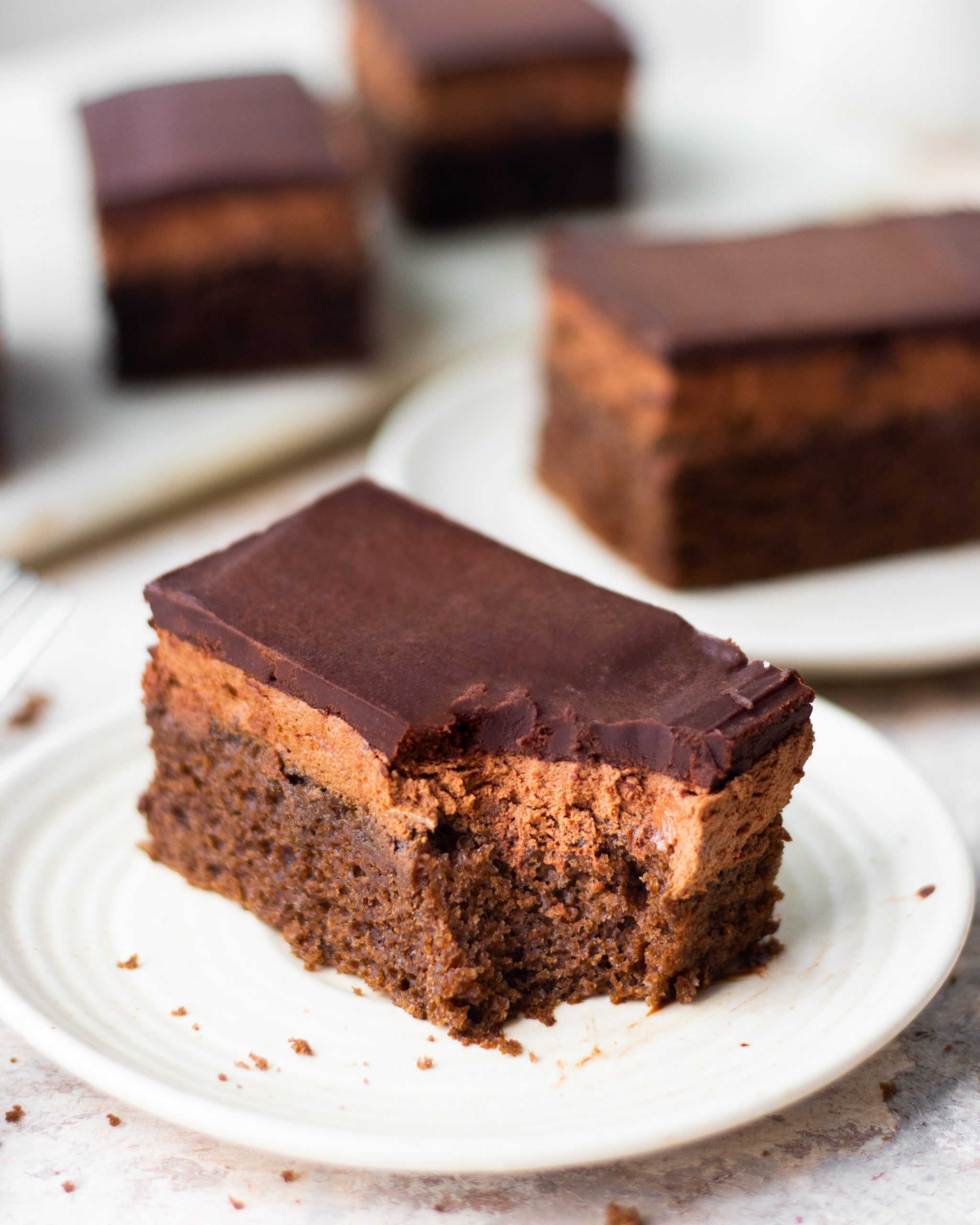 Dark chocolate mousse 
This dark chocolate mousse has two elements of its own: chocolate ganache, and whipping cream. The mousse comes together by folding in the chocolate ganache into whipped cream. 
To make the ganache, you need to first combine warm cream with chopped chocolate. Let the chopped chocolate melt by the heat of the cream and then combine into a smooth ganache. Make your ganache first and let it cool completely. You can keep it the fridge for 20 minutes to let it cool down completely. 
While the ganache is cooling, whip your heavy cream to semi stiff peaks. Use an electric whisk at high speed to bring it to semi soft peaks. You can also do this by hand with a normal hand whisk but you will need a lot of arm strength as it can take you upto 20 minutes of whipping. Once the ganache has cooled down and the cream is whipped, fold the ganache into the whipped cream very carefully, using a hand spatula and follow the cut and fold method. Be careful to not knock out all the air from the whipping cream while you are folding in the ganache. 
Also make sure to only fold in the cooled down ganache. If you don't chill your ganache completely before adding it in the whipping cream, the warm ganache will instantly melt the whipped cream and your ganache will lose all structure. 
Once you've folded in all the ganache into the whipped cream your mousse is ready and you can spread it across the cooled down cake sponge.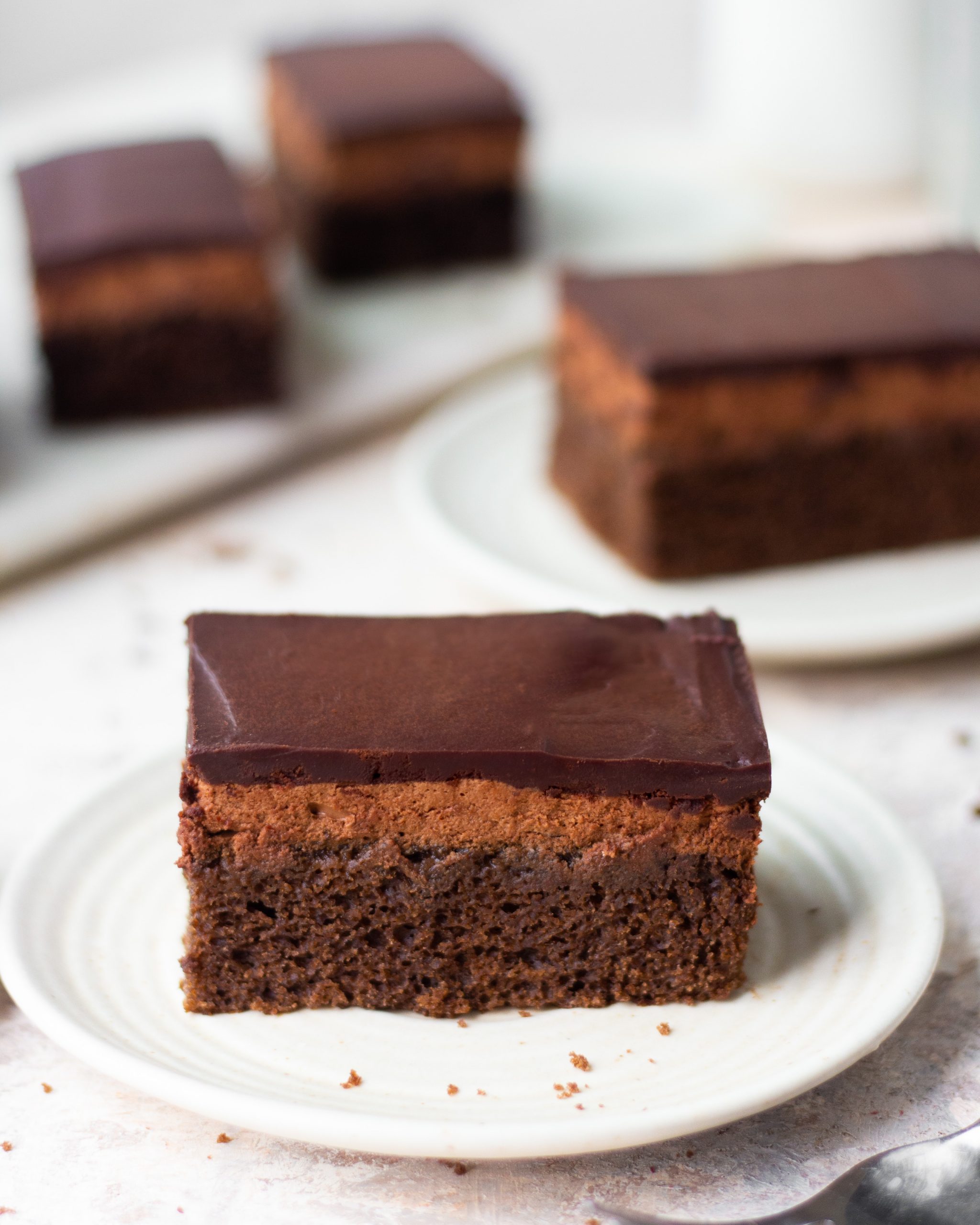 Which pan to use for eggless triple chocolate pastry
To make pastries, I used my 9×13 rectangular pan. I used a non-stick baking pan that I greased with oil and lined with parchment paper. Whenever you are making a dessert like a pastry that has multiple layers and needs to be set in the refrigerator, you need to add parchment paper on both sides so that you have 4 handles hanging, one over each side. 
This way you can easily lift up the dessert without turning the pan over and then demoulding.
If you do not have a 9×13 rectangular pan you can use any pan you like and then cut even sized pastries according to the pan you have used.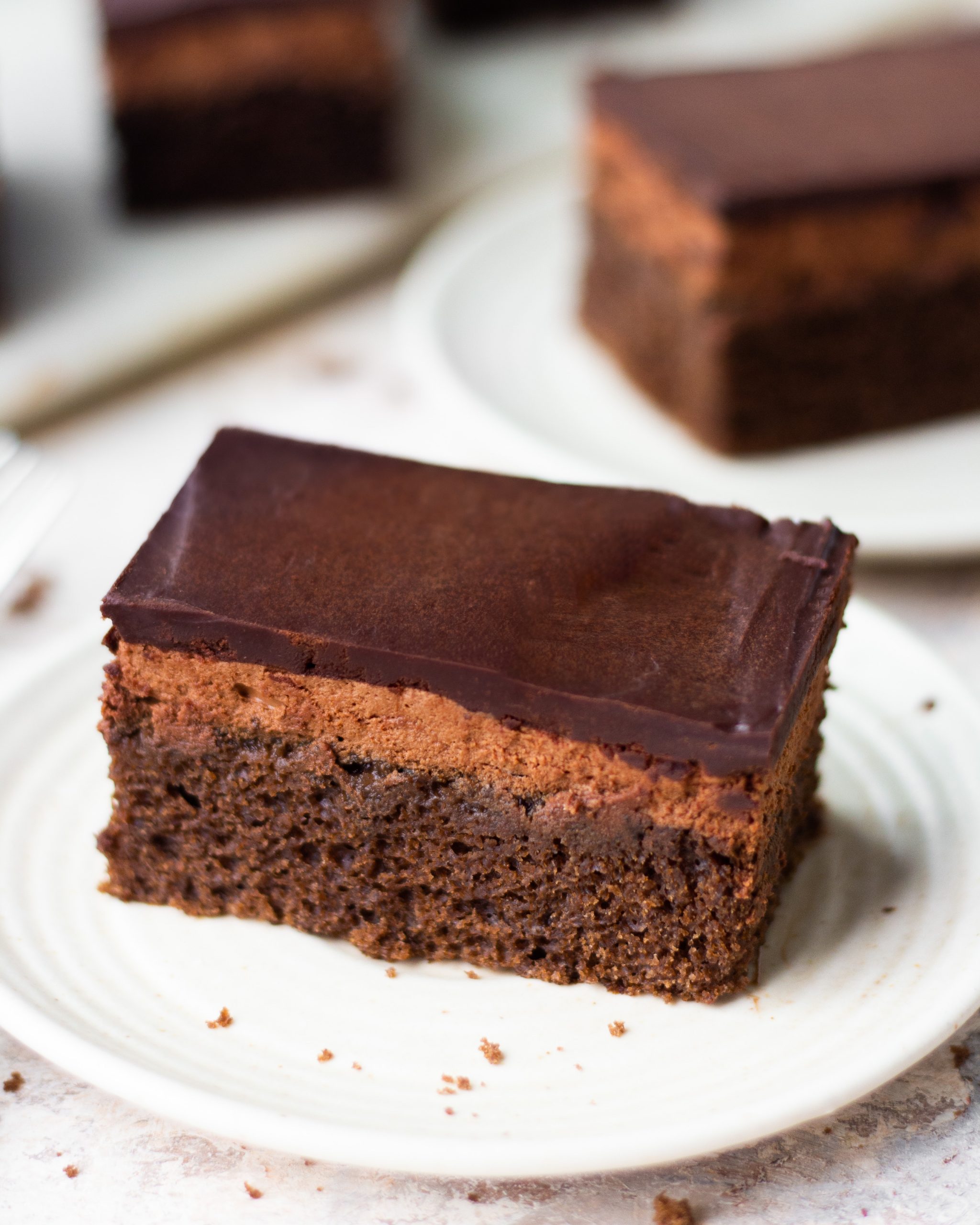 Assembling of the eggless triple chocolate pastry 
Assembling the triple chocolate pastry is too much fun and here are a few things that you need to keep in mind: 
Make sure your cakes are baked completely and have cooled down before you start assembling. 

If your cakes have any bumps after it has baked, you can level it off with a serrated knife to get a clean and even surface. This will give all the pastries a clean and even look 

Soaking the cake sponge with a sugar syrup will go a long way in keeping the pastries moist for a longer period of time and also keep them fresh. 

Once you've brushed the cake with a sugar syrup, start spreading the mousse in one even layer. You can use an offset spatula to evenly spread the mousse. Make sure it's spread evenly till all the edges too. 

Chill the cake with the mousse for 30 minutes and let the mousse firm up a bit before we spread the final and top layer of the ganache on top. 

Spread an even layer of the ganache on top and set the dessert again for 3-4 hours or until all layers seem firm.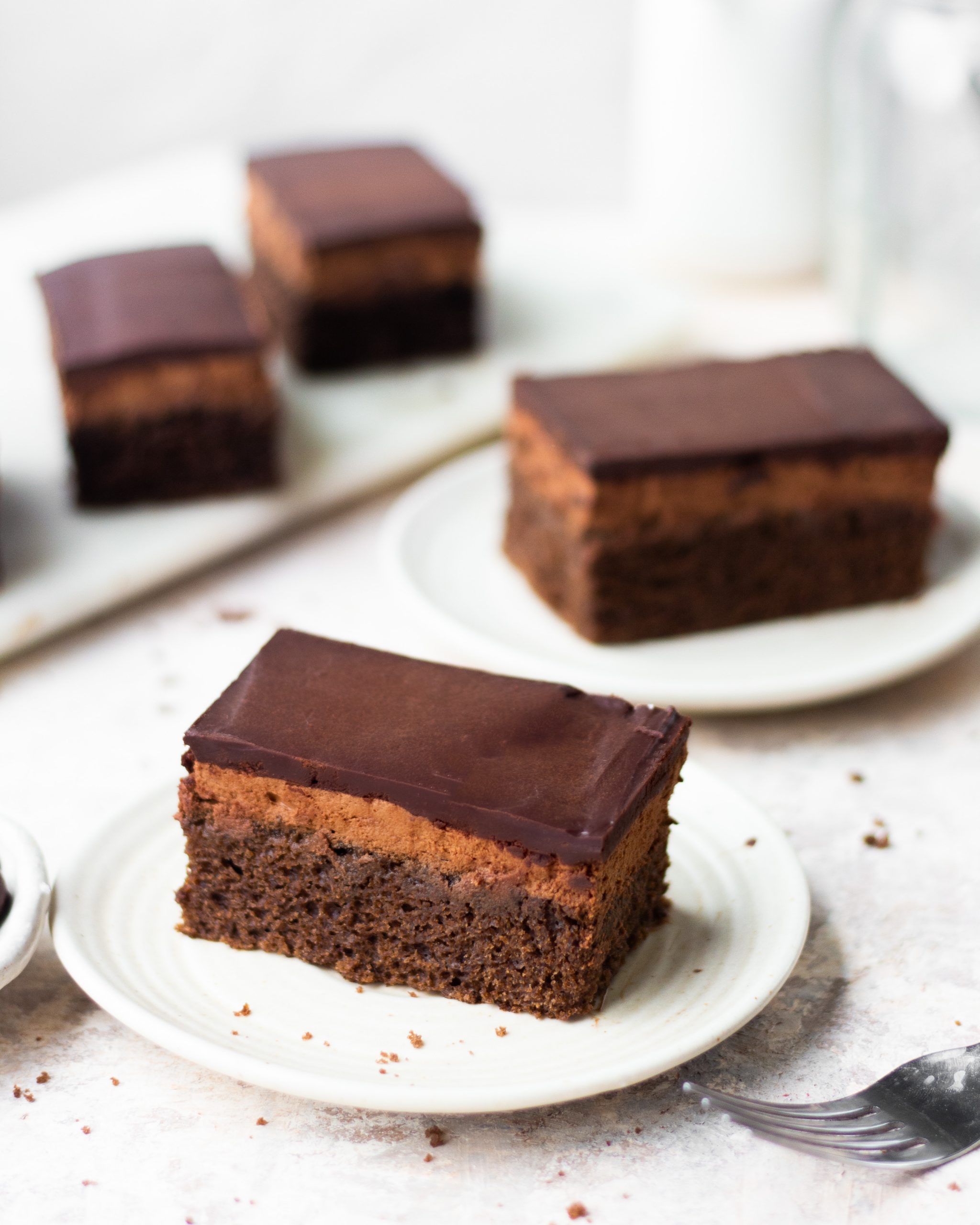 Cutting even pastries 
Once your dessert is set, simply lift it up using the handles of parchment paper and place it on your working surface. Use a scale to measure the length of the pastry from both sides and then use the measurements to divide into as many equal pastries as you like. Mark the measured cut spots and use a sharp knife to make the cuts. I kept my pastries around 3×2.5 each. 
For clean cuts, make sure to wipe your knife with a cloth after each incision. 
If you make this recipe, do not forget to share images with me on my Instagram @shivesh17. Happy Baking!

eggless triple chocolate pastry
Ingredients
For the cake sponge:
1 + ½ cup (180gms) maida
¼ cup (30gms) cocoa powder
1 + ½ tsp (6gms) baking powder
1tsp (3gms) baking soda
Pinch of salt
½ cup (113gms) sugar
¼ cup (60gms) vegetable oil
1 cup (285gms) yogurt
¼ cup (60gms)milk, warm
Ganache
3 cup (525gms) chocolate
1 + ½ cup (345gms) whipping cream
Mousse
¾ cup (172gms) whipping cream
+ half of the ganache
Instructions
In a large bowl sift in the maida, cocoa powder, baking powder and baking soda. Add in the salt, mix and set this aside.
In another bowl add sugar, oil, yoghurt and vanilla extract. Using a hand whisk, mix until everything is well combined.
Fold in the dry ingredients and using a spatula mix until no large flour pockets remain.
Add in the milk to the batter and mix. Transfer the batter into a 9 X 13 rectangular cake pan and bake in a preheated oven for 25-30 minutes.
For the chocolate ganache add the chocolate in a large bowl and pour over the warm cream on top. Let this mixture sit undisturbed for a minute before mixing in making sure all chocolate has melted fully. Divide this in two parts and allow it to cool.
For the mousse, take the whipping cream in a large bowl and using an electric mixer whisk until semi stiff peaks are achieved. Gently fold in one part of the cooled chocolate ganache.
Once the cake is out of the oven, allow it to cool. Trim off the excess on top to even the cake out and soak with sugar syrup.
Keeping the cake in the cake pan itself, layer it with the mousse spreads an even thick layer and allow it set for atleast 30 minutes before pouring the other part of the chocolate ganache that was set side.
Set the whole dessert for a minimum of 3-4 hours before cutting into it and enjoy!