eggless triple chocolate pastry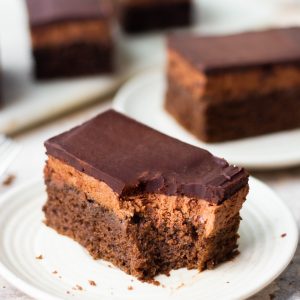 1 + ½ cup (180gms) maida
¼ cup (30gms) cocoa powder
1 + ½ tsp (6gms) baking powder
1tsp (3gms) baking soda
Pinch of salt
½ cup (113gms) sugar
¼ cup (60gms) vegetable oil
1 cup (285gms) yogurt
¼ cup (60gms)milk, warm
3 cup (525gms) chocolate
1 + ½ cup (345gms) whipping cream
¾ cup (172gms) whipping cream
+ half of the ganache
In a large bowl sift in the maida, cocoa powder, baking powder and baking soda. Add in the salt, mix and set this aside.
In another bowl add sugar, oil, yoghurt and vanilla extract. Using a hand whisk, mix until everything is well combined.
Fold in the dry ingredients and using a spatula mix until no large flour pockets remain.
Add in the milk to the batter and mix. Transfer the batter into a 9 X 13 rectangular cake pan and bake in a preheated oven for 25-30 minutes.
For the chocolate ganache add the chocolate in a large bowl and pour over the warm cream on top. Let this mixture sit undisturbed for a minute before mixing in making sure all chocolate has melted fully. Divide this in two parts and allow it to cool.
For the mousse, take the whipping cream in a large bowl and using an electric mixer whisk until semi stiff peaks are achieved. Gently fold in one part of the cooled chocolate ganache.
Once the cake is out of the oven, allow it to cool. Trim off the excess on top to even the cake out and soak with sugar syrup.
Keeping the cake in the cake pan itself, layer it with the mousse spreads an even thick layer and allow it set for atleast 30 minutes before pouring the other part of the chocolate ganache that was set side.
Set the whole dessert for a minimum of 3-4 hours before cutting into it and enjoy!
Recipe by
Bake with Shivesh
at https://bakewithshivesh.com/eggless-triple-chocolate-pastry/