You don't need to be an expert to make this eggless nutella biscuit pudding as this is super easy, no fuss dessert! All the ingredients can be gathered from your pantry to make it; it has a very basic ingredients list and this dessert can be made for any occasion at all. And trust me this eggless nutella biscuit pudding will be perfect for a table setting or even for your nutella cravings! From in-house celebrated birthdays to Valentine's Day or even for New Year's, this recipe is perfect and liked by all age groups.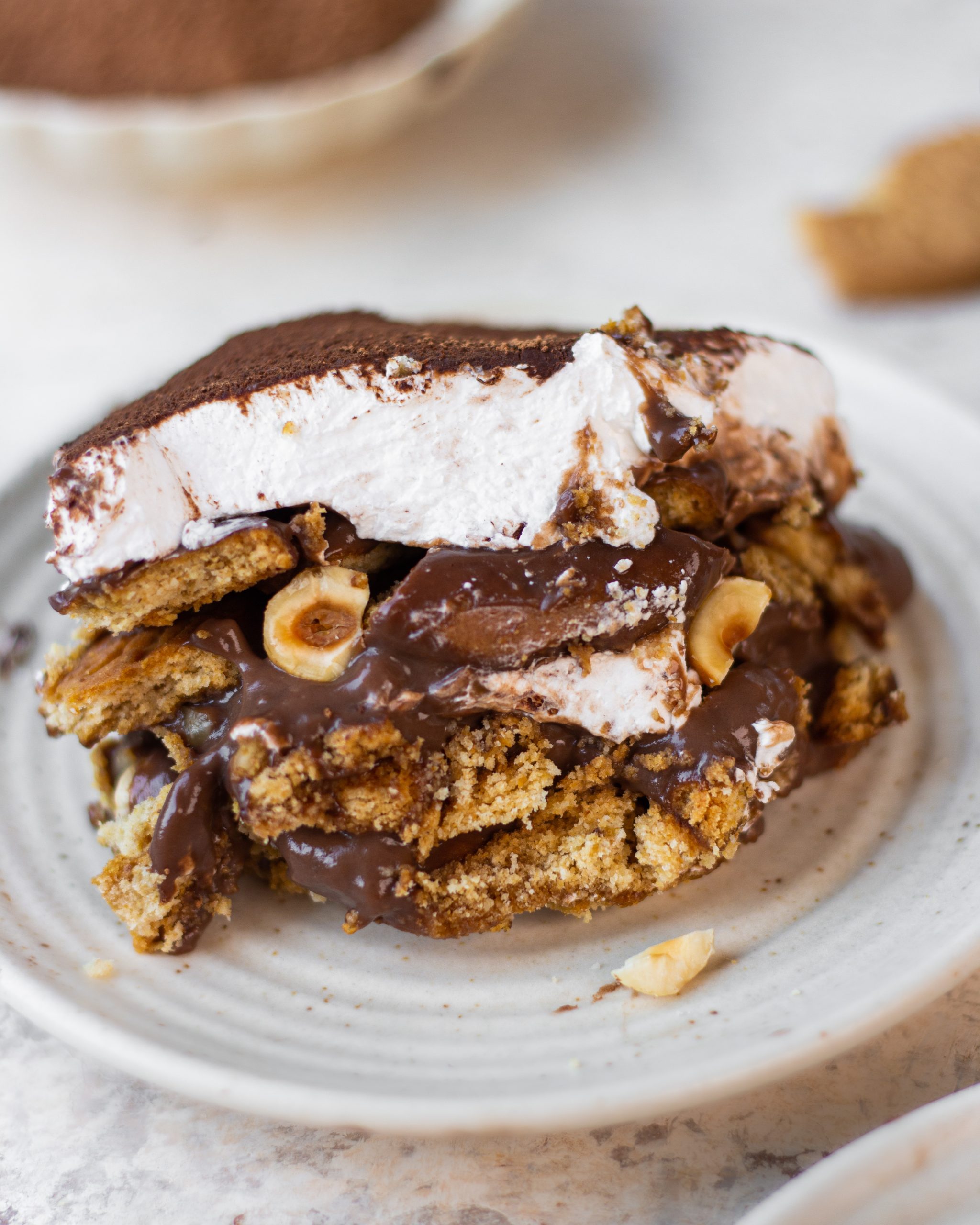 INGREDIENTS USED FOR THE EGGLESS NUTELLA BISCUIT PUDDING
MILK
This eggless nutella biscuit pudding has milk like all the other sweet pudding recipes. Milk is the base ingredient which gives structure and volume to the eggless nutella biscuit pudding. I have used low fat milk; you can use full fat milk too.
SUGAR
I have used caster sugar in this eggless nutella biscuit pudding recipe, you can use the same or even icing sugar or granulated sugar as sugar will be added in the milk and dissolved so any sugar is fine.
NUTELLA
Our star ingredient for this eggless nutella biscuit pudding recipe is nutella, so nutella is added of course. Not a lot of quantity though, just ½ a cup of nutella is sufficient. 
CORN FLOUR
Generally, eggs are added in a pudding as a thickening agent but since we are making this nutella biscuit pudding eggless, I am adding corn flour which will give us a good consistency. It is easily available everywhere and works great for this recipe.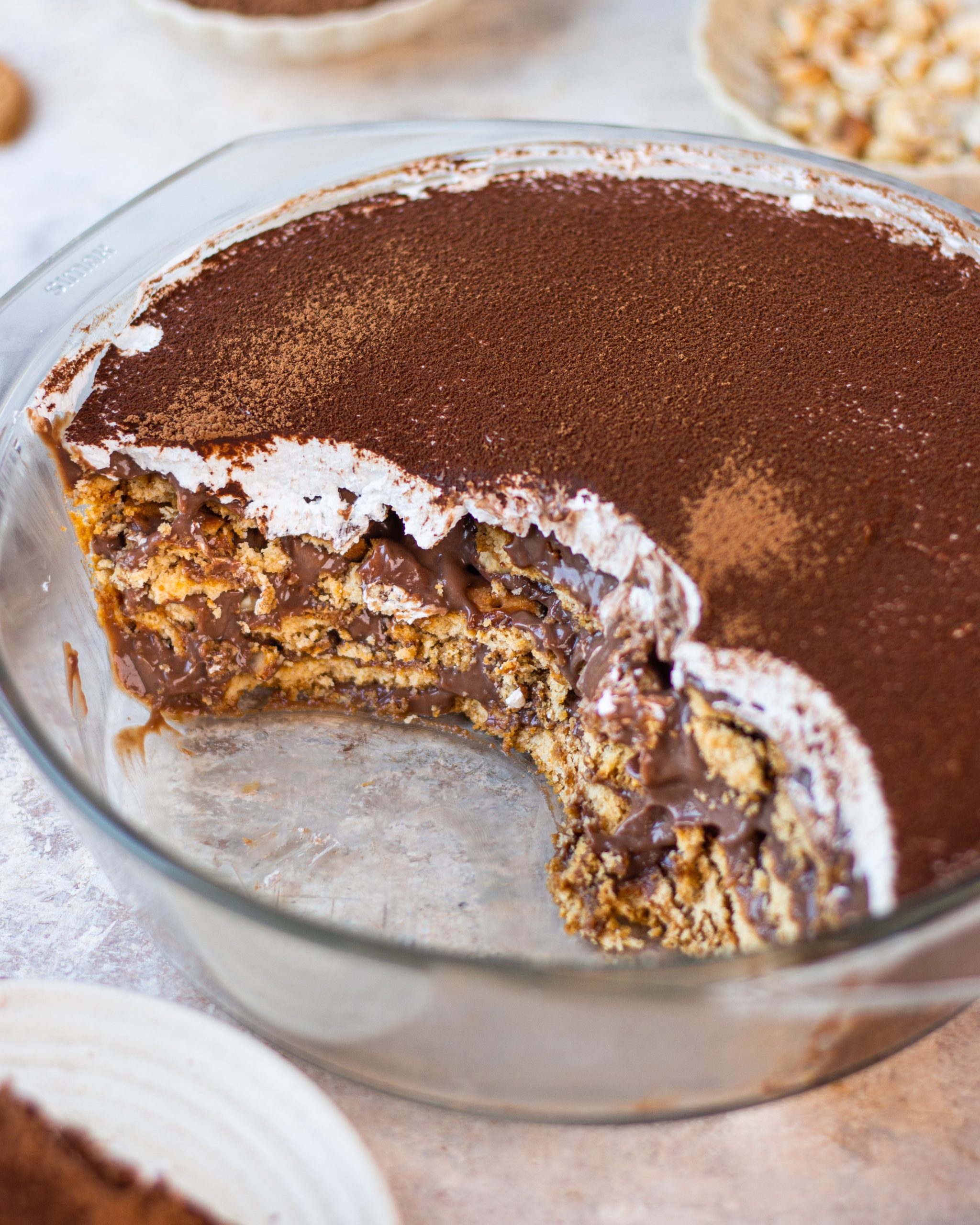 COCOA POWDER
With nutella I felt the need for some chocolate flavor too and that's why cocoa powder is important in this recipe as it helps us with a great color and taste. I use heshy's or Cadbury's cocoa powder in my recipes. 
COFFEE POWDER
Coffee powder is added in warm water with vanilla extract to soak our biscuits for this eggless nutella biscuit pudding. The in-between biscuit layer gives structure to our pudding and wanted it to be as tasty as our pudding. Thus, coffee is added to enhance the all over flavor of the pudding.
DIGESTIVE BISCUITS
For the biscuit layer, I have used digestive biscuits as I love their flavor and thickness. If you want you can use parle-g or marie biscuit for this eggless nutella biscuit pudding.
HAZELNUTS
I have chopped some toasted hazelnuts to give this eggless nutella biscuit pudding a more nutella-vibe and for that nuttiness in between layers. If you want you can simply skip this step or can add chopped toasted almonds too.
WHIPPED CREAM
I have added whipped cream to top it all for that finish look and to add another element to my eggless nutella biscuit pudding. If you do not have access to it, you can simply skip it and add a dust of cocoa powder on your final layer of pudding.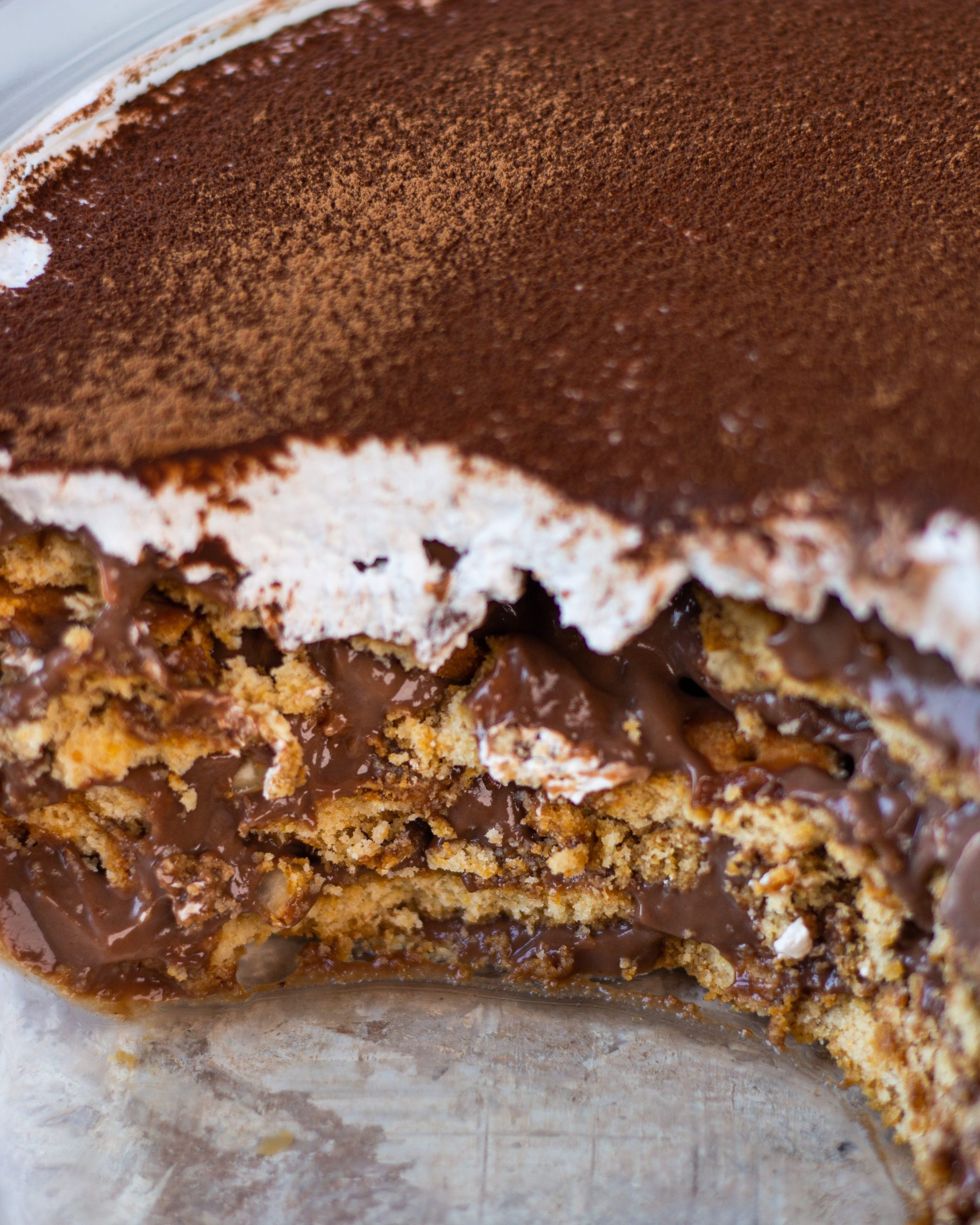 WHAT IS THE IDEAL TEXTURE FOR A PUDDING?
A pudding is supposed to be creamy and smooth. That is why it is very important that your pudding doesn't have any lumps and the pudding base is cooked properly. Even if by chance, you do have lumps you can always strain the mixture with a big sieve.
Each bite of the pudding should give you a silky and smooth deliciousness in a spoon. Making pudding from scratch is therapeutic and gives you the best results even though we have a lot of pre-mixes available in the market these days.
TIPS FOR MAKING THIS EGGLESS NUTELLA BISCUIT PUDDING
Make sure to cook the milk with corn flour properly and long enough as we don't want the uncooked corn flour after taste!
Keep stirring the pudding mixture with a whisk or a wooden spoon as it can burn easily, if left on the heat without stirring.
Keeping all ingredients ready before starting is advisable here with the dish or glasses you want to serve the pudding in; as everything happens one after the other and there won't be time in between to think or make changes.
Once the pudding is made and we transfer it in a bowl to cool down, do not forget to contract wrap it with cling film as a skin will be formed on the top of it otherwise.
Soak the biscuits in the coffee slurry well as to get the best flavor.
Once, the pudding is layered it needs to chill in the fridge for 6-8 hours or overnight for best results but if you do not have that kind of time a couple of hours can be fine too but it can remain a bit liquid consistency then. The flavor would be perfect though.
And if you try this recipe and like it, do try other pudding recipes from the blog. I am sure you are going to love them too!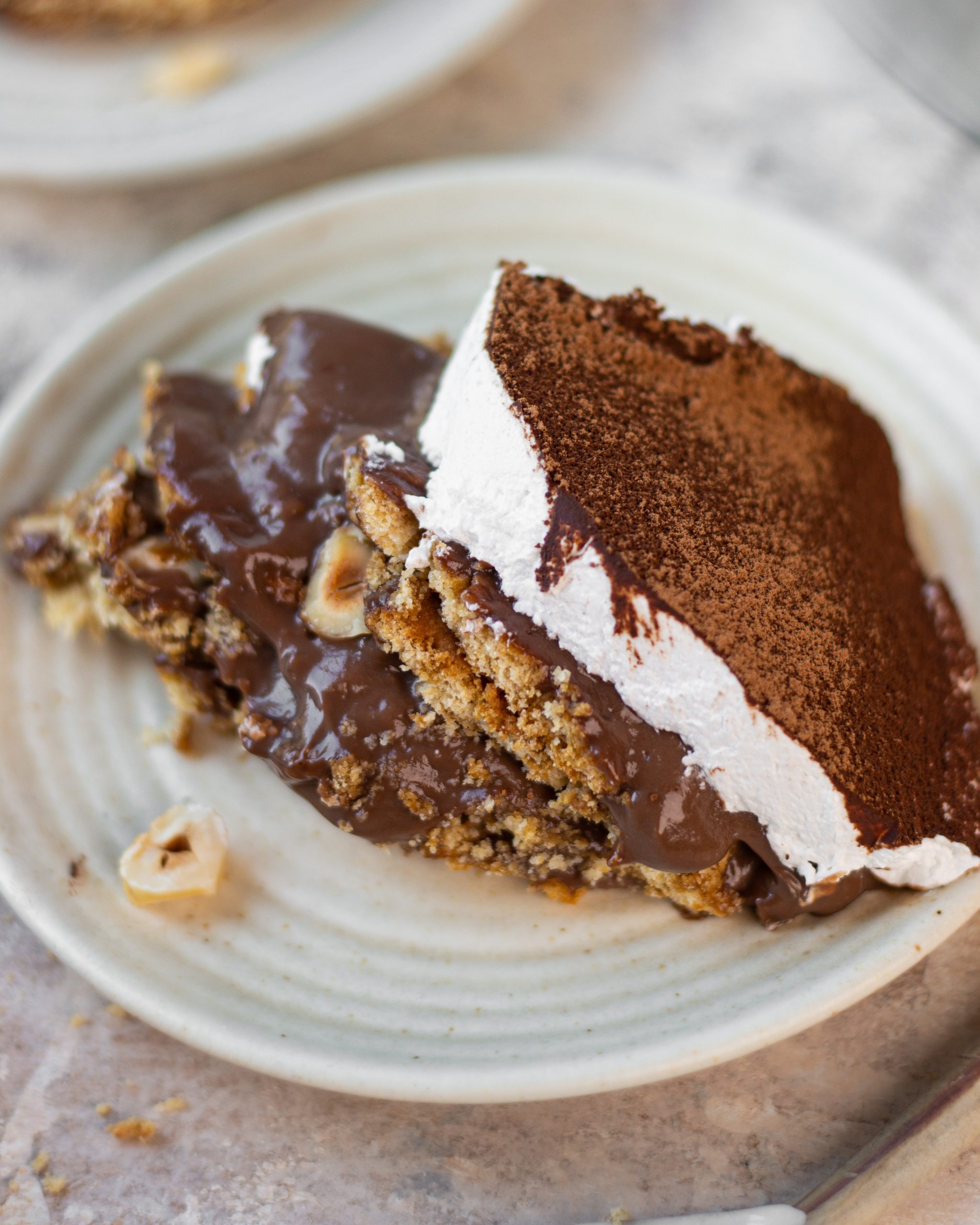 OTHER PUDDING RECIPES ON THE BLOG
EGGLESS NUTELLA BISCUIT PUDDING
Ingredients
For the pudding base
4 cups + 1 cup milk
6 tablespoon cornflour
½ cup nutella
½ cup sugar
3 tablespoon cocoa powder
For the coffee soak
1 cup water
2 tablespoon coffee powder
1 teaspoon vanilla extract
For the layering
½ cup chopped toasted hazelnuts
40 digestive biscuits
For the topping
Whipped cream
Cocoa powder
Instructions
In a saucepan, add 4 cups of milk and bring it to a simmer.
Add sugar and nutella in it and stir it continuously till it all dissolves in the milk.
In a separate bowl, make a slurry combining 1 cup of milk, corn flour and cocoa powder. Make sure there are no lumps.
Pour this slurry into the saucepan and stir the whole pudding mixture properly on medium heat and cook it till it thickens and till it coats the back of the wooden spoon and when a finger is passed through it, it stays like that.
Pour this pudding mixture into a bowl and contact wrap it with cling film and let it cool. Set it aside.
For the coffee soak, in a bowl, warm the water and add coffee powder and vanilla extract in it and mix well.
To assemble the eggless nutella biscuit pudding, for the first layer, soak in the biscuits into the coffee soak and place them all over the base of your glass dish.
Top the biscuits with cooled pudding mixture spread it evenly and put some chopped toasted hazelnuts.
Repeat this process till your serving dish is almost full; I have done this sequence thrice. Leave some space for whip cream on top.
Refrigerate this pudding for 6-8 hours and before serving spread a layer of whipped cream on top with a dusting of cocoa powder. Serve and enjoy!
If you like my eggless nutella pudding recipe and happen to make it in your kitchen, do tag me on Instagram and share pictures with me using #Bakewithshivesh. Happy Baking!