Don't you all just love cookies like I do? I know most of you will have cookie dough balls stuffed in your freezer like mine! Well here is an indulgent and such a simple recipe for all your cookie cravings! As a child, I loved Ferrero Rocher so much and I wanted to create something which tastes like them and can be made at home without a fuss. I still love Ferrero Rocher but now I don't need to depend on those big chocolate boxes as these ferrero rocher cookies, tastes so similar to them!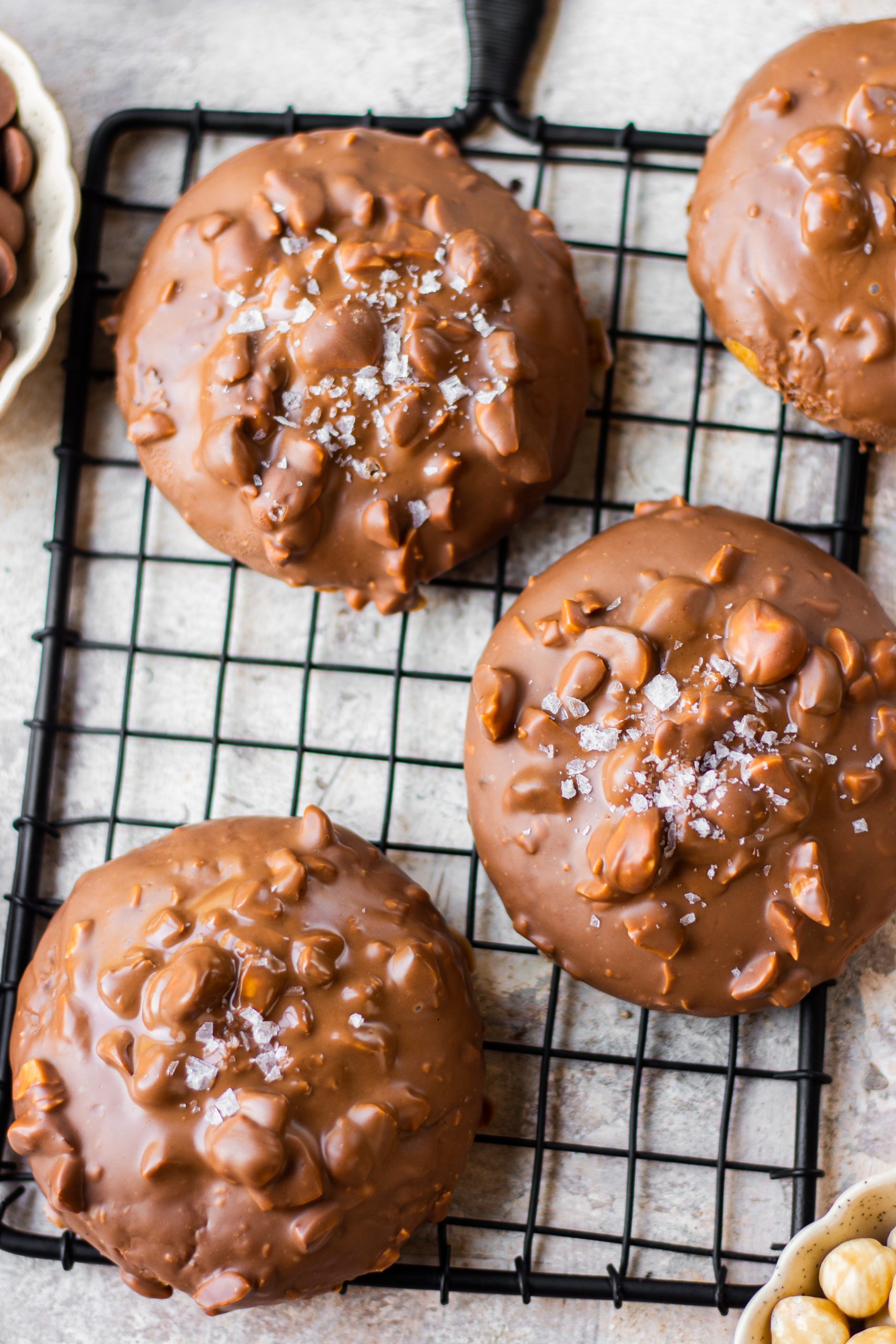 These ferrero rocher cookies have a vanilla cookie base which is then stuffed with nutella, enrobed in milk chocolate and toasted hazelnut glaze; they are egg-less too! They are an absolute delight and are perfect for a fancy dessert or just as cookies!
INGREDIENTS NEEDED FOR FERRERO ROCHER COOKIES
Like any other cookie dough, these cookies will also need butter. I am using salted butter here; if you want you can also use unsalted butter, with a pinch of salt added to the dough. Also, I am using a mixture of brown and white caster sugar, as I love the texture and flavor derived when we add both of them. Very little quantity of milk is also added, to bind the dough basically as it is an eggless recipe. A good quality vanilla extract is always needed for that extra flavor. I use sprig's vanilla extract. All-purpose flour is what I am using here but if you want, you can take 50% flour as all-purpose flour and 50% as whole wheat flour.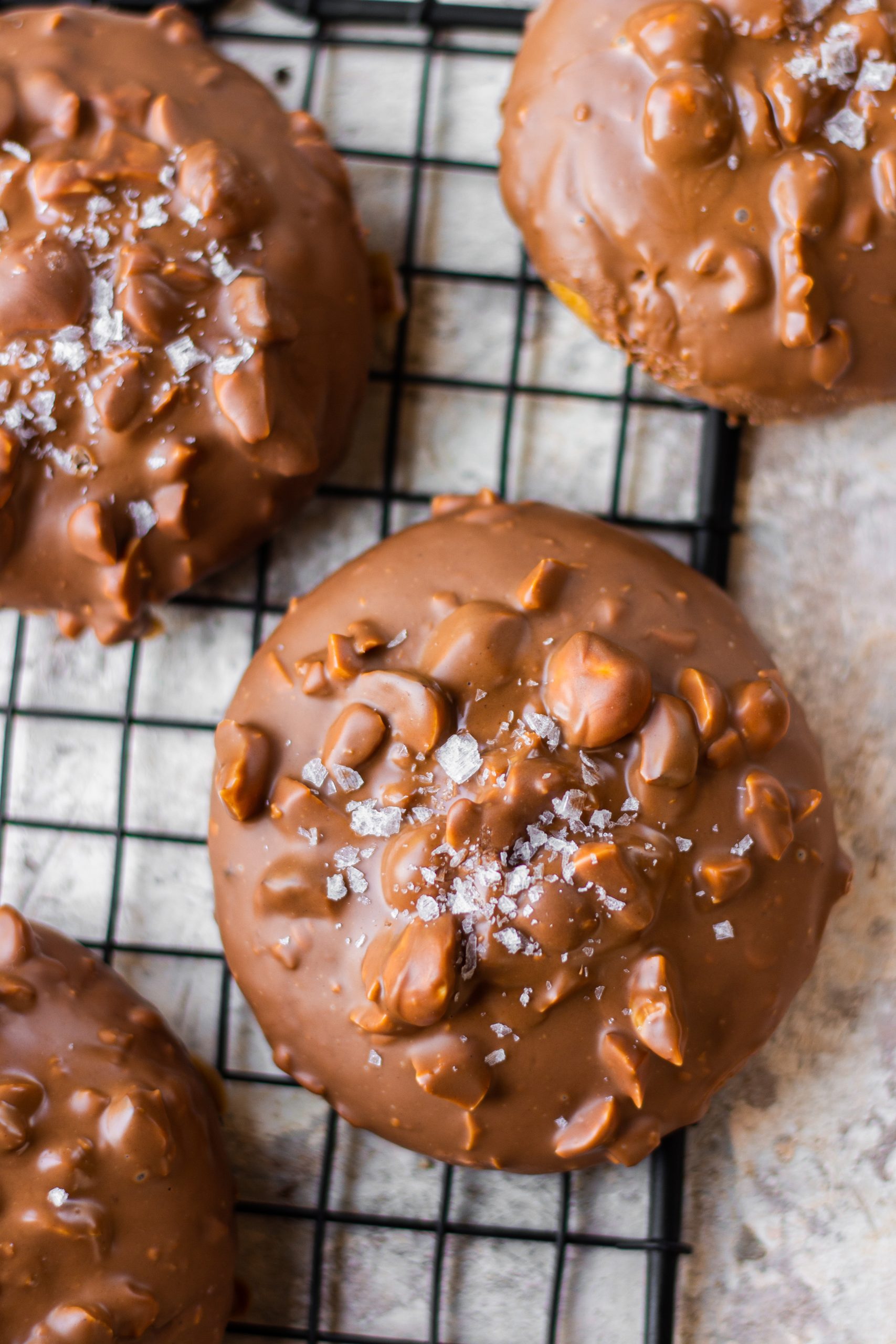 For the filling inside, we are using nutella, scooping them into dollops of 1 tablespoon each and freezing them in the freezer till they are rock solid, before stuffing them into our cookie dough balls.
For the topping, I am using callebaut milk chocolate and chopped toasted hazelnuts with a sprinkle of sea salt. You can also use, toasted almonds if you do not have access to hazelnuts, they taste great too! And for the chocolate, you can also use dark chocolate instead of milk chocolate for that bitter-sweet taste. And lastly, a sprinkle of sea salt enhances the flavor of the entire cookie!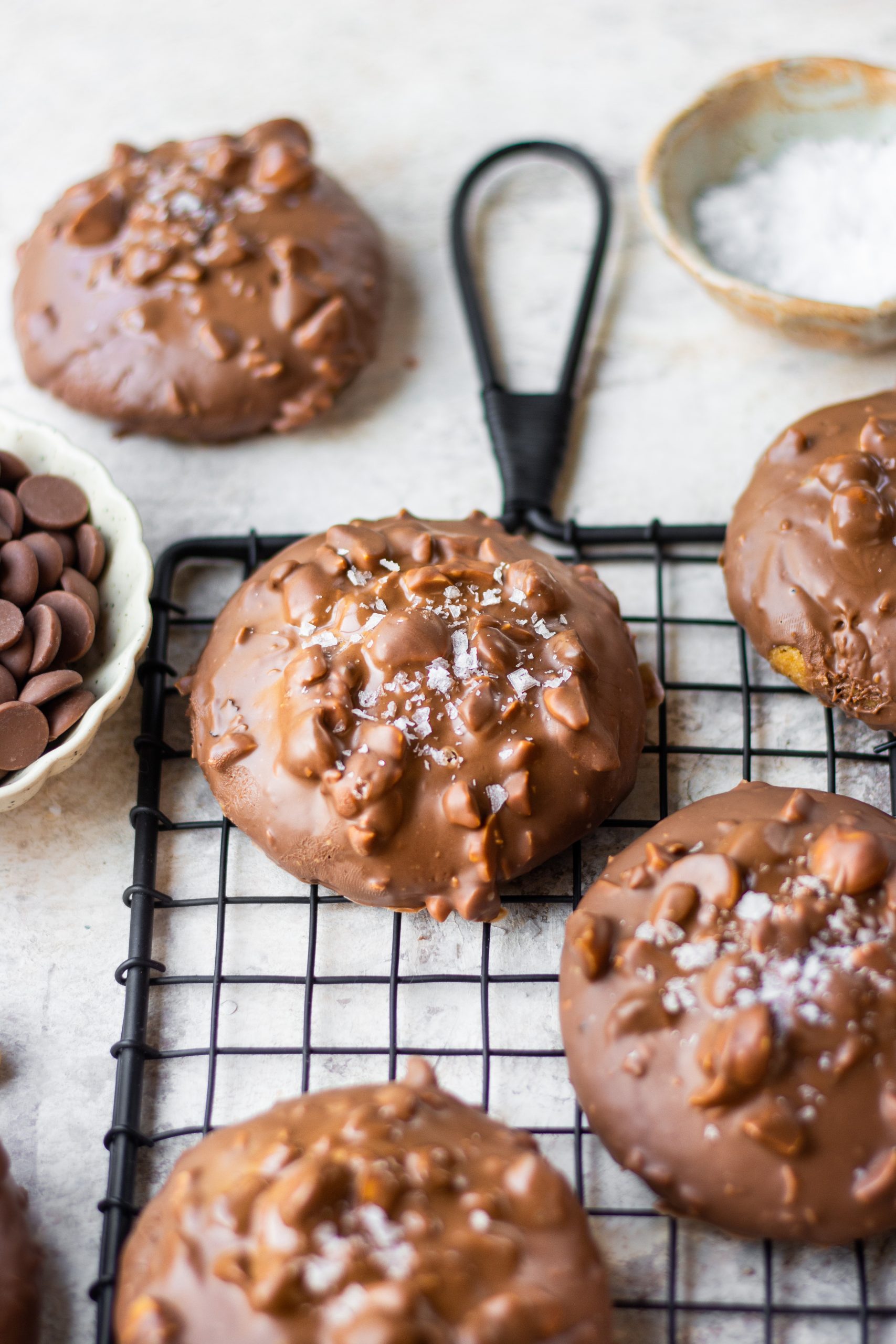 TIPS TO MAKE FERRERO ROCHER COOKIES
This recipe makes about 6 giant cookies, so you can divide the dough for the same beforehand.
Make sure all the cookie dough balls are equal in size for even baking.
After the dough is prepared refrigerate them properly.
Make sure when you freeze dollops of nutella, they are even in size.
Freeze the nutella dollops till they are rock solid.
After stuffing the dough balls with nutella, freeze them again for 15-20 minutes.
After the cookies are baked, let them cook properly before pouring the milk chocolate and toasted hazelnut glaze over them.
And if you try this recipe and like it, do try other cookie recipes from the blog. I am sure you are going to love them too!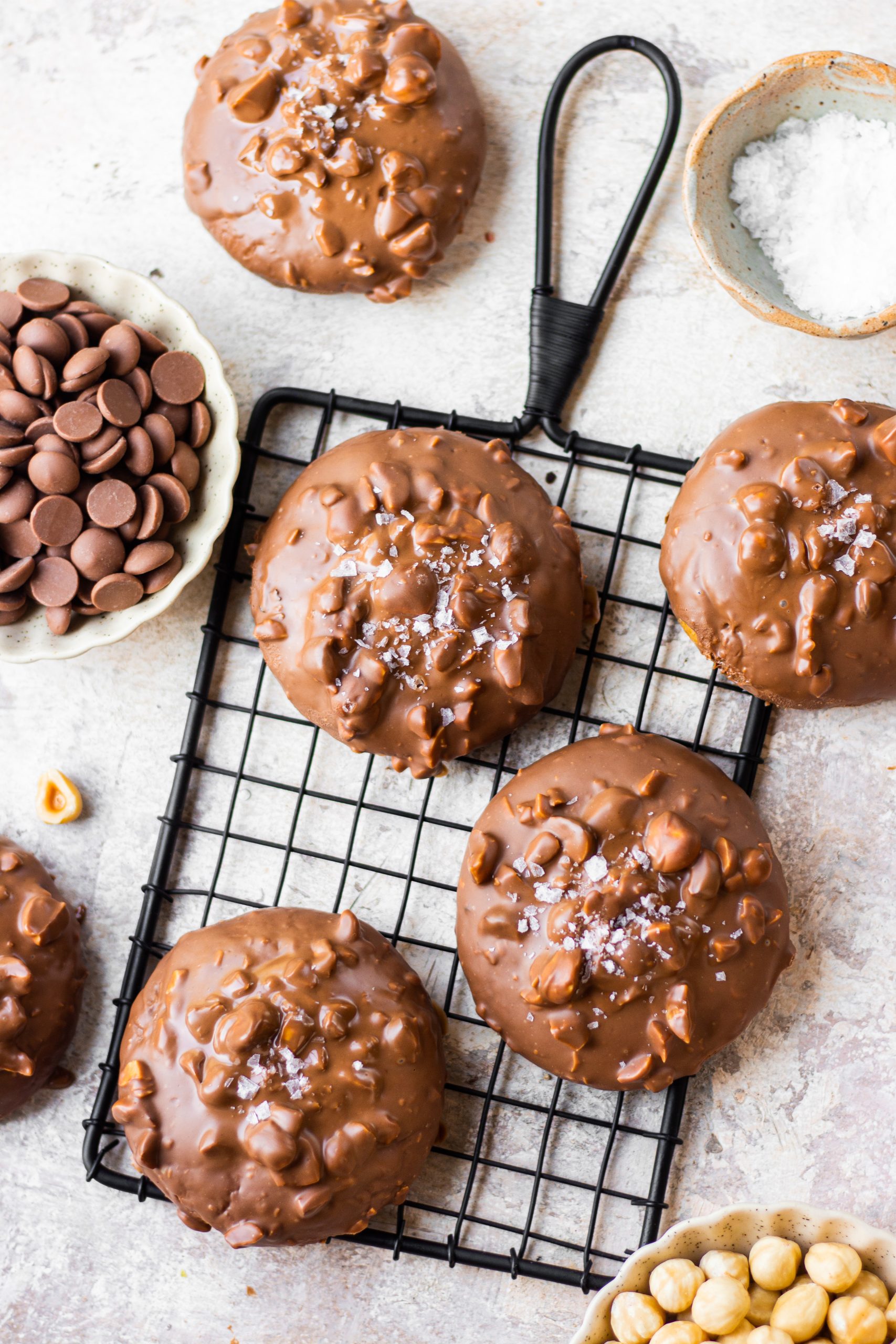 OTHER COOKIE RECIPES ON THE BLOG
FERRERO ROCHER COOKIES
Ingredients
For cookies
½ cup butter
¼ cup light brown sugar
¼ cup caster sugar
2 tablespoons milk
½ teaspoon vanilla extract
1 cup all-purpose flour
½ teaspoon baking soda
For filling
For topping
1 cup milk chocolate
½ cup hazelnuts (toasted and chopped)
Sea salt
Instructions
For the filling, scoop nutella with the help of a tablespoon onto the parchment paper into 6-8 dollops and freeze them in the freezer.
For the cookie dough, take a bowl and pour in melted butter with caster sugar and brown sugar in it. Give it all a good mix.
Stir in the vanilla extract.
To this mixture, add flour and baking soda. The dough will be a bit thick at this stage.
Add the milk and beat it for a bit until the dough comes together.
Pop the dough into the freezer for 2 hours.
Take the dough out and make equal sized balls, with my dough 6 big balls were made.
Flatten each dough ball and add the frozen nutella ball in the center of it and wrap it properly from all directions with the dough.
Freeze this for another 20-30 minutes.
Line a tray with silicone mat and put the cookie balls 2 inch apart. Bake it in a pre-heated oven at 180*C for 15-18 minutes.
Let the cookies cool. Till then, in a bowl melt milk chocolate in a microwave with 30 second intervals or on a double boiler.
Into it, add the chopped toasted hazelnuts.
As the cookies are cooled down, place them on a wire rack with a tray under it.
Pour the chocolate hazelnut glaze over the cookies and tap it once to shed the extra chocolate.
Put this in the freezer for 5-10 minutes till the chocolate sets.
Sprinkle some sea salt and enjoy!
If you like my eggless ferrero rocher cookie recipe and happen to make it in your kitchen, do tag me on Instagram and share pictures with me using #Bakewithshivesh. Happy Baking!