Thin, crispy and gluten-free, these eggless lace cookies are perfect snack to make under 30 minutes. If you are a 90's kid and have had Butter Toffee growing up, this tastes exactly like that one! Chewy, sweet, caramel-y and you won't be able to stop at just one. Oh! and the best part? They are eggless and just need 6 ingredients. Let's discuss the ingredients needed to make these eggless lace cookies followed by the procedure.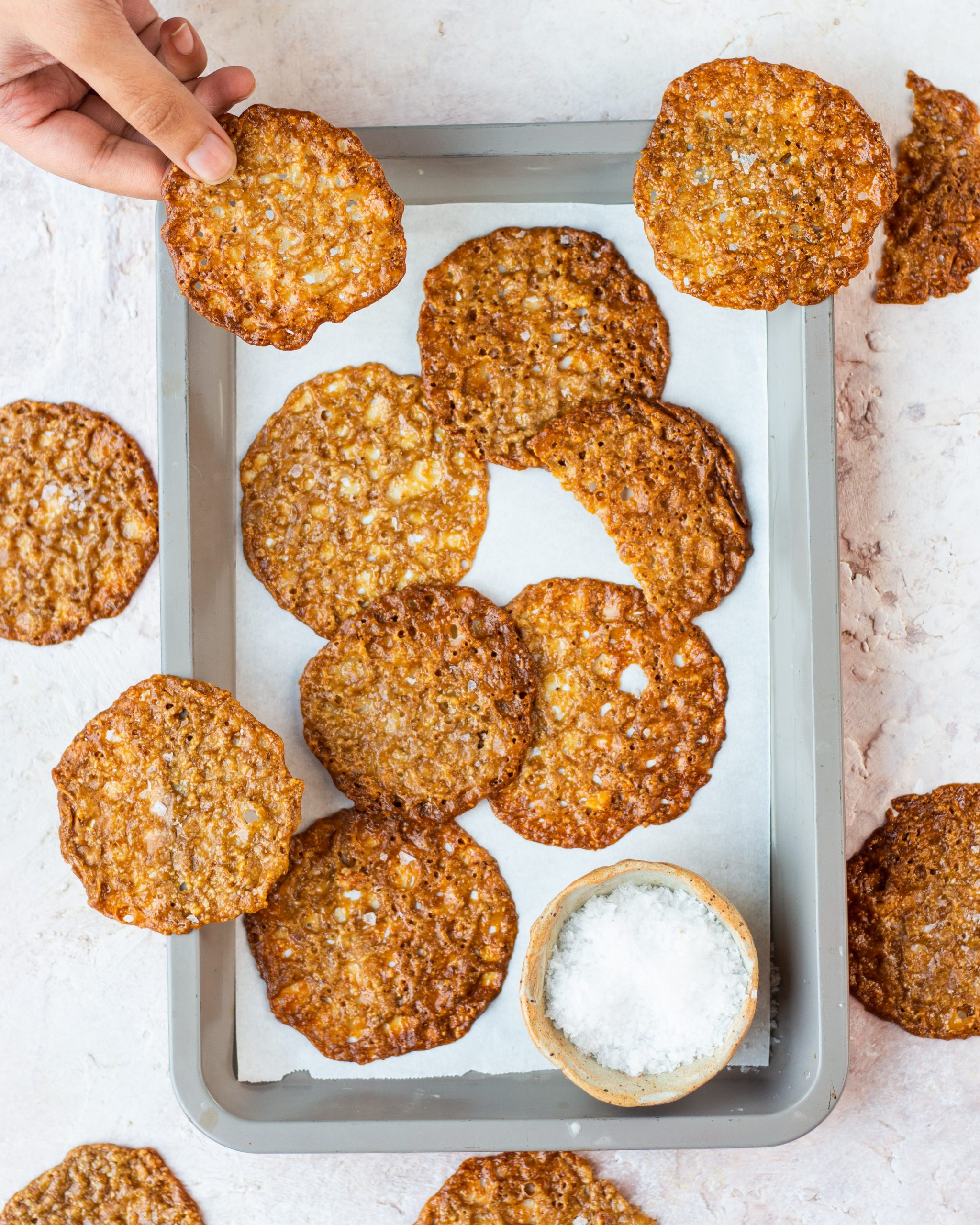 INGREDIENTS USED TO MAKE EGGLESS LACE COOKIES
BUTTER
I have used regular salted butter to make these eggless lace cookies. But feel free to use unsalted if that's handy for you. If you are replacing salted with unsalted, I would suggest you to add a pinch of salt to your dough (here batter). I love how salt takes every dessert up a notch!
BROWN SUGAR
If given a choice, I would always prefer brown sugar over castor sugar for all my desserts. I absolutely love the colour, flavour, texture and richness that the baked goods get from brown sugar. For these eggless lace cookies, I used this brown sugar.
ALMOND FLOUR
For these eggless lace cookies, I made the almond flour (or almond meal) at home by simply grinding the almonds into a powder form with their skin on. If you have access to almond flour, you can absolutely use store bought. The one you will get from the store is made with almonds without skin or in other words, with blanched almonds. If you want to buy, this is a good one. You can use either to make these eggless lace cookies.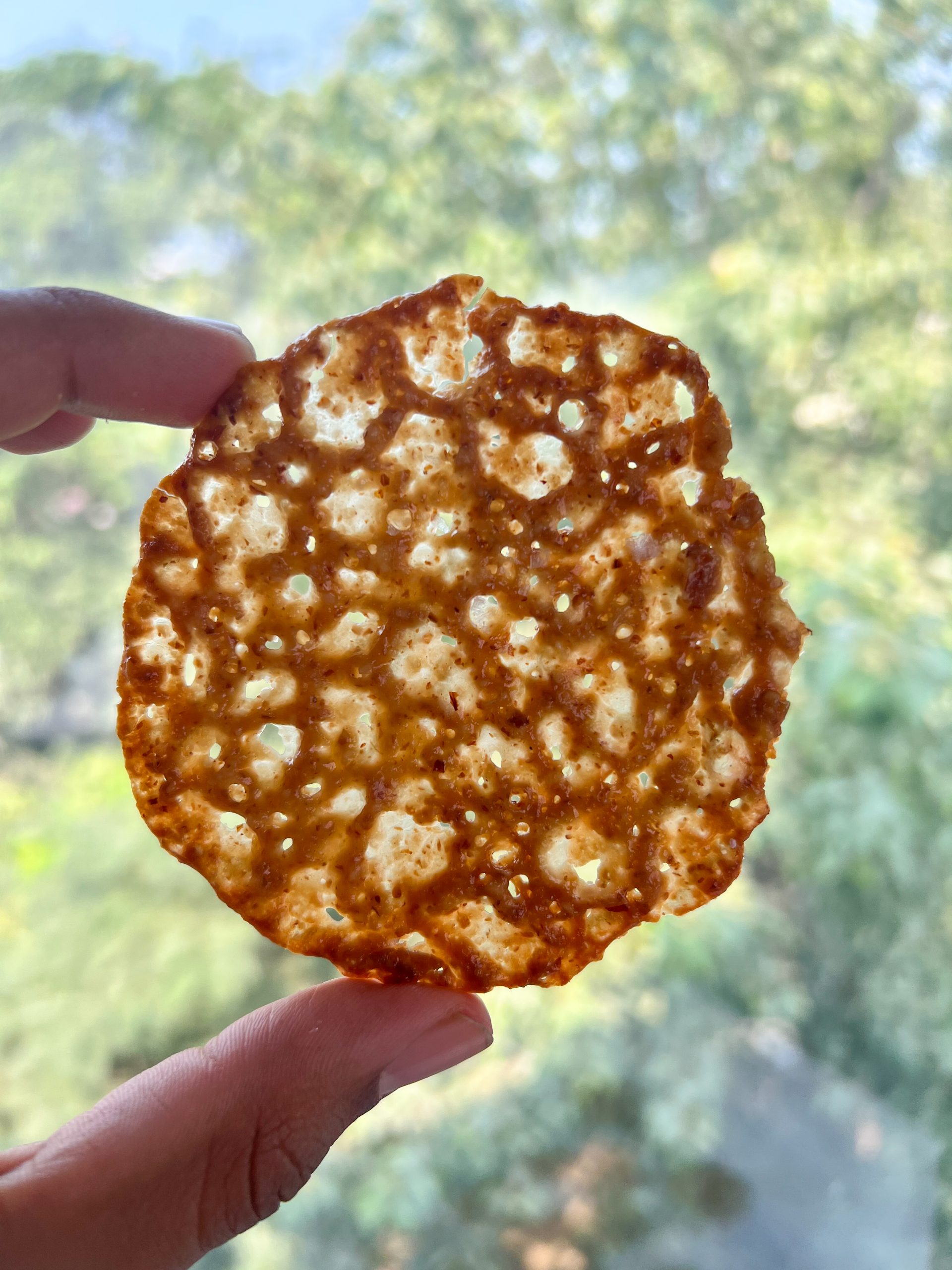 SALT
I have always said that just adding a pinch of salt makes a huge difference to your desserts. It brings out the perfect balance in a sweet dessert and takes it a level up. In these eggless lace cookies, I added a pinch of salt in the batter and even sprinkled some once they were out of the oven.
MILK
I added just a tablespoon of milk to bring everything together uniformly. If you feel your eggless lace cookie batter has become too thick while cooking (will get to the process below), add a dash of milk more.
VANILLA
Using the best kind of vanilla has always made all the difference in any dessert. Please avoid using vanilla essence as it is not real but synthetic and chemically made vanilla flavour. Make sure you use good quality vanilla extract or bean for these eggless lace cookies. I recommend this one.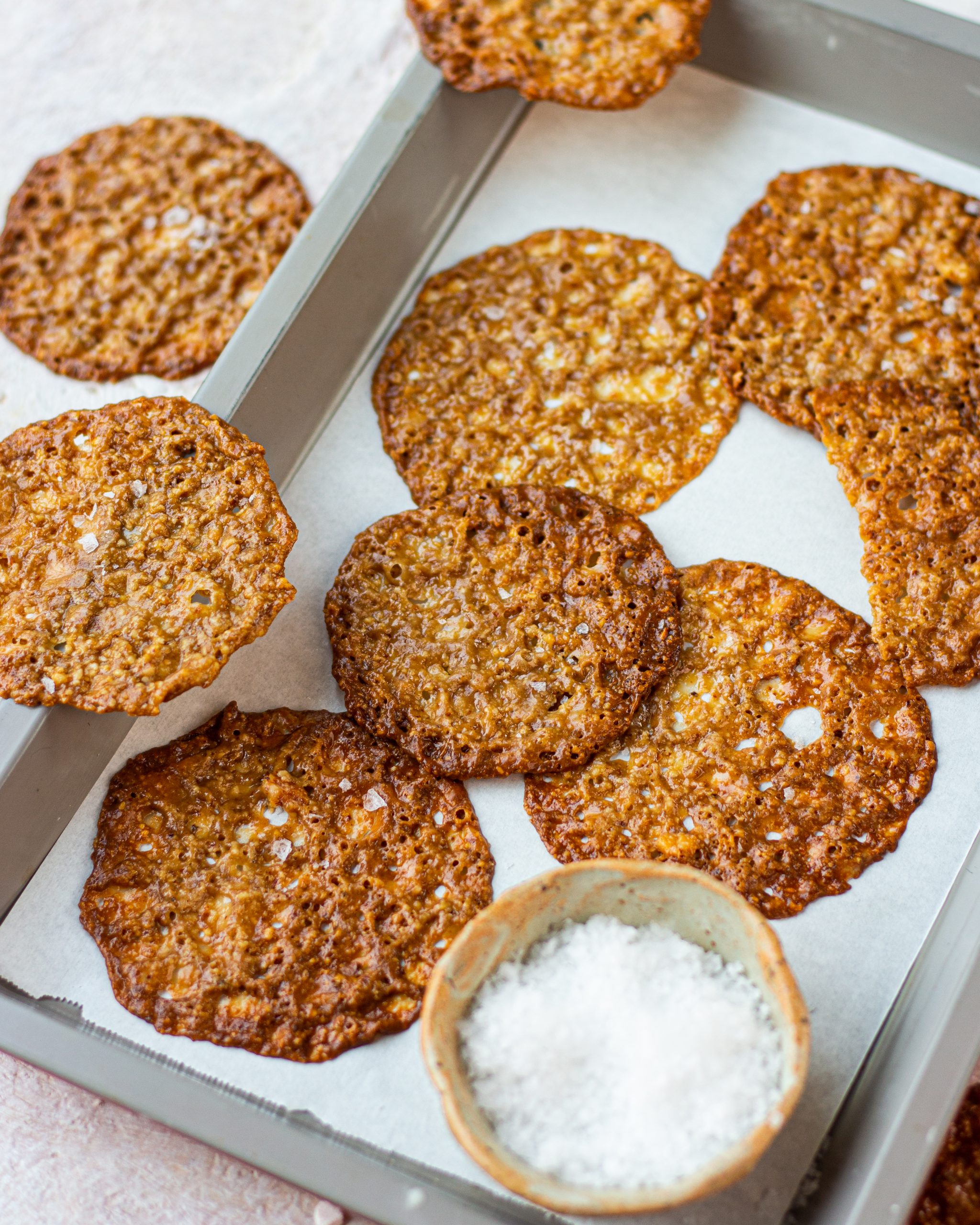 PROCEDURE TO MAKE EGGLESS LACE COOKIES
The process to make these eggless lace cookies is fairly simple. All you have to do is in a non-stick sauce pan, add butter. Let it melt. Do not let it brown, just melt. Add your sugar and mix it well. Once it starts to melt, add your almond flour. Followed by salt, milk and vanilla. Cook it for 3-4 minutes. Once everything is well combined and the batter looks grainy and shiny, take it off the flame and let it rest for 5-10 minutes. The rest time will thicken the batter and that's what we are looking for. Once the batter thickens, we'll bake these eggless lace cookies at 180C for 6-7 minutes. And done!
TIPS TO MAKE EGGLESS LACE COOKIES
DO NOT BROWN OR BURN THE BUTTER
If you over cook the butter in the beginning, by the end of the process you will end up having burnt butter bits in your eggless lace cookie batter. Make sure you keep the flame low throughout and add sugar to the pan as soon as the butter melts.
BROWN SUGAR SUPREMACY
If you do not have brown sugar, I may not suggest you to use castor instead. Because one, the caramel=y flavour which comes from brown sugar will not from castor sugar. Two, the eggless lace cookie won't be chewy from the centre rather be brittle throughout.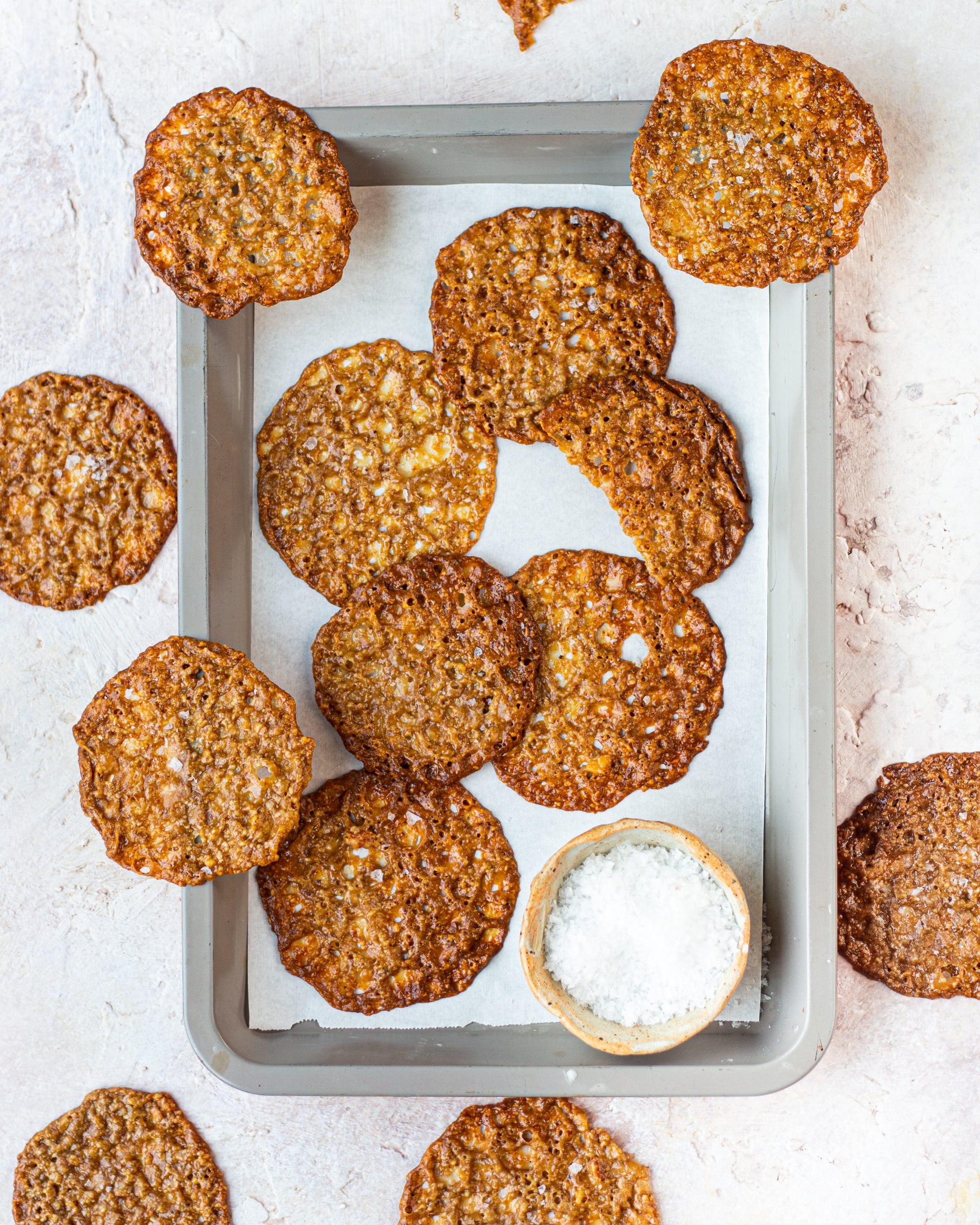 SIEVE ALMOND FLOUR
If you are making the almond flour at home like me, make sure you sieve the flour and do not end up using very big bits of almond. A little grainy texture is all that we are looking for, for these eggless lace cookies.
DO NOT USE COLD MILK
Adding anything very cold to something hot is not a very good idea as it affects the overall temperature to what it's added. Although the quantity of the milk is very low to do that here, I would still suggest you to use either room temperature milk or slightly warm milk won't harm too for these eggless lace cookies.
DO NOT OVER COOK THE BATTER
This is the most important tip. You just need to cook for 3-4 minutes once everything is added and combined very nicely into a homogenous batter. Over cooking will lead to separation of butter from the batter and make it very thick and like a dough and not flowy like the batter we need.
MAKE SURE THERE IS ENOUGH SPACE BETWEEN EACH COOKIE
This eggless lace cookie is the opposite of all other cookies. You want these cookies to spread as much as possible so they get really thin, crisp and brittle from the edges while being chewy form the centre. While baking these cookies, make sure you have left enough space in between each of them so that they spread evenly and nicely. I suggest using silicone mats for baking these cookies, this one. You can also use parchment paper to bake these, this one.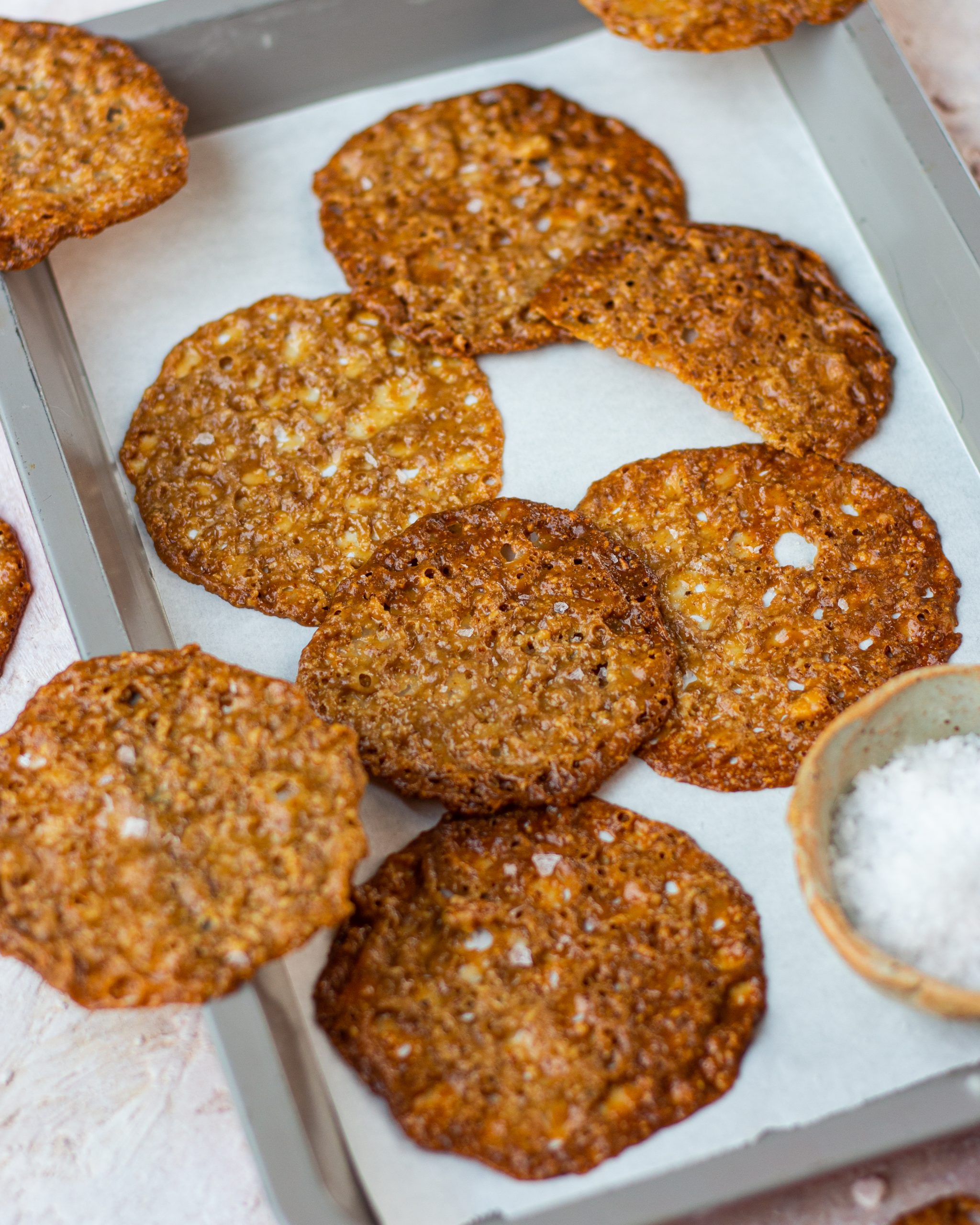 That's all for the tips and tricks to make these super easy and quick eggless lace cookies. I had a lot of fun baking and eating these gluten free cookies. Disclaimer- these are very very addictive!! If you make these cookies, do let me know by tagging me on Instagram using #bakewithshivesh. Here are links to more such fun cookie recipes which I am sure you are going to love-
EGGLESS LACE COOKIES RECIPE
EGGLESS LACE COOKIES
Ingredients
¼ cup (57g) butter
⅓ cup (57g) brown sugar
½ cup (48g) almond flour
a pinch of salt
1 tbsp (7.5ml) milk
¼ (1ml) vanilla extract
Instructions
Place a saucepan on low heat and add butter to it.
Once the butter has melted, add sugar and mix well.
As the sugar starts to melt, add almond flour. Followed by salt, milk and vanilla.
Mix everything well until they are well combined.
Cook this mixture for 3-4 minutes.
Take it off the heat and let it sit on your counter for 5-10 minutes.
Preheat the oven at 180 C and on a parchment paper or silicon mat, drop a teaspoon of batter for each cookie, 3 inches apart.
Bake them for 6-7 minutes or until the edges turn brown.
Let these rest on the baking tray for 5 minutes at least once baked as they cool down and become crisp.
If you like, you can have them with a drizzle of your favourite chocolate or sandwiched with Nutella or with just a sprinkle of sea salt.