With the onset of winters, one fruit that you can see a lot in the streets of India is Sitaphal or commonly known as custard apple! It's the underdog- a lesser chosen fruit because of its taste and texture but I've always loved this delicious fruit as it is. I have fond memories of sitting with my family, deseeding and eating custard apples when I was small. It used to be a slow and sweet bonding activity which I still remember till date!
However, never did I think that I would be making a creamy milkshake using custard apples and it would turn out THIS delicious. It just needs three simple ingredients which are already there in your pantry to give you a milkshake which you'll be having on repeat for the next few weeks! So let's get into the recipe.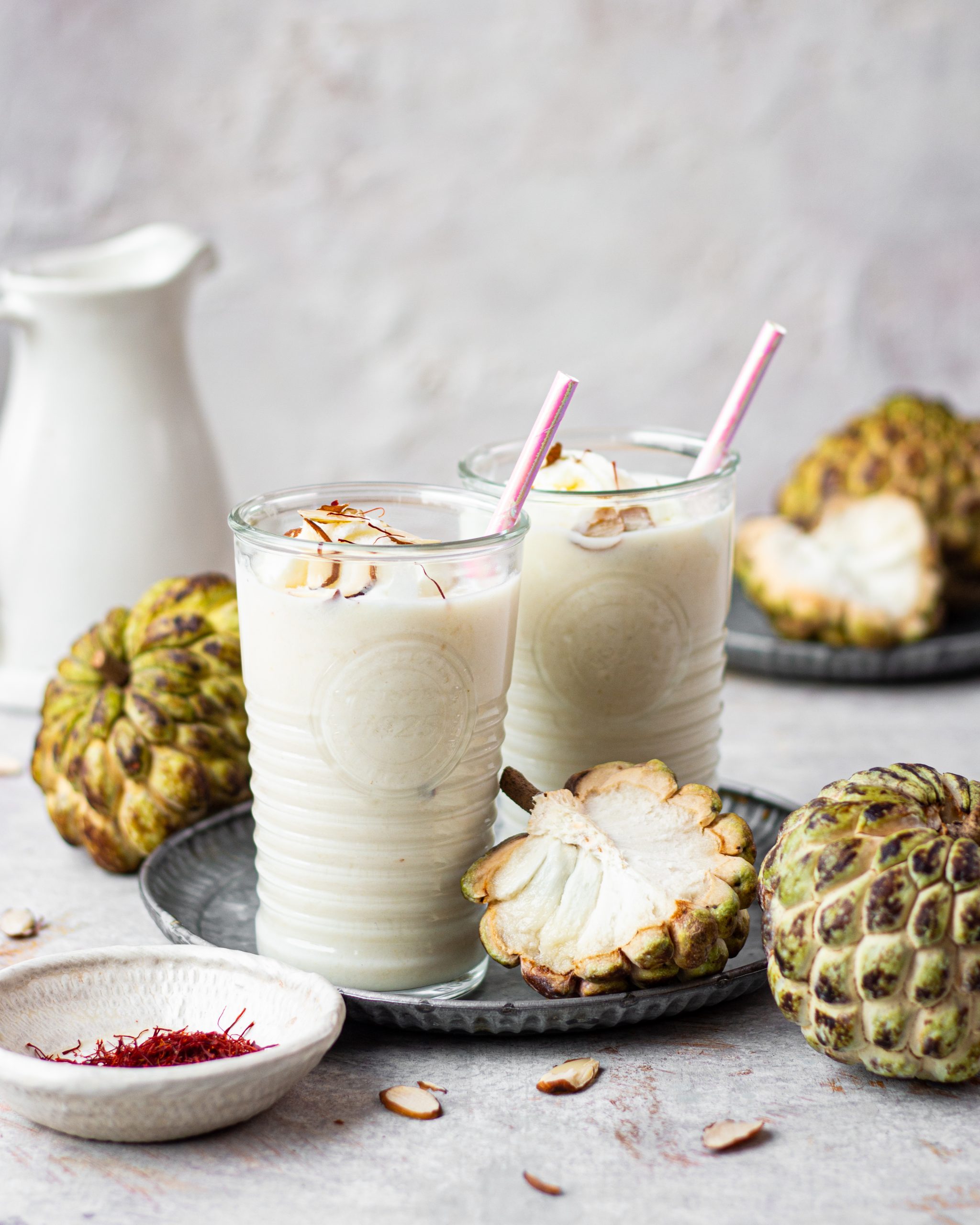 Ingredients needed to make sitaphal milkshake
The ingredients that you need to make this sitaphal milkshake is as basic as it can get, the only thing you ideally have to go and get are sitaphals / custard apples.
Milk  – It literally starts with the milk. Keeping chilled milk ready for your Sitaphal Milkshake is going to take it to another level. Also, what happens with chilled milk is it does not break down the cold temperature of the ice cream. Rather, it supports the ice-cream and brings about a perfectly cool and super delicious Sitaphal Milkshake.
Sugar – Now, Sitaphal has a slight sweetness of its own so if you don't have a liking for sweet milkshake, you may skip adding sugar! It would still taste really good. But I like my milkshakes sweet as I like my desserts so I add some caster sugar. You can also go for other sweeteners like honey, maple syrup, jaggery powder or even stevia if you prefer a sugar free alternative!
Custard apples – The hero of this recipe is sitaphal. So now sitaphal as a fruit is made up of two components which is the pulp and the seeds. We obviously don't need the seeds so we'll be taking out the pulp and using it for our milkshake. I use about 1 cup of pulp for my sitaphal milkshake and it took me one hour to squeeze the pulp out of the sitaphal! But the milkshake was absolutely worth the time and patience so be ready to spend an afternoon of patience with custard apples!
I also serve my sitaphal milkshake with some vanilla ice cream, saffron strands and slivered almonds! You can obviously use any garnishes you like – Kesar ice cream would go so well with this sitaphal milkshake
EQUIPMENT NEEDED TO MAKE SITAPHAL MILKSHAKE
This Sitaphal Milkshake needs some few simple tools to help you make a delicious milkshake, the most important is a food processor or blender. Unfortunately, it'll be hard to make this milkshake without a blender or a food processor. Since these recipes involve to blending different ingredients with milk and sitaphal pulp, a hand blender won't be able to do the job. So I'll recommend you to make this sitaphal milkshake only in a food processor or blender for good results.
How to De-seed custard apples
One important process that you'll be doing for this recipe is de-seeding your custard apples. It's a time consuming process which requires some patience but I promise you, the result will be rewarding! Here's how you do it –
Before getting started, keep a fine mesh strainer over a big bowl.
Break open a custard apple and remove the centre part of the apple which contains the seed and pulp. Do this process on top of the strainer so that all the seeds and pulp fall on the strainer.
Using a big spoon or your hands, mash the pulp till you see pulp getting collected in the bowl kept below. Keep doing this process till all the pulp is collected in the bowl and you're only left with the seeds on the strainer.
Use the custard apple pulp for making your milkshake.
WHY ARE MY MILKSHAKES NOT THICK?
I have a simple three-word solution for this. DON'T ADD ICE. A lot of people add ice to their milkshakes not realizing that all it does is water the milkshake down. Ice also obviously melts afterward so as you are drinking your milkshake, it has watered down terribly and has become more or less undesirable. Do not do this mistake with your milkshakes or the consistency will become too liquidy.
You can also try using full-fat milk for a thicker and creamier Sitaphal Milkshake.
STORING YOUR SITAPHAL MILKSHAKE
Although I would forever advise everyone to please consume milkshakes as soon as you make them. Why? Because storing it waters the milkshake down and it  does not end up being that creamy. But, if you have to store it, place it in the fridge in a tight container and you're pretty much sorted!
OTHER INDULGENT MILKSHAKE RECIPES ON THE BLOG
Sitaphal Milkshake Recipe
Sitaphal Milkshake
Ingredients
1 cup Custard Apple / Sitaphal Pulp
1 cup (240ml) Milk
1 tbsp (12gms) Sugar
Instructions
De-seed your custard apples and separate the pulp using a strainer.
In a blender, blend together milk, custard apple pulp and sugar till everything comes together.
Pour the milkshake in a glass.
Garnish with vanilla ice cream, saffron strands and slivered almonds. Enjoy!
If you like this recipe and happen to make it in your kitchens, do tag me on
Instagram
using #Bakewithshivesh.