As a kid, my mother used to try and make healthy versions of every unhealthy thing I could possibly eat! Be it a healthy pizza with a chapatti base instead of store bought white flour base or home baked chocolate cake without preservatives and with jaggery as a sweetener. I remember one day I got store-bought homemade granola bars and her next project was obviously to make them at home with better quality ingredients and healthier version of them!
I started craving them and tried to recreate a similar recipe. And once I started, I realized there can be a million variations which can be added to granola bars! They are highly versatile and super healthy. They are chewy, sweet, nutty and so filling. I feel it is a perfect, guilt-free treat one can feed friends and family. You can enjoy these bars for breakfast, pre-work out snack, in a packed lunch or whenever!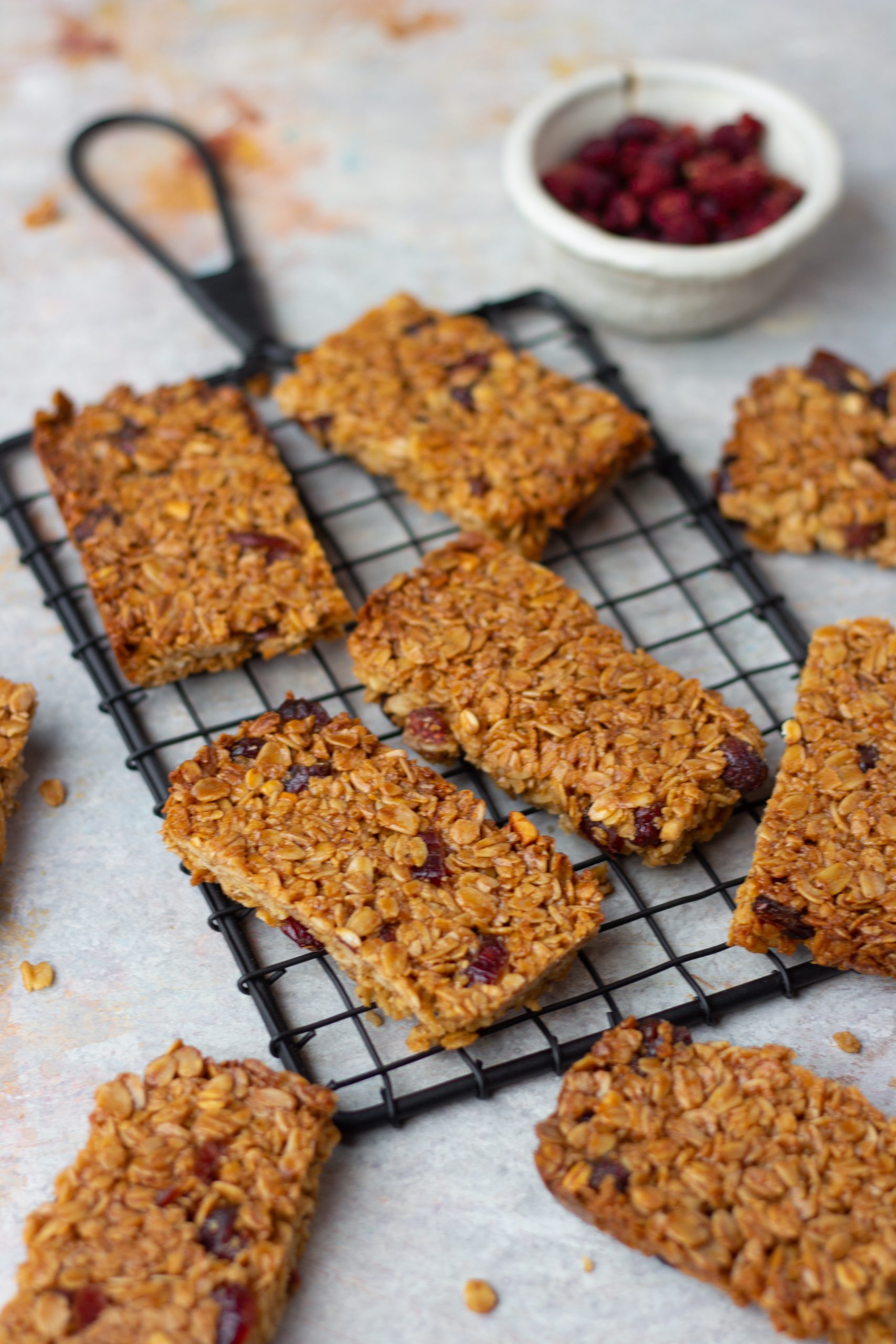 What are homemade granola bars made of?
You call them energy bars, protein bars or granola bars; they are all the same. Granola bars are portable, delicious snack bars which are usually made up of oats, nuts, seeds, nut butter, dried berries and some sweetener, like honey or maple syrup, brown sugar, plus any add-ins of your choice. The best part is, once you get a gist of it, you can customize them as you like; the possibilities are endless. And trust me, they are addictive!
Variations of homemade granola bars
I am really unsure where to start from, when it comes to flavoring your homemade granola bars? Because the possibilities touch up the sky! One has to put oats as base but the sweeteners can be altered, honey or maple syrup can be substituted. The nut butters which bind the bars can be chosen according to you, be it peanut butter or almond butter, coconut oil can also be added. You can even add shredded coconut toyour recipe for that extra flavor. Dried berries from cranberries to raspberries, anything can be added, even raisins for more sweetness. You can also add different spices like nutmeg, cinnamon, star anise powder and so on. Everyone likes chocolate! Dark chocolate chips can also be added inside the mix to tempt your kids! Different kinds of extract other than vanilla like
hazelnut or almond extract can be put too.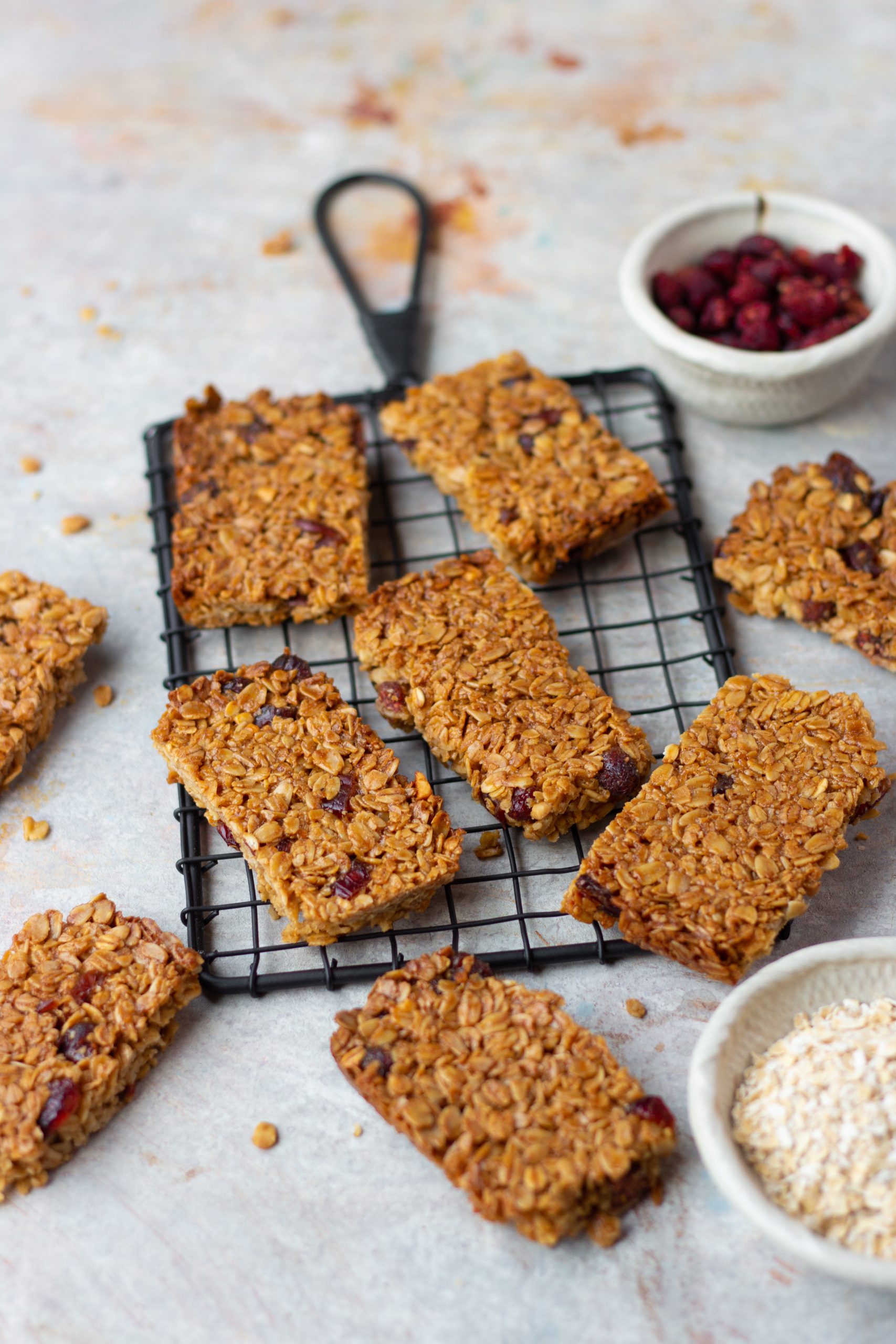 Tips and tricks of homemade granola bars
 Don't add too many mix-ins: Avoid adding a lot of mix-ins as your granola bars will have an overload of flavor because of it and it will also make them crumble and not stick together.
Don't cut the cooling time short: I know it is tempting to cut and eat these bars as soon as they are out from the oven but you need to cool them outside and chill them in the fridge for some time before cutting them in bars or you won't get those sharp edges.
Pack the granola mixture into the pan: Make sure you pack the granola mixture as tight as possible into the pan before baking them. You can use the back of the spoon or a spatula to do so.
Store them in a fridge or freezer: Once your bars are ready you can store them in an airtight container. Each individually packed in cling wrap or parchment paper. In the fridge they are good for a week and you can even freeze them for up to 2 months in the freezer. Just thaw them before consuming.
Do not over bake: Take your bars out from the oven as soon as you see a golden brown color in the edges of the pan.
Granola bar quick-fix: If you are making granola bars for the first time and they are not sticking together for you then you can always put the baked crumbs in a jar and use it as loose granola to have, with your yogurt or cereal.
Homemade Granola Bars Recipe
Homemade Granola Bars
Ingredients
6 tablespoons (90g) butter
2 tablespoons (30g) peanut butter
½ cup (170g) maple syrup
2 tablespoons (30g) brown sugar
¼ teaspoon cinnamon powder
3 cups (255g) rolled oats
½ cup (71g) dried mix berries
Instructions
Preheat the oven at 180*C and line your square 9x9 baking pan with parchment paper.
Combine butter, peanut butter, maple syrup, brown sugar in a sauce pan over a medium-low heat.
Simmer until sugar has dissolved and the liquid comes to a boil.
Remove from the saucepan and fold in rolled oats, cinnamon powder and dried mix berries. Give it all a good mix.
Transfer this mixture to the lined baking pan, spread evenly and press down the mix as tightly packed as possible, with the help of back of a spoon or a spatula.
Bake for 25 minutes or until golden brown.
Remove from the oven and cool it on your cooling rack.
Chill it in the fridge for another 15 minutes.
Lift the whole sheet out and cut into bars evenly and there you have it! Enjoy these bars till they last.
If you liked this recipe, share pictures and do tag me on
Instagram
using #bakewithshivesh.