I personally don't think anyone would argue that hot chocolate is the coziest of all drinks. It's like a warm hug on a chilly winter day. As soon as the weather dips a little, my mom and I make a nice cup of hot chocolate and watch our favourite christmas movies on loop!
The best way to end a stressful day is to sip on a decadent hot chocolate. It makes me forget all my worries!  The first sip – that's all it takes, honestly. I feel it is the perfect drink to be shared with friends and family, not only for christmas but till the winter season lasts. And today, we are making my hot chocolate- 3 ways, three incredible variations of a traditional hot chocolate.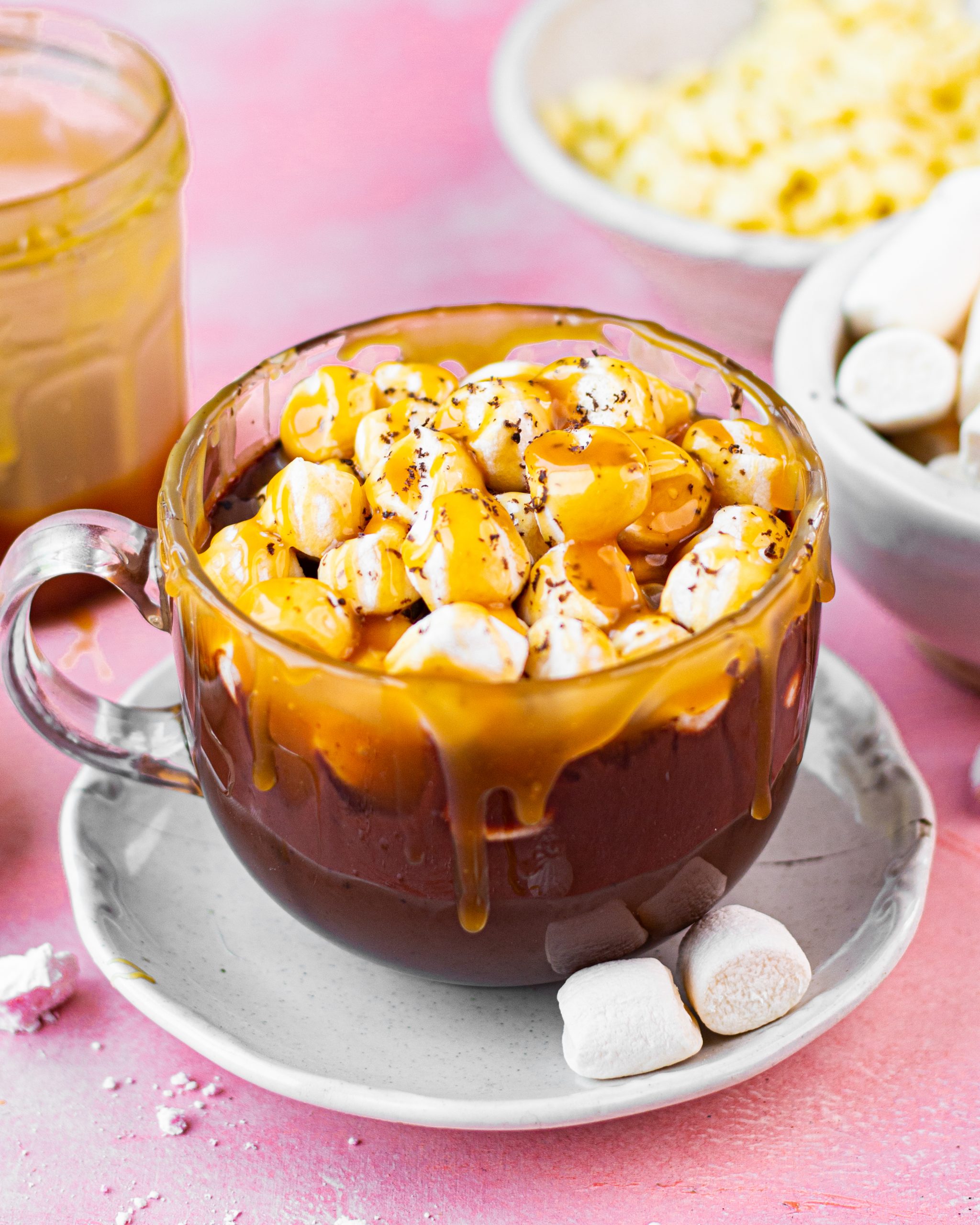 Ingredients used to make hot chocolate :
I always use full fat milk as it makes the best and the creamiest hot chocolates ever. But if you are a bit health conscious you can always go for skim milk and if you are allergic to lactose altogether then again, you can definitely make it with almond milk or oat milk too! Because I see no reason for anyone to not get indulgent, this winter season!
I always tell people to invest in good quality cocoa powder as they act as one of the major ingredients, especially in hot chocolate. Unsweetened cocoa powder which is also called natural cocoa powder is one of the most commonly available one and can be used in hot chocolate. It is fruity, complex and bitter in flavor and light brown in color.
People who have a sweet tooth will never get satisfied with any amount of sugar, I tell you! With different kinds of chocolate used, one can add sugar according to their preference. If you want a bit of a rich and caramel-like flavor, you can also go for dark brown sugar. I remember the first time I added brown sugar I felt like I was drinking a grown-up hot chocolate.
The most important ingredient in a hot chocolate I feel is – the type of chocolate used! It is said that the taste of a good hot chocolate will depend on the quality of chocolate used in it. A real thick hot chocolate is a game changer. Couverture chocolate should be used in it and not a compound one as couverture chocolate has real cocoa butter in it. I use callebaut chocolate but you can use whatever next best you get your hands on!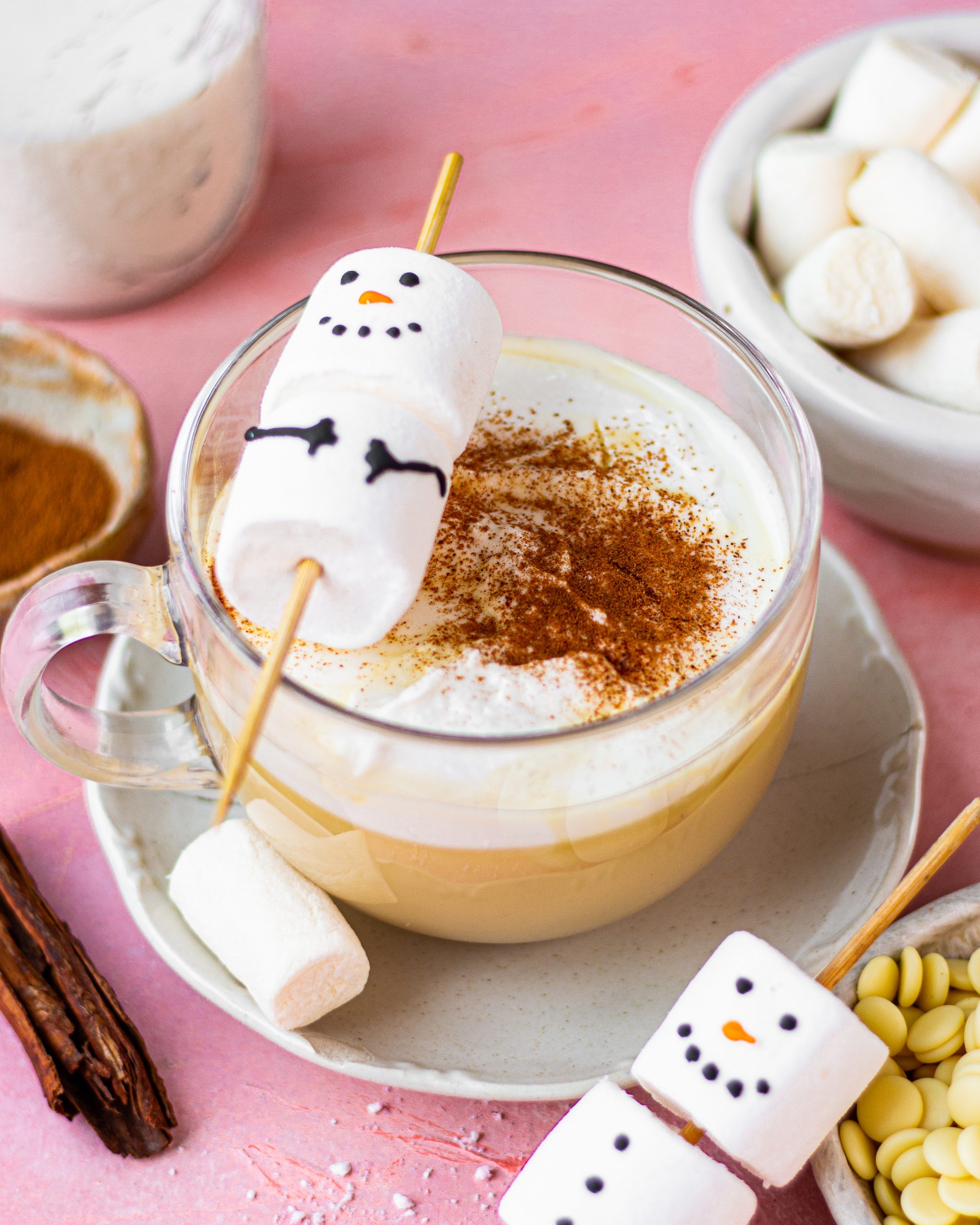 My 3 favorite hot chocolate recipes
Salted caramel hot chocolate – Even though nothing beats a traditional hot chocolate, I am so proud to have come up with three variations of hot chocolate which taste equally good! The salted caramel hot chocolate has a sweet caramel flavor of homemade caramel sauce and it is one drink you should definitely make this winter!

Spiced white hot chocolate – I know how that sounds like – an overdose of sweetness! But that's why it is spiced with a generous teaspoon of cinnamon as the spice helps balance the sweetness of white chocolate! Make sure you use good quality white chocolate for making your hot chocolate.

Mocha hot chocolate – Who doesn't like coffee? And more than that, you doesn't like coffee flavored hot chocolate? Count me in because this hot chocolate is a shining star! It is like having a cappuccino and hot chocolate in one drink and it doesn't get any better than that, does it?
Different Toppings used to make hot chocolate
The world is your oyster here! You can absolutely put anything which you like to top your delicious hot chocolate with! Some of the toppings I can recommend are marshmallows which is a cliched classic, then whipped cream, toffee bits, crushed peppermints, caramel sauce, peppermint candy canes, hazelnut syrup, some crushed nuts or just a simple sprinkle of sea salt will do. You can put all the above mentioned flavors or you can even have it as it is as it will still be no less delight!

Tips on making the perfect hot chocolate:
For such a simple treat of hot chocolate, sometimes it can be surprisingly tricky to master the technique of making the perfectly smooth hot chocolate. From clumpy cocoa powder to overly scalded milk, there are a lot of ways because of which your homemade hot chocolate can fall short of that cafe-quality.
But I got you covered, here are some simple tips for you to keep in mind while making your hot chocolate and taking it up a notch!
1. Shop local
No amount of fancy ingredients are going to enhance your hot chocolate to the next level but the ingredients derived by your local people most definitely can! The whole cream milk you get from the local dairy has a higher level of fat content than any other milk. These small tweaks can make your hot chocolate game strong.

2. Add some Whipped Cream
One easy trick to make your hot chocolate more flavorsome and a tad fancy is to make flavored whip cream! With your simple hot chocolate, this will be an added bonus. All you need to do is add ½ a teaspoon of peppermint essence to your cream while whipping it and just swirl it over your cup and done! If you do not have peppermint essence you can even go for simple vanilla extract or any other nut essence too for that added earthiness!
3. You can always foam your milk
If you like foamy hot chocolate which makes your santa's mustache while taking the first sip then you need to heat and froth your milk before adding any other ingredient to it. You can whisk the milk vigorously and once you get the desired result you can take some of this foamy milk out and when your hot chocolate is ready, you can simply put it over it with the help of a spoon.
4. Whisk continuously
The whisk is your best friend here! Always whisk the ingredients after putting them in milk over the heat as it will stop them from forming lumps and it will always help you to get that silky smooth hot chocolate you are looking for.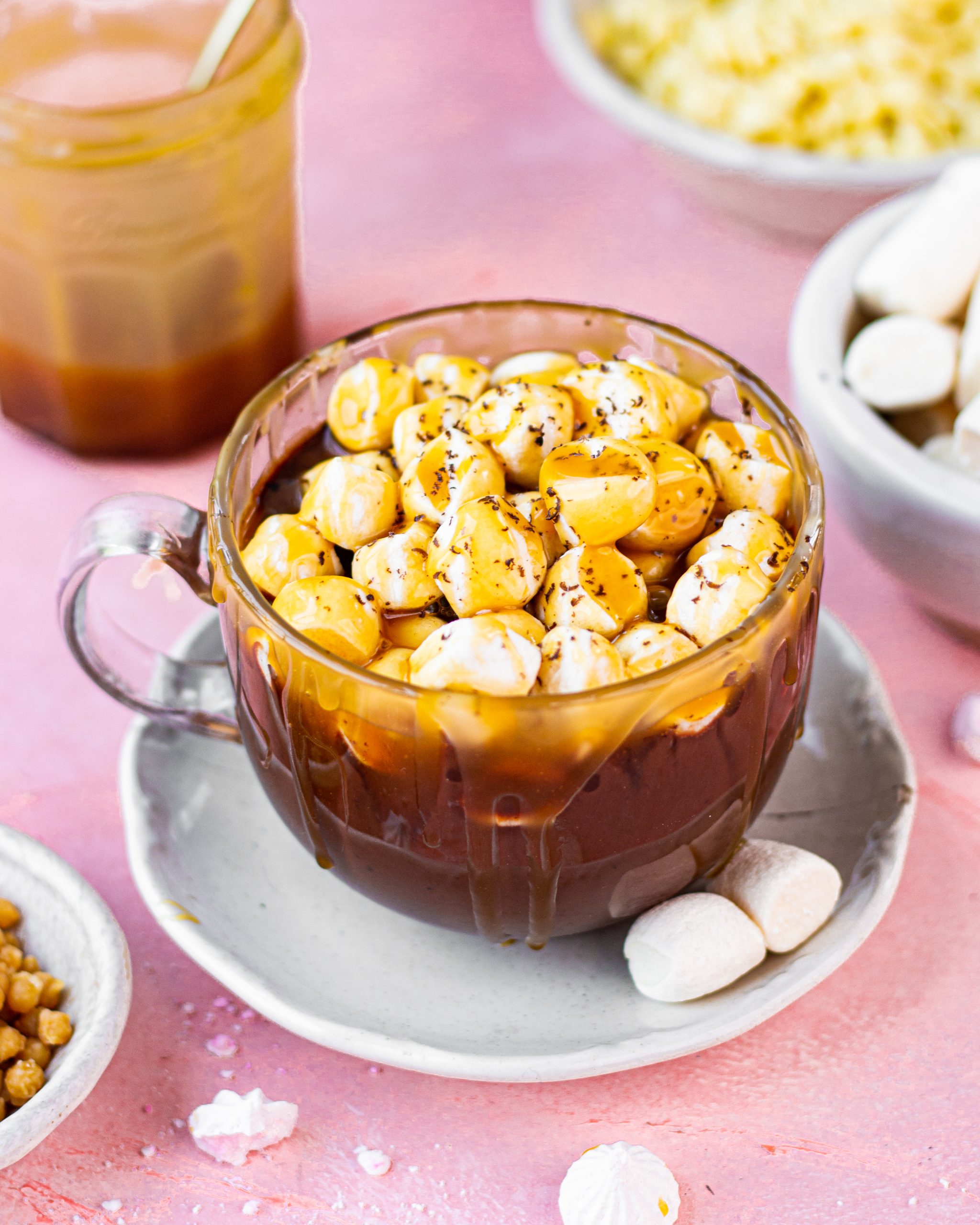 Hot Chocolate – 3 ways
Hot Chocolate - 3 ways
Ingredients
For Salted Caramel Hot Chocolate
1 cup (250ml) milk
¼ cup (60ml) salted caramel
2 tbsp (30g) cocoa powder
1 cup (100g) milk chocolate, chopped
1 tsp (2.5ml) vanilla (optional)
For Spiced White Hot Chocolate
1 cup (250ml) milk
1 tbsp (15g) sugar
⅛ tsp cinnamon powder
¼ tsp vanilla essence
A pinch of salt
1 cup (100g) white chocolate
For Mocha Hot Chocolate
1 cup (250ml) milk
1 tbsp (15g) coffee powder
2 tbsp (30g) sugar
2 tbsp (30g) cocoa powder
¾ cup (190g) dark chocolate
Instructions
To make Salted Caramel Hot Chocolate, pour milk into the saucepan. Place it on a medium heat and cook it for 2-3 minutes till it's warm..
Add your salted caramel sauce and mix it properly with a wooden spoon.
Add in the cocoa powder. Make sure it is sieved to prevent lumps.
Add the milk chocolate into the pan, mix it properly till the chocolate melts.
Remove the saucepan from the heat and you can now put vanilla essence if you want.
Pour the hot chocolate into a mug and top it up with a mountain of mini marshmallows and a drizzle of salted caramel.
To make Spiced White Hot Chocolate, pour milk into the saucepan and place it over medium heat.
Add sugar, cinnamon and salt in it and mix it well.
Add vanilla essence and white chocolate in the saucepan and remove it from the heat. Stir it properly till the chocolate melts.
Pour in a cup and enjoy. You can sprinkle some spices on top and mix it away with a cinnamon stick too. At this point, the hot chocolate might seem less thick than the rest but it is because of the nature of white chocolate and lesser cocoa butter content present in it. When it will rest for sometime, it will automatically thicken.
To make Mocha Hot Chocolate, pour the milk into the saucepan on a medium heat till it warms up nicely.
Add the coffee powder and sugar, mix it properly so that they dissolve.
Add the cocoa powder. Make sure it is sieved. Mix it all properly with the help of your whisk.
Add in the final ingredient, chocolate and mix it all. Remove it from the heat.
Pour it in a nice cup, pipe some whipped cream on it and dust some cocoa powder or chocolate shavings. Enjoy!
If you like my hot chocolate recipes and happen to make them in your kitchen, do tag me on
Instagram
and share pictures with me using #Bakewithshivesh. Happy Baking!