I love all things indulgent – be it a delicious frosted chocolate cake or a gooey chocolate chip cookie! I can never get enough of them but there comes a point when you realize that there are healthier alternatives to all your favorite things in the world! And with most of us taking extra care of our health these days, we've all realized how good home-baked desserts are! You can tailor it according to your dietary restrictions and enjoy a guilt free treat whenever you like!
This wholewheat oat and ginger cookies is my ode to a healthy cookie. It doesn't have refined flour and is packed with the goodness of oats and winters spices. I'm sure once you try this cookie, it'll definitely become your go-to cookie recipe for any time you're craving one with your evening tea/coffee!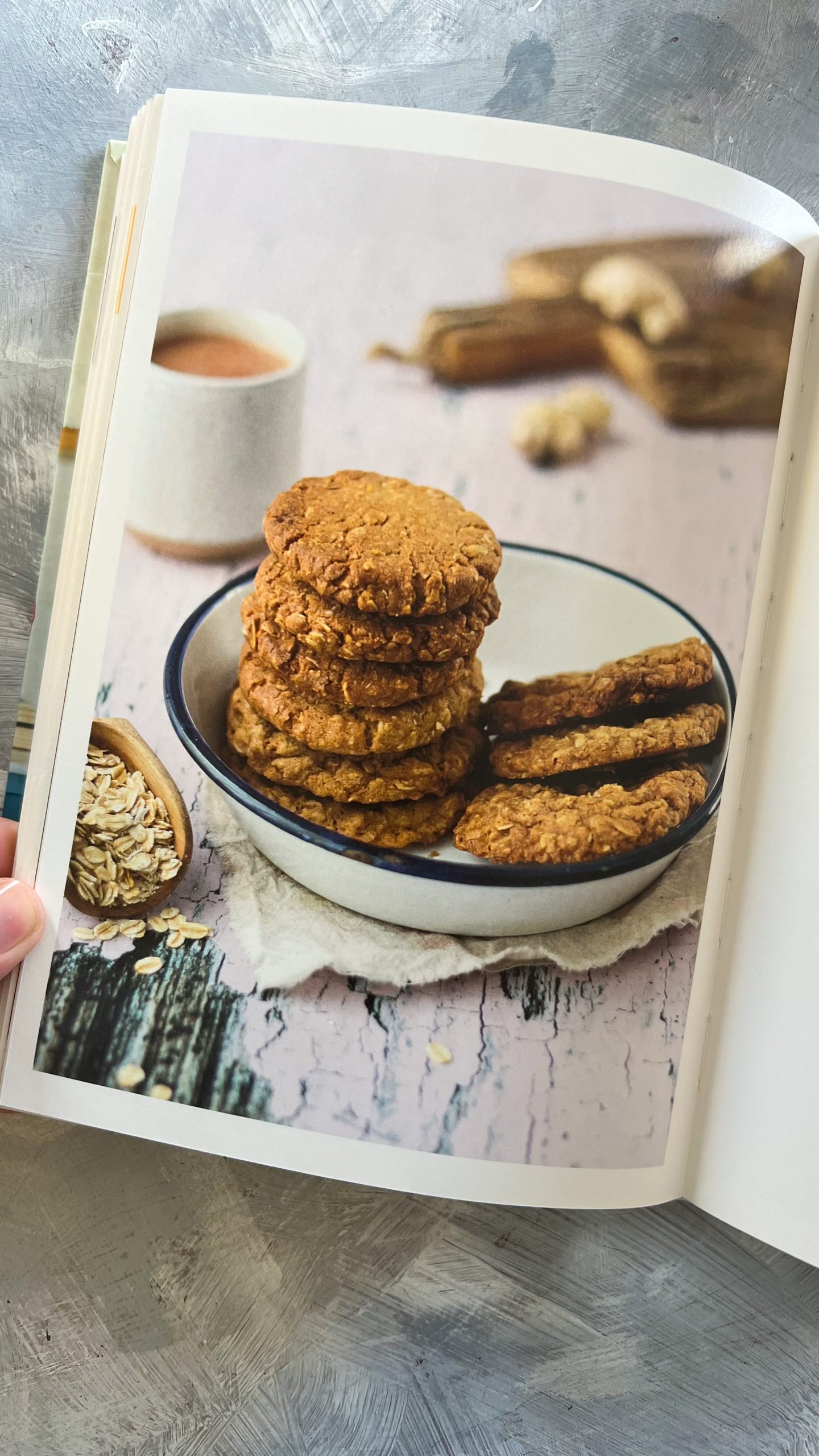 Ingredients used in making wholewheat oat and ginger cookies
To start with, let's talk about the ingredients used in making wholewheat oat and ginger cookies –
Wholewheat flour – Traditionally, any cookie recipe uses all-purpose flour also known as maida in India! But for this wholewheat oat and ginger cookie recipe, we're using atta / wholewheat flour which makes the cookie free of refined flour. So you can enjoy this cookie without the guilt of consuming too much maida! It's important that  you don't skip adding wholewheat flour as it gives the cookie its needed structure.
Oats – I use rolled oats for making my wholewheat oat and ginger cookies as they give a better structure and look to the cookies plus add a great source of protein! You may try substituting rolled oats with steel cut oats / instant oats but there's a risk of the cookie not holding its shape! So better just go with rolled oats and enjoy a hassle free baking process!
Winter spice – Using a good dose of spices in my desserts is my favorite thing about winter and this cookie is no exception! Ginger powder adds such a delicious flavor to this cookie and you can actually add any other spice you like – cinnamon powder or nutmeg. Whatever suits your taste!
Butter – Butter acts a source of fat and helps create air pockets so that the cookies can develop structure! I have also used salted butter here to develop a balance between sweet and salty flavour. If you are using unsalted butter, you can simply add in a tiny pinch of salt in your batter.
Eggs – Probably the most controversial baking ingredient to ever exist in India, haha! Yes, these wholewheat oat and ginger cookies do have eggs in them. Eggs help the cookies bind together and give them a good structure. I have used one whole egg that will also help keep our cookies moist and the texture soft and chewy.
White and Brown Sugar – Both white and brown sugar play a very essential role in our wholewheat oat and ginger cookies recipe. White sugar provides structure and a bite to the cookie. It is very important to use white caster sugar in your baking recipes, if you are having trouble finding it you can find it here. Brown sugar provides that beautiful caramel flavour and chewiness to our cookies. I recommend using light brown sugar, especially the one from tate and lyle that is easily available here. Also, if you want to skip out on brown sugar, simply replace it with white caster sugar.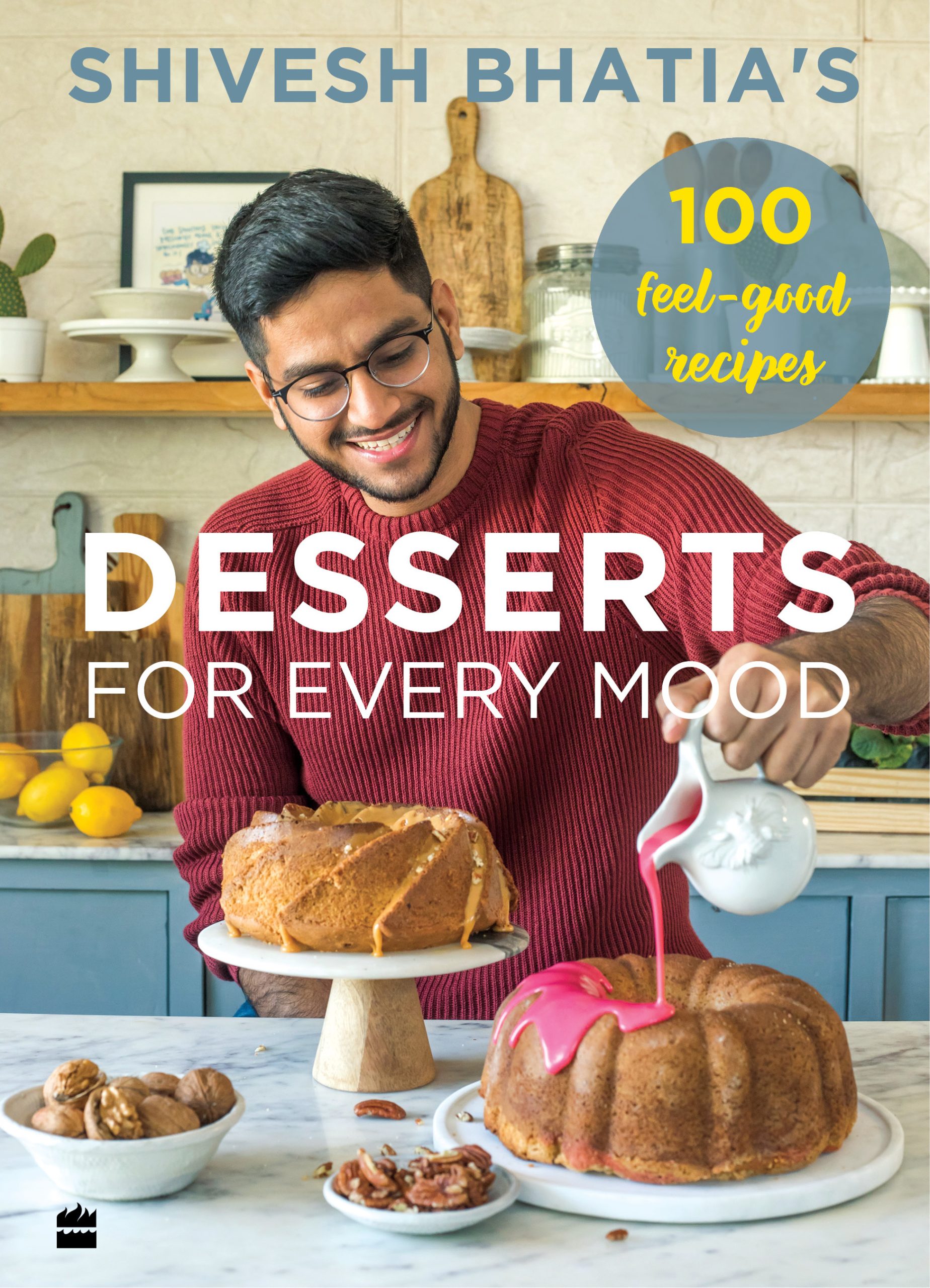 HOW TO MAKE WHOLEWHEAT OAT AND GINGER COOKIES EGGLESS
Now however if you are into eggless baking do not worry, this recipe will work for you still. Let me introduce you to flax eggs, they perform the same function as your regular eggs. They add structure, help with the texture and keep our cookies moist. For this recipe, you can add 2 flax eggs which will be equal to 2 tablespoons of ground flax seeds mixed in with 6 tablespoons of water. Allow the water and ground flax seeds to rest for 5 mins and coagulate before adding it in place of regular eggs.
Resting the wholewheat oat and ginger cookies in the fridge
I mean we spend all this time and effort to prepare the dough and then we have to wait more for the cookie dough to chill in the fridge? Yes. This is a very crucial step to get these wholewheat oat and ginger cookies right. Since we are using butter , which is semi-solid/liquid at room temperature and solid in the fridge, we will apply the same logic to our cookie dough and understand that when our dough gets to rest in the fats in it from the butter will solidify and help our dough retain shape when baked. This will also prevent the cookies from spreading too much and losing their shape.
Additions to wholewheat oat and ginger cookies
I personally feel that when it comes to baking, you should stick to the recipe, yes! But you can go all haywire when it comes to flavors because nobody's judging! You can flavor your wholewheat oat and ginger cookies with desiccated coconut or any dry fruits of your choice to make it extra healthy. You can also add any other spices you like to add an extra dose of Christmas vibes to your healthy cookies!
More healthy recipes on the blog
Wholewheat Oat and Ginger Cookies
Ingredients
½ cup (57g) wholewheat flour
11/4 cup (131g) rolled oats
½ teaspoon (2.5g) ginger powder
½ teaspoon (2.5g) baking soda
½ cup (113g) butter
½ cup (115g) caster sugar
½ cup (110g) loosely packed brown sugar
1 egg
Instructions
In a medium bowl, whisk together the wholewheat flour, rolled oats, ginger powder and baking soda, and set aside.
In a large bowl, beat the butter, caster sugar and brown sugar until combined. Beat in the egg and mix well.
Fold the dry ingredients into the wet ingredients, making sure everything is thoroughly combined.
Let the cookie dough rest in the refrigerator for at least 15 minutes.
Preheat the oven to 180 degrees celsius. Line a baking tray with parchment paper or a silicon mat.
Scoop out equal sized balls of cookie dough with an ice cream scoop and place them on a prepared tray. Gently press them down to flatten them. Space out the cookies because they will spread in the oven.
Bake for 10-15 minutes, until the edges are golden brown. Let the cookies rest on the tray for at least 15 minutes before removing them.
This recipe makes 10 cookies. They can be stored in an airtight container for 10 days.
If you liked this recipe and want to make more such incredible recipes in your kitchen, then get a copy of my book on
Amazon
! Happy Baking!