The last few weeks in the studio have been absolutely merry as we are baking lots of stunning Christmas desserts! Doing so makes me realize how much I love this time of the year as it is all about good food, lots of hugs and the joy of sharing.
I think my Christmas is absolutely incomplete if I don't make lots of gorgeous desserts in my kitchen and enjoy them with my family and friends! This Chocolate Fruit and Nut Cake is a chocolatey rendition of the Eggless Plum Cake I made last year that you guys loved so much. And I hope you give this recipe equal amounts of love and recreate it in your kitchens this Christmas!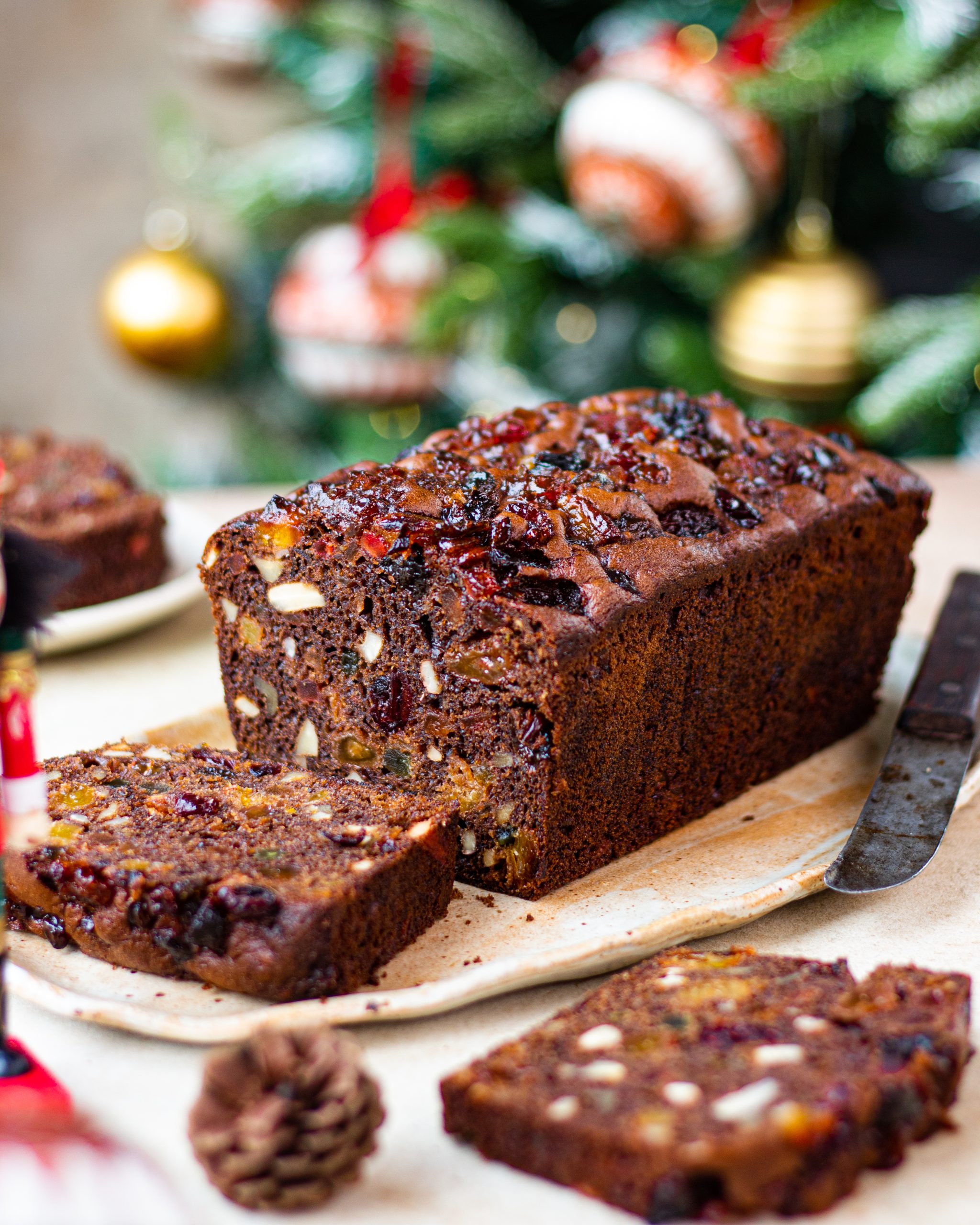 INGREDIENTS USED FOR CHOCOLATE FRUIT & NUT CAKE
Before we get into the process of making this Chocolate Fruit & Nut Cake, let's talk about the ingredients going in the recipe –
Traditionally, dry fruits are soaked in rum/brandy for months or even years before using them for baking a Christmas Fruit Cake. But let's be honest, not everybody remembers to do this and if this sounds like you, then you're at the right place. For this eggless chocolate fruit & nut cake, I don't use alcohol and use a very quick, cheat method of cooking my dry fruits with orange juice, lemon juice and some water. What this does is make the dry fruits extremely flavorful for the cake. I use tutti frutti, raisins, dried apricots, dried cranberries and prunes for this plum cake. But you can use any dry fruits you have in your kitchen!
Moreover, I make this Chocolate Fruit & Nut Cake with eggs and use the eggs to make a moist, soft cake. However, if you don't eat eggs, I recommend using Yogurt as a substitute to eggs. I made an eggless plum cake last year and it tasted equally divine! It gives the cake a very similar texture and makes it fluffy and light. I also use brown sugar in the cake batter to give it a better depth of flavor and beautiful deep color.
Wondering about more egg substitutes? I have written an entire blog post dedicated to that and I know it will give you a better understanding of the entire thing!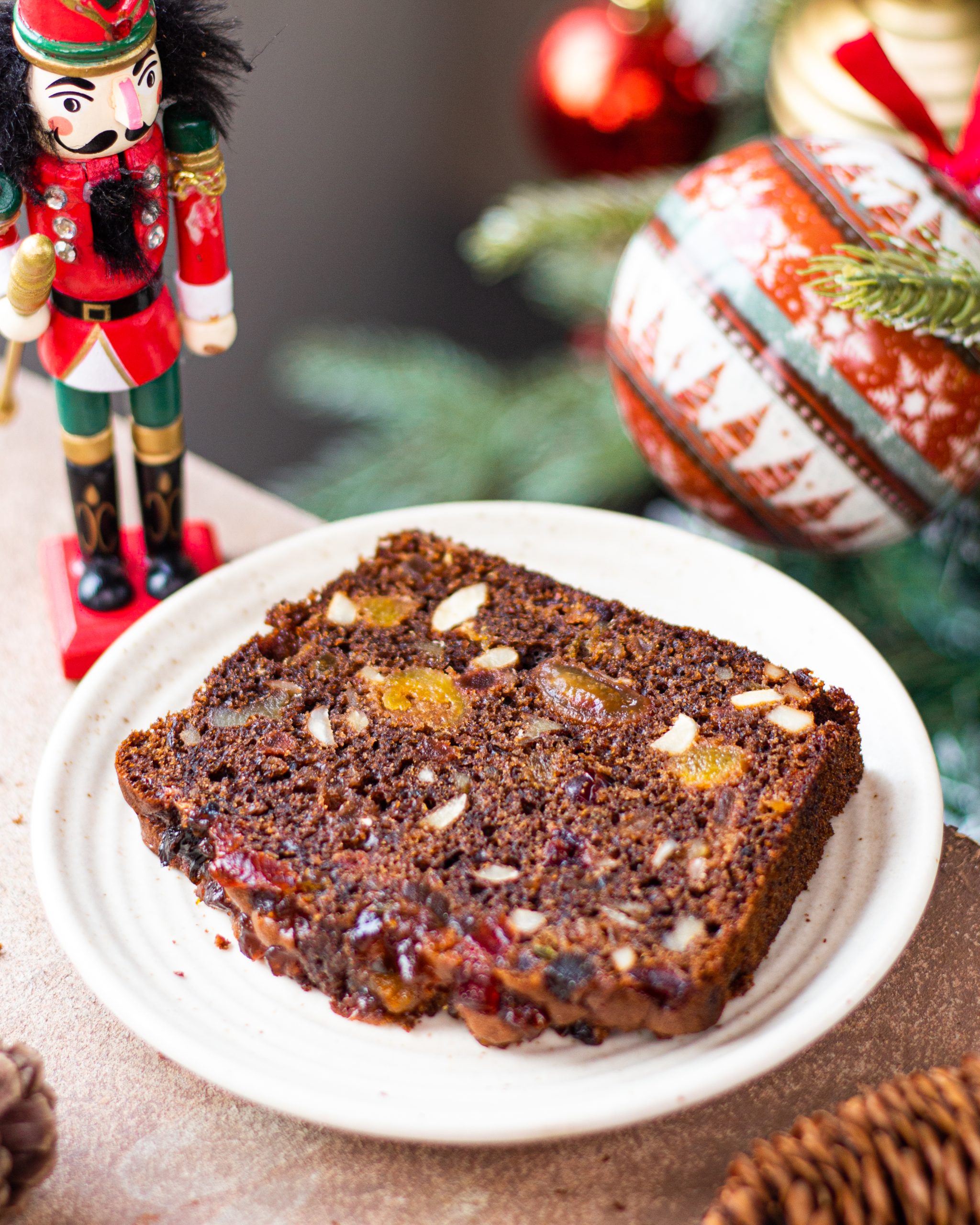 HOW TO MAKE CHOCOLATE FRUIT & NUT CAKE
Since I didn't pre-soak my fruits in liquid this year, I show you a quick cheat version of soaking your dry fruits! What I do is, I simply take orange juice, lemon juice, and water along with my dry fruits and cook them over low heat till the fruits absorb the liquids and become nice and plump. This takes literally minutes and makes your dry fruits as juicy as pre-soaked!
The key process in the making of this chocolate fruit & nut cake is the time this cake spends in the oven. We cook this cake slowly at a lower temperature so that it becomes really flavorful and the texture comes out just right. A normal cake is cooked for 30 minutes while this cake is cooked for 45-50 minutes at 165 degrees temperature.
It's also rather important to prepare the cake batter well. It's really easy- just make sure to cream the sugar and oil well before adding the eggs and the rest of the ingredients. This makes sure that the cake comes out moist and fluffy rather than dense and oily. Make sure you chop the almonds, cashews, and walnuts before folding them in the batter.
CAN I MAKE THIS CAKE IN THE MICROWAVE?
This has to be the most asked question on all my social media platforms. Can we bake the recipe in a microwave? And the answer is YES! I am so glad that I am creating a recipe that can be made both in an oven and a microwave so everyone can bake and rejoice with this beautiful Christmas Chocolate Fruit & Nut cake.
If your microwave has a convection mode, you can also bake this cake in it!  To bake these cake in the microwave, preheat until 165 degrees celsius. Place the cake pan on your tray, and allow it to bake for 30-40 minutes only. Again, microwaves differ, so keep a sharp eye out for the golden edges.
This cake can also be made in a cooker or kadhai, the options are endless. Basically, I just want you to make this recipe and share the joy it brings to you!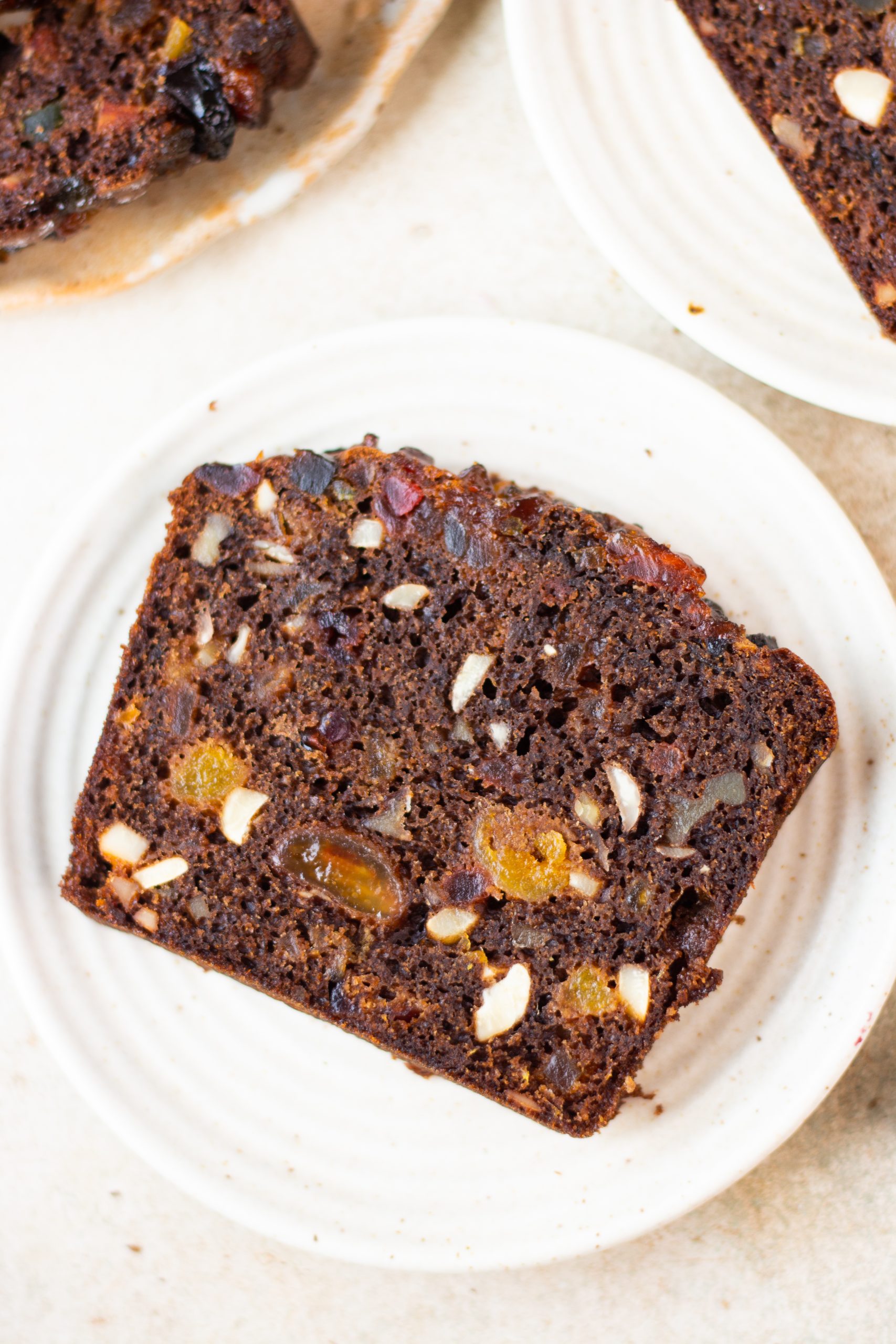 FLAVORS USED FOR CHOCOLATE FRUIT & NUT CAKE
The best part of winter baking is the sweet fragrance and warming touch of winter spices like cinnamon, clove, nutmeg and so on! For this eggless plum cake, I use powdered cinnamon, clove, ginger and nutmeg. Freshly grounded powder works perfectly fine for this recipe and I would not recommend using whole spices as they would ruin the lovely mouth-feel of the dessert and all you'll be able to taste are the spices! What we want is a subtle flavor of these spices running throughout the cake.
For the dry fruits, I use tutti frutti, apricots, prunes, raisins and dried cranberries. I also add almonds, cashews and walnuts for giving my chocolate fruit and nut a great crunch! However, you can use any dry fruits you can get your hands on.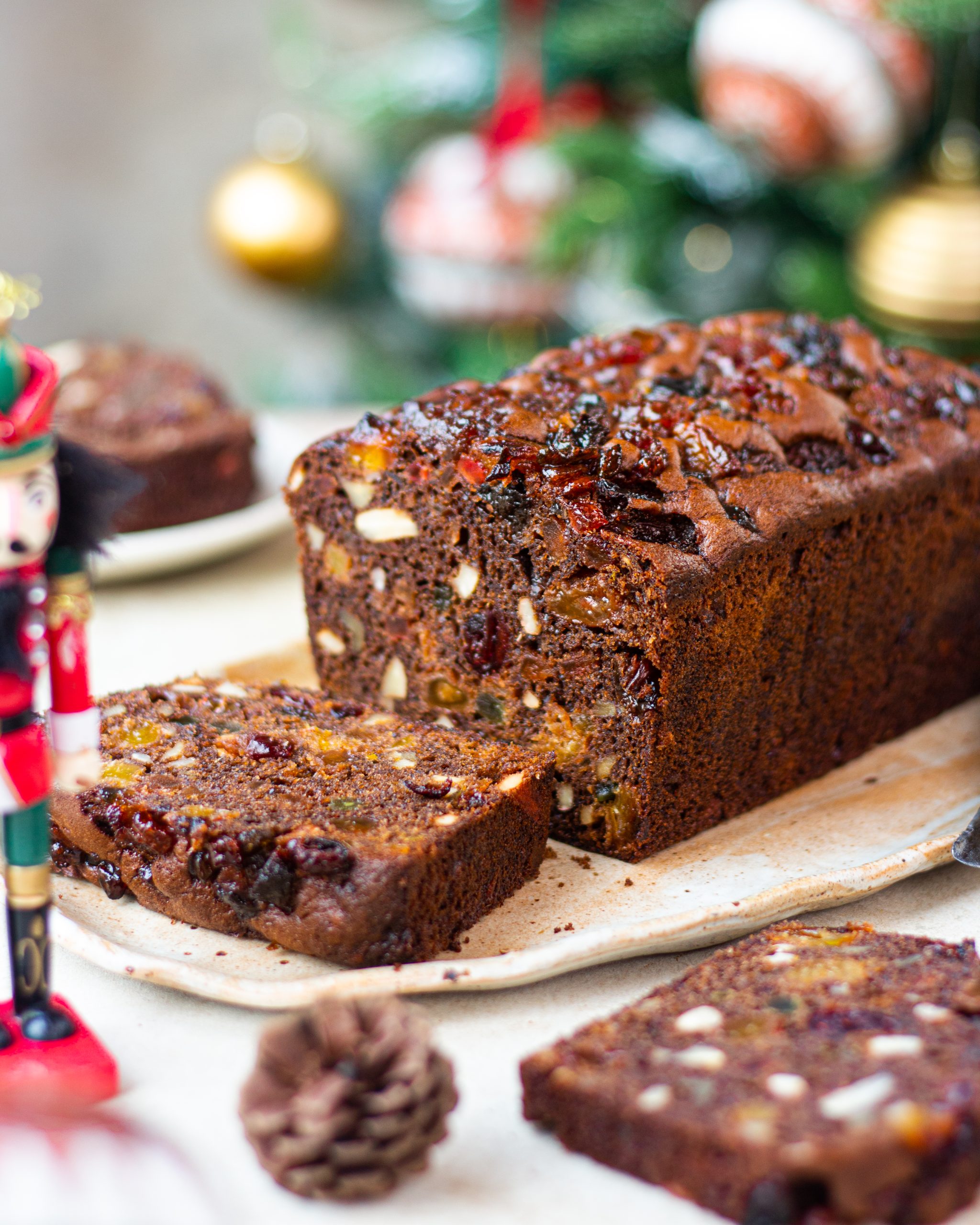 Other Christmas Recipes on the blog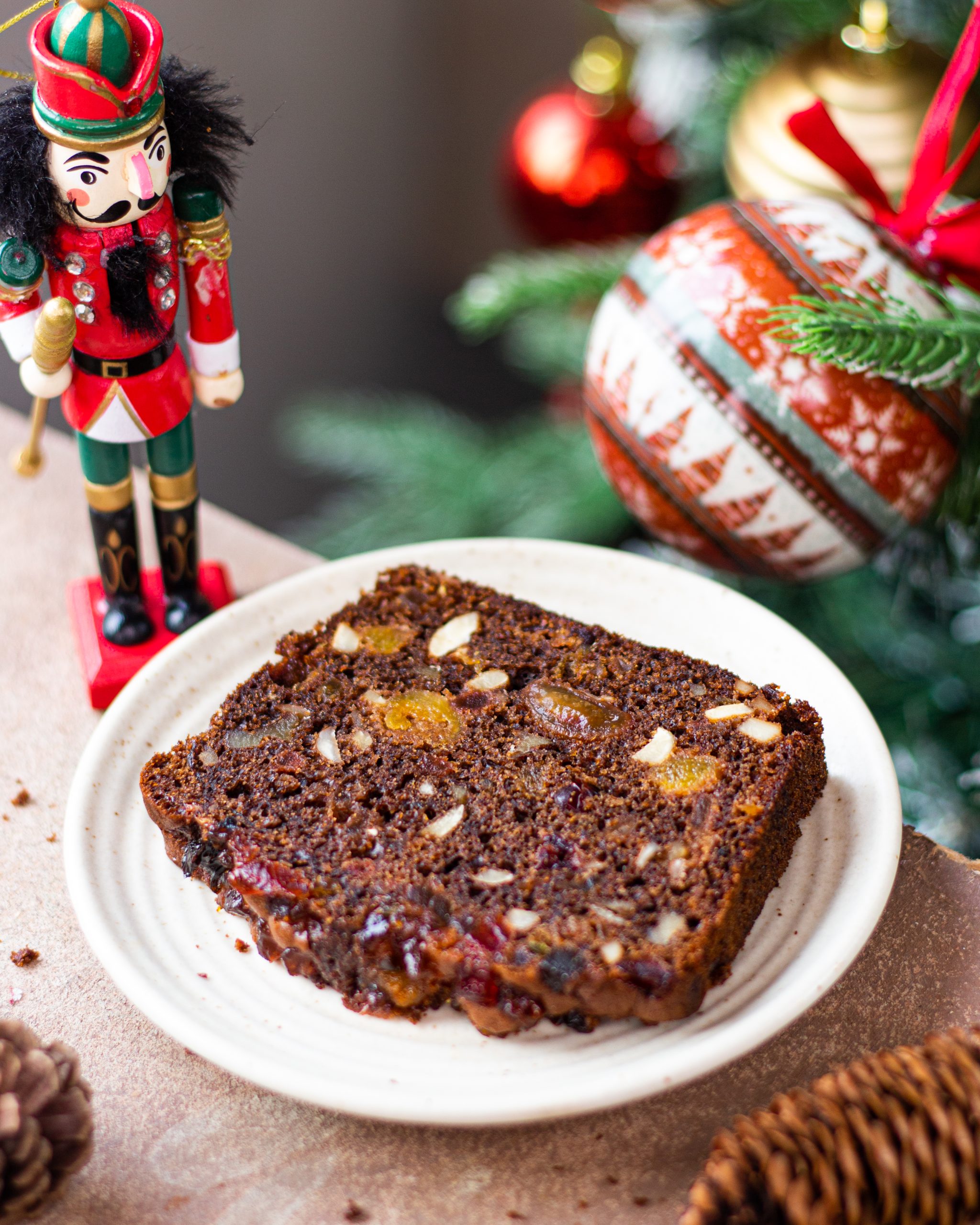 Chocolate Fruit & Nut Cake Recipe
Chocolate Fruit & Nut Cake - Christmas Special
Ingredients
For the cake
1 + ¼ (150g) cup maida
¼ cup (25g) cocoa powder
1 teaspoon (5g) baking powder
½ teaspoon (2.5g) baking soda
¼ teaspoon (2g) cinnamon
⅛ teaspoon (1g) ginger
⅛ teaspoon (1g) clove
⅛ teaspoon (1g) grated nutmeg
1 teaspoon (5g) orange zest
½ cup (110ml) vegetable oil
¾ cup (150g) brown sugar
4 eggs
1 teaspoon (5g) vanilla extract
For soak
⅓ cup (80ml) orange juice
⅓ cup (75ml) water
1 tablespoon (7ml) lemon juice
¼ cup (40g) raisins
¼ cup (48g) dried apricots
⅛ cup (20g) dried cranberries
1 cup (240g) tutti frutti
⅛ cup (21g) prunes
For folding
¼ cup (35g) almonds
¼ cup (35g) cashews
¼ cup (28g) walnuts
Instructions
In a saucepan, take orange juice, lemon juice and water.
Add tutti frutti, raisins, dried apricots, dried cranberries and prunes to the juice mix and cook till the mixture thickens and the dry fruits absorb all the juices. Set aside.
Pre-heat the oven to 160 degree C and line an 8 inch round cake pan with parchment paper.
In a bowl whisk together flour, baking powder, baking soda, the spices and orange zest and set aside.
Whisk together brown sugar and oil in a separate bowl until pale and well combined.
Now add the eggs to the oil and sugar mixture and mix well.
Add the vanilla extract.
Gently fold in the dry ingredients and mix until everything is well combined and there are no large flour pockets in the batter. Do not over mix at this stage.
Keep a small portion of the soaked dry fruits aside and fold in the rest along with the chopped walnuts, almonds and cashews in the batter and transfer the batter to the prepared cake pan.
Bake at 165C for 45-50 minutes or only until a skewer inserted in the center comes out clean.
Allow the cake to cool and serve!
If you happen to make this delicious eggless plum cake, do tag me on 
Instagram
 and use #BakewithShivesh. I'd love to see your creations. Happy Holidays!