A soft ooey-gooey giant chocolate chip cookie which is as BIG as my face. Yes, you read that right. I made a cookie THAT big. If you have been following me here for a while, you know how obsessed I am with cookies. I can literally have them anytime! They are my favorite go to snack. But I also love baking them as much as I love eating them. This time my obsession made me bake a giant chocolate chip cookie rather than normal cookies and I have to tell you, it was one fun successful project!
This giant chocolate chip cookie recipe is not only a great recipe to have in your baking repertoire, but I am also going to be sharing my tips that will help you make these chocolate chip cookies absolutely perfect, whether one big or regular ones.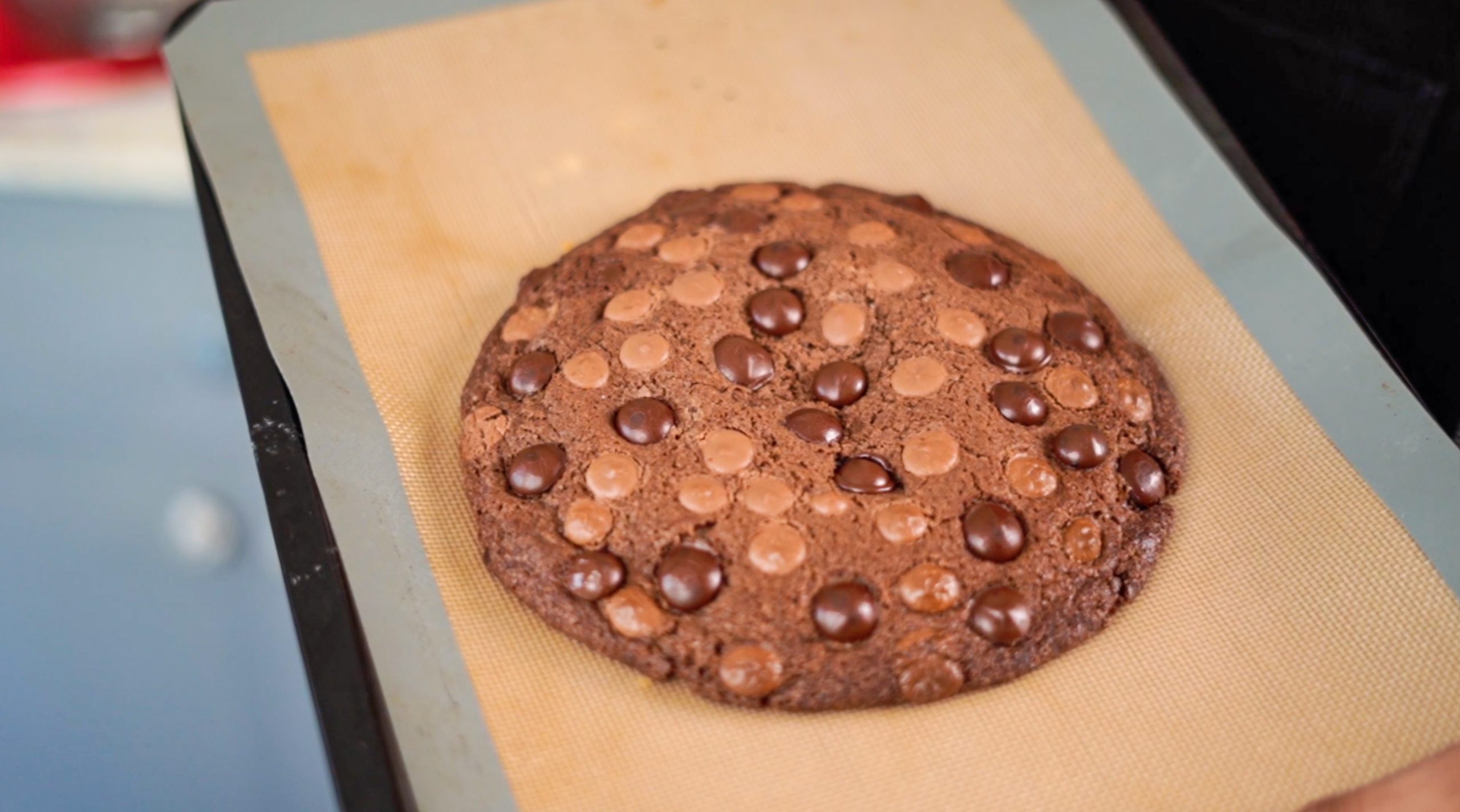 INGREDIENTS USED IN CHOCOLATE CHIPS COOKIES
First up let's talk about the ingredients that I have used in this recipe.
BUTTER
I have used regular salted butter in these giant chocolate chip cookies to develop a balance between sweet and salty flavour. If you are using unsalted butter, you can simply add in a tiny pinch of salt in your dough. Another thing to make sure while baking these cookies, or anything for that matter, is to have all your ingredients at room temperature, unless mentioned otherwise in the recipe.
SUGAR
I like using a combination of caster sugar and brown sugar for my cookies because I love the flavour and texture that it gives. I use packed light soft brown sugar in this giant chocolate chip cookie and not dark brown sugar, because I personally feel dark brown sugar gets overpowering.
VANILLA EXTRACT
While making this giant chocolate chip cookie I used the most common form of flavoring used by bakers. It's also the most readily available. Do not use vanilla essence as its synthetic, chemically made and not real. Whereas vanilla extract is made by soaking the vanilla beans in alcohol for about a month or so. When shopping for vanilla extract, make sure you check for "pure" labeled on the bottle as this ensures a good quality product in your hands!
EGGS
Probably the most controversial baking ingredient to ever exist in India, haha! Yes, this giant chocolate chip cookie do have egg in them. Eggs help the cookies bind together and give them a good structure. I have used one whole which will help keep our cookies moist and the texture soft and chewy. But if you want, you can make them eggless.
Let me introduce you to flax eggs, they perform the same function as your regular eggs. They add structure, help with the texture and keep our cookies moist. For this recipe, you can add 1 flax eggs which will be equal to 1 tablespoon of ground flax seeds mixed in with 3 tablespoons of water. Allow the water and ground flax seeds to rest for 5 mins and coagulate before adding it in place of regular eggs. You can also check out my Eggless Chocolate Chip Cookie here.
COCOA POWDER
A good cocoa powder makes all the difference. In this giant chocolate chip cookie recipe I have used Cadbury cocoa powder. It's rich and all things delicious.
CHOCOLATE CHIPS
It is always suggested to use couverture chocolate chips rather than compound. Couverture chocolate chips tend to melt in the oven and give our cookies that gooey chocolate feel. I have used a combination of dark and milk chocolate chips in this giant chocolate chip cookie.
How can I make giant chocolate chip cookie eggless?
Flax egg is a godly egg substitute and honestly my go to go substitute! A flax egg is basically a mix of 2 ingredients. It only has Ground flax meal and water.  The ratio is of key importance here, so I am use 1 tbsp flax meal and 3 tbsp water.
Note that Flax meal is nothing but powdered flax seeds. If you have flax seeds at home, all you need to do is blend them to a powdered consistency. Here, it is important to note that 1 tablespoon of flax seeds will give you about 2 tablespoons of flax meal. So, the volume almost doubles up. You should always measure the freshly powdered flax meal before mixing it with water.
This mixture rests for 5 minutes until it becomes like a gel. Ground flax meal will absorb the water and become thick. It will also give our goods the perfect fluffy-ness and texture. This is why I would advise you to not rush this step and wait till the mixture becomes thick!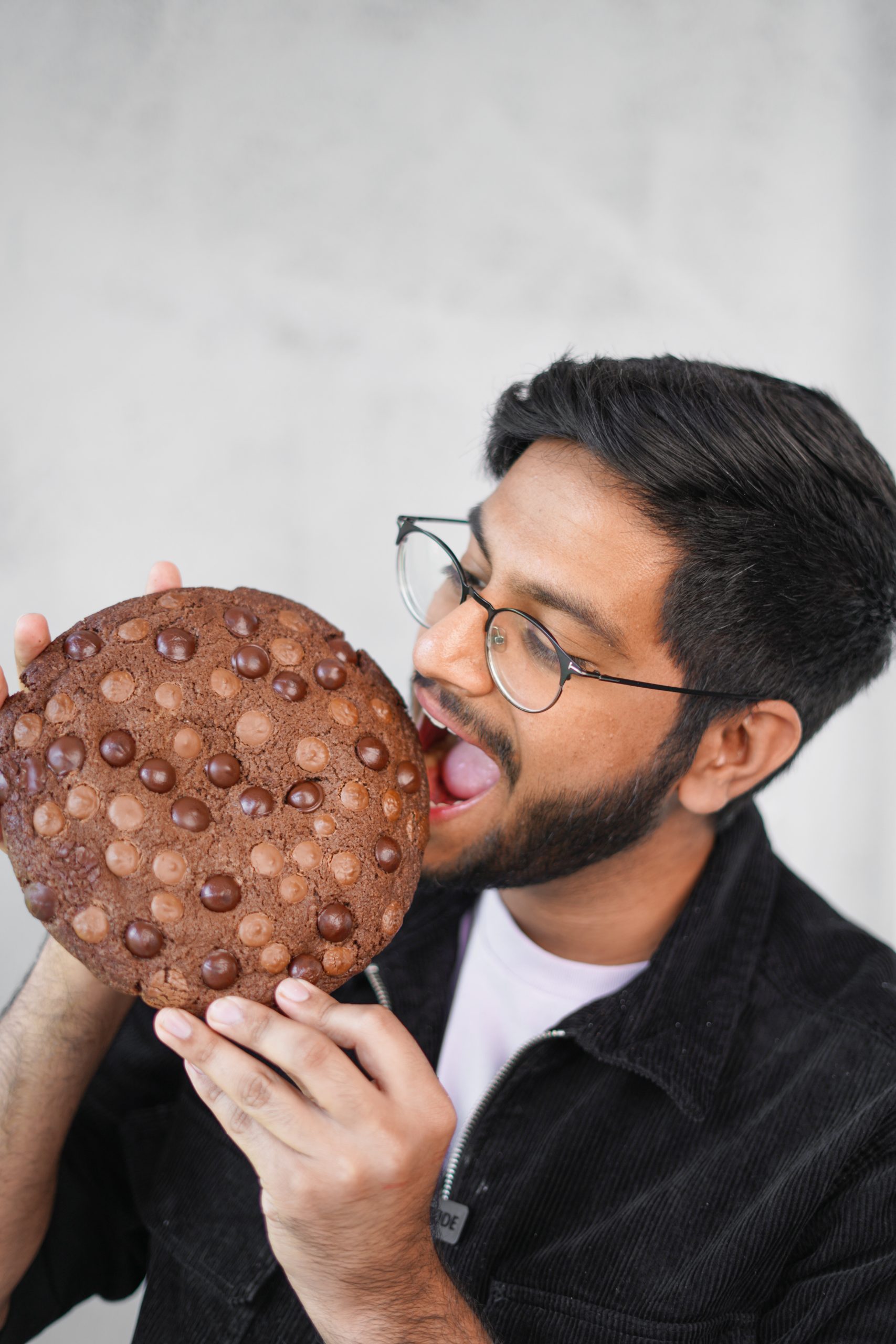 TIPS TO MAKE THE PERFECT GIANT CHOCOLATE CHIP COOKIE
With these tips, you'll make perfect giant chocolate cookie or regular ones in no time –
ROOM TEMPERATURE INGREDIENTS
Always make sure that you use room temperature ingredients whenever baking cookies or any thing for that matter until mentioned otherwise. In this giant chocolate chip cookie, I have used butter, egg and milk all at room temperature.
DO NOT OVER MIX
You do not want to over mix this giant chocolate chip cookie batter and result in a tough dough. Just mix until the dough comes together and looks homogenous.
SCOOP THE DOUGH INTO INDIVIDUAL BALLS BEFORE CHILLING
Now for the longest time I was portioning out my cookie dough after it had chilled. And it was nothing but a struggle to scoop out hard cookie dough. So the trick is to scoop out the cookie dough first and then set it in the refrigerator to chill.
But if you are making a giant chocolate chip cookie like me, chill the whole dough together in a circular form so that you can bake it as it is.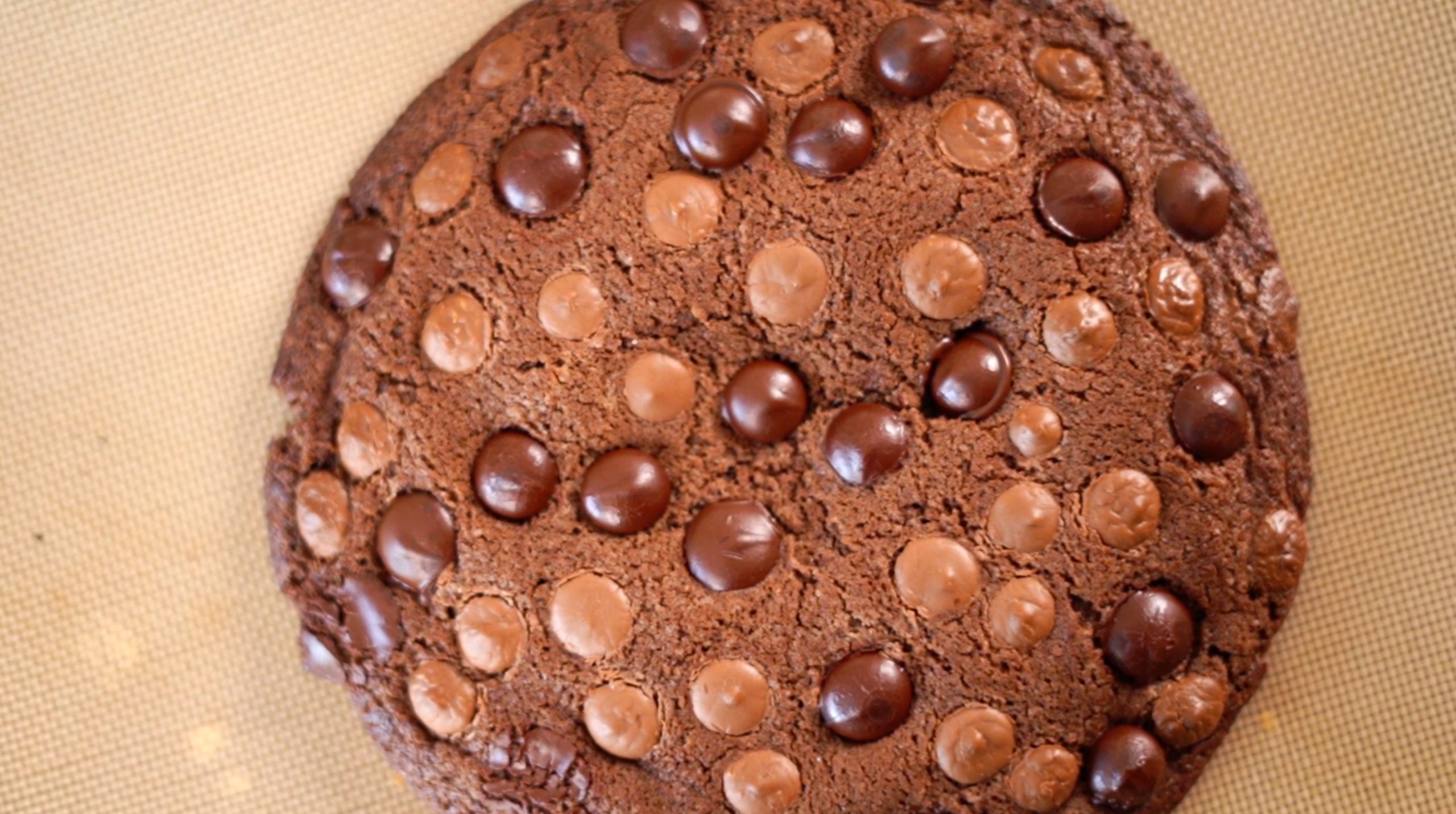 CHILL THE COOKIE DOUGH PROPERLY
When creating a delectable recipe like giant chocolate chip cookie or regular ones and the recipe asks you to wait for the dough to chill- it can be very disheartening. If it was up to me, I would dive right into baking the cookies the same very second, cause for the love of god I do not like waiting! BUT, it is very important to take this extra step. Chilling the dough for a minimum of 1 hour to a recommended time of 24 hours will result in cookies that will hold its shape beautifully and not spread unnecessarily.
If you chill your dough for 24 hours, the cookies will develop a better flavor and a darker color. The flour will absorb more moisture and your final cookie will be a lot thicker and chewier in texture.
ALWAYS BAKE ON PARCHMENT PAPER OR SILICONE MAT
Baking your cookies on either a piece of parchment paper or on a silicon mat, will help the cookies not get stuck on the tray or get burnt. Having a layer of parchment or silicone mat between the baking tray and cookies will help the cookies get an evenly baked cookie bottom. Specially if you are making a giant chocolate chip cookie like this one, a parchment paper or silicone mat is really important as it will help you lift the cookie easily without the risk of it breaking.
ALLOW THE COOKIE TO REST
Now it's the return of the waiting game, haha! No matter how much I want to eat the cookies once they are right out of the oven. Allowing them to cool will help the cookies harden up a little bit and let them hold their shape. So take that extra time and allow the giant chocolate chip cookie to cool down slightly before becoming a cookie monster.
DO NOT OVER-BAKE YOUR COOKIE
This is one thing that you absolutely shouldn't be doing to your cookies! Over-baking your cookie will ruin the chewy texture of your giant chocolate chip cookies and make it harder. You may also end up with cookie with brown bottom and let's face it, we don't want that!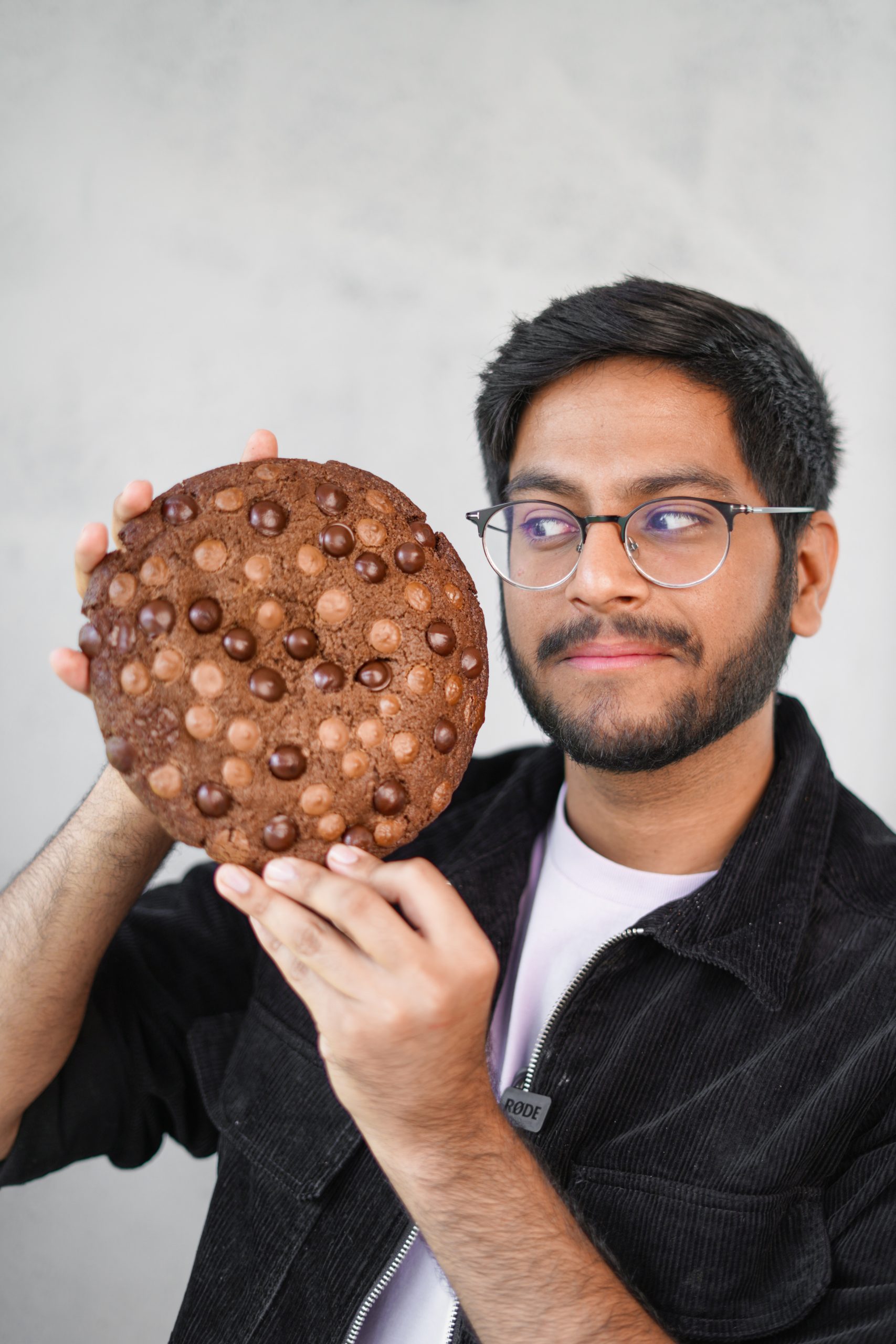 If you are a cookie fanatic like me, I think my other cookie recipes are bound to make you happy. Check out my Double Chocolate Chunk Cookies, Chocolate Chip and Pecan Cookies and Caramel Filled Chocolate Cookies. And if you make these recipes, do not forget to share images with me on my Instagram @shivesh17. Happy baking!
GIANT CHOCOLATE CHIP COOKIE RECIPE
GIANT CHOCOLATECHIP COOKIE
Ingredients
½ cup (113gm) butter
½ tsp vanilla extract
½ cup (100gm) caster sugar
½ cup (100gm) soft brown sugar
1 egg / 1 flax egg
1 cup (120gm) all-purpose flour (maida)
¼ cup (30gm) cocoa powder
½ tsp (2.5gm) baking powder
½ tsp (3gm) baking soda
a pinch of salt
1 tbsp (15ml) milk
¼ cup (40gm) dark & milk chocolate chips
Instructions
In a large mixing bowl, add butter, castor sugar, brown sugar and vanilla. Mix everything well until the mixture is light and fluffy.
Add the egg and combine it well.
In the same bowl, add flour, cocoa powder, baking powder, baking soda, salt and milk. Mix well to combine the dry and the wet ingredients.
Using a spatula, bring the cookie dough together.
Scoop out cookie dough 5 times to make a giant cookie.
Refrigerate the cookie dough for a minimum of 1 hour or preferably 24 hours.
Bake in a preheated oven at 180 C for about 30 minutes.
Once fully baked, take the cookie tray out. Allow it to cool slightly and then dig right in!