EGGLESS LACE COOKIES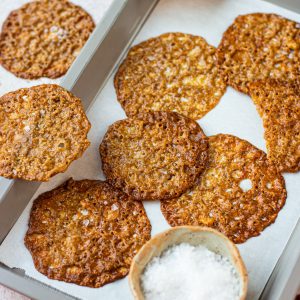 ¼ cup (57g) butter
⅓ cup (57g) brown sugar
½ cup (48g) almond flour
a pinch of salt
1 tbsp (7.5ml) milk
¼ (1ml) vanilla extract
Place a saucepan on low heat and add butter to it.
Once the butter has melted, add sugar and mix well.
As the sugar starts to melt, add almond flour. Followed by salt, milk and vanilla.
Mix everything well until they are well combined.
Cook this mixture for 3-4 minutes.
Take it off the heat and let it sit on your counter for 5-10 minutes.
Preheat the oven at 180 C and on a parchment paper or silicon mat, drop a teaspoon of batter for each cookie, 3 inches apart.
Bake them for 6-7 minutes or until the edges turn brown.
Let these rest on the baking tray for 5 minutes at least once baked as they cool down and become crisp.
If you like, you can have them with a drizzle of your favourite chocolate or sandwiched with Nutella or with just a sprinkle of sea salt.