FERRERO ROCHER COOKIES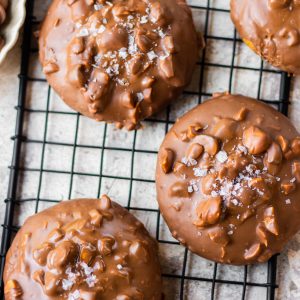 ½ cup butter
¼ cup light brown sugar
¼ cup caster sugar
2 tablespoons milk
½ teaspoon vanilla extract
1 cup all-purpose flour
½ teaspoon baking soda
1 cup milk chocolate
½ cup hazelnuts (toasted and chopped)
Sea salt
For the filling, scoop nutella with the help of a tablespoon onto the parchment paper into 6-8 dollops and freeze them in the freezer.
For the cookie dough, take a bowl and pour in melted butter with caster sugar and brown sugar in it. Give it all a good mix.
Stir in the vanilla extract.
To this mixture, add flour and baking soda. The dough will be a bit thick at this stage.
Add the milk and beat it for a bit until the dough comes together.
Pop the dough into the freezer for 2 hours.
Take the dough out and make equal sized balls, with my dough 6 big balls were made.
Flatten each dough ball and add the frozen nutella ball in the center of it and wrap it properly from all directions with the dough.
Freeze this for another 20-30 minutes.
Line a tray with silicone mat and put the cookie balls 2 inch apart. Bake it in a pre-heated oven at 180*C for 15-18 minutes.
Let the cookies cool. Till then, in a bowl melt milk chocolate in a microwave with 30 second intervals or on a double boiler.
Into it, add the chopped toasted hazelnuts.
As the cookies are cooled down, place them on a wire rack with a tray under it.
Pour the chocolate hazelnut glaze over the cookies and tap it once to shed the extra chocolate.
Put this in the freezer for 5-10 minutes till the chocolate sets.
Sprinkle some sea salt and enjoy!