I love sharing simple recipes on my website. This is because I know that a lot of you will be able to recreate at home without any fear and without any hesitation. Simple desserts like this eggless butterscotch pudding are so much fun to make and can turn any boring evening into a super fun and yum one.

My eggless butterscotch pudding is unbelievably luscious and smooth. I know we all love chocolate but this butterscotch pudding really takes me back and is one of the flavors that I love.  The eggless butterscotch pudding comes together in minutes. You only need basic ingredients that I am sure you will already have on hand.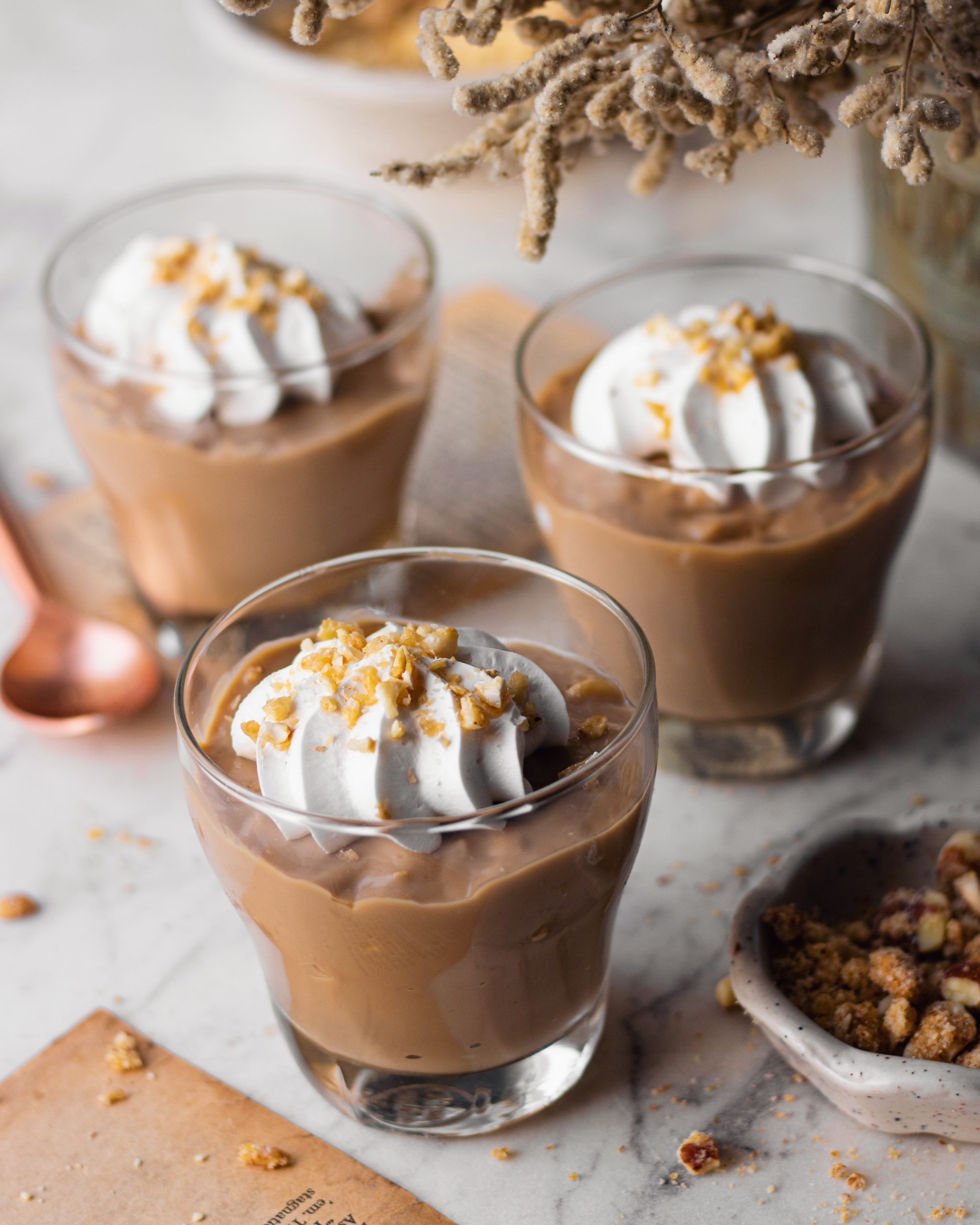 What is butterscotch made of 
Believe it or not, this caramel-y and nutty goodness is actually exceptionally simple to make. Butterscotch is a confectionary item that is mainly made out of only two ingredients- brown sugar and butter. That is it! In addition to these two ingredients, depending on what tone is making, butterscotch will can include other ingredients like cream, vanilla, and salt. 
One more component that I always think of when I think about butterscotch is the crunchy caramelized candy. It adds such a great flavor and texture and anything butterscotch always seems to have it. 
Even for this crunchy element, you don't need to go buy any fancy ingredients or take part in any complicated process. I added crunch to my butterscotch pudding simply by caramelizing some cashews and letting them set so that later I could chop them up and fold them into the pudding and also add them on top as cute little nuggets of caramel goodness. 
Substitute for brown sugar in my eggless butterscotch pudding 
Every time I share a recipe that has brown sugar in it, I get a ton of messages and comments from a lot of my viewers asking about a substitute for brown sugar.

Now technically, butterscotch is made with brown sugar and that is how it also gets its caramelized flavor and a nice golden brown color. However, if you do not have brown sugar on hand you can make this butterscotch pudding with white sugar as well.

To make your eggless butterscotch pudding with white sugar, you will need to follow these steps:
In a saucepan that is on low medium heat, add in ½ cup sugar and let it caramelize till it reaches a beautiful amber color. 

Once your sugar has caramelized, you will follow all the same steps that are mentioned in the recipe for this butterscotch sauce. 

This means you will add in your butter and vanilla and mix it in. 

Next, you will add warm cream and let it get incorporated completely. 

 Lastly, you will add in the milk and cornflour mixture and cook the mixture till it thickens. 
If you are using white sugar to make your butterscotch pudding, remember two things- 1) The flavor of the pudding will differ slightly because brown sugar and white sugar have different tastes. (2) While making butterscotch the traditional way, you only need to melt your brown sugar before adding butter to it. However, if you are using white sugar, you will have to wait for it to caramelize to an amber color and then add in butter, followed by the rest of the ingredients. 
Where and which brown sugar to buy for eggless butterscotch pudding 
Brown sugar is actually commonly available in all local markets. For baking, people either use dark brown sugar or light brown sugar. In  my experience, light brown sugar is more difficult to find than dark brown sugar. 
Demerara sugar is the commonly available dark brown sugar which you will definitely see stacked up in one of the shelves of your local grocery store. This is perfect because dark brown sugar is what you need for a perfect butterscotch sauce. 
Dark brown sugar has more molasses than light brown sugar. More molasses results in a darker color, more moisture and a stronger flavor. Dark brown sugar also has a more caramelized flavored. This is why, while making the eggless butterscotch pudding, you only need to melt the brown sugar and not caramelize it. 
Caramelized cashews for crunchy butterscotch pudding 
I absolutely love the crunchy nibbly bits that butterscotch has. Anything butterscotch is incomplete without the same. In order to keep it super simple and super delish, I noticed that one thing I had in abundance at home were dry fruits!

Cashews complement the caramel flavor beautifully and that is why I decided to caramelize them. You need very little granulated sugar and some water to make this crunchy element. 3 ingredients, and you are all set. 
Important points for making eggless butterscotch pudding 
While the process of making the pudding is actually very easy, there are quite a few things that can go wrong and ruin your pudding. So make sure to keep the following points in mind: 
All of this recipe is cooked over a stove and in a saucepan. Make sure you are using a heavy bottom saucepan that does not burn easily. This will ensure you can follow all the cooking instructions of making this pudding without running the risk of burning it at a particular stage. 

If you are using brown sugar, you only need to melt it before going to the next step and not caramelize it. If you are using white sugar, you need to wait for it to caramelize and then carry forward with the steps. 

The recipe calls for both fresh cream and milk. Both of these liquids need to be warm or hot before you add it into the saucepan. If you add any cold liquid ingredients, you run the risk of seizing your mixture and also splitting it. Warm liquids ensure proper mixing and lead to a much smoother end result.

Always have a spatula or a whisk handy while making the pudding. You need to keep mixing and or whisking your mix to make sure it does not get scorched. 

Cook your pudding till it gets thick and you see bubbles popping on the surface. If you undercook your pudding, the texture and mouthfeel will be very different than what it should be.

After the pudding is cooked, let it cool down completely. While it is cooling down, cover the surface with cling wrap in a way that the cling wrap is touching the surface of the pudding. This will prevent it from forming a skin on top. 
Other Pudding desserts on the blog 
No Bake Easy Eggless Banoffee Pudding 
Eggless butterscotch pudding
Ingredients
For pudding base
½ cup brown sugar
¼ cup cubed butter
1tsp vanilla
½ cup warm cream
1 + ½ cup hot milk
5tbsp corn flour
For caramelized cashews
¼ cup cashews
¼ cup granulated sugar
1tbsp water
Instructions
In a saucepan over medium low heat add brown sugar and butter. Let the two melt.
In the same pan, while mixing add in warm cream and let the mixture sizzle a bit. Once combined, add in vanilla and mix again.
In a separate bowl add in hot milk over corn flour while mixing continuously to form a smooth mix. Once incorporated, add this milk mixture to the pudding and mix.
Keep whisking and cooking the pudding till it starts to get thick and you see bubbles pop on the surface. This can take up to 5 minutes.
Take it off the heat, cover with a cling wrap and let it cool down.
Meanwhile, for caramelized cashews, add sugar and water in a pan and cook the sugar till it reached a golden color.
Immediately add in cashews and coat them in the sugar completely.
Transfer the coated cashews onto a parchment paper or silicone sheet. Let it cool down.
Once cooled, chop the cashews and fold them in your cooled pudding.
Transfer pudding into serving cups.
Top with a dollop of whipped cream and some more caramelized cashews.