EGGLESS NUTELLA BISCUIT PUDDING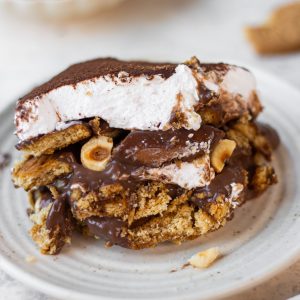 4 cups + 1 cup milk
6 tablespoon cornflour
½ cup nutella
½ cup sugar
3 tablespoon cocoa powder
1 cup water
2 tablespoon coffee powder
1 teaspoon vanilla extract
½ cup chopped toasted hazelnuts
40 digestive biscuits
Whipped cream
Cocoa powder
In a saucepan, add 4 cups of milk and bring it to a simmer.
Add sugar and nutella in it and stir it continuously till it all dissolves in the milk.
In a separate bowl, make a slurry combining 1 cup of milk, corn flour and cocoa powder. Make sure there are no lumps.
Pour this slurry into the saucepan and stir the whole pudding mixture properly on medium heat and cook it till it thickens and till it coats the back of the wooden spoon and when a finger is passed through it, it stays like that.
Pour this pudding mixture into a bowl and contact wrap it with cling film and let it cool. Set it aside.
For the coffee soak, in a bowl, warm the water and add coffee powder and vanilla extract in it and mix well.
To assemble the eggless nutella biscuit pudding, for the first layer, soak in the biscuits into the coffee soak and place them all over the base of your glass dish.
Top the biscuits with cooled pudding mixture spread it evenly and put some chopped toasted hazelnuts.
Repeat this process till your serving dish is almost full; I have done this sequence thrice. Leave some space for whip cream on top.
Refrigerate this pudding for 6-8 hours and before serving spread a layer of whipped cream on top with a dusting of cocoa powder. Serve and enjoy!
Recipe by
Bake with Shivesh
at https://bakewithshivesh.com/eggless-nutella-biscuit-pudding/