I know what you're thinking, this can't be it. Chocolate cake in a milkshake, how is this even possible? I'm here to tell you that it is and it is best kind of indulgence you'll ever have. We have all heard of Brownie shakes and Oreo shakes. There was a time when we went to cafes to enjoy such indulgent shakes but now since we've been staying home, we definitely don't need to deprive ourselves of this joy.
This Chocolate Cake Milkshake is so simple to make and comes together easily with a few pantry ingredients. Making cake shakes is similar to making any typical milkshake and if you've been a fan of cafe-style drinks, then this recipe is for you. As they say, now you can have your chocolate cake and drink it too!
Ingredients in Chocolate Cake Milkshake
This Chocolate Cake milkshake comes together pretty quickly, provided you have these three ingredients in your kitchen pantry –
Chocolate Cake – This is the star ingredient of this delicious Chocolate Cake Shake. A good, moist chocolate cake makes such a different to your shake because I honestly love the cake bits in my shake.  I use about 2 slices for my milkshake. Indulgence to the maximum! But if you don't like chocolate cake or don't have it at home, then you can use anything you like – Oreos or KitKat. There's a great recipe for Oreo milkshake on the blog, do check that out. Honestly, this Chocolate Cake milkshake is so versatile that it would taste awesome with anything!
Vanilla Ice-cream – The ice-cream has to be soft. Not too hard and not too runny. Just soft enough that you can easily glide a spoon into it. To see the consistency, you can use a spoon or an ice-cream scooper. If it glides easily, your ice-cream is ready to make the Chocolate Cake milkshake! The role of ice-cream is to make the Chocolate Cake milkshake super creamy and velvety.
Milk – It literally starts with the milk. Keeping chilled milk ready for your Chocolate Cake Milkshake is going to take it to another level. Also, what happens with chilled milk is it does not break down the cold temperature of the ice cream. Rather, it supports the ice-cream and brings about a perfectly cool and super delicious Chocolate Cake Milkshake.
I also top my Chocolate Cake Milkshake with whipping cream and sprinkles. If you don't know how to whip cream, I teach some easy tips and tricks in this video.
Should I make my chocolate cake at home?
I think my most favorite cake in the world is a good and moist Chocolate Cake. I mostly always have a chocolate cake in my fridge so whipping up this shake literally takes 10 minutes for me. But if you don't have chocolate cake at home, you can make a quick chocolate cake using this awesome 6-minute Chocolate Cake recipe.
You can also use store-bought chocolate cake or even Britannia Chocolate Cake, it'll work equally well for this recipe.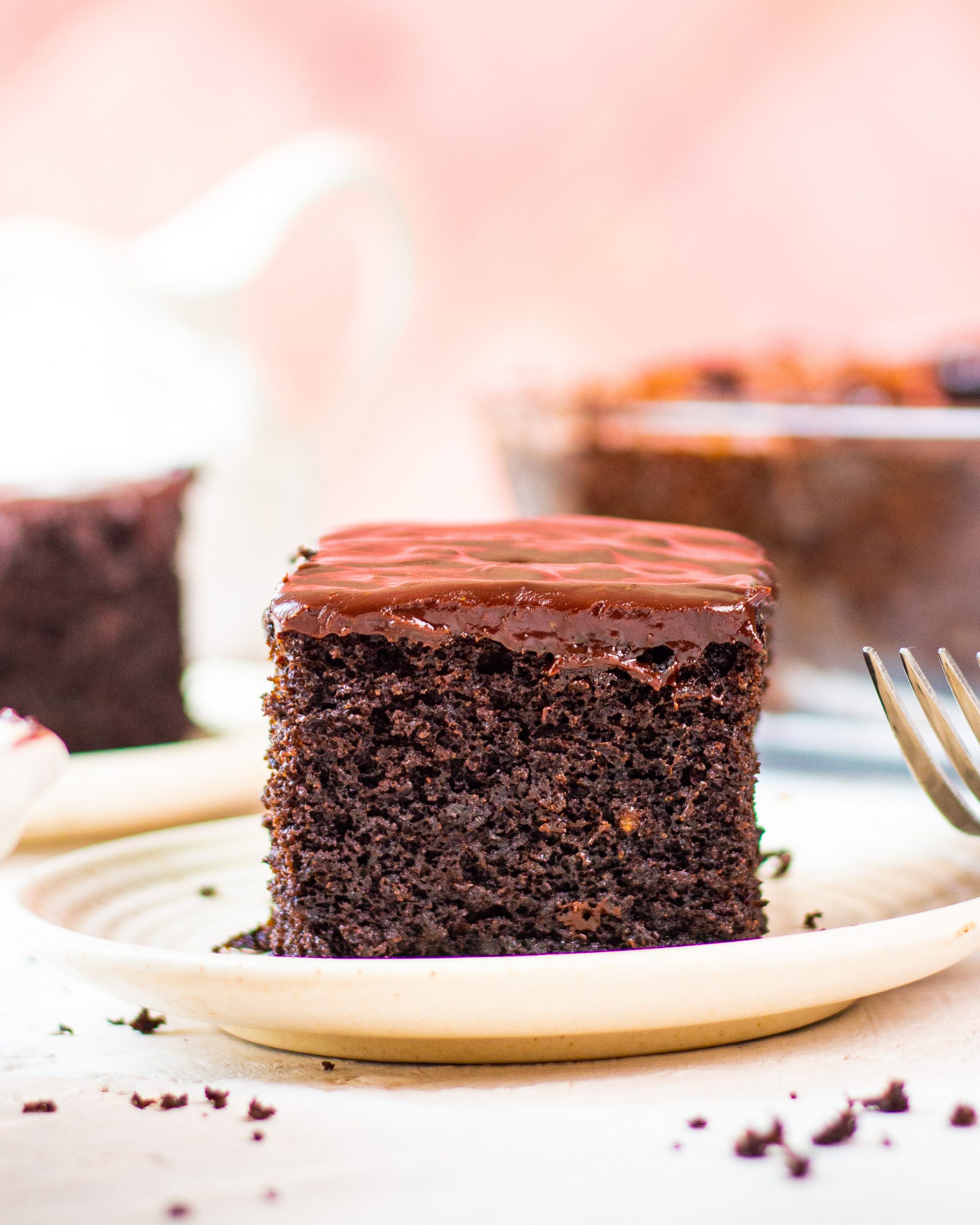 Equipment needed to make Chocolate Cake milkshake
This Chocolate Cake Milkshake needs some few simple tools to help you make a delicious milkshake, the most important is a food processor or blender. Unfortunately, it'll be hard to make this milkshake without a blender or a food processor. Since these recipes involve to blending different ingredients with milk and ice cream, a hand blender won't be able to do the job. So I'll recommend you to make this Chocolate Cake milkshake only in a food processor or blender for good results. I also use these cute jars for my milkshakes, you can get them here.
For whipping cream, I use a stand mixer by Hafelle. You can find it here.
I top my chocolate cake milkshake with colorful sprinkles, which you can find here.
Why are my milkshakes not thick?
I have a simple three-word solution for this. DON'T ADD ICE. A lot of people add ice to their milkshakes not realizing that all it does is water the milkshake down. Ice also obviously melts afterward so as you are drinking your milkshake, it has watered down terribly and has become more or less undesirable. Do not do this mistake with your milkshakes or the consistency will become too liquidy.
You can also try using full-fat milk for a thicker and creamier Chocolate Cake Milkshake.
Storing Chocolate Cake Milkshake
Although I would forever advise everyone to please consume milkshakes as soon as you make them. Why? Because the ice-cream completely melts down and the milkshake does not end up being that creamy. But, if you have to store it, place it in the fridge in a tight container and you're pretty much sorted!
Other indulgent milkshake recipes on the blog
Chocolate Cake Milkshake recipe
Chocolate Cake Milkshake
Ingredients
2 slices Chocolate Cake
4 scoops Vanilla Ice Cream
1 cup Milk
Whipped cream
Sprinkles for garnish
Instructions
In a processor, blend together the chocolate cake, vanilla ice cream and milk.
Blend until everything comes together.
Pour the milkshake into the glass jar.
Take whipping cream and beat it to stiff peaks.
Transfer to a piping bag with a large piping tip and frost it over the Chocolate Cake Milkshake! Top with some sprinkles.
Serve cold and enjoy!
That was my recipe for one of the most indulgent milkshakes you'll ever have! Do tag me on
Instagram
/
Facebook
if you happen to make this Chocolate Cake Milkshake!