Summer has finally come in all its glory, while I am a winter baby. I absolutely do not mind the fresh seasonal fruits this hot summer weather brings with it. From fresh juicy melons to my favourite fruit mango. And I have experimented and shared so many dessert recipes that involve mangoes like my Eggless Chocolate Mango Cake, Mango Lassi Popsicles and N0-bake Mango Ice cream Cake. But today I wanted to try my hands on kacha aam a.k.a raw mango. Raw mango is green on the inside and unripe on the inside. Often used to make chutney and pickles in indian households every summer. 
My mother also always makes a huge batch of aam panna for the whole family each year to help cool ourselves during these hot and humid summer months. So I thought to add a twist onto her aam panna recipes and make aam panna popsicles. They are super easy to make, a perfect match of tangy and sweet. All you need is a few basic ingredients and a little patience, cause waiting for these delicious popsicles to freeze can be a task. Haha!

Ingredients for the aam panna popsicles
Kacha aam- Raw Mango
During the current times it might be slightly difficult to procure ingredients, but I am sure if you ask your regular vegetable vendor to bring some kacha aam for you, they would. Or else the best thing to happen for us millennials- order it online. There are so many great organic fruit and vegetable handles online that can help you source anything from the basics to exotic produce. 
My mothers original recipe involves leaving the peel and pit on while cooking the aam panna. But to make things easier for us, I have taken the peel off and slices both cheeks off the mango. Make sure you take care extra while cutting around the pit and get every bit of the mango flesh, hence no wastage. For the cooking process to flow by quickly, we are also going to chop the raw mango in small dices so that they can get mushy real fast.
Water
Adding the water to these mangoes will ensure that they don't burn before they can cook and break down. Make sure to use a wooden spoon and mash down the mangoes every now and then to help the mixture get almost jam like.
Sugar
Now don't be alarmed by the quantity of the sugar used here, kacha aam can be very very sour in taste and we need this to balance out the flavours. Plus when you divide the quantity you get in each popsicle it is not that much at all. Moreover, the sugar will allow the kacha aam to get jammy and thick. It will help develop that rich caramel-y  flavour that will take your aam panna popsicles to another level. However if you are looking for an alternative here, brown sugar or jaggery would be amazing substitutes here. 
Flavour gods
1. Fennel seeds
Now we all know that mangoes can have a lot of heat in them, even though kacha aam does not have as much heat compared to the ripe yellow mangoes. To help with heat, we are going to be adding fennel seeds. Fennel seeds/saunf are known to have cooling properties that can help aid digestion and keep your system cool and in check. Plus I really enjoy the amazing flavour it has to lend.
2. Cardamom
Elaichi is the one of the most common spices used in indian desserts, it is so fragrant and flavourful. We are adding whole elaichi pods here to extract maximum flavor here. 
3. Black peppercorns, cumin, black salt, salt
Adding these savoury spices might seem weird here, but this is what will make your aam panna popsicles absolutely delicious. Adding these spices will elevate the taste and provide a perfect balance between sweet and savoury. Black salt in particular adds great tanginess and also allows you taste the sweetness better. So trust me and don't skip out on these spices.  
4. Mint leaves
The flavour of mint can be so refreshing and cooling. Adding the leaves to our aam panna popsicles will add such a lovely punch of freshness and flavour. Mint also has cooling properties and helps aid digestion. So adding the fragrant herb will help both your palate and your tummy.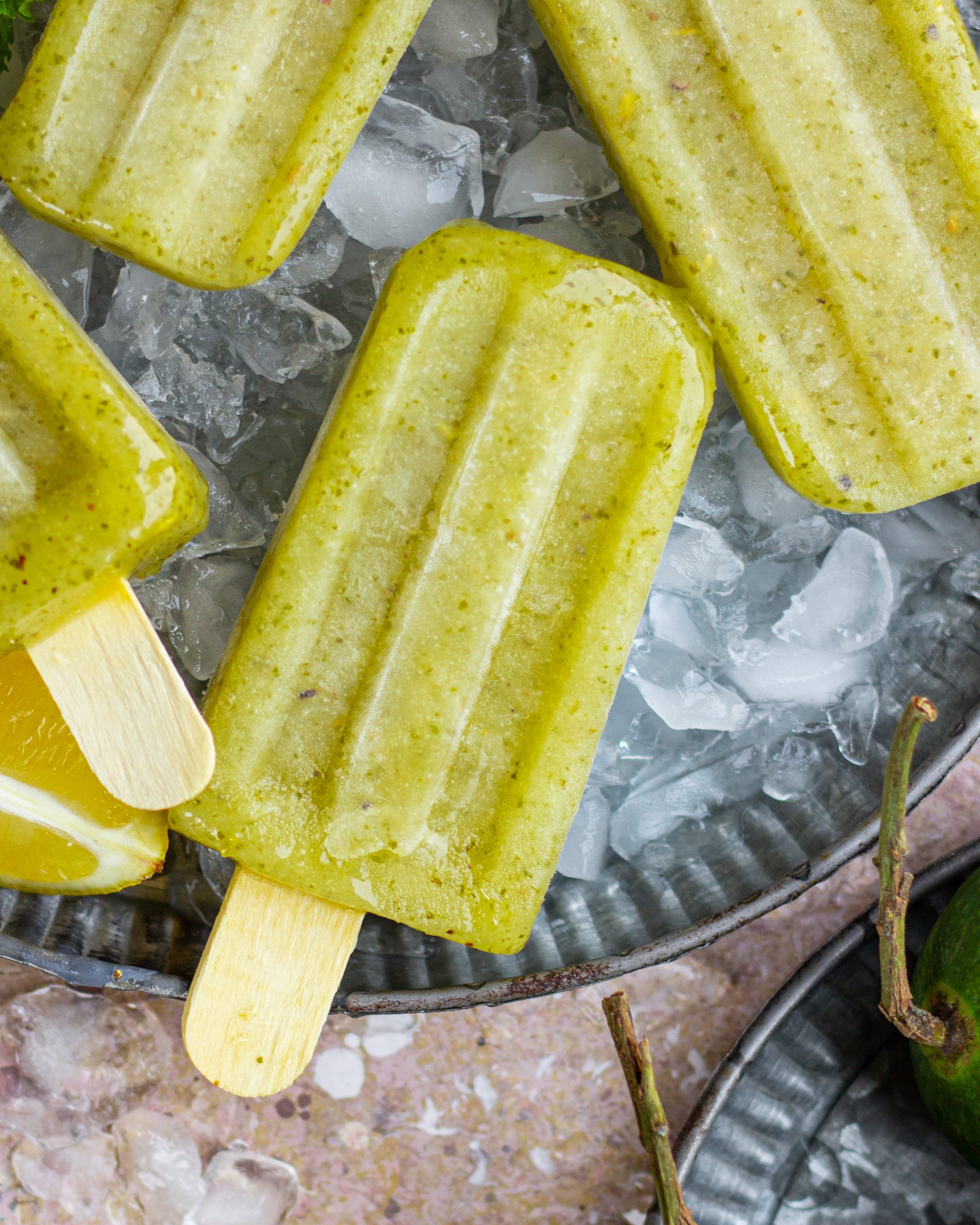 The blending process for Aam Panna Popsicles
Once our aam panna concentrate is ready, we are going to pulverise everything in a blender. This will ensure all the flavour of the kacha aam and the spices are extracted. If you do not have a high speed blender and are afraid to have to bite into whole spices, then make sure you either use powdered cardamom, blackpeppercorn and fennel or easily grind them in your mortar and pestle.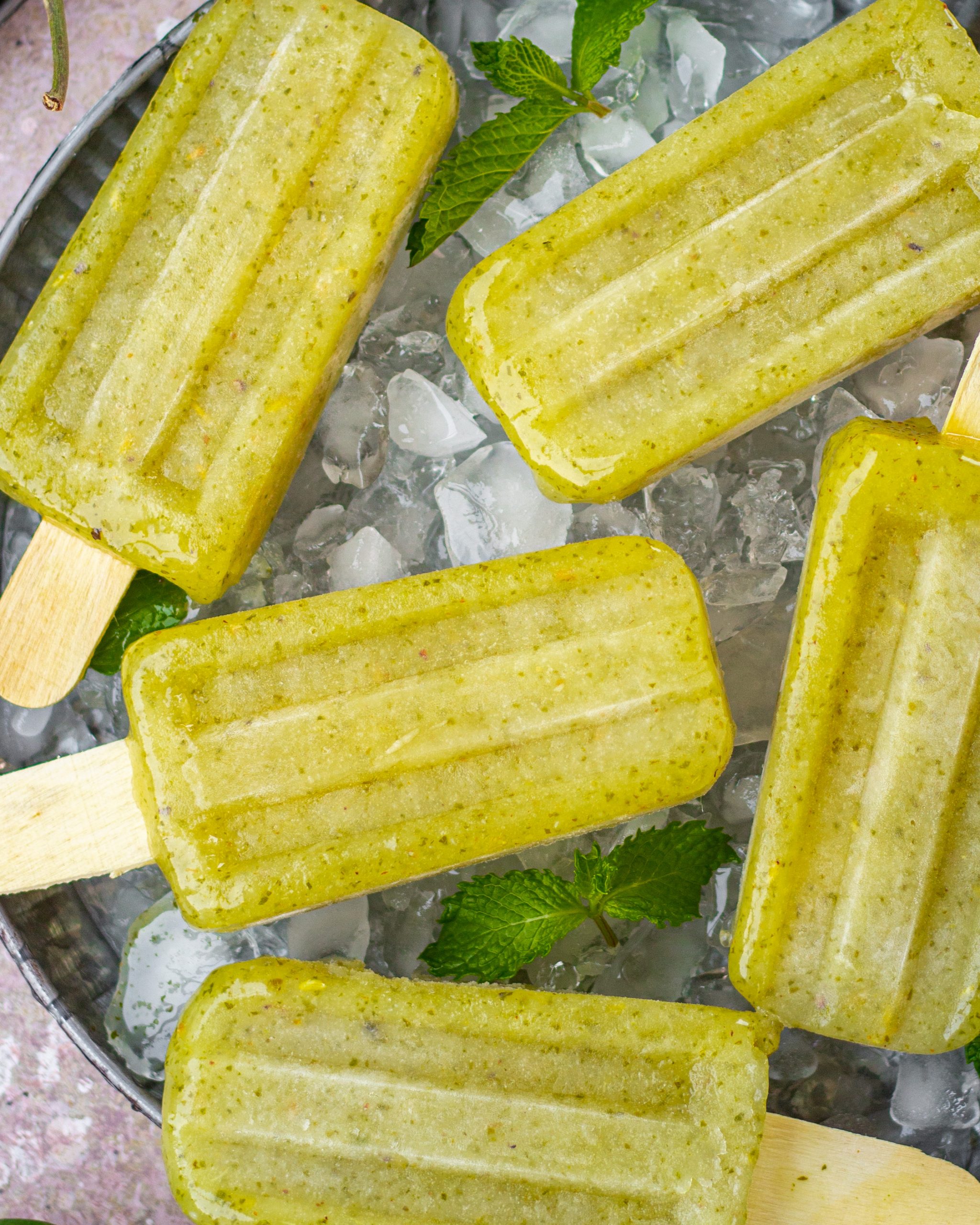 The freezing process of Aam Panna Popsicles
The most difficult part of making any delicious recipe- the wait. Once you have seen and tasted the product it can be daunting to have to wait to eat it, especially when the wait is as long as 6-8 hours or overnight. Butttt, we all know that this aam panna concoction will taste 100 times better once frozen into popsicles. So hold on, and allow the freezer to do its magic and yield you beautiful results. You can easily find the popsicle mold that I have used in this recipe right here- https://amzn.to/2RXzfku 
However if you don't have popsicles mold, you can simply set these aam panna popsicles into small individual bowls and freeze it. Or even use a big baking dish and freeze it family style and cut into it later/scoop out the portions. As long as it gets frozen somehow it is completely cool!
OTHER POPSICLE RECIPES ON THE BLOG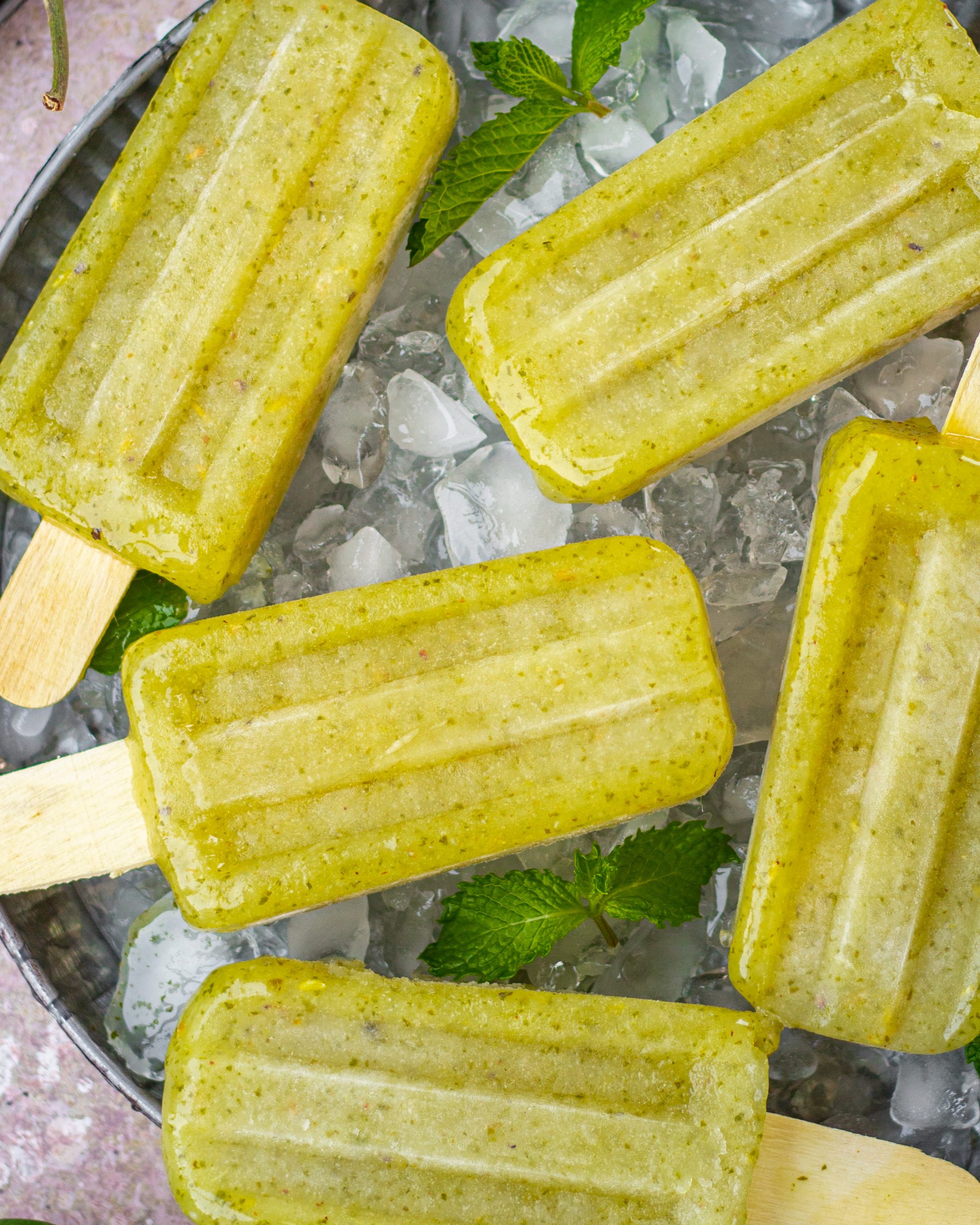 Aam Panna Popsicles Recipe
Aam Panna Popsicles
Ingredients
6 raw mangoes
1 cup water
1 cup sugar
1 tsp fennel seeds
2 pods cardamom
4 black peppercorns
1 + ½ cup water
¼ tsp cumin powder
¼ tsp black salt
1 tsp salt
1 cup mint leaves
Instructions
Peel and roughly chop the raw mangoes and add them to a heavy bottomed saucepan set over low heat. Add in the water and cook until they start getting tender.
Add in the sugar, fennel seeds, cardamom and black peppercorns and continue to cook the mangoes until they start resembling a jam for about 7-8 minutes.
Once the mangoes are fully cooked, take the mixture off the heat and allow it to cool before transferring it to a jar of a blender.
Add in the 1 + ½ cup of water to the blender along with cumin powder, black salt, salt and mint leaves.
Blend nicely and then transfer the aam panna into the popsicles molds, add in the wooden sticks. Transfer into the freezer to set for at least 6-8 hours or overnight.
If you happen to make this awesome recipe, do tag me on Instagram / Facebook using #bakewithshivesh. Happy Baking!