On a hot summer day, all I crave is nothing more than an ice-cold ice-cream and if I am making it, it has to be easy and the ingredients should be available at home. This eggless mango ice-cream is extra in so many ways! It is creamy and indulgent and if you are craving for an mango ice-cream, THIS IS THE ONE.
I love how this mango ice-cream taste just like real mango as no extracts has gone into it but real mango puree. It needs no ice-cream maker as it's a no churn eggless mango ice-cream! I haven't mentioned the best part yet! You don't need store-bought condensed milk for it!! I know it can be hard sometimes to find it in a store or you are too lazy to go out in this sun and get it, that's what happened with me. This recipe requires very basic ingredients and the texture is mind-boggling honestly!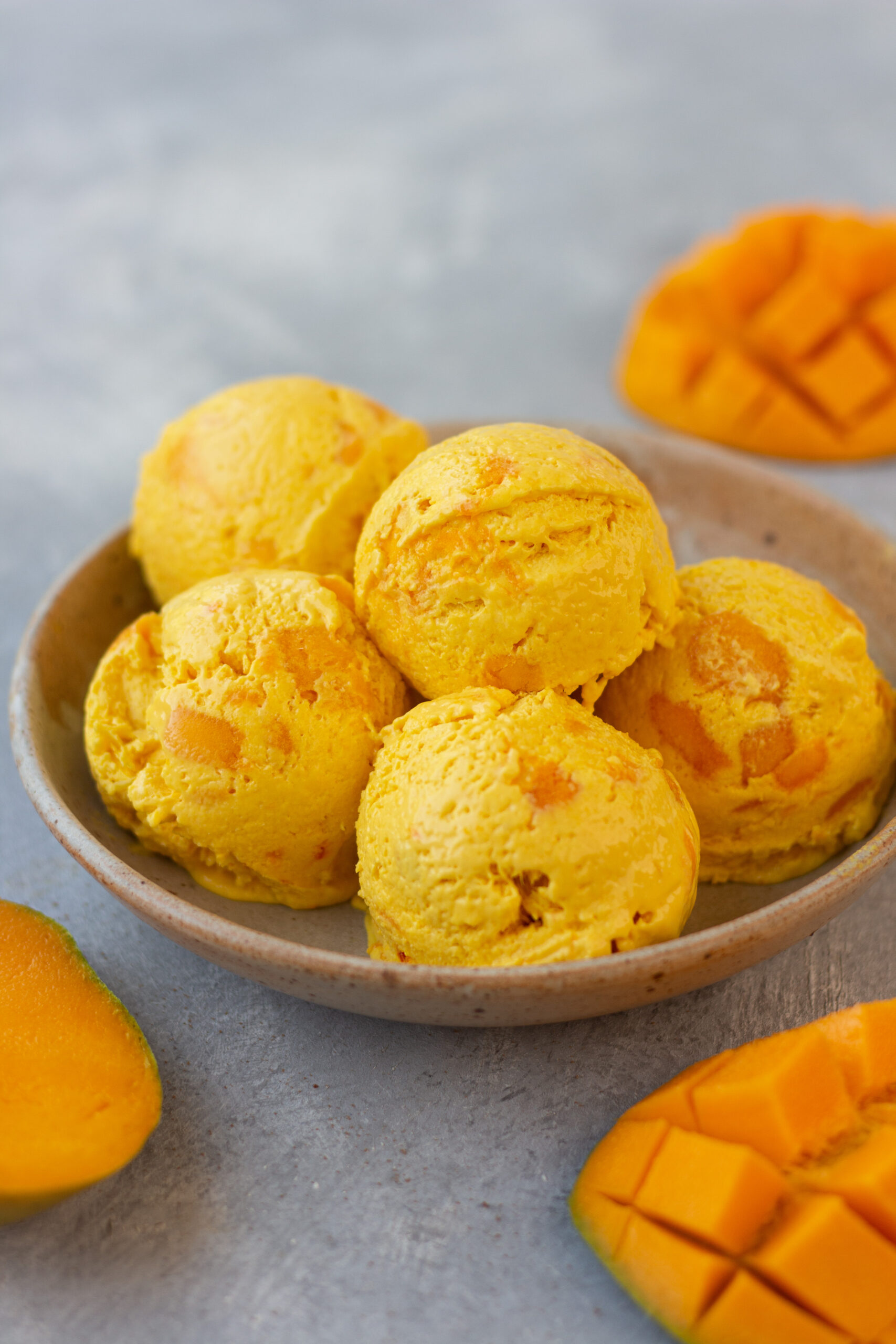 INGREDIENTS NEEDED TO MAKE THIS EGGLESS MANGO ICE-CREAM
MILK
This mango ice-cream will obviously need milk. Milk is the base for this recipe and the quantity of it is a bit more than other recipes because no condensed milk is going in it! We are actually making our own condensed milk here, which level up the recipe for this eggless mango ice-cream to 10 times! The texture becomes very creamy and mellow. I have used whole cream milk as it helps making the best ice-creams!
SUGAR
I am using caster sugar in this recipe, if you like you can also use granulated sugar. The sugar just helps the milk to caramelize properly and becomes condensed milk. The quantity of sugar is very less though as we have the sweetness of fresh mango puree too!
SAFFRON
Now this ingredient I love! But if you do not have it present, you can avoid it too. Saffron and mango goes great together, not only it adds natural yellow color to this mango ice-cream but it adds a lot of flavor to it as well. It also enhances the flavor of mango and makes this eggless mango ice-cream even better!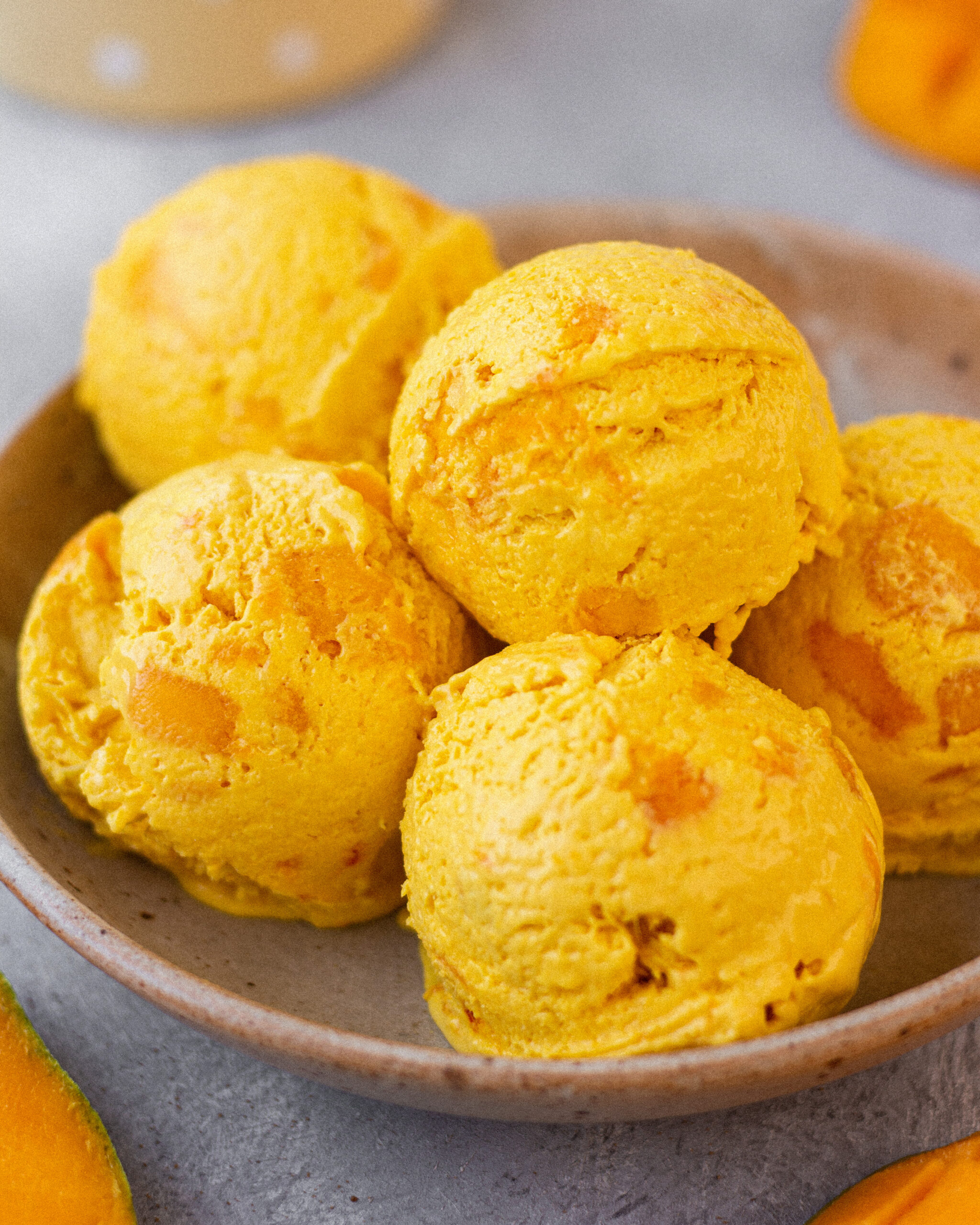 MANGO PUREE
I puree fresh mango and do not go for the store-bought ones as fresh mangoes give the best flavor! 1 cup of mango puree goes in this recipe; I use sindoori mangoes in my dessert recipes generally because they are the perfect combination of sweet and sour! If you have any other mangoes, those will work just fine too. 2-3 mangoes approximately makes 1 cup of mango puree. 
WHIPPING CREAM
Since it an eggless, no churn ice-cream; whipping cream is folded in. whipped cream adds fluffiness to the eggless mango ice-cream and gives the mixture a lot of volume because of the fat content it contains. It also adds some sweetness to it and makes the ice-cream light!
MANGO CHUNKS
I love how store-bought mango ice-creams have little mango pieces which comes in every bite! That is why I chose to add fresh mango chunks in this eggless mango ice-cream. I love the added mango flavor and the scoops look so pretty too!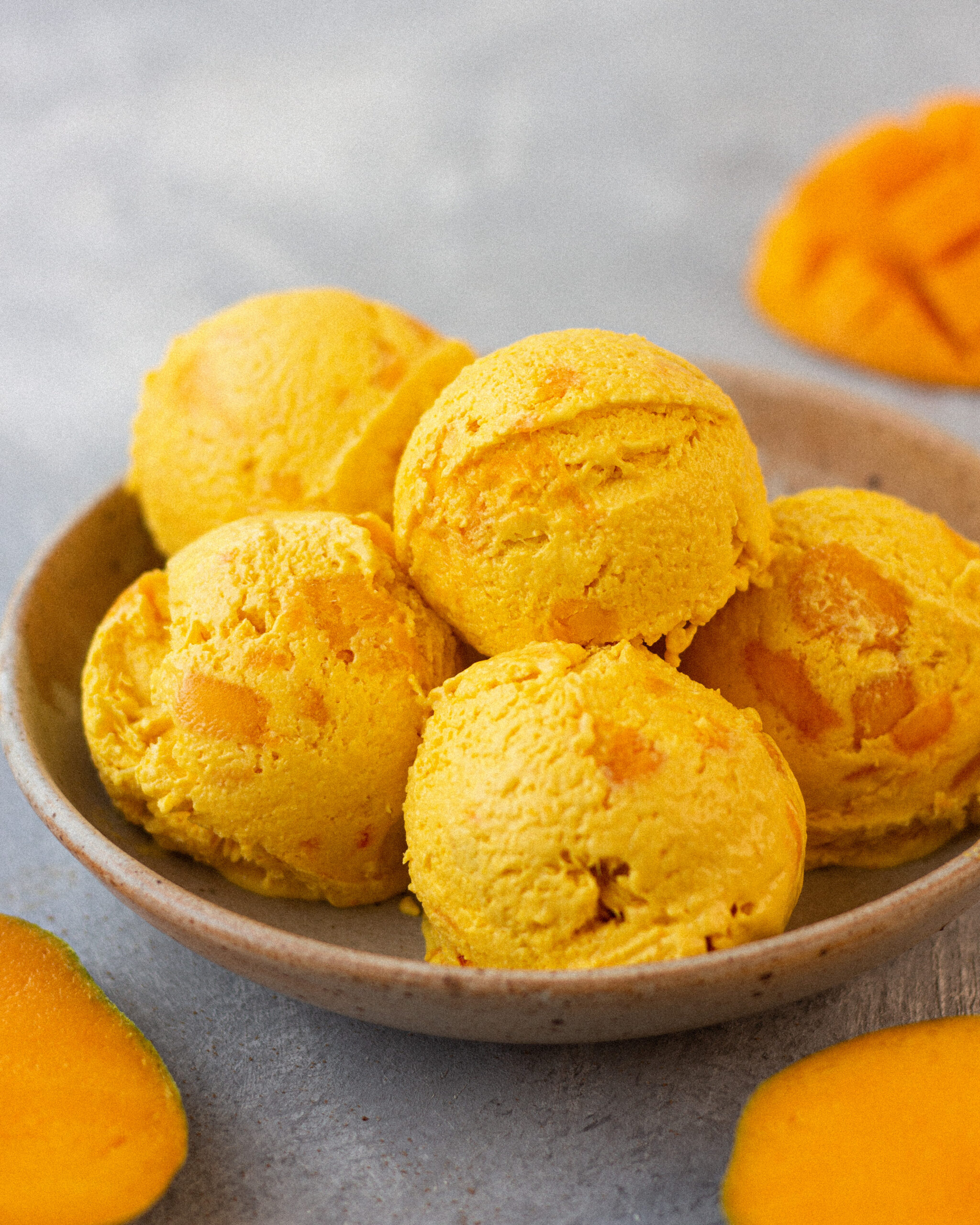 HOW TO MAKE HOME-MADE CONDENSED MILK FOR THIS EGGLESS MANGO ICE-CREAM
As we are using a good quantity of milk here and I did not have condensed milk at home; I tried making it and it is super easy to make! All you need to do is pour the milk in a non-stick pan with sugar and keep stirring it. As soon as it simmers you can add 8-10 saffron strands. You need to stir it with a wooden spoon or a spatula; once a while in the beginning and once the milk comes to a boil, stirring it continuously is important because we do not want the milk to get burnt from the bottom.
You will see that the milk will start to thicken every 5 minutes. The condensed milk will be ready in 10-15 minutes, once the milk reduces to 1/3 of its original quantity. Do not stop once it is off heat but keep stirring it for another 2 minutes for it to cool.
VARIATIONS
With the same recipe, you can make so many other flavors too! Just remove the mango puree and add strawberry puree instead. You can also make plain vanilla ice-cream without adding any kind of puree but pure vanilla extract. You can even fold in oreo bits in the vanilla ice-cream to make it cookies and cream. If you want to make mango ice-cream only, you can add nuts into it instead of mango chunks or even both, half and half!
TIPS TO MAKE THIS EGGLESS MANGO ICE-CREAM
While making the home-made condensed milk, do not stop stirring as it can burn the milk from the bottom.
Folding the mango and condensed milk mixture with the whipped cream needs to be done gently as we do not want to knock the air incorporated in the whipped cream.
Do not over-beat the whipped cream, what we are aiming is for a semi-whipped cream or the soft whipped cream and not the stiff one!
After pouring the ice-cream mixture into the container, it is very important to cling wrap it properly as to avoid an ice-cream which is icy and not creamy!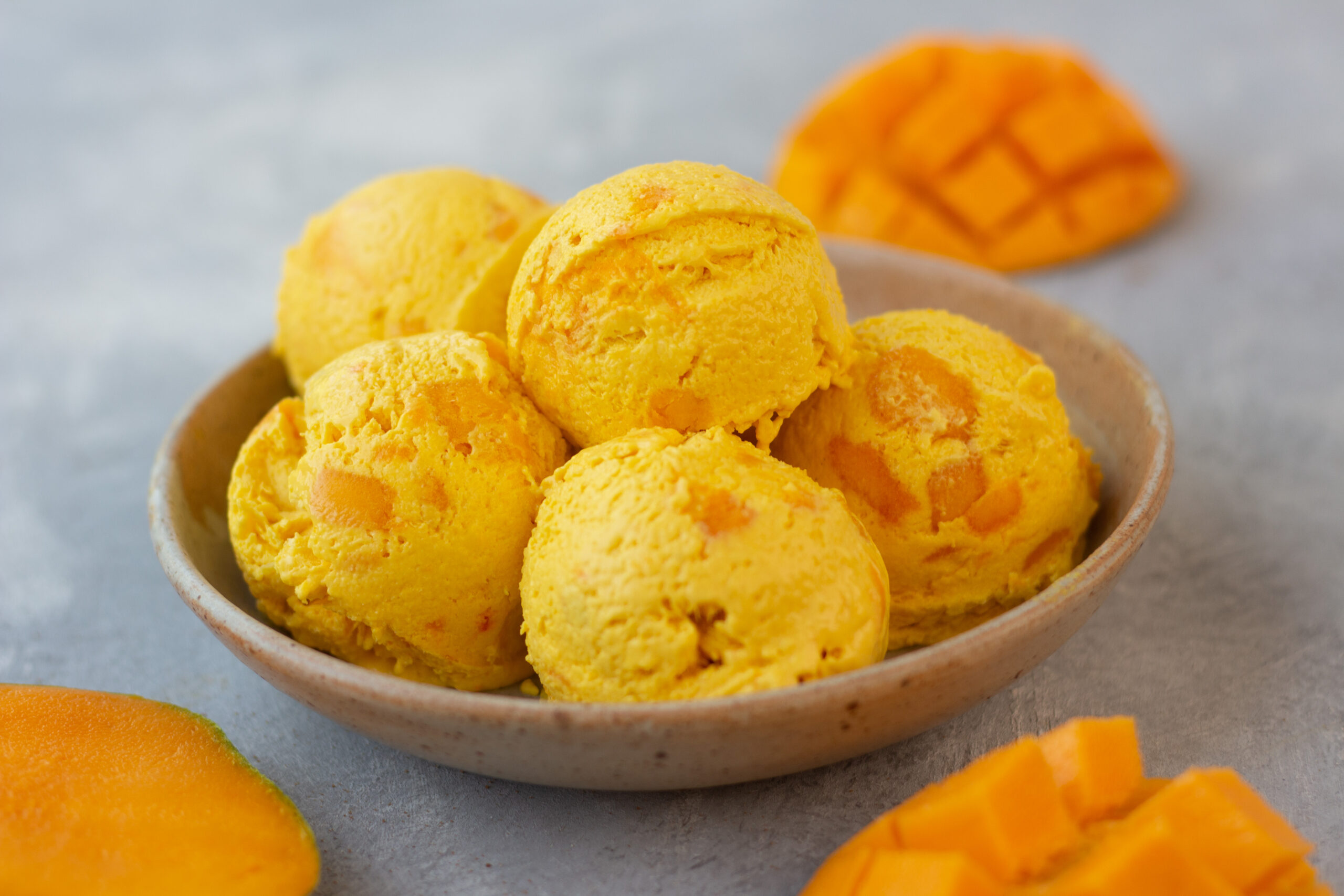 OTHER ICE-CREAM RECIPES ON THE BLOG:
Mango Ice-Cream
Ingredients
for homemade condensed milk
2 + ¼ cup milk
½ cup sugar
8-10 saffron strands
or ½ cup store bought condensed milk
1 cup mango puree
1 cup whipping cream
½ cup fresh mango chunks
Instructions
In a non-stick saucepan, set over a medium heat; add milk and sugar. Give it a mix and let it come to a simmer.
Add saffron strands and give it a mix.
Keep stirring the mixture till it thickens and reduces to ⅓ of its original quantity. Take it off the heat but keep stirring for another 2 minutes. Let it cool and transfer it into a bowl.
Add mango puree to it and give it a good mix. Keep it aside.
You can also use ½ cup store bought condensed milk instead of the one we made.
In another bowl, whip the whipping cream till soft peaks.
Fold the whipped cream with the mango mixture and mix them gently.
Fold the mango chunks into it and pour the mixture into a container or a loaf pan like me.
Cling wrap the container properly and freeze it for 6-8 hours; dig in and enjoy!
If you like this recipe and happen to make it this summer season, then share pictures with me by tagging me on Instagram using #bakewithshivesh.