I was scrolling Instagram the other day and came across these fried savoury pasta chips recipes with lots of masala. They looked super delicious so I had to give it a try but the other way around. As currently I'm obsessing over churros with a rich chocolate sauce so i thought why not give these pasta chips a try but with my style and OMG they turned out so good and are my current obsession. I made these pasta chips a dessert and yes they taste like churros! Instead of frying I made them in airfryer which makes them healthier also. These so delicious and makes such a great snack. You won't stop after one bite, Trust me on this!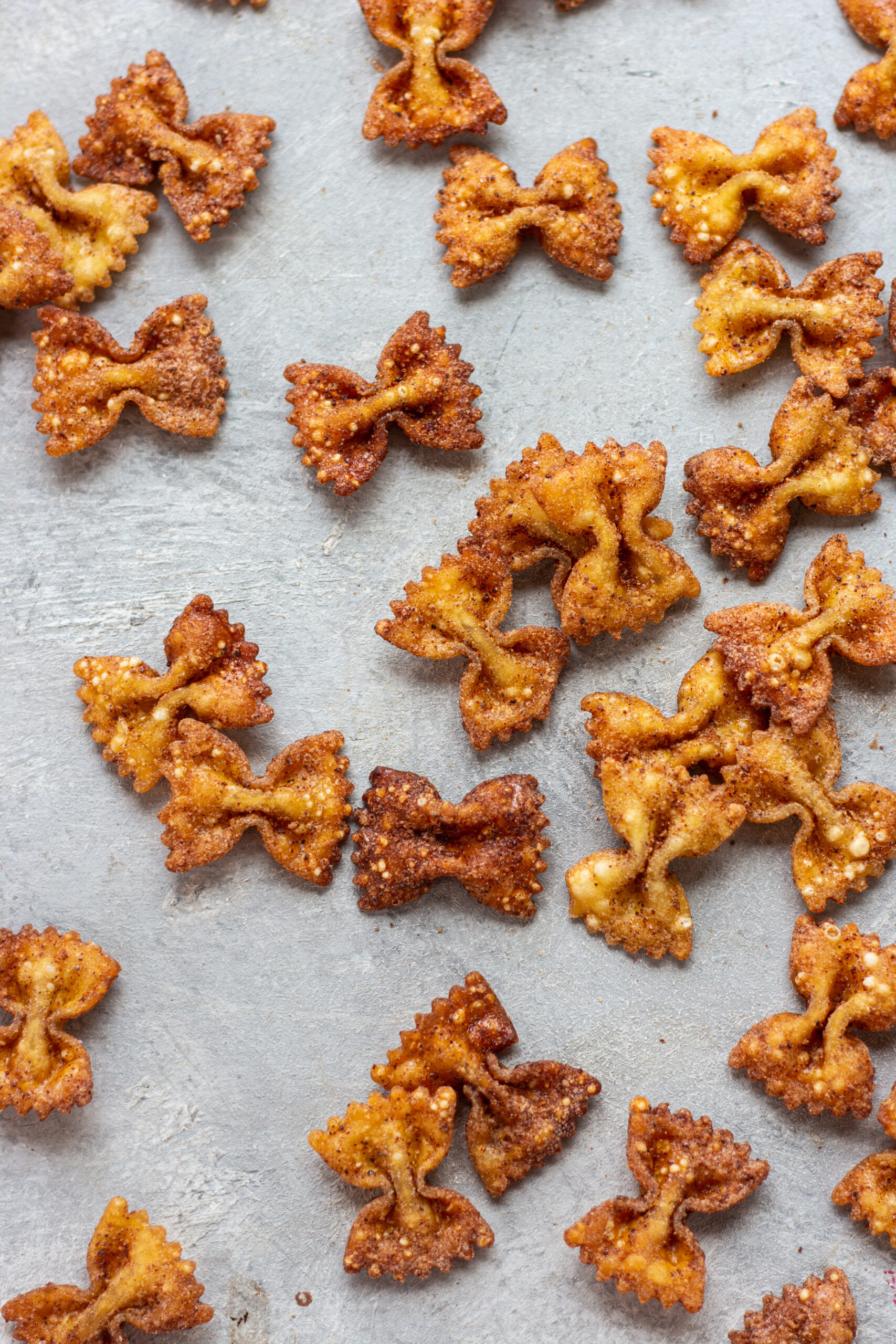 INGRIDIENTS USED IN MAKING PASTA CHIPS
PASTA
Obviously this has to be the main ingredient of this recipe. I have farfalle shaped pasta for my pasta chips, you can use any shape you desire. You can use wheat pasta also for making an even healthier version of this recipe. Wheat pasta generally takes longer to cook so with that keeping in mind cooking time will get increased accordingly.
CINNAMON SUGAR
Cinnamon sugar is a mixture of ground cinnamon and granulated sugar used as a spice to flavor foods such as Belgian waffles, Snickerdoodle cookies, tortillas, coffee cake, French toast, and churros.
I have used this so coat my pasta as it gives an immense flavour to the pasta chips and also a caramely flavour. The recipe for making this in mentioned below in the box.
TIPS TO MAKE PASTA CHIPS
Keep a check on the pasta chips in the air fryer and keep tossing them in every 3-4 minutes
Make sure your pasta is completely dry as no water should go inside the air fryer
Don't cook your pasta completely. Take it off the heat when it's 80% done
Make sure you are rolling your pasta is enough amount of cinnamon sugar and coat them really well.
CAN THESE PASTA CHIPS BE FRIED IN OIL?
Yes, these can be fried in oil also.
Here I have coated the pasta in sugar first and then fried in air fryer.
If frying in oil, pasta will be fried in oil first and then Immediately after taking it out of the oil, roll then in cinnamon sugar and enjoy!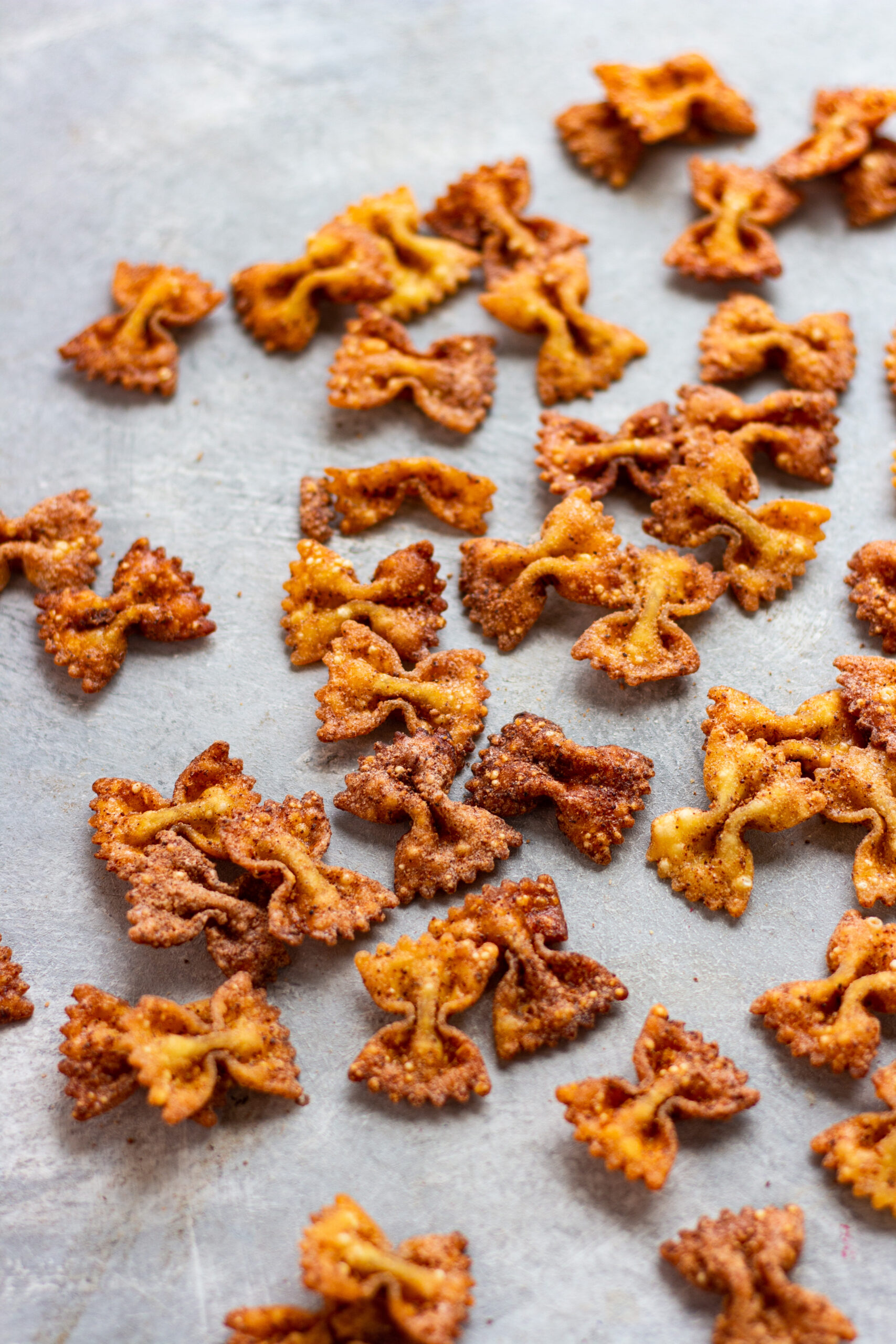 HOW TO STORE THESE PASTA CHIPS
When you'll take them out of the air fryer you'll feel they are not crispy yet, but allow them to sit outside for a while. Once completely cooled you can transfer them in any airtight container and they'll stay good for up to a month.
EQUIPMENTS USED IN MAKING PASTA CHIPS
The kind of equipment you use when you're baking makes a huge difference to the end result! I would recommend you to use good quality mixing bowls and other equipment so that your pasta chips comes out delicious!
For frying these pasta  I have used Borosil air fryer. This air fryer is so versatile with you can use it to fry, bake , grill and even roast food items!
To mix all my ingredients together in, I'm using Borosil's 100% Borosilicate Glass Bowl which is microwave and oven safe, plus the bowls are super easy to clean and handle, which makes my baking process totally hassle free!
Not a single day goes in my kitchen when I don't use a Silicon Spatula, this is the one I recommend. Same goes for my set of Measuring Cups and Measuring Spoons.
SIMILAR RECIPES ON BLOG
HOMEMADE JIM JAM BISCUITS- EGGLESS
COCONUT ATTA BISCUITS – HEALTHY BISCUIT RECIPE
EGGLESS CHURROS WITH CINNAMON SUGAR COATING
PASTA CHIPS
Ingredients
2 cups water
1 cup pasta
½ cup castor sugar
1 tbsp cinnamon powder
Instructions
).In a medium pan boil pasta for 15-20 mins till it's 80% cooked
).Take it off the heat once cooked, strain it and let it cool.
).In another bowl mix castor sugar and cinnamon powder And toss the pasta in it.
).place it in the air fryer and fry it for 12-15 mins at 180c
). Let it cool down completely and Enjoy!
If you like my pasta chips recipe and happen to make it in your kitchen, do tag me on
Instagram
 and share pictures with me using #Bakewithshivesh. Happy Baking!