My go-to-go dessert in childhood was a donut. I still remember getting them as a treat whenever I used to score good marks. They always bring nostalgia along with them. But now as an adult when you get a little conscious about the food you are eating and always try to make healthier version of everything and this time I have made donuts but I have made them healthier! These air fried donuts are equally good as the regular fried donuts and they melt in the mouth.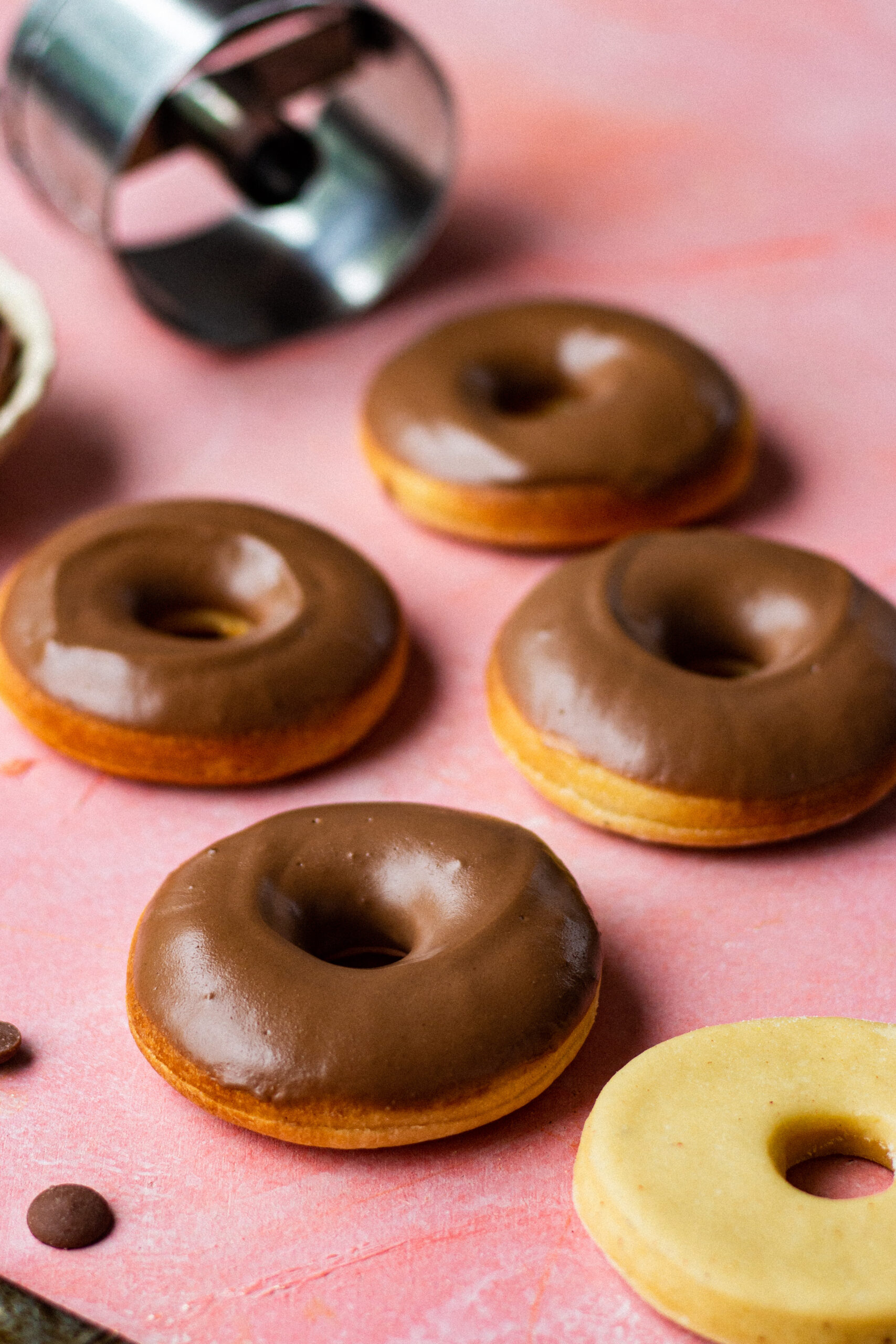 INGREDIENTS USED IN MAKING AIR FRIED DONUTS
YEAST
One thing that most of us shy away from is yeast! It's actually a very simple ingredient to work with and once you know how to use it correctly, you'll be sorted to make all kinds of breads and donuts at home!  It feeds on the sugar and creates carbon dioxide and alcohol and that is what makes the baked goods rise. This process of creating carbon dioxide is what is referred to as alcoholic fermentation. While  you are "proofing" your dough , fermentation is taking place and all the carbon dioxide is getting produced and giving the rise to your dough. D
CASTOR SUGAR
Since the grains of the castor sugar are small, it is easier for it to dissolve in the dough. I use castor sugar from the brand Solar. If you do not have castor sugar, you can simply use powdered sugar. I would strictly steer away from granulated sugar though because of how big the granule size is. It would be difficult for the sugar to dissolve in the dough and would leave an unwanted crunch.
ALL PURPOSE FLOUR
For making these air fried donuts I have used maida, as it helps in gluten formation and makes the dough super soft and elastic same as the bread dough. Replacing it with wheat flour or any other flour is not recommended in this recipe. You can use any other gluten free donuts recipe for making them healthier.
MILK
I have used room temperature milk in this recipe. Using cold milk is not recommended as it slows the proofing process and dough takes a lot of time in rising.
SALT
As yeast eats both sugar and salt and it helps it to react faster, I'm adding a pinch of salt to my air fried donuts. It also helps in balancing the sweetness.
CINNAMON
To give and immense flavour to my air fried donuts I have added a pinch if cinnamon to the dough. It really adds up to the taste and makes them super delicious
BUTTER
The role of adding fat to a bread dough is to make it softer and fluffy. I'm adding butter in my air fried donuts which will help in building a great texture and taste. Replacing butter with oil or margarine is not advisable.
MELTED CHOCOLATE
For glazing my air fried donuts I'm using this milk chocolate. You can use any other topping like dark or milk chocolate or icing.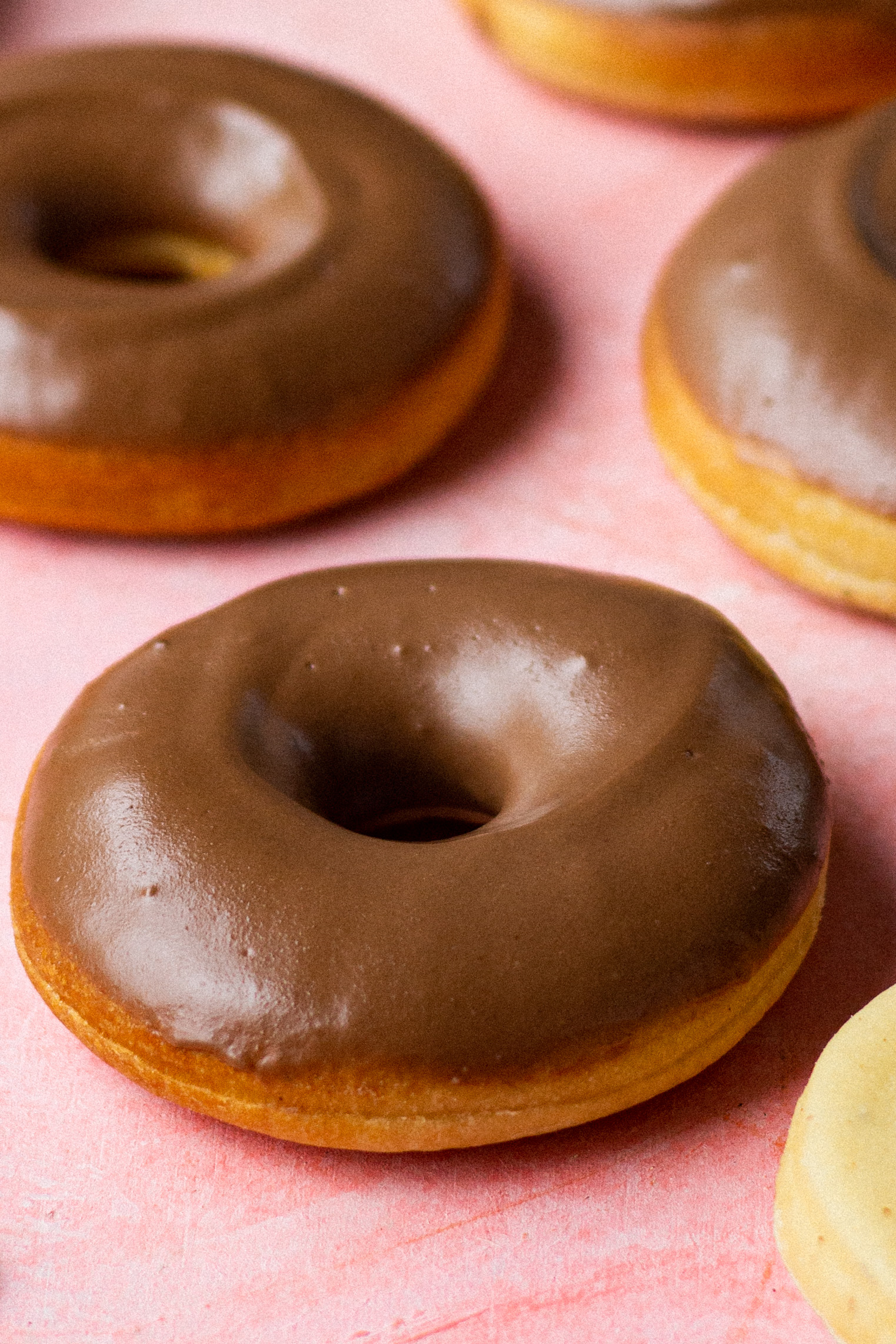 CAN THIS RECIPE BE USED FOR MAKING REGULAR OIL FRIED DONUTS?
Absolutely YES! You can make regular donuts with this recipe. Also you can make any variation to the recipe also. Like adding nutmeg or adding any other filling to the donuts. Anything will work great. You can also make bombolone and they will turn out amazing.
EQUIPMENTS USED IN MAKING AIR FRIED DONUTS
The kind of equipment you use in the kitchen makes a huge difference to the end result! I would always recommend you to use quality gadgets and other equipment to make your cooking and baking game strong.
I have air fried my donuts in  xiaomi smart air fryer. This air fryer is super cool and comes with a home app.
o mix all my ingredients together in, I'm using Borosil's 100% Borosilicate Glass Bowl which is microwave and oven safe, plus the bowls are super easy to clean and handle, which makes my baking process totally hassle free!
Not a single day goes in my kitchen when I don't use a Silicon Spatula, this is the one I recommend. Same goes for my set of Measuring Cups and Measuring Spoons.
SIMILAR RECIPES ON BLOG
1).triple-chocolate-donuts-eggless-no-yeast
AIR FRIED EDONUTS
Ingredients
½ cup milk
1 tbsp sugar
½ tsp yeast
1 + ¼ cup maida
Pinch of salt
⅛ tsp cinnamon
2 tbsp melted butter
Melted milk chocolate
Instructions
In a bowl add milk, sugar and yeast and let it rest for 5-7 mins
Add in the maida, salt , cinnamon powder and melted butter and mix well
Knead the dough for 5 mins and let it proof for 1 hour
Roll the dough and cut out the donuts with a donut cutter
Place them in the air fryer and fry them for 8-10 mins at 180c
Dip them in melted chocolate and enjoy!
If you like my Air fried donuts recipe and happen to make it in your kitchen, do tag me on
Instagram
 and share pictures with me using #Bakewithshivesh. Happy Baking!