Imagine this, it's the weekend. Sunday morning, you roll out of bed, grab a massive cup of coffee and head to your kitchen to whip up a batch of triple chocolate donuts. Best part? No eggs, no yeast, no long waiting hours and scrumptious chocolate-y donuts at your disposal. These triple chocolate donuts are fluffy, chewy and have a perfect airy bite. They can be your weekend breakfast buddy, or perfect for celebrating your loved ones. You only need around 45 minutes to make these and the recipe calls for just your staple pantry ingredients.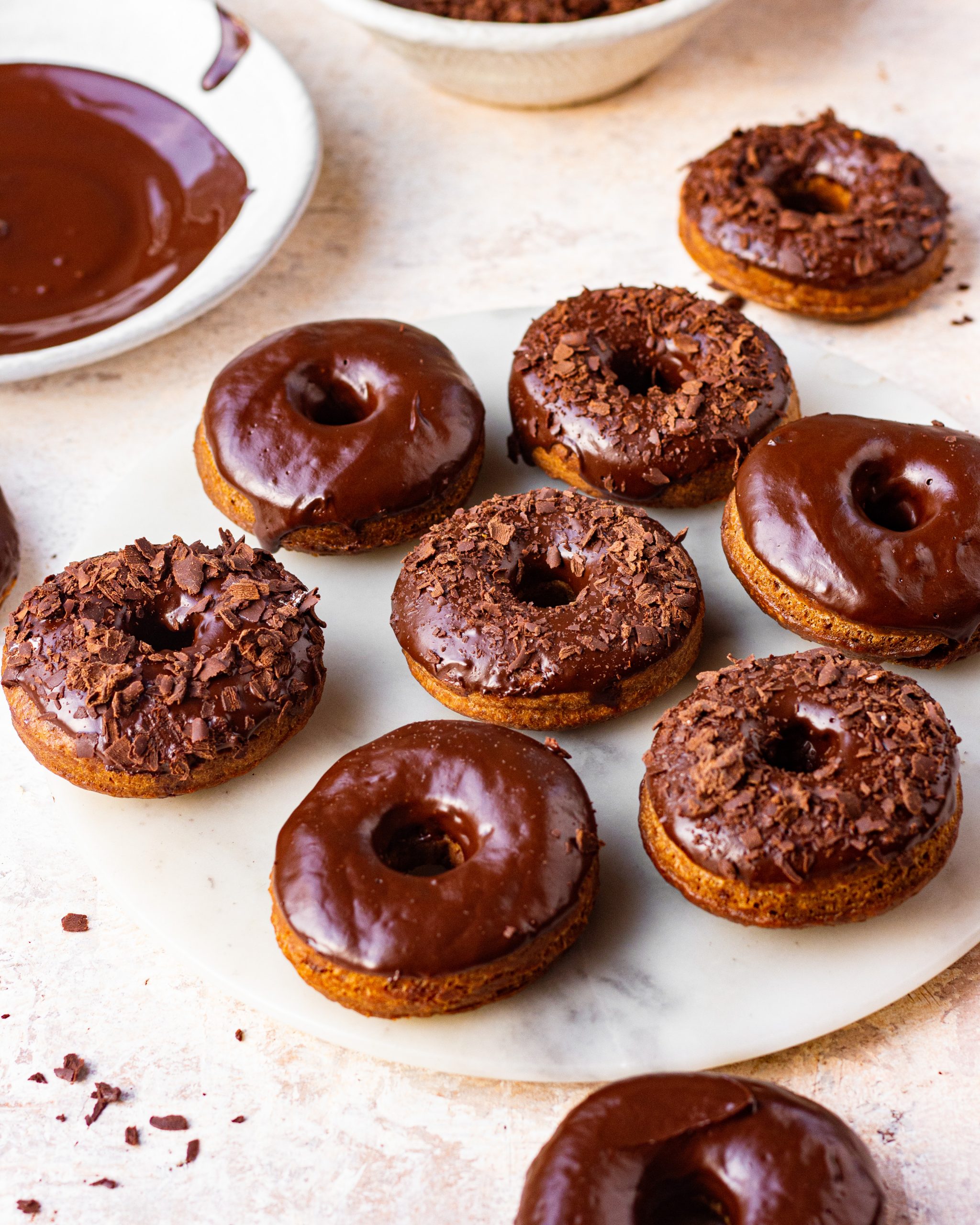 If you are a donut fanatic, you would absolutely love my eggless donuts recipe, carrot cake donuts or the decadent cheat Nutella donuts
How are these triple chocolate donuts yeast free?
Traditionally donuts are prepared with the help of yeast. When yeast reacts in the batter it creates small air bubbles that bake into fluffy donuts. Recipes that use yeast involve a lot of resting and rising time. Some recipes even suggest resting the dough overnight as well. Which is a test of my patience. Haha! No doubt donuts recipes with yeast are absolutely amazing, however, I understand that using yeast can be tricky for some and would need future planning. Which is why my no yeast double chocolate donuts come into play. 
This recipe uses ingredients like baking soda and baking powder to create a similar effect to yeast by creating bubbles of carbon dioxide that make our donuts super fluffy and so so GOOD!
How are these donuts eggless? 
Now eggs as we know in most recipes help the recipe become lighter, fluffier and texturally strong. But I also now that so many of you guys do eggless baking and I am constantly working on making recipes that can be adapted by all of you! To supplement the eggs here I have used milk, vinegar and curd. All of these ingredients will help furnish the gap and make our donuts the best homemade eggless donuts you have ever had!
Ingredients for the triple chocolate donuts
Milk + vinegar makes buttermilk
For an eggless alternative using a combination of milk and vinegar also known as buttermilk is very essential. This will make our donuts extra fluffy and yum. A few important things to keep in mind while making a buttermilk are-
Your milk should be at room temperature and even slightly warm. When the temperature of the milk is warm it gets curdled fast and big curds form real quickly. 

Use an acid, whether you have vinegar at hand or not, you can simply replicate this process with lemon juice. Lemon juice being acidic in nature will form curds in the milk. 

Don't be impatient and rest the mixture for at least 5 minutes until you see curds form. 
Castor sugar
Since the grains of the castor sugar are small, it is easier for it to dissolve in the dough. I use castor sugar from the brand Solar. If you do not have castor sugar, you can simply use powdered sugar. I would strictly steer away from granulated sugar though because of how big the granule size is. It would be difficult for the sugar to dissolve in the dough and would leave an unwanted crunch. 
Baking powder and baking powder
Both of these rising agents would work in place of yeast and release carbon dioxide when baked in the oven. This would make our eggless no yeast double chocolate donuts absolutely light, fluffy and airy. 
Yoghurt 
Since the recipe is eggless, adding yoghurt helps by adding a little extra dose of fat. You can use both homemade dahi and store bought Greek yogurt. If you are using homemade dahi, make sure to take the thick part of the curd and incorporate that instead of the water content of the dahi. 
in addition to these ingredients, we also have others that are essential for the chocolately goodness of these donuts. Lets take a look at those now.
The triple chocolate element
Cocoa powder, chocolate glaze and chocolate curls is what is needed to make these donuts triple chocolate donuts. 
We are adding a good quality cocoa powder here in the dough recipe itself to add a great flavour of chocolate-y goodness. Make sure you add the cocoa powder right with the other dry ingredients and mix it well so that no lumps get formed. 
We are then going to dip the chocolate donuts in a decadent chocolate dipping glaze. This additional layer of chocolate is like cherry on top of the cake, but in terms of donut here. Haha! I mean even thinking of dunking the chocolate donuts in some more chocolate is making me crave these goodness so bad! To prepare this chocolate glaze I have used amul dark chocolate and some vegetable oil. Adding vegetable oil to your chocolate may seem like an odd ingredient to add, but it helps the chocolate to stick and coat to surfaces better. And let's not forget what a beautiful shine it is going to bring to our glaze. 
And then the final layer of goodness aka chocolate curls that I have made by simply pouring melted chocolate over a tray and chilling it in the fridge and then using a spoon to make curls. You can watch this technique in my black forest cake video.  
TIPS TO MAKE PERFECT DONUTS
While making the dough it will be slightly on the sticker side and that is okay! Do not add extra flour by looking at the consistency or roll the dough vigorously as this will make the donuts tough.
Rest the dough for 45 minutes so that the leavening agents can get activated and our donuts turn out pillow-y.
Add the vinegar to the milk and let it rest for 5-10 minutes, this extra step will make the donuts soft and texturally perfect.
Add my secret ingredient-nutmeg. Nutmeg adds a beautiful flavour and smell to the donuts. This will have your donuts taste just like you have picked them off a bakery counter.
Make sure the frying oil is at the right cooking temperature which is usually between 185-190C. The oil will be VERY hot, so please be careful and ask for help if need be.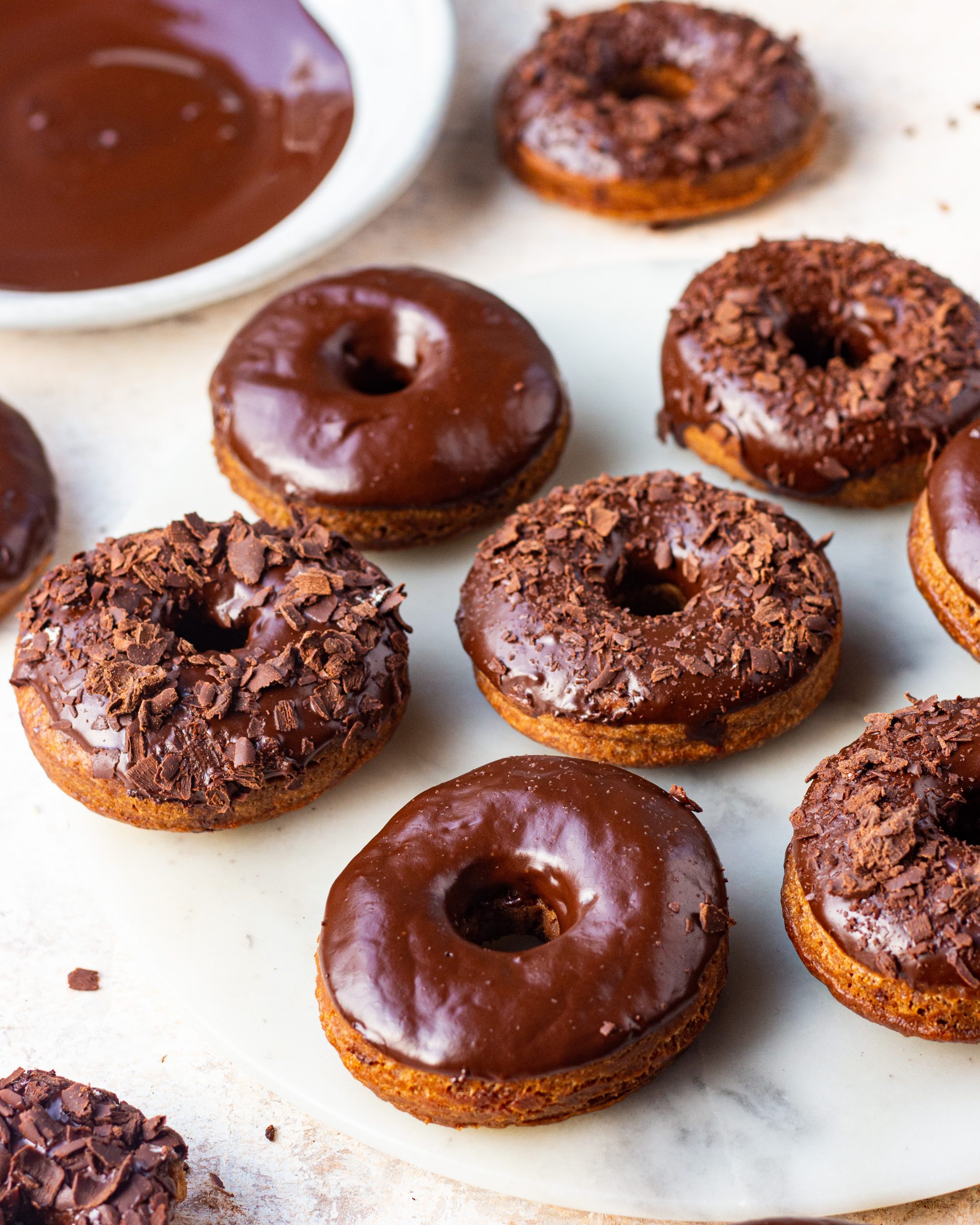 Triple chocolate donuts: eggless & no yeast
Triple chocolate donuts: eggless & no yeast
Ingredients
½ cup (120ml) milk
1 tsp (5ml) vinegar (optional)
1+ ½ cup (180gms) maida + 1 tbsp (7.5gms) ( if needed)
2 tbsp (15gms) cocoa powder
¼ cup (50gms) castor sugar
½ tsp (2gms) baking powder + ¼ tsp (1.5gms) baking soda
Pinch of salt
¼ tsp(1gm) grated nutmeg
¼ cup (56gms) melted butter
1 tbsp (18gms)curd
Oil for frying
Chocolate glaze:
1 cup (175gms) chopped chocolate
2 tbsp (30ml) vegetable oil
Chocolate curls
Instructions
In a bowl add vinegar to the milk, mix and let this mixture stand for 5-10 minutes.
In a separate large bowl, add the flour, castor sugar, cocoa powder, baking powder, baking soda, salt and nutmeg. Mix the dry ingredients well.
To the dry ingredients now add the milk and vinegar mixture, butter and curd. Mix everything until the dough comes together. If the dough feels very sticky, add a tbsp of flour. Let it rest for 45 minutes.
Heat a pot with oil and bring it to 185C to 190C, (Please be careful around hot oil)
Dust the counter with flour, divide the dough in half and roll the dough to ¼ ' of thickness. Cut the dough using a cookie cutter or large lid for the outer circle and small lid for the center.
Carefully add the donuts to hot oil to fry and let it fry until the donuts become fluffy and they rise, flip and cook until golden brown.
For the glaze, chop the chocolate and add to a microwave safe bowl. Add the oil and microwave it in 30 second intervals until the chocolate is fully melted.
Glaze the donuts with the chocolate glaze, top with chocolate curls and enjoy!