Who does not love cupcakes? They are very easy to make, they taste amazing, and you can play around with the frosting and make any cupcake look absolutely stunning. The flavor combinations for cupcakes are of course endless! You can keep it as basic as a chocolate cupcake with chocolate frosting or keep it as experimental as a lemon cupcake with cream cheese frosting. 
I have made way too many cupcakes over the years and I thought it would be a great idea to showcase all my favorite recipes here. If you are a big fan of cupcakes like I am, this post is going to have a great cupcake list for you to look at. 
Vanilla cupcakes with caramel and whipped chocolate ganache
These taste just as lovely as they sound. I love a good vanilla flavored dessert and when you pair vanilla with things like caramel or chocolate ganache, it's like going to dessert heaven. These vanilla cupcakes with caramel and chocolate ganache have to be the best ones I've made in a while. To make this cupcake you need to make three different components- the cupcake batter, caramel sauce, and the whipped ganache frosting. It is definitely a bit of work but the end result is totally worth it. Find the full recipe here
If you want to try making this cupcake without eggs, then you can use my eggless vanilla cupcake recipe for the base.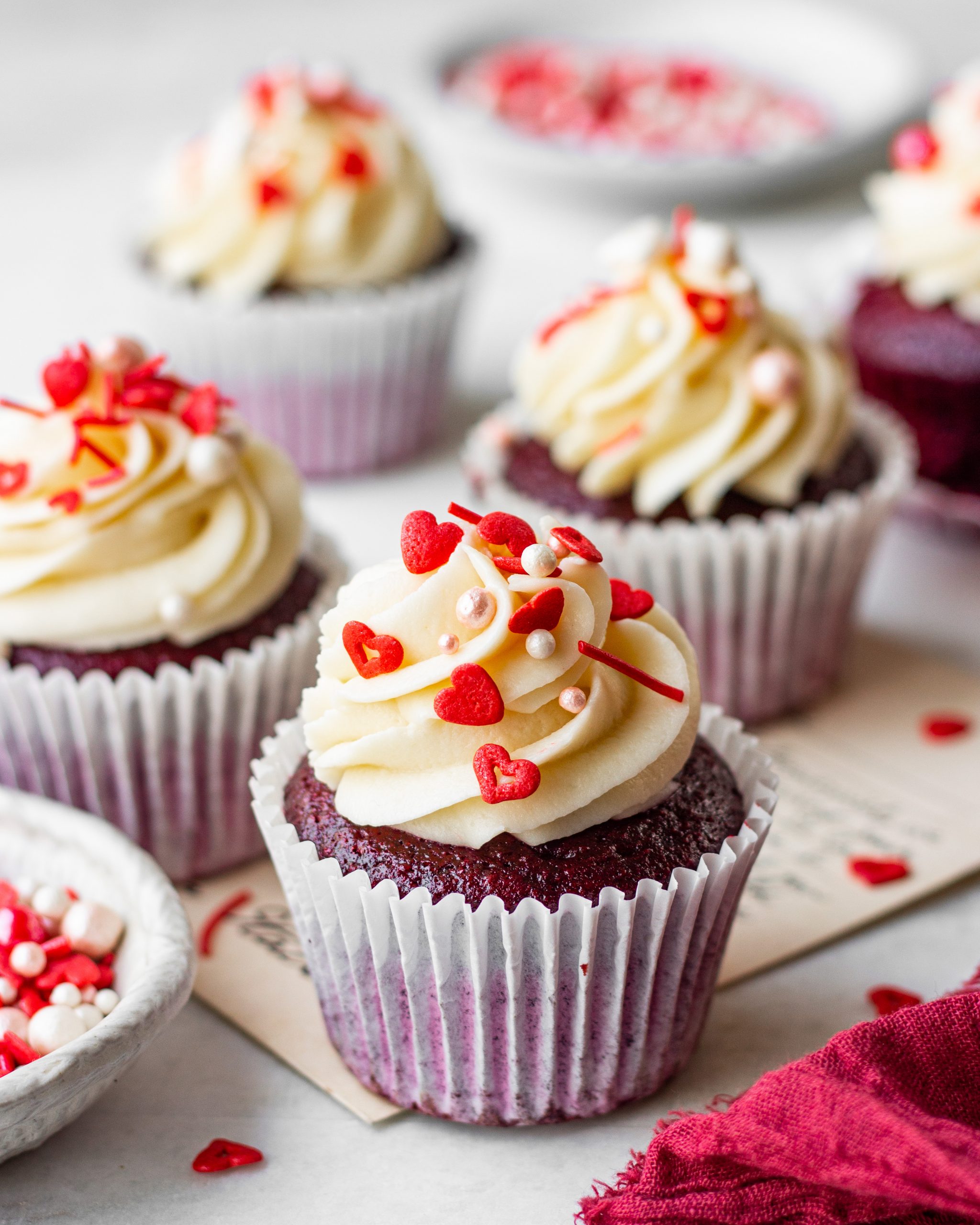 Eggless Red velvet cupcakes 
One of the most popular flavors ever has got to be red velvet! I know so many of you who go crazy over any red velvet desserts, whether it is a cake, a cookie, or even a red velvet shake. 
These smooth and velvety eggless red velvet cupcakes don't only look beautiful, they taste wonderful too! They are rich and creamy chocolatey cupcakes and are truly a work of art! There is something extremely alluring about these eggless red velvet cupcakes. And trust me when I say this, they are going to be perfect for today. Actually, these are perfect for any occasion whatsoever. 
Find the full recipe for these cupcakes here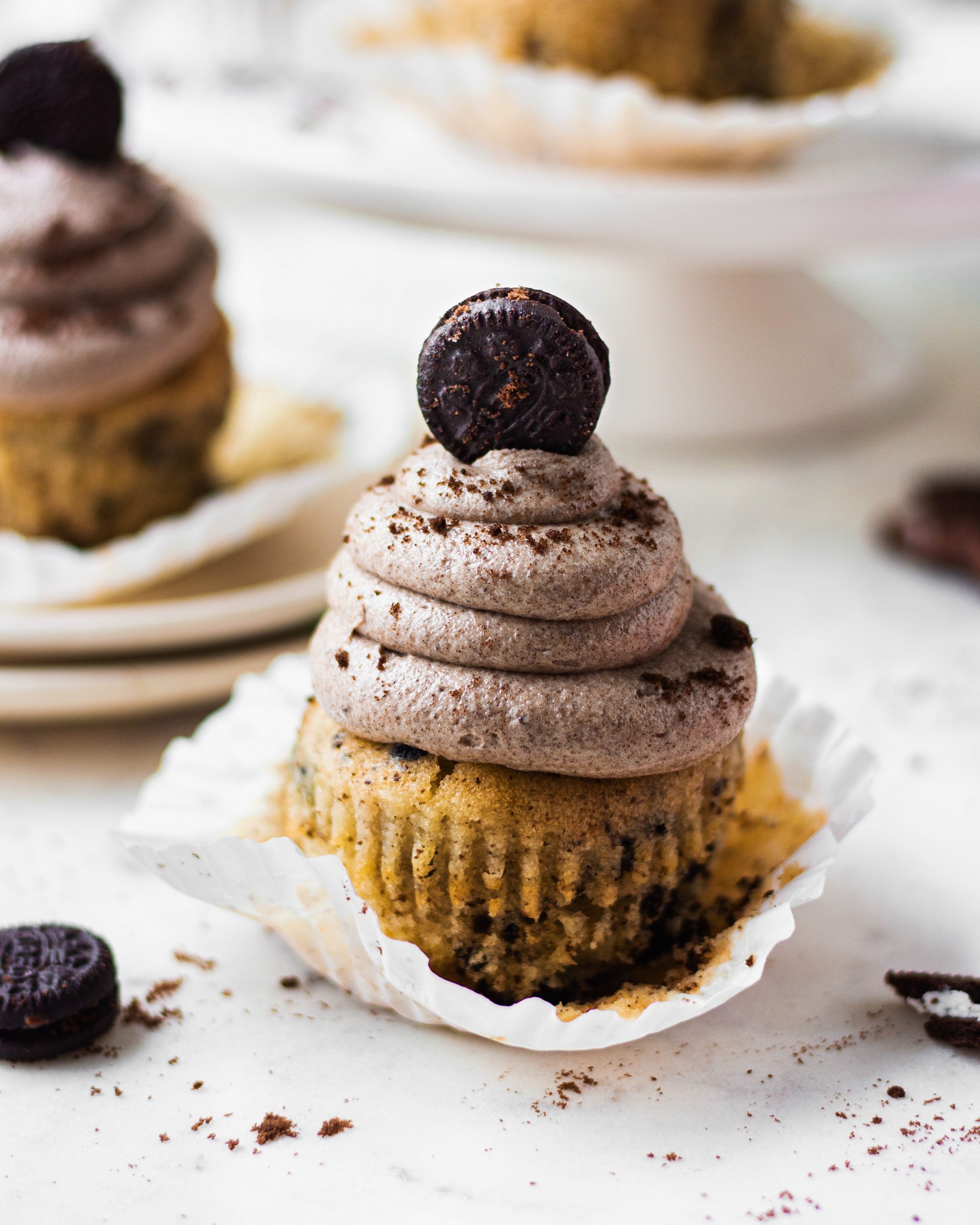 Eggless Oreo cupcakes with Oreo buttercream
If you are ever in the mood for some cookies and cream flavor, these eggless oreo cupcakes with oreo buttercream are the perfect dessert. These Eggless Oreo Cupcakes literally melt in the mouth. And what truly sets them apart is the oreo buttercream frosting. Endless recipes will give you oreo cupcakes but who gives a double oreo bonanza with an oreo buttercream frosting? I do! Trust me when I say this, I have never seen easier cupcakes than these oreo cupcakes. Find the full recipe for these cupcakes here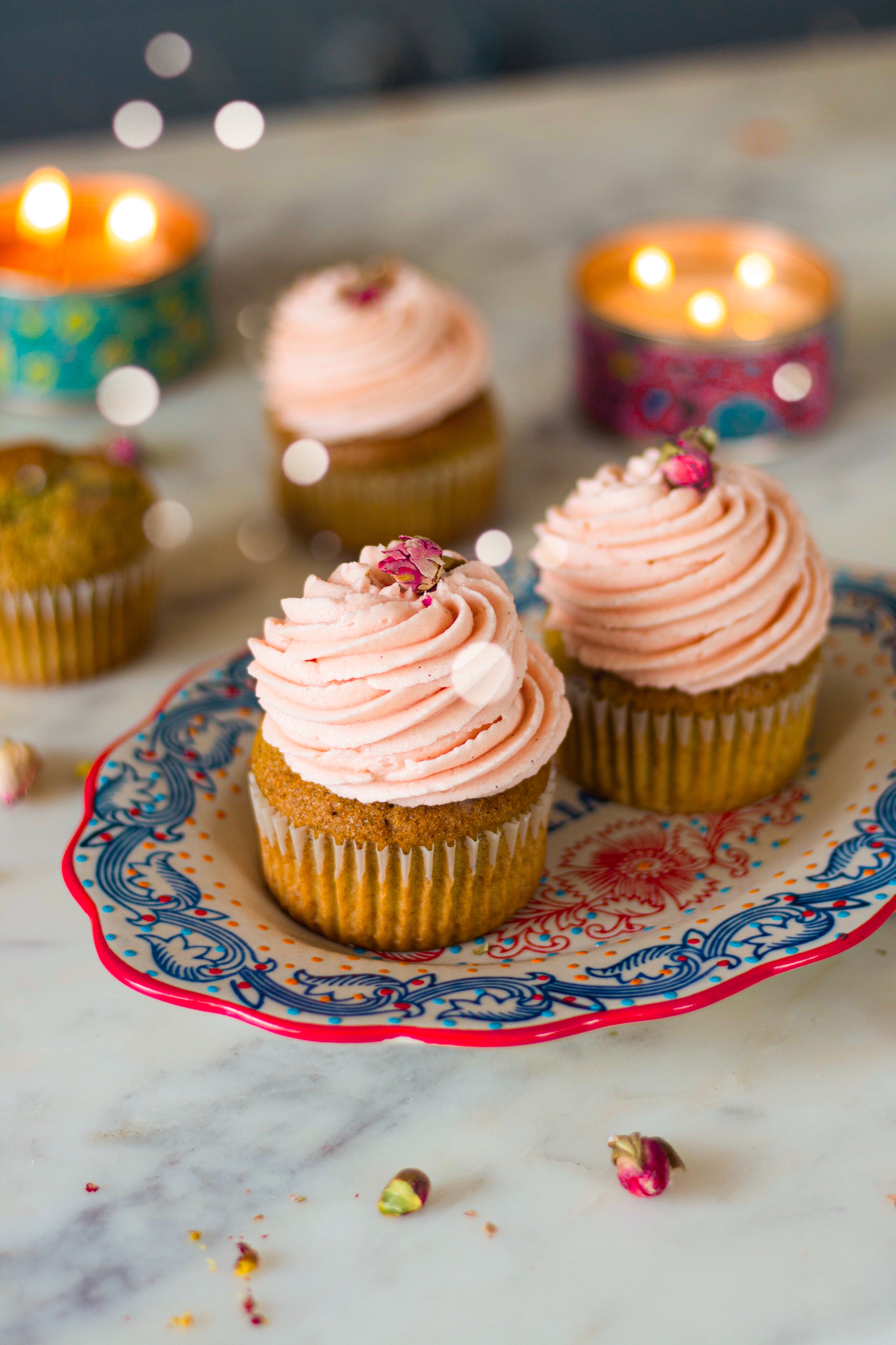 Pistachio cupcakes with rose buttercream frosting
This cupcake is all about the festive times. During the lockdown when it was time for Diwali everyone at home was relying on homemade desserts of course. These cupcakes were a huge hit. They not only look adorable with the pistachio green color cupcake and the pretty pastel pink rose buttercream, but also taste delicious! According to me, what really defines a cupcake is how beautifully it melts in your mouth. Each and every bite of your cupcake should be getting reduced to a mixture of the most delicious flavors. These super moist pistachio cupcakes pack TONS of flavor in each cupcake wrapper! Made from simple everyday ingredients, this easy cupcake recipe will be your new favorite this festive season. Find the full recipe here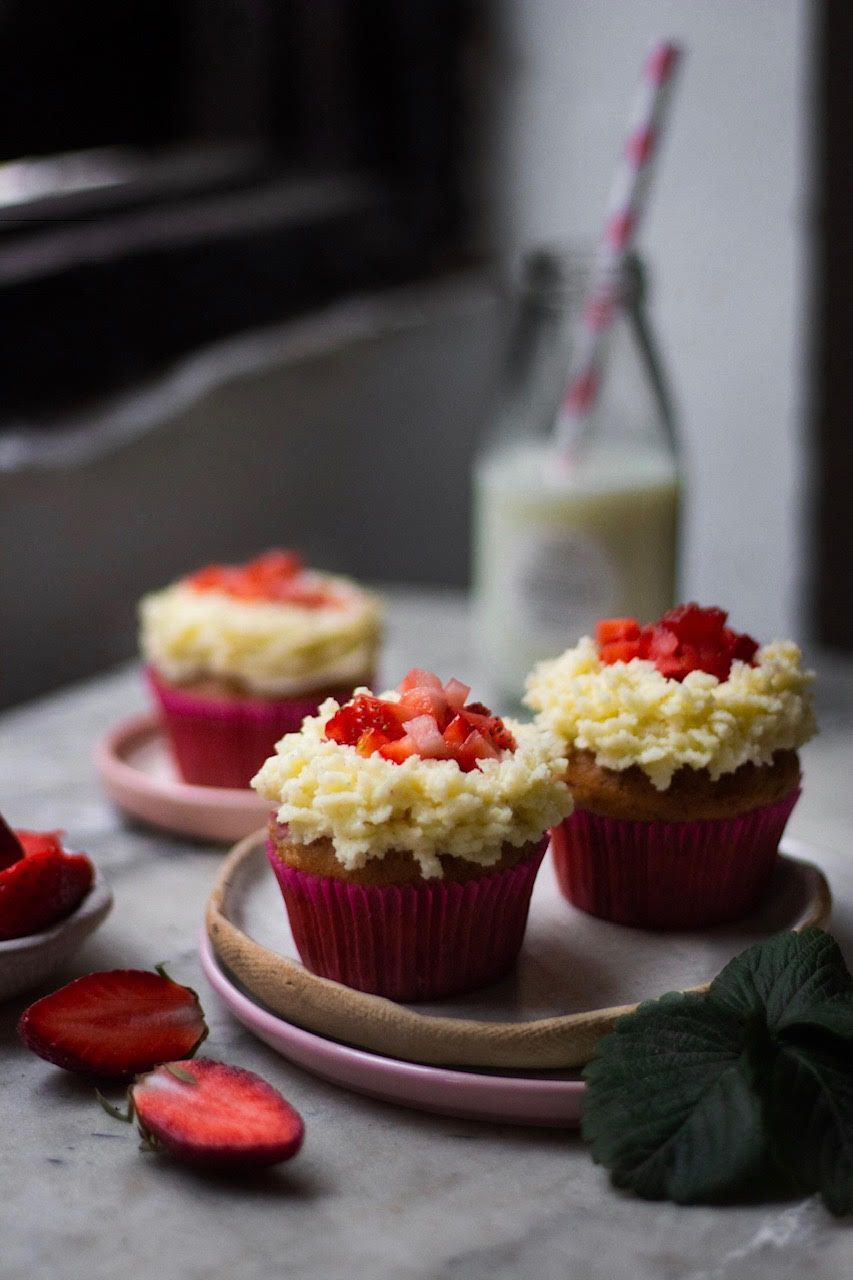 Eggless Strawberry cupcakes 
Strawberry season is any baker's favorite time of the year. Strawberry desserts look stunning and taste even better. Every year when the strawberry season is about to begin, I make a list of desserts I want to make with the fresh strawberries of the season. These cupcakes undoubtedly always make it to the list. 
You'd be surprised to see that these easy strawberry cupcakes are fuss-free when it comes to ingredients. Besides your regular maida, sugar and vegetable oil, all you need is a cup of fresh strawberries. I love recipes that only call for ingredients which I already have on my kitchen shelf. I flavor these simple, easy to bake eggless strawberry cupcakes with good old vanilla. You can throw in some fresh lemon-zest, if you like. Feeling adventurous? Add half a teaspoon of cardamom powder for extra flavor.I top these fluffy cupcakes with my  vanilla bean buttercream frosting . You can also use  cream-cheese frosting to decorate these cupcakes. Find the full recipe here.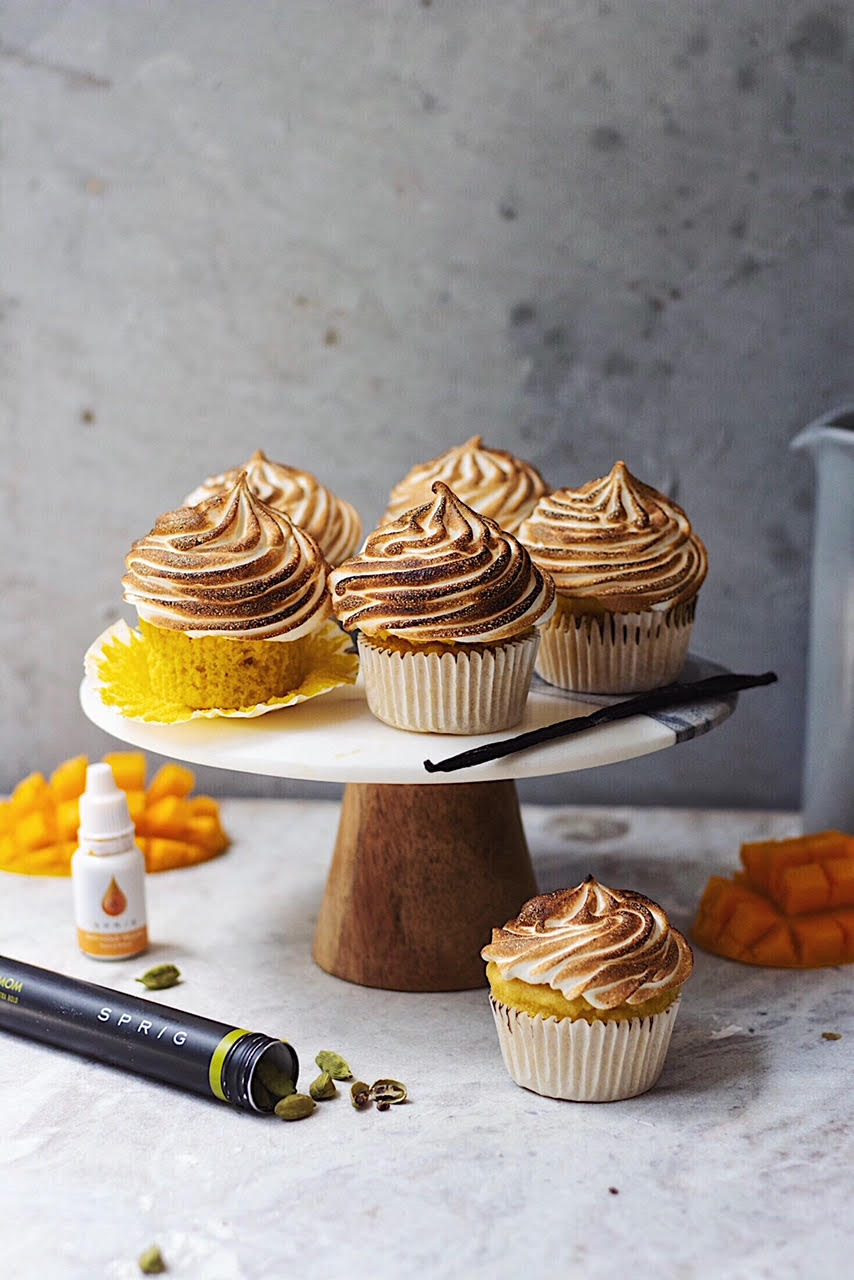 Mango Cardamom cupcakes
Another seasonal star is any mango dessert in the hot summer months! I know how much you all love mangoes and mango desserts. One flavor that pairs really well with mango is cardamom. All the Indian inspired flavors come to life with this simple dessert and make for a great cupcake. To make this cupcake, you need ingredients like all purpose flour, mango puree, whole cardamom, vegetable oil, castor sugar, and some marigold food color (optional). Find the full recipe here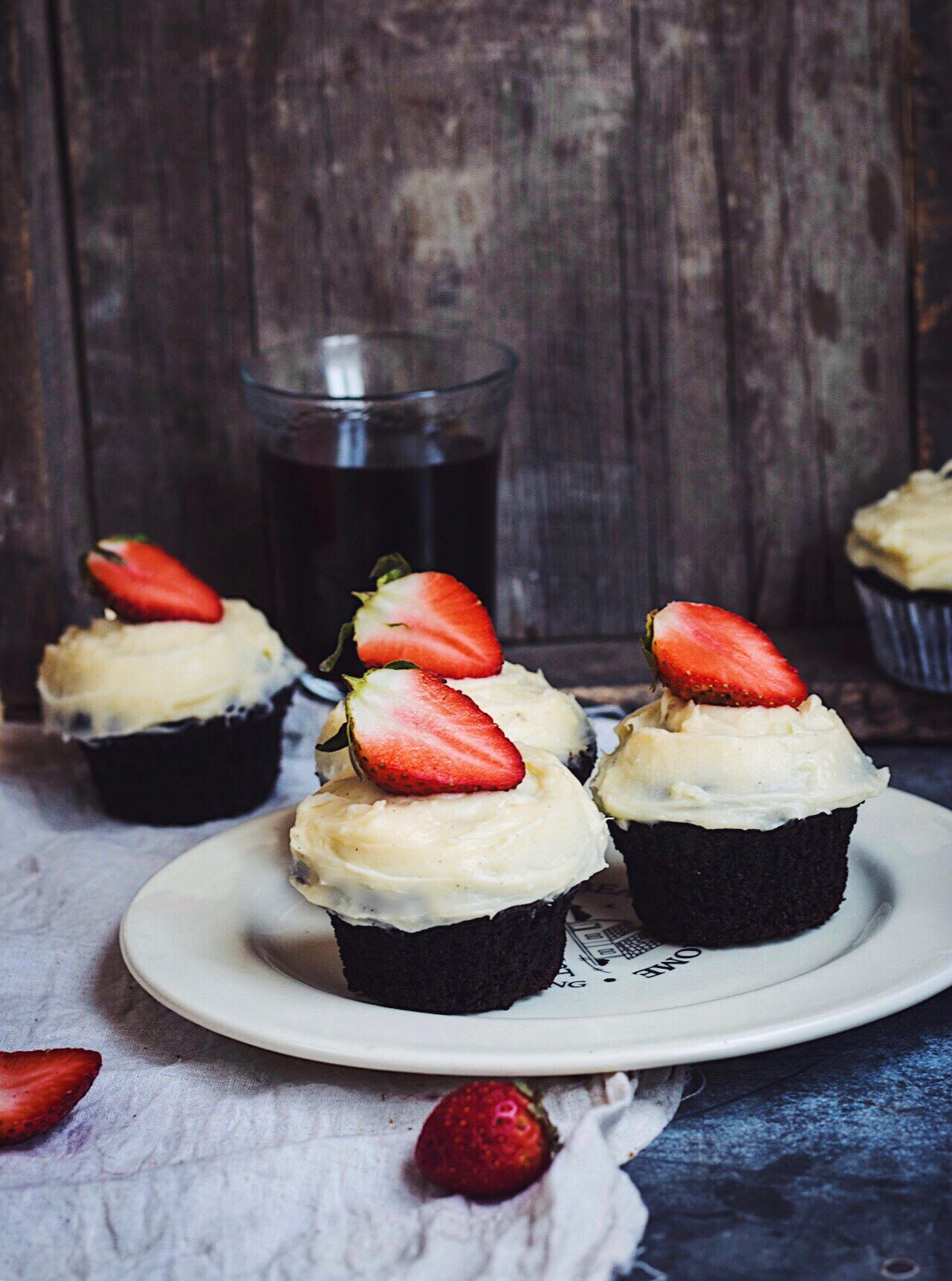 Chocolate cupcakes with cream cheese frosting 
A classic for many but experimental for others! The combination of chocolate and cream cheese is somewhat controversial because I know people who love this combination (including me), and I know people who absolutely despise this flavor combination. So really, it comes down to personal preference with this cupcake. If you want to try something new, then I would definitely encourage you to make these gorgeous cupcakes. Find the full recipe here
Microwave cupcakes: ready in 40 seconds 
Yes you have read it right, these beautiful and ultra fluffy chocolate cupcakes come together in just under a minute. These are perfect for your midnight snack marathon or just as a quick dessert for when you are running out of time. These microwave cupcakes are simple, super low effort and sooo delicious. It's amazing how light and fluffy they are without even using an oven. Now, in my opinion peanut butter and chocolate are a match made in heaven. And you have to try this super easy creamy only 3 ingredient peanut butter frosting to top your microwave cupcakes. Softened butter, CREAMY peanut butter(please do not use crunchy peanut butter) and icing sugar. Find full recipe here
If you have never made cupcakes before and are slightly intimidated by them, you can start by reading through some tips that will help you make the perfect cupcake.