You know those flavor combinations that feel like a match made in heaven? Chocolate and coffee is hands down one of them. It's amazing how the two flavors complement each other and bring out the best taste. This chocolate coffee layered cake is going to be loved by everyone who takes a bite. It is unbelievably soft, moist, and decadent. 
I have been having a lot of fun layering cakes this year and if you have ever shied away from making layered cakes, this recipe is the perfect place to start! In this article I will take you through the assembling and layering of the chocolate coffee layered cake so let's get started.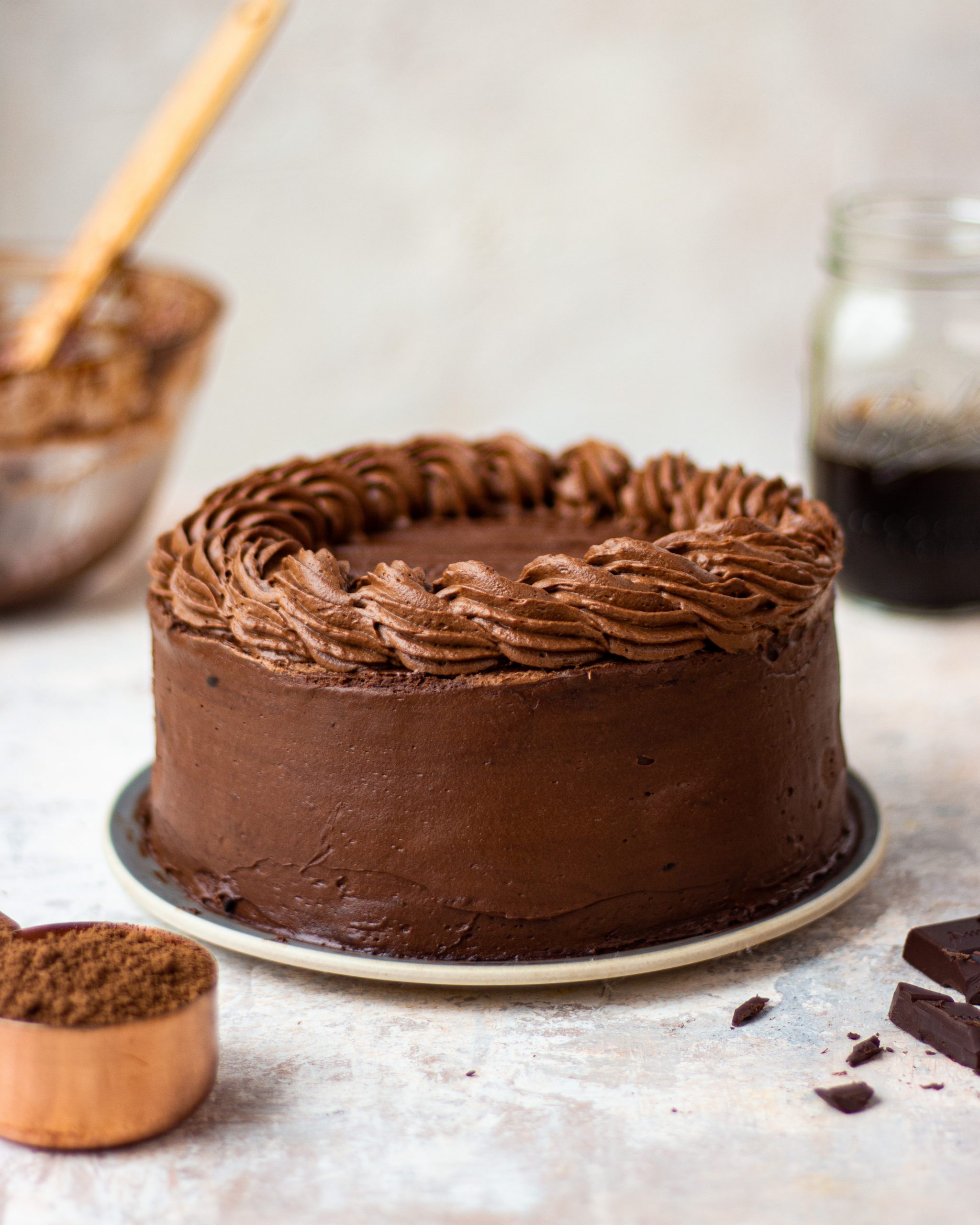 Layers of the chocolate coffee layered cake 
For a layered cake you need multiple cake sponges that will create the layer. In addition to that, you need a frosting that will come in between the cake layers and that will hold everything together. 
Cake sponges
For my chocolate coffee cake, I made an eggless chocolate sponge infused with the coffee flavor. To do that, a very simple way is to heat up water and add instant coffee powder to it and mix. The hot water enhances the flavor of coffee and helps enrich the coffee flavor in the cake. 
To keep the cake sponges heavy on chocolate as well, I poured this coffee concoction in a bowl with cocoa powder. Two things are happening here: the hot liquid is again enhancing the flavor of chocolate and the coffee in the hot liquid is also adding to the shine of chocolate flavor. It's a lot of flavor enhancement and that is what makes this cake so amazing. 
Whipped ganache frosting 
If I had to pick a favorite frosting, hands down it would be chocolate ganache. I mean do not get me wrong, I love vanilla whipped cream, American buttercream, and even swiss meringue buttercream. But I don't think any of these beat a great, smooth, luscious chocolate ganache. It's easy to make, it tastes amazing, and it is always a crowd pleaser. For this cake, I make two kinds of whipped ganache. One with milk chocolate and one with dark chocolate. The whipping cream I used was non dairy and sweetened. Rich is the most commonly available whipping cream. You can find it on amazon. The process of making whipped ganache is super simple. Pour hot cream over the chopped chocolate and let the chocolate melt. Once it's a smooth mixture, cover and refrigerate the ganache till it is set. Then simply use an electric whisk to whip up the ganache till it reaches stiff peaks. 
Sugar syrup 
This isn't a layer per se, but it is a very important component of any layered cake that you will make. A sugar syrup is simply a combination of sugar and water that is cooked on the stove till all the sugar is dissolved. This syrup helps keep all the layers moist and soft while your cake is sitting in the fridge.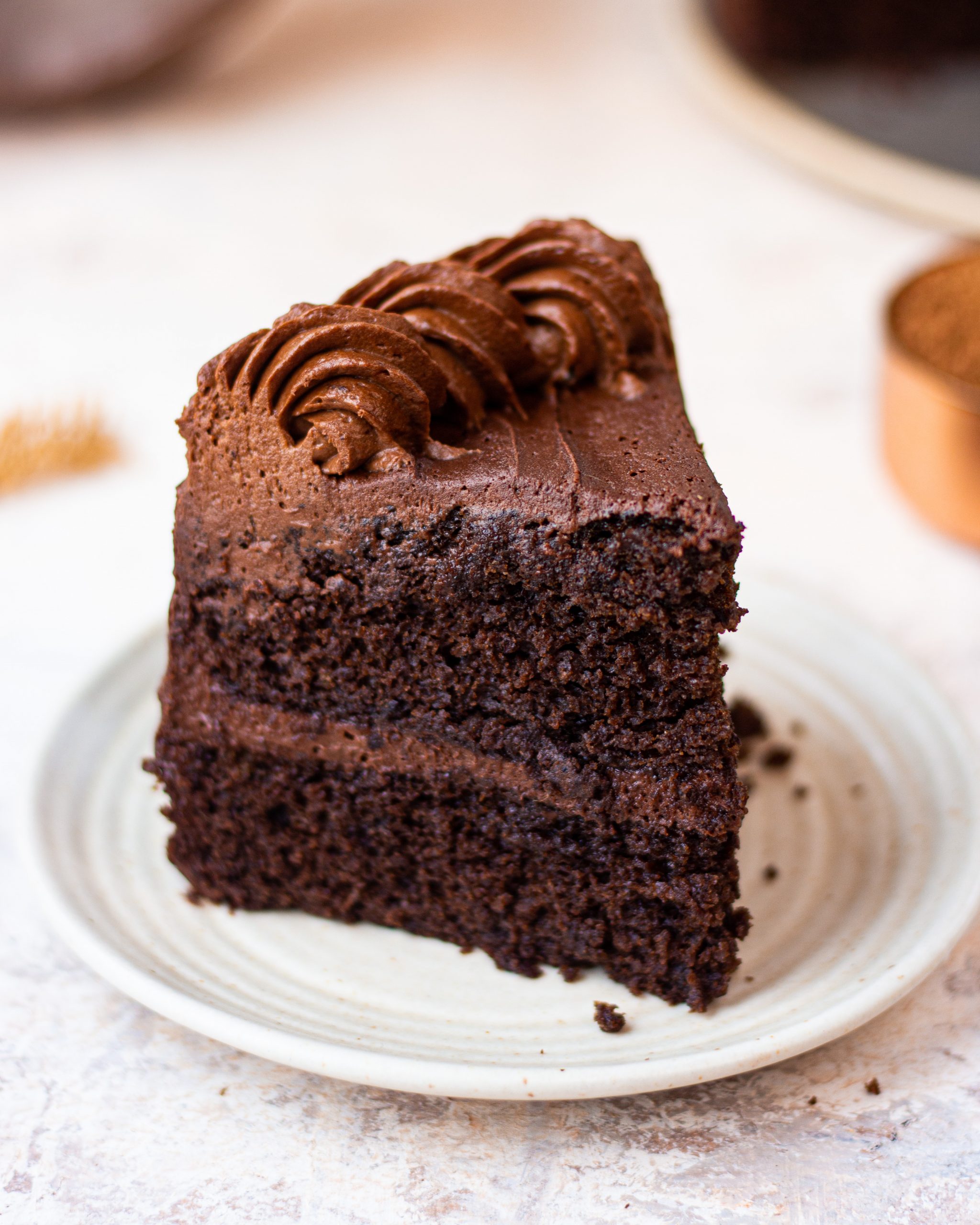 How to make the perfect chocolate coffee sponge (eggless)
To make the most moist and soft chocolate coffee sponge, you need some hot water, some instant coffee powder, some cocoa powder, some yogurt, vegetable oil, castor sugar and vanilla extract. 
In most of my eggless recipes, I love using vegetable oil instead of butter. Oil always makes a cake slightly more soft. Yogurt acts as a great binding agent instead of eggs. Make sure you are using yogurt that is sweet and not at all sour. The taste of yogurt directly has an effect on the taste of your cake. You can use homemade dahi also. Just make sure to use the thicker parts and not the watery parts of it. Once you have prepared your wet ingredient mix, you need to move on to the dry ingredients. Eggless cakes always require more air. One way to achieve that is by sifting in the dry ingredients. This is a very easy and an essential step towards light and airy eggless sponges. Use a large sieve to sift in the dry ingredients and combine the dry and the wet ingredients gently with a spatula. Eggless sponges are sensitive to the amount of air that you can add in them. So make sure not to overmix while you are combining the batter with a spatula. 
Things to keep in mind while making whipped chocolate ganache 
I wanted this cake to be a burst of intense flavor where both coffee and chocolate can shine through. To make the chocolate shine, I made my favorite whipped ganache frosting two ways- one with milk chocolate and one with dark chocolate. While making ganache, you need to keep a few things in mind: 
Make sure to chop your chocolate in small and even chunks. This ensures when you pour hot cream over the chopped chocolate, all of the chunks melt easily and there are no small chunks leftover that will hinder the smoothness of the ganache. 

Your cream should be hot when you pour it over the chocolate to make sure it starts melting instantly. Once your cream reaches a simmer, pour it onto the chocolate then and there. 

Let the mixture sit for 30 seconds before you use a whisk to combine the ganache. After 30 seconds, whisk nicely so that the chocolate and cream are perfectly combined and nothing will separate while it is cooling down. 

To make sure that the ganache whips up perfectly, you need to let it cool down completely and refrigerate it for at least one hour. Use an electric whisk at high speed to whip up the ganache. If you think the ganache is getting softer, you can refrigerate it again and then whip it again later. 

Lastly, before you keep the ganache in the refrigerator, if you see tiny chocolate lumps that just won't melt, you can pour your ganache over a sieve to get rid of those lumps. 

If you have any leftover ganache, you can store it in the freezer for up to 3 weeks.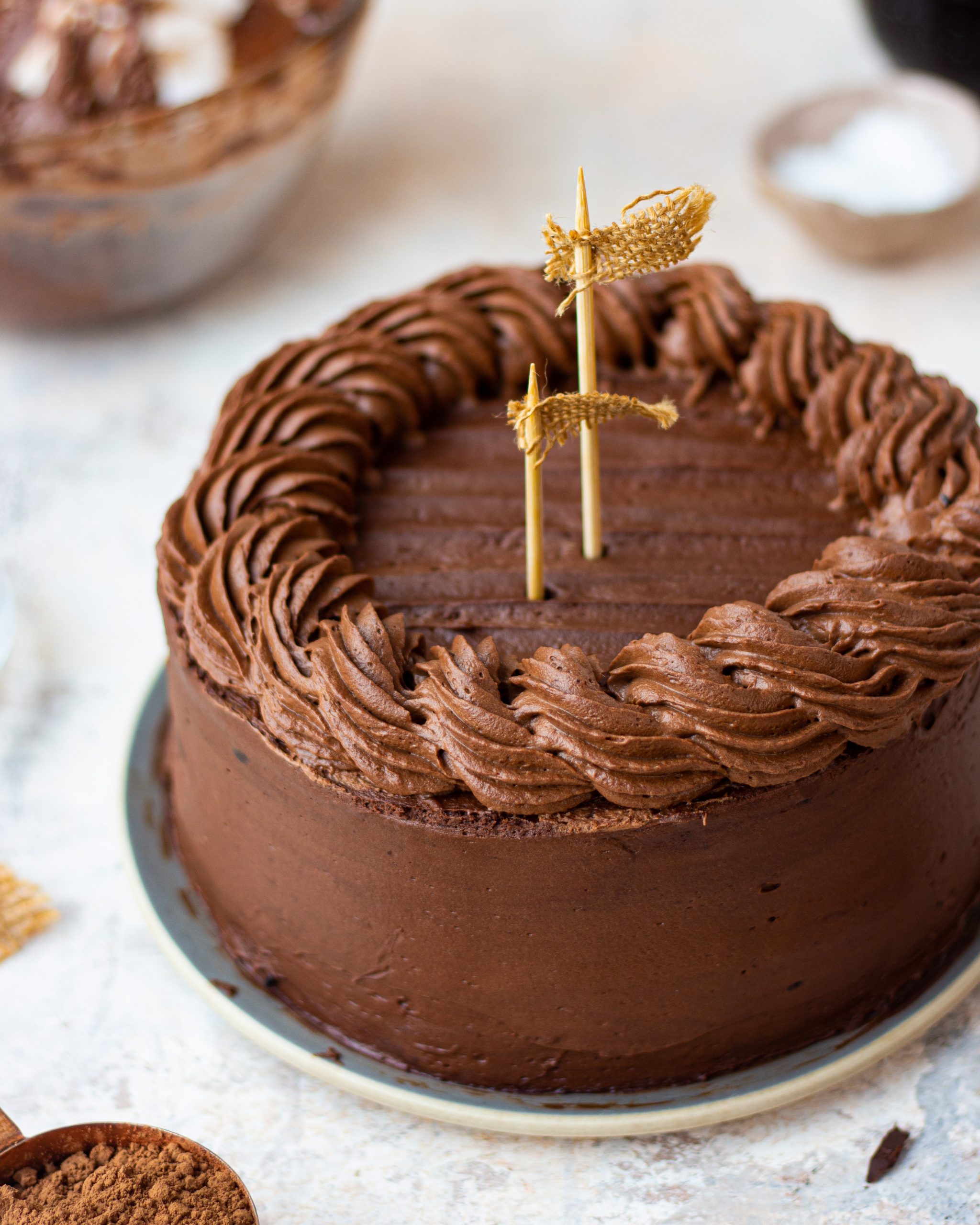 Assembling the chocolate coffee layered cake 
This cake is super simple to assemble because it only has three elements: chocolate sponges, whipped ganache, and sugar syrup. 
First thing you want to do is make sure your cakes have cooled down completely and are not at all warm. If you find the sponges to be too delicate to handle, you can freeze them for 30 minutes or keep them in the fridge before you start assembling the cake. 

Place the first sponge on the base of your serving plate. Brush the sponge with the sugar syrup and then add dollops of whipped chocolate ganache on it. If you want to make sure you are adding an event amount of ganache on each layer, you can use an ice cream scoop and add same amount of scoops on each. 

Use your offset spatula to the spread the ganache around and cover the surface of the cake. 

Add the second layer on top and brush that with sugar syrup too. Add dollops of ganache and coat the entire cake with it. Make sure to cover the edges of the cake as well. 

You can put the cake in the fridge so that it sets a little till you have to add the top frosting of milk chocolate ganache. I piped the ganache with an open star tip and only on the edge of the cake. You can use any piping tip you like!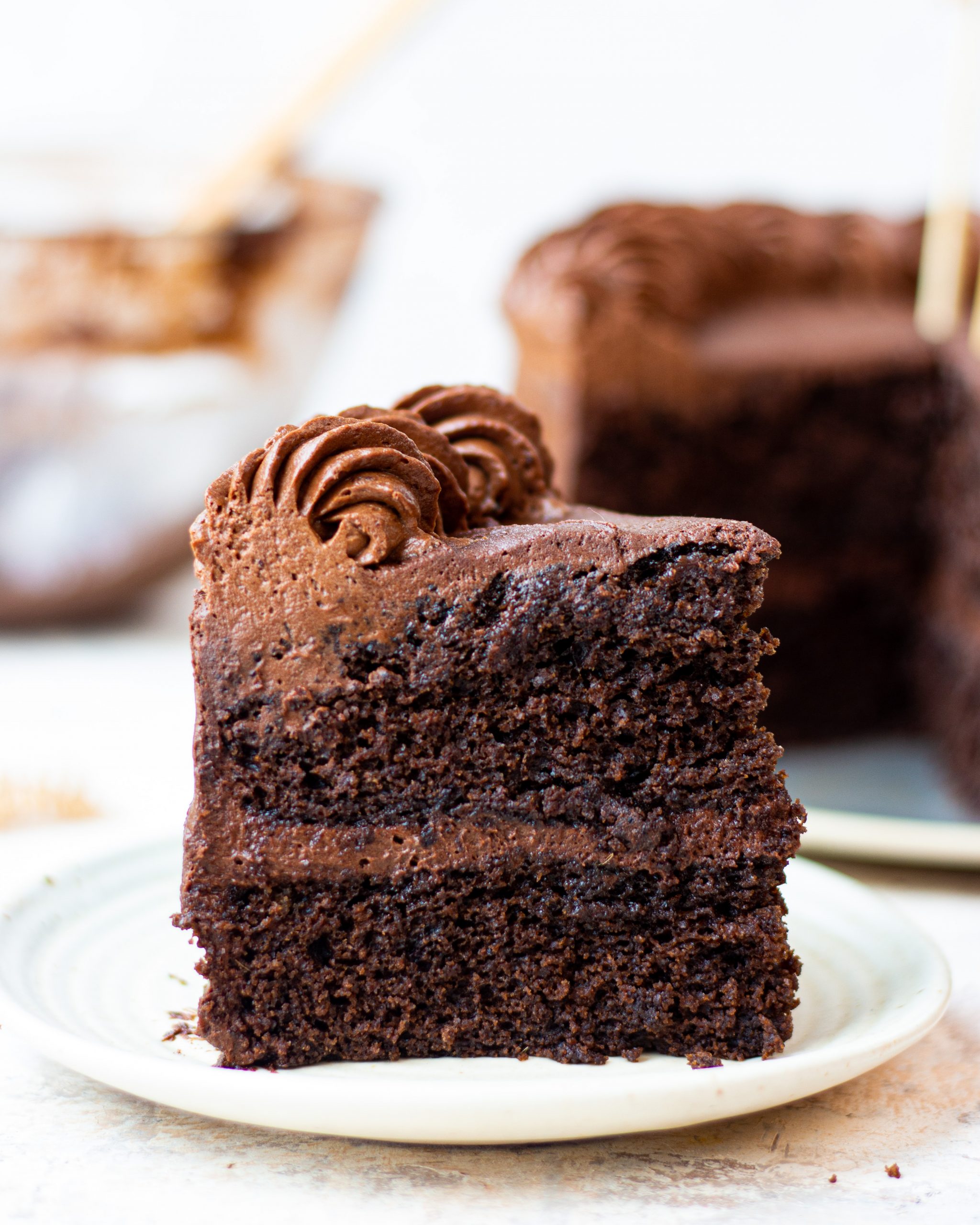 Store the cake in the refrigerator before you cut into it. This will make sure your cake stays in place when you are slicing into it. Enjoy! 
If you make this cake, do not forget to share your images with me on my Instagram @shivesh17

chocolate coffee layered cake (eggless)
Ingredients
For cake
¾ cup (90gms) cocoa powder
¾ cup (180ml) hot water
1 tbsp (12gms) coffee powder
1 + ½ cups (300gms) castor sugar
¾ cup (180ml) vegetable oil
1 tsp (5ml) vanilla extract
1 cup (285gms) yogurt
1 + ½ cup (180gms) maida
1 tsp (4gms) baking powder
½ tsp (3gms) baking soda
Pinch of salt
For dark chocolate ganache
2 cups (350gms) dark chocolate (chopped)
2 cups (460gms) whipping cream
2 tbsp (24gms) coffee powder
For milk chocolate ganache
1 cup (175gms) dark chocolate (chopped)
1 cup (230ml) whipping cream
Sugar syrup
¼ cup (50gms) granulated sugar
¼ cup (60ml) water
Instructions
Line two 6 inch cake pans with oil and parchment paper and preheat the oven to 180C.
In a small bowl add hot water and coffee and give it a good mix.
Take another bowl add coco powder and pour the coffee mix over it and mix it in with the cocoa powder.
In the same bowl add in caster sugar, vegetable oil, vanilla, and yogurt and give it a good mix with your hand whisk.
Next, place a sieve over the bowl and add in all the dry ingredients. This includes maida, baking powder, baking soda, and a pinch of salt. Use a spatula to combine the batter.
Pour it in the prepared baking pans and bake at 180C for 25-30 minutes.
To make the dark chocolate ganache, in a saucepan over medium heat pour in whipping cream and add instant coffee powder. Let this come to a simmer and pour it over the chopped chocolate. Use a hand whisk to combine the ganache and store it in the fridge for at least 1 hour.
For the milk chocolate ganache, pour whipping cream in a saucepan and bring it to a simmer. Pour it over the chopped chocolate and combine the ganache with a hand whisk. Refrigerate this also for at least 1 hour.
Once both the ganache have been refrigerated, use an electric whisk at high speed to whip them till stiff peaks.
To make the sugar glaze, in a saucepan over low heat add in granulated sugar and water. Cook this mixture till the sugar has dissolved completely and then take it off the heat.
Once all the elements are ready and have cooled down, it is time to assemble the cake!
Place one cake sponge on your serving dish and brush it with the sugar glaze. Add dollops of whipped dark chocolate ganache and spread it around using an offset spatula.
Take the second sponge and place it on top of this and repeat the same process till the cake is fully covered in chocolate ganache.
For the final touch, transfer the whipped milk chocolate ganache into a piping bag with an open star tip and pipe in circular motions only on the edge of the cake, so as to create a circular boundary.
Refrigerate the cake for 1 hour before you slice into it. Enjoy!