I love a good indulgent chocolatey drink on a hot day! If you have been following me you know how much I love chocolate desserts. But during the hot summers in Delhi I crave for chocolate in a drink form more than a dessert form because a- it's delicious, b- it feels much lighter and cooler than a baked chocolate dessert and c- it's CHOCOLATE!! Who can say no to chocolate? This biscoff cold coco has got all things I love- from dark chocolate to lotus biscoff and coco! It's indugent, it's delicious and it's the perfect take on a regular cold coco. Let's get to the ingredients.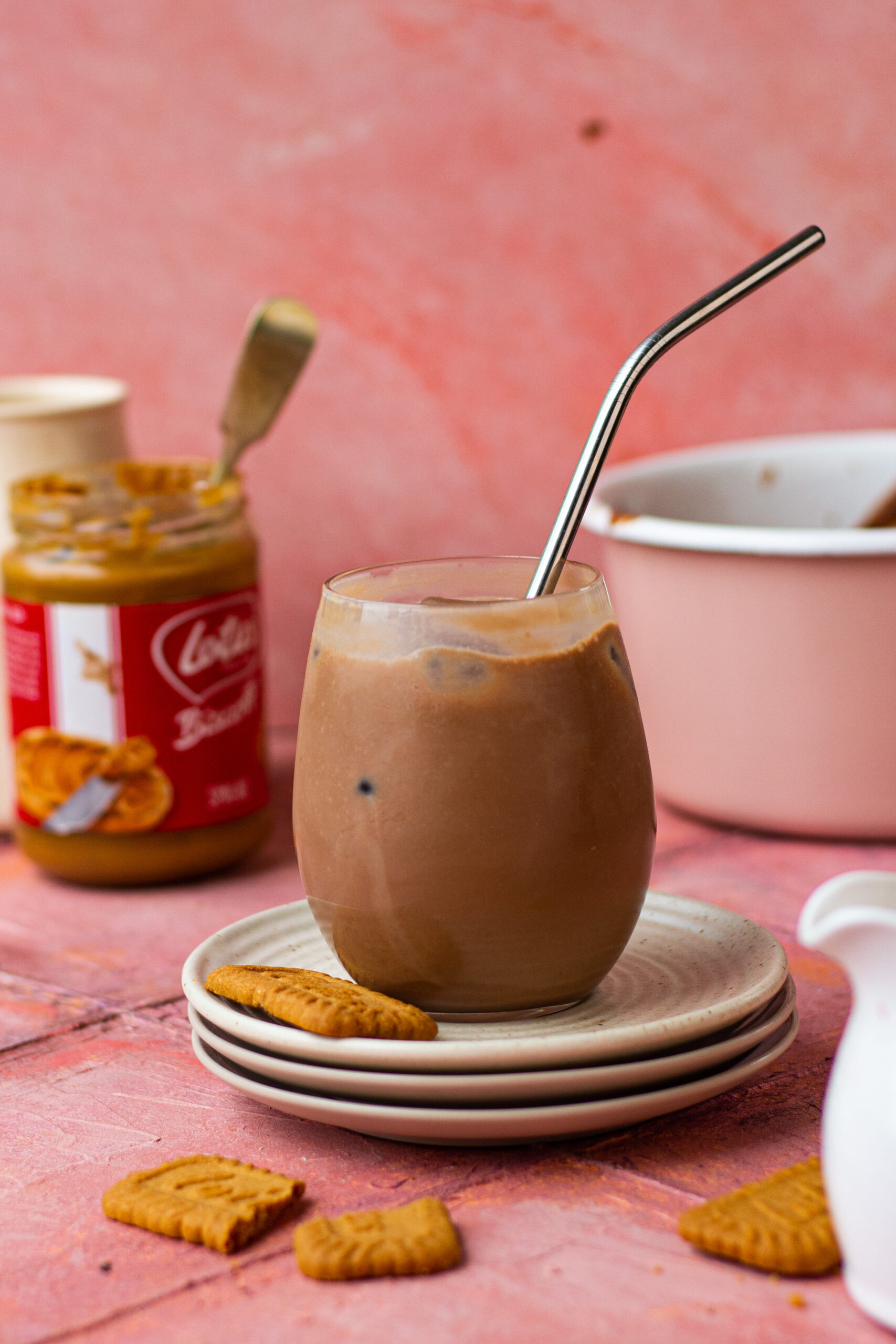 INGREDIENTS NEEDED TO MAKE BISCOFF COLD COCO
MILK
For my biscoff cold coco, I have used regular milk. Feel free to use almond milk, soy milk or any other lightly flavoured milk of your choice. Avoid usind full cream milk as it will make the drink feel heavier than usual. But if you don't have any other milk than full cream, feel free to dilute it a bit with some water.
SUGAR
Now I usually use and prefer castor sugar for all my recipes when I am baking in the kitchen. But since we are cooking the sugar and dissolving it in our biscoff cold coco, feel free to use any kind of sugar you like and have it in hand. It can be brown sugar, granulated sugar, coconut sugar, powdered sugar any of your choice.
COCOA POWDER
To make my biscoff cold coco thick and luscious, I have added a tablespoon of cocoa powder in it. If you don't have cocoa powder at home, there is no substitute for it. You can simply skip it and make the coco without it.
CORN FLOUR
To make my biscoff cold coco thick and smooth, I have added a slury of corn flour with milk and cooked the mixture until it becomes slightly thick. Make sure you don't cook it for too long instead turn off the heat a minute before it reaches your desired thickness. This is because once it cools down a bit it'll start to thicken more.
DARK CHOCOLATE
I have used this dark chocolate chips and melted it for that chocolatey goodness in my biscoff cold coco. Feel free to use milk chocolate chips in place of dark if that's your game.
LOTUS BISCOFF
Have you ever tried the lotus biscoff spread? IT'S DELICIOUS! I know right! For those of you who haven't tried it, now is the time. It's thick, smooth and just yum. Now this spread is my main flavour ingredient in this biscoff cold coco. Feel free to swap it with any other spread of your choice.
ICE CUBES
It is a cold coco so while serving it has to have ice cubes! I love my drinks to stay cold while I am sipping on them so I am adding ice cubes, if you don't want it to be that cold and rather want to drink hot; you can skip it too.
TIPS AND TRICKS TO MAKE BISCOFF COLD COCO
I recommend using regular or toned milk to make this biscoff cold coco for the perfect consistency.
Do not forget to mix immediately after adding corn flour to avoid lumps. Or you can make a slurry of corn flour , coco powder and little bit of milk before adding.
Make sure to cool the cold coco a bit before adding loads of ice while serving!
For the garnish, you can add marshmallows, grated dark chocolate or even dust cocoa powder.
You can even serve this cold coco with vanilla ice-cream or whipped cream and a generous drizzle of chocolate ganache on it.
If this cold coco gets lumpy, you can always sieve it before serving.
Make sure you cook it till it get thickens and let the corn flour gets cooked properly too.
EQUIPMENT USED FOR MAKING BISCOFF COLD COCO
The kind of equipment you use when you're baking or cooking makes a huge difference to the end result! I would recommend you to use good quality bowls, saucepans and other equipment so that your biscoff cold coco comes out delicious!
Not a single day goes in my kitchen when I don't use a Silicon Spatula, this is the one I recommend. Same goes for my set of Measuring Cups and Measuring Spoons.
The saucepan I have used to make my biscoff cold coco is this one.
The induction which has been a part of my kitchen for a really long time is this one, I absolutely love it. It makes my cooking so much easier and hassle free.
And if you try this recipe and like it, do try other drink recipes from the blog. I am sure you are going to love them too!
SIMILAR RECIPES FROM THE BLOG
Biscoff cold coco
Ingredients
1 cup milk
2 tbsp sugar
¼ cup milk
1 tbsp cocoa powder
1 tbsp corn flour
2 tbsp dark chocolate, melted
2 tbsp lotus biscoff
ice cubes
Instructions
In a saucepan, set over medium heat; pour 1 cup of milk and add sugar in it. Let the sugar dissolve properly and give it a stir in between.
While it is heating, in a bowl add ¼ cup of milk, corn flour and cocoa powder to make slurry. Mix it properly and set aside.
Add the slurry to the simmering milk and sugar mixture and give it a good mix.
Keep stirring everything so the milk doesn't burn from the bottom.
As it thickens melted chcolate and biscoff spread and give it a mix.
Once the mixture thickens, take it off the heat and let it cool outside or you can even refrigerate it for 10 minutes.
Serve it in a glass with lots of ice cubes and enjoy!
If you like my biscoff cold coco recipe and happen to make it in your kitchen, do tag me on
Instagram
 and share pictures with me using #Bakewithshivesh. Happy Baking!