Are you a person whose day starts and ends with coffee? Because surely I'm! A sip of cold coffee in the morning opens up my nerves instantly and I feel fresh all day, but sipping the same cold coffee every day  is boring. So here is a yummy and easy Iced mocha recipe, Which can be made at home and that too very quickly! Mocha is always a great idea and tastes way better than your regular cold coffee!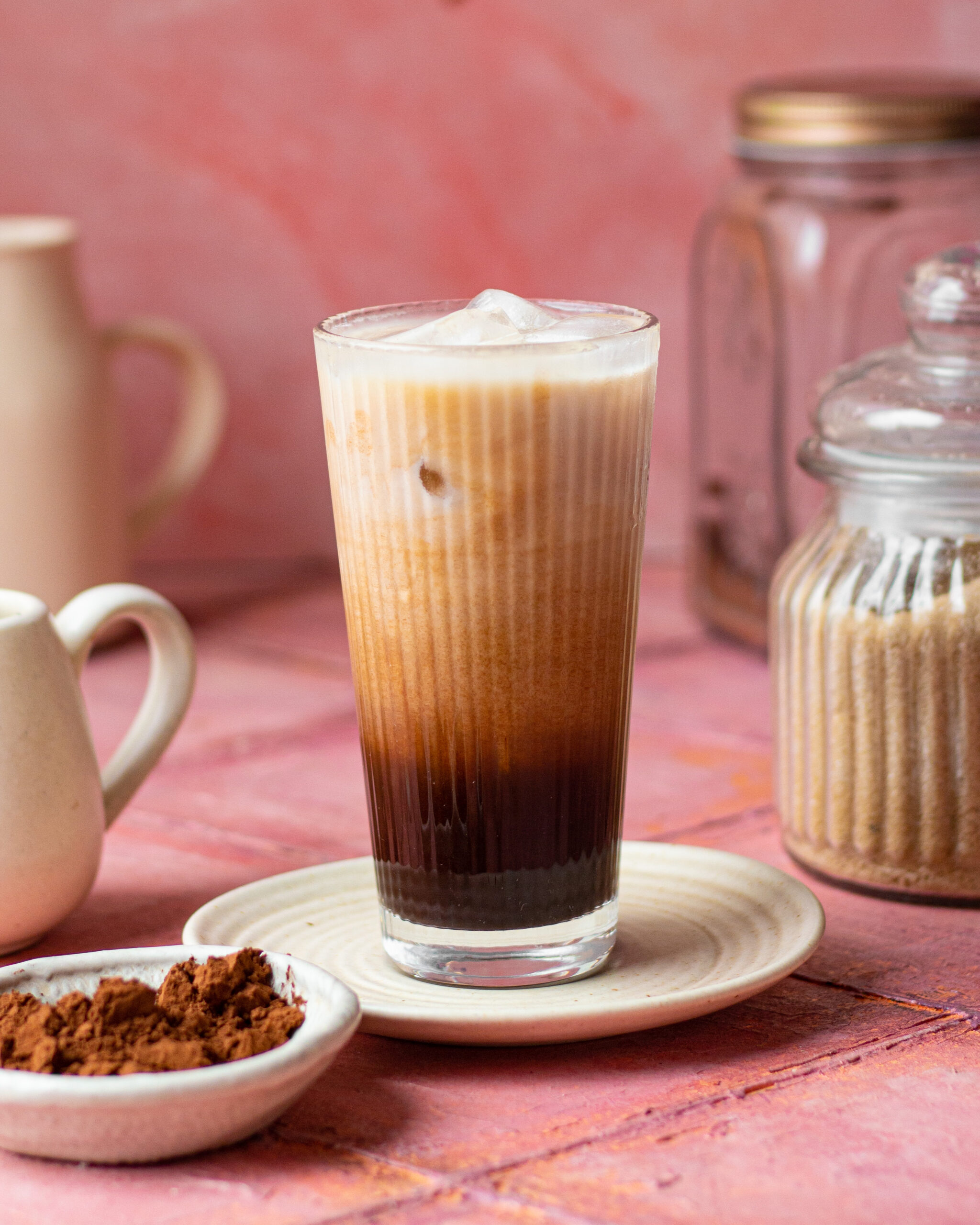 INGREDIENTS USED IN ICED MOCHA
COFFEE
Without any guess coffee remains the main ingredients of this recipe! I have used this coffee for my mocha. You can adjust the ratio of the coffee in your drink if you like super strong coffee.You can aslo use any flavoured coffee also like vanilla, caramel etc. whichever is readily available to you.
SUGAR
I cannot have my coffee without sugar! A little bit flavour you need to sip that coffee all in. For making this Iced mocha I have used this castor sugar. You can also use granulated sugar or icing sugar. You can also use brown sugar or jaggery to give your coffee a healthy angel.
COCOA POWDER
Mocha without chocolate sounds weird! So with that being said cocoa powder also remains an important ingredient of this recipe. It takes your coffee from 10 to 100 instantly and makes it sooo yummy! I have used this cocoa powder my iced mocha.
VANILLA
To give my coffee a better flavour I have used this vanilla essence in this recipe to cancel out cocoa powder's and coffee's bitterness this is a great idea. Its completely optional you can skip this step also.
WATER
I have used hot water in my iced mocha recipe to awaken the flavour of my coffee and to give it a smoother blend.
MILK
I'm not a big fan of black coffee that's why I always add loads of milk in mine I have used full toaned milk in my Iced mocha you can use any milk. Almond milk or soy milk would also go nice with this recipe.
EQUIPMENTS USED IN MAKING OF ICED MOCHA
The kind of equipment you use in the kitchen makes a huge difference to the end result! I would always recommend you to use quality gadgets and other equipment to make your cooking and baking game strong.
For blending my coffee I have used Coffee frother which I have recently ordered from amazon and it has made my work so hassle-free and quick.
TIPS FOR MAKING ICED MOCHA
Make sure water is very hot , it helps the coffee to blend in well and gives a smooth texture.
You can also use almond milk or soy milk to make this iced mocha vegan.
You can skip sugar or add in as per your preference.
You can also add in melted chocolate or any chocolate syrup to make this iced mocha super chocolatey.
SIMILAR RECIPES ON BLOG
1).3-cafe-style-hot-coffees-at-home
3).eggless-chocolate-cookie-cups-with-cold-coffee
ICED MOCHA
Ingredients
1 tbsp coffee
1 tbsp sugar
1 tbsp cocoa
3 tbsp hot water
½ tsp vanilla
½ cup milk
Instructions
).Take a tall glass and add coffee, sugar,cocoa, and hot water into it.
).Blend it all together until it becomes all smooth
).Add in 4-5 ice cubes and pour milk at last and enjoy!
If you like my Iced mocha recipe and happen to make it in your kitchen, do tag me on
Instagram
 and share pictures with me using #Bakewithshivesh. Happy Baking!