Are you also a person like me who doesn't crave pakode and chai in rain but a chocolate cake ? Then this recipe is surely for you! After seeing so many pictures and reels on Instagram I also thought to give it a try and here it is, the most decadent way to satisfy your cravings! A chocolate bar cake, which is chocolate cake loaf with whole chocolate bar on top making it extra extra chocolatey.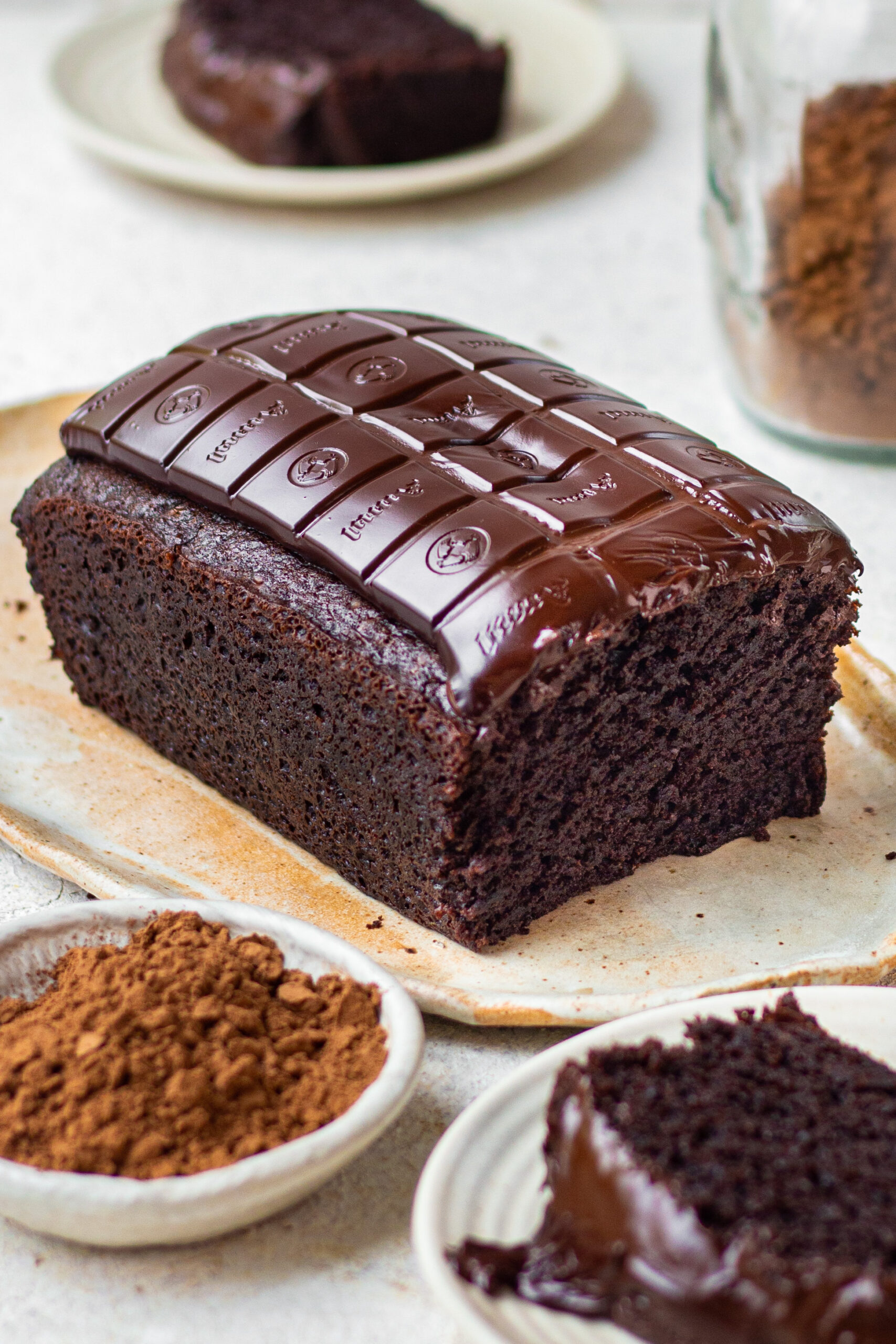 INGREDIENTS USED IN MAKING CHOCOLATE BAR CAKE
MILK
To make my eggless chocolate bar cake moist, soft and light, I have regular milk in this recipe. Make sure it is a little warm and not cold straight from the fridge. Since every flour is different, you might need a tablespoon less or a tablespoon more of milk to adjust the consistency of the batter.
CASTER SUGAR
I usually prefer castor sugar in all my recipe until mentioned otherwise. Castor sugar melts evenly unlike granulated sugar. If you don't have castor sugar in hand, feel free to substitute it with powdered sugar in this recipe.
ALL PURPOSE FLOUR
I have used regular maida in this eggless chocolate bar cake. Feel free to swap half of it for whole wheat flour or oat flour. Make sure you increase the quantity of milk in that case as these flour absorb more liquid in a recipe.
BAKING POWDER AND BAKING SODA
I have used both baking powder and soda in this eggless chocolate bar cake. Baking soda and baking powder would react to the liquid in the recipe. I use this baking powder and this baking soda.
YOGURT
To replace eggs in this recipe, the best substitute is yogurt or homemade dahi. When eggs are replaced with dahi, you get the perfect tender moist crumb which is achieved with eggs. You can either use regular homemade dahi (do not hang and remove water from it) or store brought yogurt. Both of them works well.
OIL
A regular flavourless oil is your best bet while baking. Any other oil usually leaves an after taste which you do not want in your dessert. I have used olive oil with chocolate in other chocolate cake recipe and it didn't leave any after taste so if you would want to give it try, you sure can in this recipe of chocolate bar cake.
COCOA POWDER
To make this cake chocolatey I'm using this unsweetened cocoa powder by Cadbury. It gives that immense chocolate flavour to any baked good. You can use any good quality cocoa powder which is easily available to you in nearby grocery stores.
CHOCOLATE BAR
I have used this chocolate bar on this cake as it sits perfectly on the cake and gives an immense flavour. You can use milk chocolate also if you don't like the bitterness of the dark chocolate.
BAKING TIPS FOR EGGLESS CHOCOLATE CAKE
Always sift in the dry ingredients for aeration, especially here because it has cocoa powder which has a lumpy texture.
You can use coffee powder in this recipe because it doesn't add any specific coffee flavor to the cake but it helps intensify the chocolate flavor we need.
Always pre-heat your oven beforehand and make sure your baking tin is ready.
To make your eggless chocolate cake lighter, do not over-mix.
EQUIPMENT USED FOR MAKING EGGLESS CHOCOLATE BAR CAKE
The kind of equipment you use when you're baking makes a huge difference to the end result! I would recommend you to use good quality mixing bowls and other equipment so that your chocolate bar cake come out delicious!
To mix all my ingredients together in, I'm using Borosil's 100% Borosilicate Glass Bowl which is microwave and oven safe, plus the bowls are super easy to clean and handle, which makes my baking process totally hassle free!
To bake my cake I have used my Borosil 60L Oven . It's been a part of my kitchen for a few months now and I absolutely love it.
I have melted the chocolate bar on cake in this microwave for 1 minute and normal temperature.
SIMILAR RECIPES ON BLOG
1).eggless-vanilla-cake-chocolate-cake
2).best-eggless-chocolate-cake
CHOCOLATE BAR CAKE
Ingredients
¾ cup vegetable oil
1 + ½ cups castor sugar
1 cup yogurt
½ cup milk
1 + ½ cups maida
¾ cups cocoa powder
½ tsp baking soda
1 tsp baking powder
1 dark chocolate bar
Instructions
Mix sugar oil and whisk for 1 minute. Add in the yogurt and milk and mix until everything is smooth.
Sift in the dry ingredients and mix well.
Don't overmix the batter.
Bake for 30-35 mins at 180 deegrees in lined loaf pan in a pre-heated oven.
Place the chocolate bar on the cake and microwave it for 1 minute and ENJOY!
If you like my Chocolate bar cake recipe and happen to make it in your kitchen, do tag me on
Instagram
 and share pictures with me using #Bakewithshivesh. Happy Baking!