If there is something which I have religiously consumed every single day of my life so far and something which I cannot live without is most definitely coffee. Be it hot or cold, I love to begin my day with coffee. I can't really imagine a single day without it. I am not addicted to coffee, we're just in a committed relationship. Okay jokes apart, in this article today, I am going to share my three all-time favourite cafe style hot coffees at home- Mocha, Cappuccino and Latte.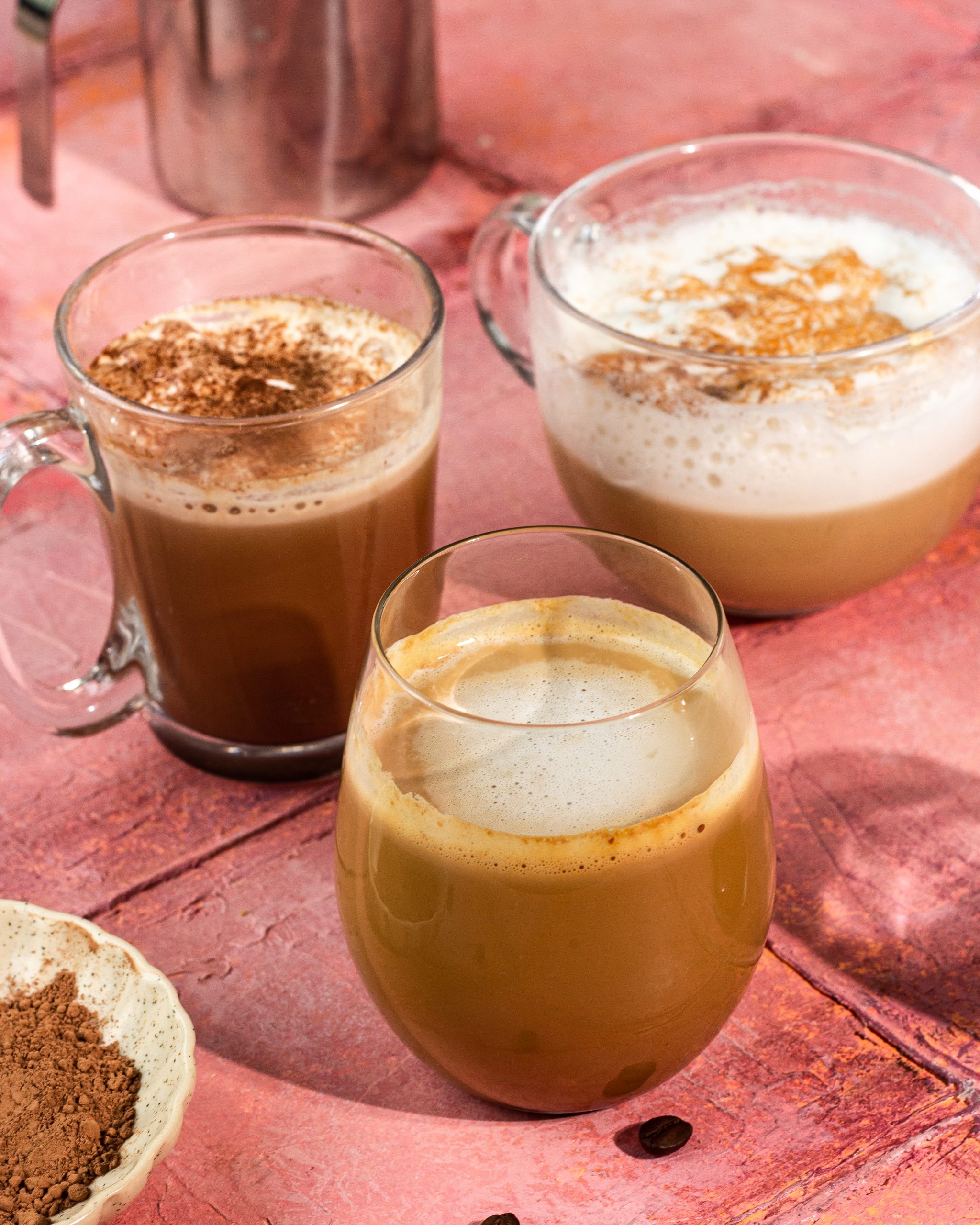 HOW TO MAKE CAFE STYLE HOT COFFEE AT HOME
Coffee has always been a taboo for many to make at home. It's always either a mess with the froth, or the coffee is too strong or too light, can never get the right amount of sugar and etc etc. Let us take a look at these areas individually and see how easy it is to make some cafe style coffee at home.
A hot coffee usually starts with espresso which is made using a machine. But in the recipes mentioned below, I have replaced that with my take on how to get that strong espresso flavour without a machine and with basic equipments and ingredients at home. Now usually these café style coffees are made with fresh ground coffee but for these recipes I have used instant coffee without compromising on the taste and feel of the final coffee made with it.
In all the recipes below I have used caster sugar but please feel free to use regular granulated sugar or whichever is available to you. Also, the sweetness of each of these coffees is as per my taste and liking. Feel free to increase or decrease the amount of sugar added so as to make it as per your taste. Rest of the process and ingredients used are fairly simple and if you follow the recipe to the T, you will get yourself a perfect coffee. Let's now discuss the three hot coffees in detail.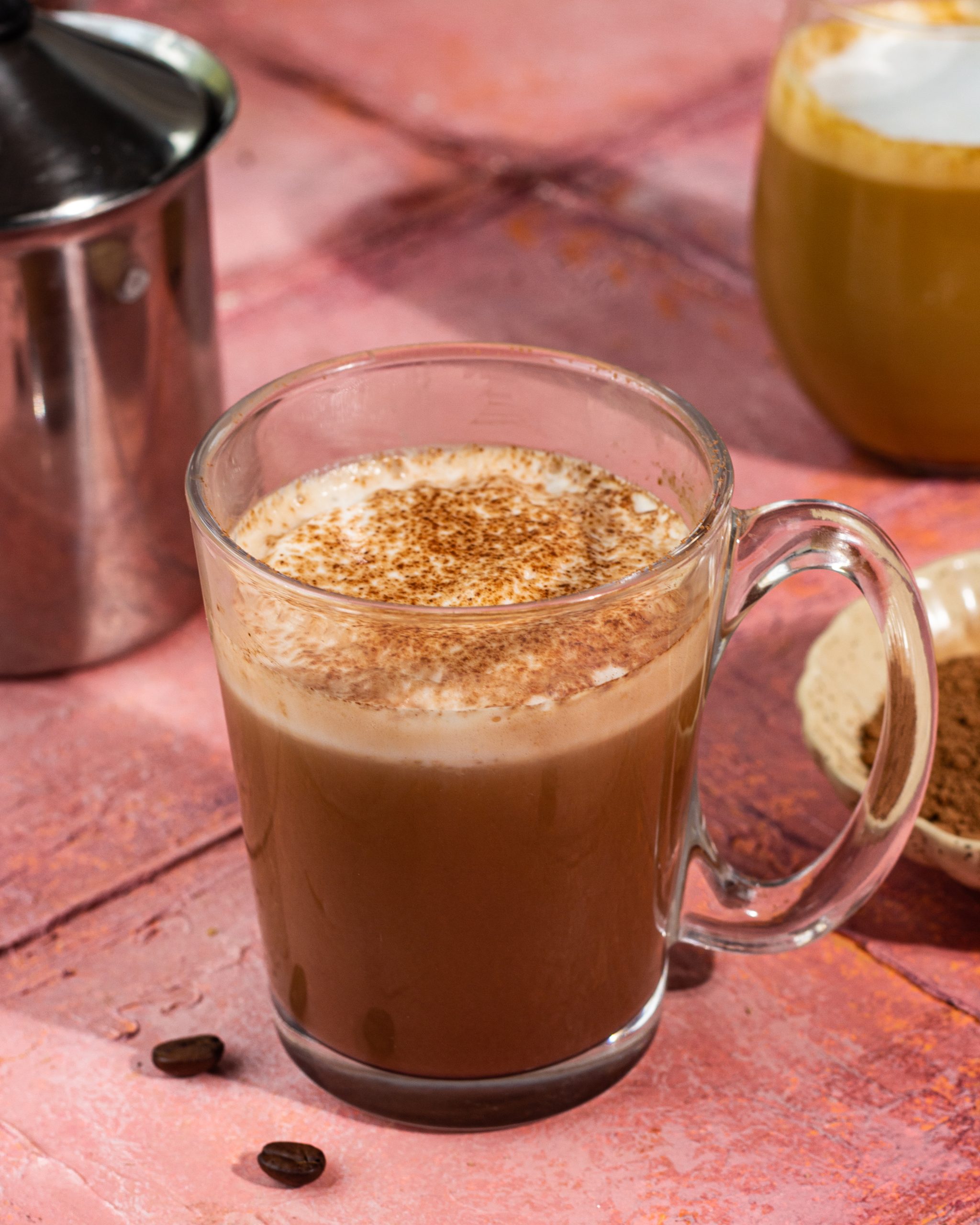 CAFE MOCHA
A café mocha, also called mocaccino, is a chocolate flavoured warm beverage and a variant of café latte. For this hot coffee, we will start with some hot water in a glass, add a tablespoon of coffee powder and cocoa powder for that chocolatey flavour. Followed by some sugar and give it a quick mix. Once everything is well combined, we will top that with a cup of hot milk and lastly finish it with a bit of milk foam. It's chocolatey, caffeinated in equal parts and just perfect in this weather.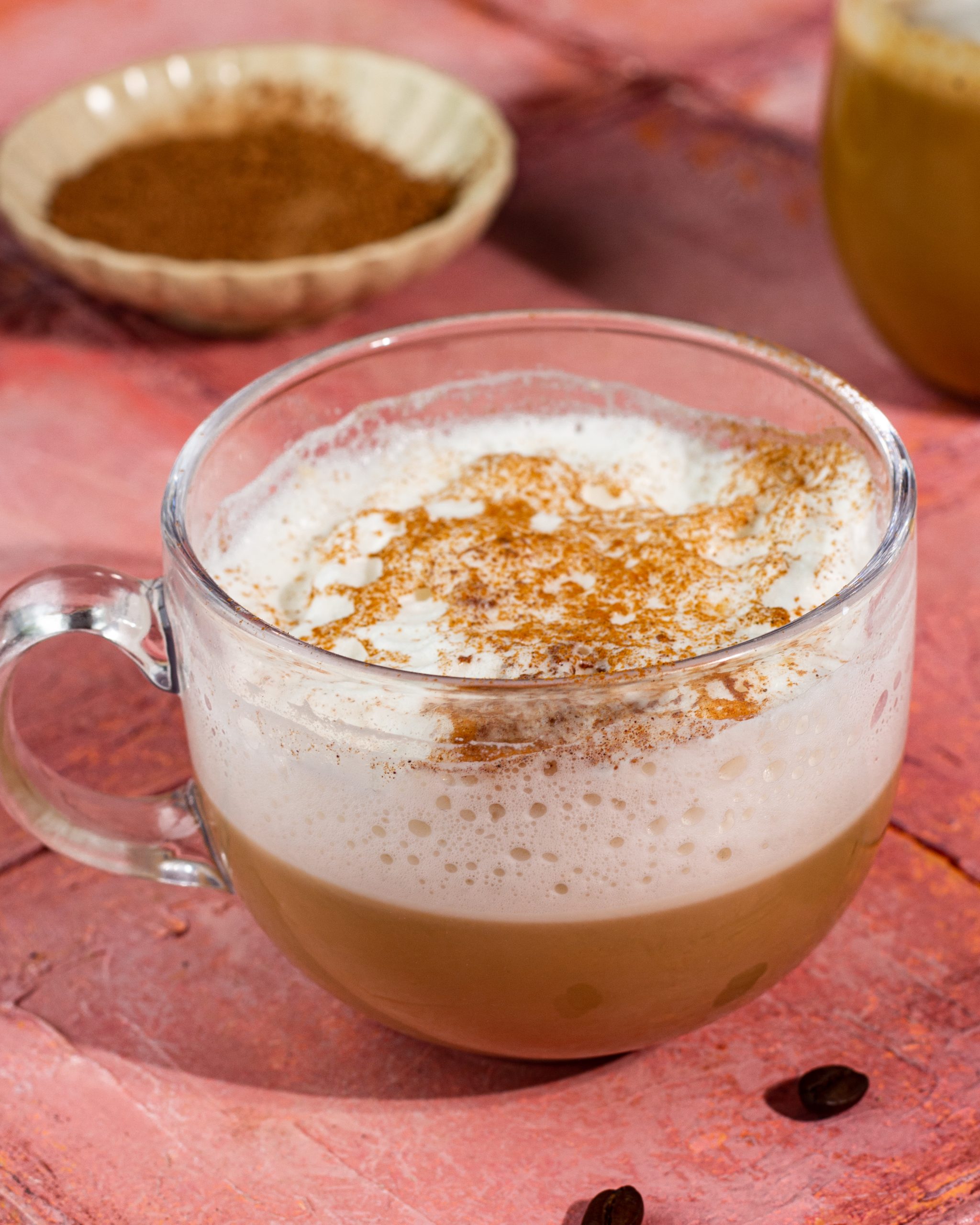 CAPPUCCINO
Okay this one is the most popular coffee drinks around the world. A traditional cappuccino has an even distribution of espresso, steamed milk and foamed milk. I love to make mine with a foamy-frothy coffee mix as base, topped with hot milk and finished with loads of foamed milk. The foamy coffee mix is somewhat similar to the quarantine famous dalgona coffee. I actually don't foam it to that extend and keep it a bit frothy and light. Just thinking of this hot coffee makes me want to whip one up quickly!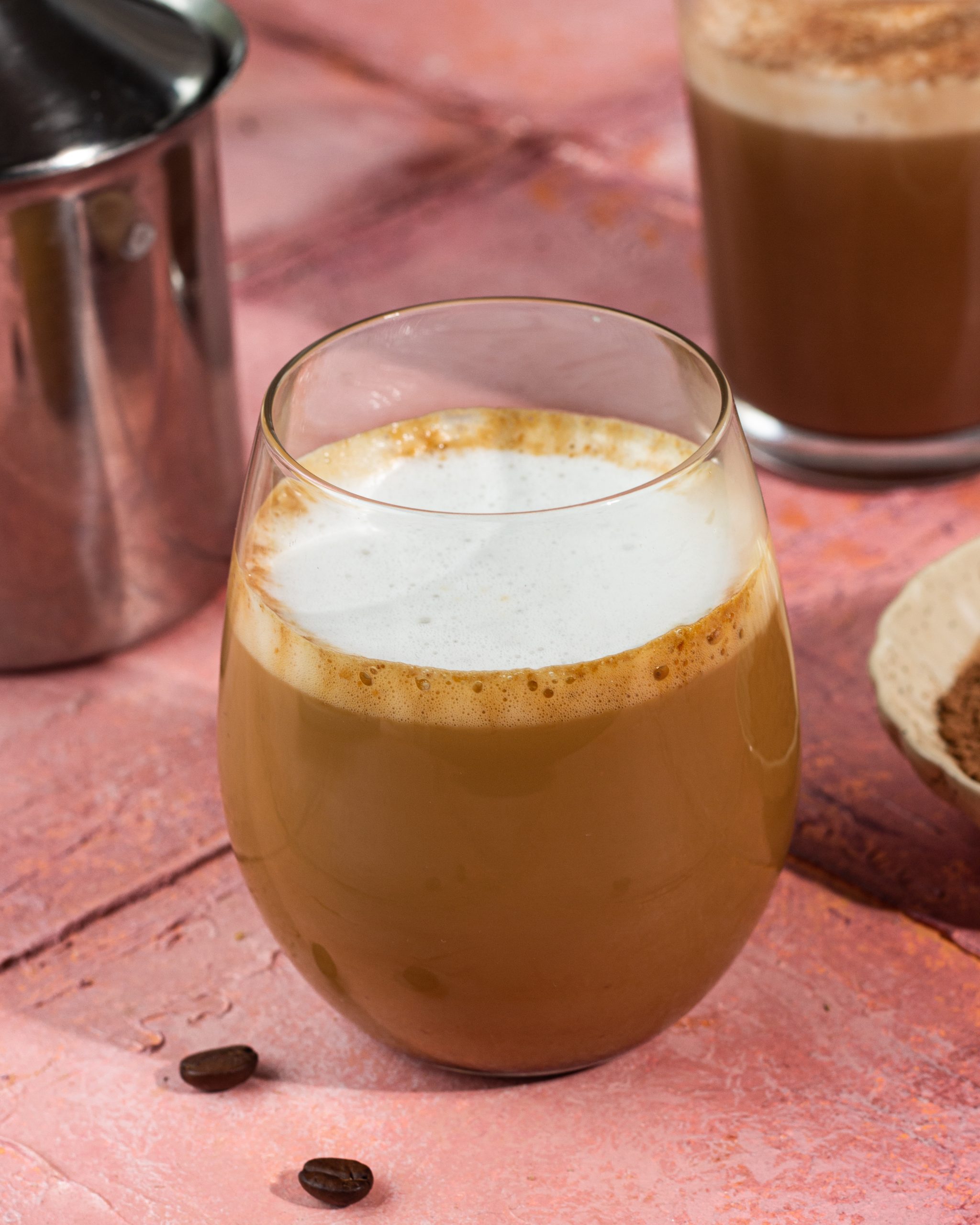 CAFE LATTE
A café latte is a classic coffee that's constructed with the two pillar ingredients: espresso and steamed milk. To make this cafe style hot coffee at home, I replaced the machine-made espresso with a coffee-water-sugar concoction. I took equal parts of all three and brought it to a boil. Once the sugar dissolves and so is coffee, I took it off the heat and transferred it to my glass. Topped it with hot milk and just a bit of foam. SO YUMM!
INSTANT COFFEE FOR CAFE STYLE COFFEE AT HOME
You can't make cafe style coffee at home without some good quality instant espresso powder. The one I love to use is Davidoff coffee. Everyone in my house loves the fragrance and taste. Nescafe is also a great option and there is also Bru. Here again the powder you choose is completely based on personal preference so you do you!
All three flavour recipes in this article have a specified amount of instant coffee powder going in them. This is something that you can definitely alter according to how much coffee you want to add. If you like a stronger flavour, go for some more coffee powder and vice versa if you like a lighter coffee flavour.
And if you like these 3 cafe style hot coffee recipes, here are some more recipes from the blog which I am sure you'd love too!
3 CAFE STYLE HOT COFFEE AT HOME RECIPE
3 CAFE STYLE HOT COFFEES AT HOME
Ingredients
Cafe Mocha
3 tbsp (45ml) hot water
1 tbsp (5gm) coffee powder
1 tbsp (7gm) cocoa powder
2 tsp (10gm) sugar
1 cup (250ml) milk
Extra milk to froth
Cafe Latte
¼ cup (55gm) sugar
¼ cup (14gm) coffee powder
¼ cup (60ml) water
¾ cup (63ml) milk
Extra milk to froth
Cafe Cappuccino
2 tbsp (10gm) coffee powder
2 tbsp (25gm) sugar
3 tbsp (45ml) water
1 cup (250ml) milk
Extra milk to froth
Instructions
For mocha:
Start with hot water in the glass.
Add coffee powder, cocoa powder and sugar.
Mix until everything is well combined.
Add hot milk.
Top it with some milk foam.
Dust cocoa powder on top.
For cappuccino:
Start with hot water in a bowl.
Add coffee powder and sugar.
Whisk until it becomes foamy.
Boil a cup of milk.
To assemble cappuccino, add two full spoons of the foamy coffee mixture as base.
Top it with hot milk and same amount of milk foam.
For latte:
In a saucepan, start with water, coffee powder and sugar.
Bring this to a boil. Make sure that the sugar is dissolved.
This is your coffee concoction.
Boil the milk.
To assemble, add the coffee concoction in the glass.
Top with hot milk and a bit of milk foam.
If you like my coffee recipes and happen to make them in your kitchen, do tag me on
Instagram
 and share pictures with me using #Bakewithshivesh. Happy Baking!